On the 22th of July 2021 @ 11:00 AM ET, An AMA session was held on Avalanche Telegram with special guest @RieweFabian and @johnletey Co-Founders of KYVENetwork. Below we present to you an excerpt from AMA with questions and answers. It was wonderful and very informative, Enjoy reading 🙂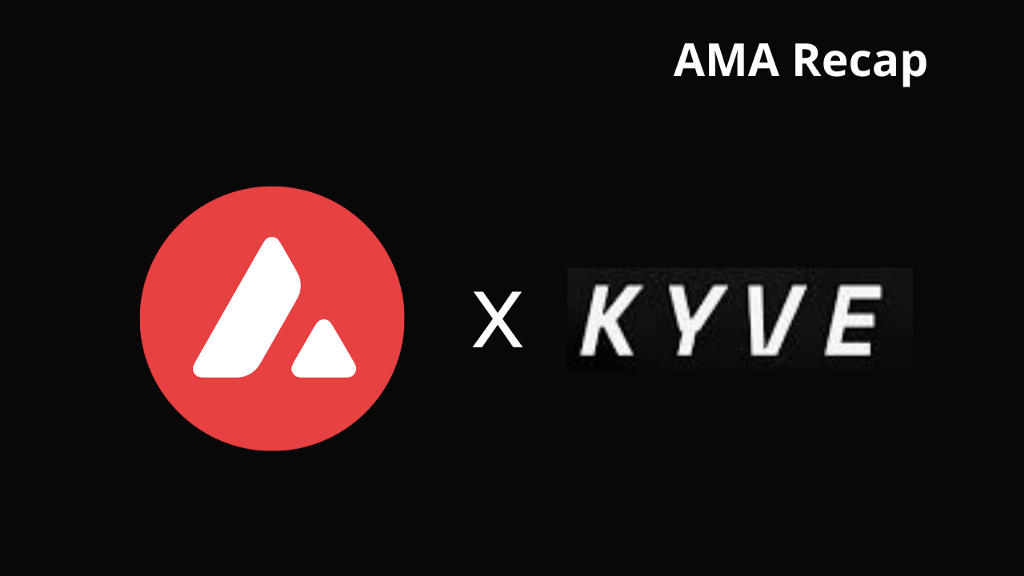 Nicolas | Avalanche
Welcome @fabianriewe & @johnletey !
John Letey |KYVE
Great to be here @Nicolas_A!
Fabian Riewe |KYVE
@Niccolass_A thanks for having us 🙂
Nicolas | Avalanche
It's great to have you ! Before we start taking the questions from Twitter could you start by briefly introducing yourself to the Avalanche community and share some background on your journey to found KYVE ?
Fabian Riewe |KYVE
Sure! It all started as a gitcoin bounty in feburary this year. We were bridging Polkadot to Arweave and then started talking to other L1 projects. The single scripts turned into more and more scripts which then turned into KYVE.
@johnletey and I have been working together on some other Arweave projects before. In March we then scaled out the team a bit and received some amazing help on the community building and operational side
John Letey |KYVE
Definitely @Nicolas_A ? I joined the Arweave ecosystem in July of 2020 when I discovered NestDotLand (a decentralised and permanent package library) and joined their team. Shortly after, the team decided to start Verto, a decentralised exchange on Arweave. Met @fabianriewe in October and been working with him since!
Nicolas | Avalanche
Thank you for this introduction John and Fabian. Let's start taking the Twitter questions !
The first question comes from MND_UA: Why was @ArweaveTeam chosen? Have you considered any other storage services? For example @CrustNetwork?
Fabian Riewe |KYVE
Due to its scalability, immutability, and availability, Arweave is our go-to solution for data storage. We believe that our two technologies are complementary: we provide data validity, while Arweave provides us with data availability. Thanks to Arweave, the data can't disappear, and with KYVE, the stored data can't be incorrect.
Nicolas | Avalanche
Second question is asked by gatturamesh1981: After a grace period is over, how will the amount of $KYVE tokens be paid out calculated in the pool?
John Letey |KYVE
The amount of $KYVE paid out can be configured to be dynamic or static. When the payout is set to dynamic, KYVE measures the number of bytes uploaded by the uploader. A pool-specific setting controls the number of tokens being released per byte. If high computation is required, it makes sense to set the idle cost option to release a static amount of tokens per payout.
Nicolas | Avalanche
Question 3 has been asked by luckymarkie01: How secure and reliable is KYVE Network?
Fabian Riewe |KYVE
For data storage, we rely on Arweave's security measures. Our nodes make sure that the data is being validated. In other words, you can say that Arweave is responsible for data availability, and KYVE is responsible for data validity. How data is validated depends on the pool's runtime. Developers can come up with their implementations around this.
Nicolas | Avalanche
Interesting ! Question 4 is by ss989989 : What's the role of the $KYVE token in the whole process?
Fabian Riewe |KYVE
The $KYVE token is used in the protocol for staking, voting, and rewarding uploaders and validators for participating in the network. Staked tokens are used for uploaders and validators as collateral. When their slashing points exceed a threshold, their stake gets slashed.
Nicolas | Avalanche
Question 5 by ss989989 on Twitter: What are the reasons behind choosing @avalancheavax?
John Letey |KYVE
We want to be able to span across the whole web3 ecosystem. While talking with other L1s, Avalanche was one of our go-to integrations.
Nicolas | Avalanche
Question 6 is: how would you explain what KYVE does to a child / in simple terms ?
Fabian Riewe |KYVE
You can imagine KYVE as being a warehouse. We collect and categorize data to be able to deliver it to our customers in a better and faster way.
Nicolas | Avalanche
Question 7 comes from yavuzsc7 and he is asking: I've only seen Avalanche C-Chain network in pools. Will Avalanche X-Chain and P-Chain integration come?
Fabian Riewe |KYVE
Yes, we will follow up with X and P Chain integrations. For now, the C-Chain was the most convenient as it is fully EVM compatible.
Nicolas | Avalanche
Question 8 by tayfun76957090 on Twitter: Only a few, one or two, validators are active in the pool for each chain. Is this normal? What should we expect?
John Letey |KYVE
Yes, this is normal for now, as we just transitioned to a more mature testnet. We are working on scaling out the testnet right now. We expect to see a few dozen validators per pool in the next few days.
Nicolas | Avalanche
Question 9 comes from huntsats: How are you planning to use the 1 million dollar funding you got for the project?
Fabian Riewe |KYVE
The funding allows us to scale out our team, focus on community building, organize hackathons, and give out grants to projects that utilize KYVE. We are trying to find an operative and experienced community manager for our team right now
Nicolas | Avalanche
Looking forward to it! Last question from Twitter before the Telegram questions comes from ZaferZEYBEK2: How do you become a validator on KYVE?
John Letey |KYVE
Feel free to check out our documentation at: docs.kyve.network
Nicolas | Avalanche
Okay thank you for answering these questions from Twitter John and Fabian !
Now, we will unmute the channel for a few minutes to let the community ask questions 🙂
Channel open !
Petch ∀
Can you explain mechanism behind KYVE data validation?
Fabian Riewe |KYVE
The mechanism can be different from pool to pool. For the current integration, validators compare a hash and vote against the uploader if it mismatches.
Salmon Samaan
What new integrations for you are u planning to have for future after the integration u already have with #avalancheavax ?
Fabian Riewe |KYVE
We are looking into integrating with L2 projects, as we are now fully substrate and EVM compatible. So KYVE can be beneficial for all layers.
Darkseid
what is your roadmap for the future? And what other areas apart from data streaming are you planning? anything which is going on backend you would like to give a hint at?
Fabian Riewe |KYVE
We defininetly want to see projects utilizing the data-lake we are building right now. We can totally see this happening from a KYVE and a third party perspective.
Sandip Sharin
I want to know that in what cases of blockchains' technology have u already implemented ur services yet?And in what way has it brought any difference/improvement in the cryptocurrency eco-network?
Fabian Riewe |KYVE
The biggest improvement will be, that it is much easier to get access to a lot of data from different chains. Which allows better scalability for node operators.
Salmon Samaan
What will be the main job of the verifier,validator in ur context? And how will they benefit?
John Letey |KYVE
The validators are in place to check that the data which is uploaded by the uploader is correct. They are incentivised by token payouts per piece of data uploaded.
Blackk
what you had in mind before you concluded to make this project?
who do you think is your crypto market top competitor and what are you planning overtook your competitors in crypto world??
Fabian Riewe |KYVE
I think we are close to data-relay networks like Pocket for example. The biggest difference, is that we are not a pure relay layer. It is possible to create pools which store things like state transitions for example. TLDR KYVE is more flexible then other rely services.
mAhOf
As i understand from the medium article KYVE will support AVALANCHE on hosting archive nodes? What are the prequisites for running a KYVE x Avalanche archive node and How does slashing work due to misbehaviour?
John Letey |KYVE
The nodes are staked with $KYVE, and when they misbehave, their stake gets slashed. Feel free to check out our docs on running a node: https://docs.kyve.network/node/setup
Gabbar
When can we expect the launch of token on exchange ?
John Letey |KYVE
We can't give any exact details, since we are still building out our testnet
Luis ∀lberto
What are #KYVE's weaknesses and what plans do they have to improve?
Fabian Riewe |KYVE
That's a great question! One of the downsides of KYVE is that you can only retrieve chunks of data. Let's say KYVE bundles the first 1000 C-Chain blocks. You are not able to retrieve Block 700 directly. But we can totally see projects like The Graph coming in and utilizing our data to delivier it more dynamically to developers.
Ray Saari
What I see is that, till now you are integrated with around 6 networks, do u have any future plans of even integrating with much bigger networks of the likes of BTC,ETH etc?
John Letey |KYVE
No plans as of yet, but we definitely hope we can expand to those ecosystems in the future ?
✎҉_F₳ᛔᛙѦᚻ ⅯⱤ๏.∀
What are the key points on which developers can rely on kyve's storage options to launch their dapps and what security guarantees can we take into account to trust the project?
Fabian Riewe |KYVE
The KYVE security really comes in on a pool level. Which means that pools with higher stake, guarantee more security.
Sandip Sharin
What mutual benefits do u expect for urself as well as #Avalanche to gain from this partnership of a kind?
Fabian Riewe |KYVE
Growing our own data-lake and helping Avalanche to overcome scalability issues in the future.
mAhOf
First welcome to AVALANCHE ,you are in touch with other layer 1 s too, what do you think about AVALANCHE as a layer 1
John Letey |KYVE
We love Avalanche!! It's great
Crypto Warrior
Can you elaborate more in details how punishing misbehavior and rewarding valid entries is gonna work? What are the consequences and what are the reward on the other hand?
Fabian Riewe |KYVE
Uploaders and Validator are staking $KYVE. Based on a voting system validators vote for an uploader. When the majority is agains the uploader he will recieve a slashing point. Once those points exceed a threshold, his stake goes into the protocol treasury which is community owned. Vice-versa with inactive or incorrect validators.
Hüseyin Aztekin ∀
How does Kyve develop solutions for potential future errors in the on-chain data stream and this service it provides for developers?
Fabian Riewe |KYVE
It doesn't solve on chain error unfortunatly. If you are able to create a validator which would recognise this problem, then you would at least prevent it from being marked a 'OK' on KYVE.
togi slatan
first, Welcome to the avalanche network. the avalanche network is a secure network. what's the difference between you?
Fabian Riewe |KYVE
We are basically a fully decentralised pipeline. This allows a safe data-flow to Arweave as a storage layer.
Nicolas | Avalanche
Okay thank you so much for taking your time to answer these questions @Fabianriewe & @Johnletey
It was great to have you here! Before we end where can the community learn more about KYVE ?
Fabian Riewe |KYVE
Thanks for having us!
John Letey |KYVE
Website: https://kyve.network/
Developer Documentation: https://docs.kyve.network/
Github: https://github.com/KYVENetwork
Litepaper: https://kyve.network/litepaper.pdf
Blog: https://blog.kyve.network/
Fabian Riewe |KYVE
If anyone wants to learn more about KYVE or want to continue the questions. Feel free to checkout our TG group: https://t.me/kyvenet
Nicolas | Avalanche
Perfect don't forget to check it out everyone!
Take care guys and wish you all the best with KYVE 🙂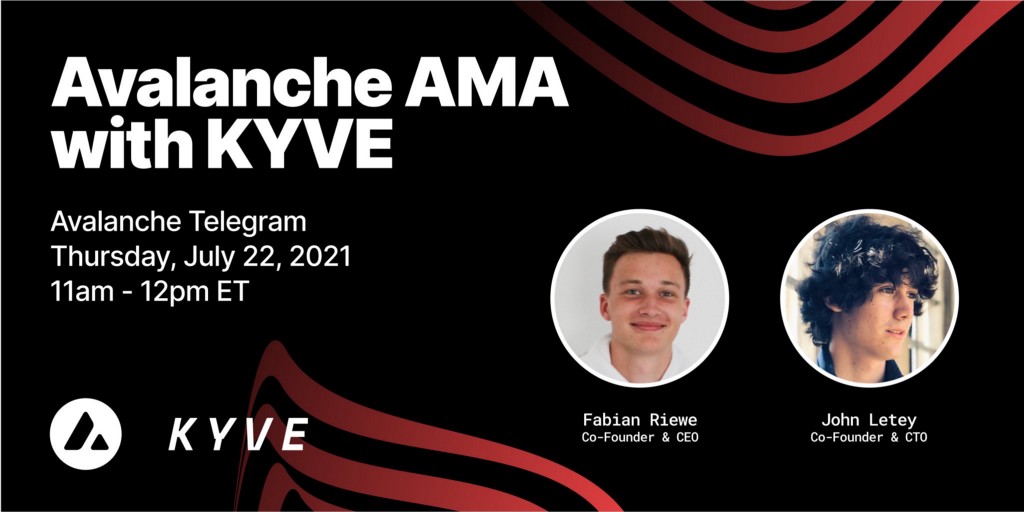 About KYV
KYVE is a decentralized archiving and caching solution that allows modern blockchains and decentralized applications (dApps) to store and serve data reliably.
Website I Medium I Mirror I Twitter I Discord I Telegram I Linkedin
About Avalanche
Avalanche is an open-source platform for launching decentralized applications and enterprise blockchain deployments in one interoperable, highly scalable ecosystem. Avalanche is able to process 4,500+ transactions/second and instantly confirm transactions. Ethereum developers can quickly build on Avalanche as Solidity works out-of-the-box.
Website | Twitter | Discord | GitHub | Forum | Telegram | Facebook | LinkedIn | Reddit | YouTube

---
Recap of AMA with KYVE was originally published in Avalanche Hub on Medium, where people are continuing the conversation by highlighting and responding to this story.