Recap of AMA with Tenderly
On the 5th of August 2021 @ 12:15 PM ET, An AMA session was held on Avalanche Telegram with special guest Bogdan Habic from
Tenderly . Below we present to you an excerpt from AMA with questions and answers. It was wonderful and very informative, Enjoy reading 🙂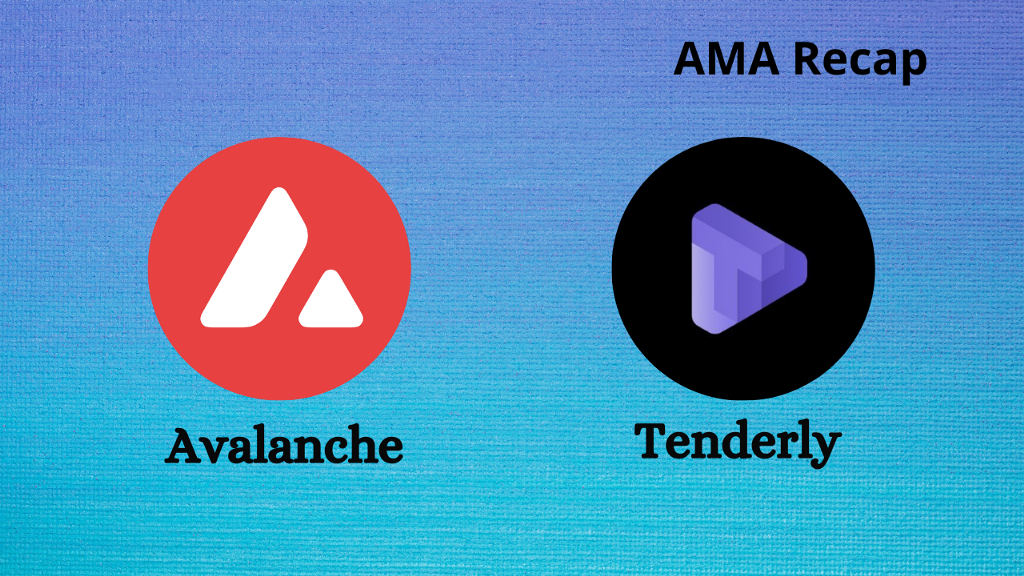 Nicolas | Avalanche
Welcome @BogdanHabic !
Bogdan Habic | Tenderly
Hey! ?
Nicolas | Avalanche
Before taking the questions from the community, could you provide a brief introduction about yourself and on your journey to co found Tenderly ?
Bogdan Habic | Tenderly
Sure!
So, as the post above said, my name is Bogdan and I'm one of the co-founders of Tenderly.
Tenderly started out 3 years ago as a pet project that 4 of us made to solve our own development headache. We couldn't extract the error of a transaction, so Nebojsa quickly made a quick CLI tool to do just that. We open-sourced it and people liked it!
A couple of months later we've quit our day jobs (blockchain as well), and started working on Tenderly full time.
Now, 3 years later, there's 14 of us working on enabling developers to ship blockchain application easier and faster than ever before!
Nicolas | Avalanche
Thank you Bogdan for this intro. Figured out a solution to a common issue and made a great product out of it ?
Let's start taking the questions from Twitter !
The first question is asked by alicancaliskan_ : I had a look at your visual debugger, Simulations and Forks, Monitoring and Warning features. Are these features accurate? Can you explain a little bit about the probability of errors in these?
Bogdan Habic | Tenderly
There a 1 to 1 copy of what happened on-chain. Let me explain!
The way Tenderly works is that we have our own implementation of the EVM. This is the virtual machine that runs the smart contract code. Now, when a transaction happens on-chain, we take all of the tx data, we feed it to our virtual machine and re-run everything. This ensures that we're doing excatly what happened on-chain, BUT with an added benefit: we can extract and index all of the VMs internals. That's how all of the Tenderly tooling works in real-time, with real data.
Nicolas | Avalanche
Second question is coming from yavuzsc7: No matter how limited the free version is, does it provide enough convenience when designing a project? Or is it more of a trial version for us to try out Tenderly?
Bogdan Habic | Tenderly
Firstly, there is a trial version of Tenderly Pro and Developer plan available. Now, taking that into consideration, let's tackle what the free version of Tendery provides!
When we started using Tenderly, and through our careers in general (as engineers), we always loved free stuff. Who doesn't?! That's when we thought: is there a way to build a product that is free for them for most of the use-cases, especially while just testing things out.
That's what we did! The free tier of Tenderly gives you ALL of the tooling that we provide, just with the more advanced team/collaboration features. The rationale behind this decision was: there's no point in us charging you for something, while you're not generating value yourself. So basically, the Tenderly pricing grows along with you!
Nicolas | Avalanche
Question 3 by Radj07605271: My question is if we can use TenderlyApp to create tutorials on how to build apps on Avalanche ?
Is it possible to postpone the free trial period a little to allow us to better familiarize ourselves with the platform ?
Bogdan Habic | Tenderly
Ha, glad you asked that! Soon, very very soon, we'll be releasing Web3 Notebooks: the best way to convey Web3 related data to a reader. Think of it as Jupyter notebooks, catering specifically to the whole Web3 ecosystem.
Imagine interactive tutorials, audits and documentation *combined* with all of the Tenderly tooling ?
We made a small demo here: https://twitter.com/TenderlyApp/status/1405927170812297217
As for the trial period: you can activate it whenever you want or use the free tier; Forever!
Nicolas | Avalanche
Looks really nice !
Question 4 by FabianRizalez : Can you mention some use cases where tenderly can offer solutions in blockchain development and facilitate the work of developers and companies in a secure way?
Bogdan Habic | Tenderly
There's numerous ways you can utilize Tenderly to make your job, as a developer/product builder, much easier. You can use local transaction while developing locally, the debugger, gas profiler and forks to test things out and finally monitoring, alerting and troubleshooting once you deploy to production!
We've seen teams use Tenderly to:
* Have their QA team testing things out on a fork
* Build on-boarding feature for their dApp's users with the simulator
* Show protocol analytics with public dashboards
* so much more
Nicolas | Avalanche
Fifth question by yavuzsc7: Why do you need the Pro version for Avalanche network?
Bogdan Habic | Tenderly
good way!
The highly available infrastructure let's us track and index everything in real-time. With the Pro plan, we can also provide premium support to people building on top of Avalanche, so they know a Tenderly team member always has their back.
Nicolas | Avalanche
Question 6 is asked by tag_ynsg : For customization what are the languages you support for Tenderly?
Bogdan Habic | Tenderly
Right now, we support just Solidity. But nothing is set in stone! We're working on Vyper support as I'm typing this, so expect that as well very soon!
Nicolas | Avalanche
Question 7 by novobiotech: You are running a testing platform actually you are allowing developers to test their products on your system. Are you auditing smart contracts tested on your platform ? Do you think to give advices to your customers regarding their products? Are you interacting with them?
Bogdan Habic | Tenderly
You can think of Tenderly forks as a testnet, with a huge difference: all of the data is from the forked network. What this means is that you can, as an example, fork the Avalanche mainnet and use all of that data to test our your smart contracts; Without spending real funds or changing the blockchains state.
As for the audits, no we don't do these. We leave that to the security experts in the space (most of which use Tenderly as well ?).
Finally, yes, we do value all of our customers and work closely with them to achieve what they've set out to do!
Nicolas | Avalanche
Question 8 by novobiotech: Simulator seems to be quite an interesting tool on your platform. Can you elaborate it a bit?
Bogdan Habic | Tenderly
The way Tenderly is built, we can support more or less any network that uses a virtual machine. Right now, Tenderly support 16 networks, with more to come!
Nicolas | Avalanche
Finally last question from Twitter is coming from andre_shifu and he is asking: Why is this project called Tenderly ?
Bogdan Habic | Tenderly
Haha, most of the people ask us this when they meet us. The original project, for which we started making internal tooling, was a public procurement platform built on top of the blockchain.
Now, another word in Serbian for public procurement is "tender". On the hackathon, where we came up with the name, we thought it would be really funny to name the project "Tenderly". 3 years later, we love the name very much and I think it incompasses what we want to acheive: have the blockchain developer experience as efficient and Tenderly as possible ?
Nicolas | Avalanche
Excellent ! Thanks for answering these questions !
Lucifier
How do you guys plan to use the $15 million funding you recently raised for your project?
Bogdan Habic | Tenderly
Looking ahead Tenderly will continue to create modules, tools and services to support an even bigger part of the development lifecycle. Our goal is to further cement Tenderly as the best destination for all developers looking to monitor, test and debug smart contracts, simulate transitions, build better DApps and help improve the Ethereum ecosystem. We want to bring the Tenderly Quality™️ of products to new verticals and create new use cases in industry segments that are itching for innovation.
Crypto Warrior
What are the major differences between Tenderly and the other competitors?
Bogdan Habic | Tenderly
The main difference between us and the rest is definitely the deep engineering approach we took building out the platform! Having our own data extraction pipeline, virtual machine and indexing solution puts us in a great position to iterate quicker than anyone else and expand into new verticals!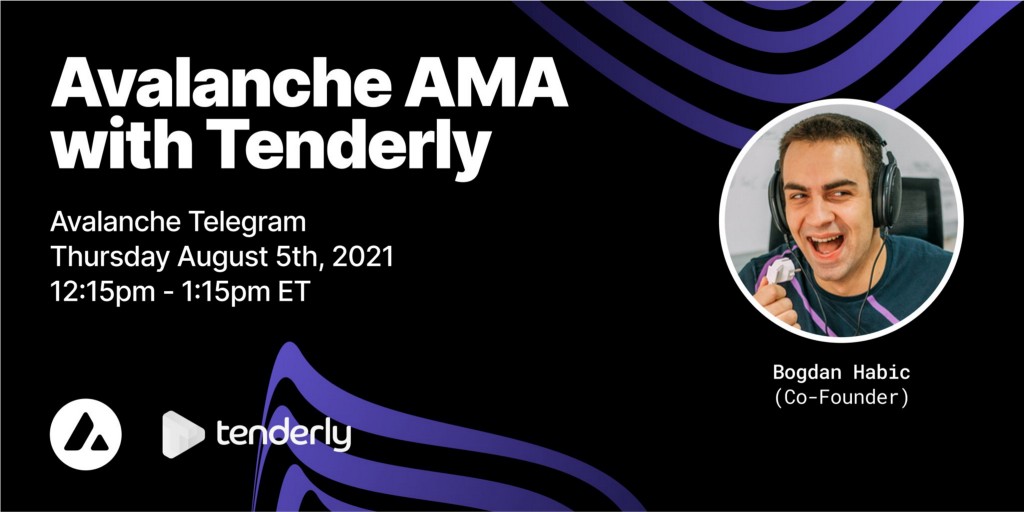 About Tenderly
Tenderly provides a professional-grade developer platform for teams and companies looking to build innovative blockchain products. The company strives to set the standard of quality and versatility in the Web3 developer tooling space. By providing a full-fledged platform with a comprehensive dashboard and a multifaceted API, Tenderly enables developers to focus on their projects whether they are just starting out with Smart Contracts or building a complex DeFi platform.
Tenderly Website | Status Page | GitHub | Blog | Twitter | Discord | LinkedIN
About Avalanche
Avalanche is an open-source platform for launching decentralized applications and enterprise blockchain deployments in one interoperable, highly scalable ecosystem. Avalanche is able to process 4,500+ transactions/second and instantly confirm transactions. Ethereum developers can quickly build on Avalanche as Solidity works out-of-the-box.
Website | Twitter | Discord | GitHub | Forum | Telegram | Facebook | LinkedIn | Reddit | YouTube

---
Recap of AMA with Tenderly was originally published in Avalanche Hub on Medium, where people are continuing the conversation by highlighting and responding to this story.