Recap of Avalanche X BZX AMA — 21th January 2020
Recap of Avalanche X BZX AMA — 21th January 2021
DeFi solutions like borrowing and lending are highly sought-after functions of finance. Loans on cryptocurrency platforms have risen more than seven-fold since march 2020 to $3.7 billion, according to industry site Defi Pulse. Supporters say Defi sites like bZx, which run on open-source code with systems that set rates in real-time founded on supply and demand, epitomize the future of financial services, providing a cheaper, more competent and accessible way for people and businesses to access and offer credit.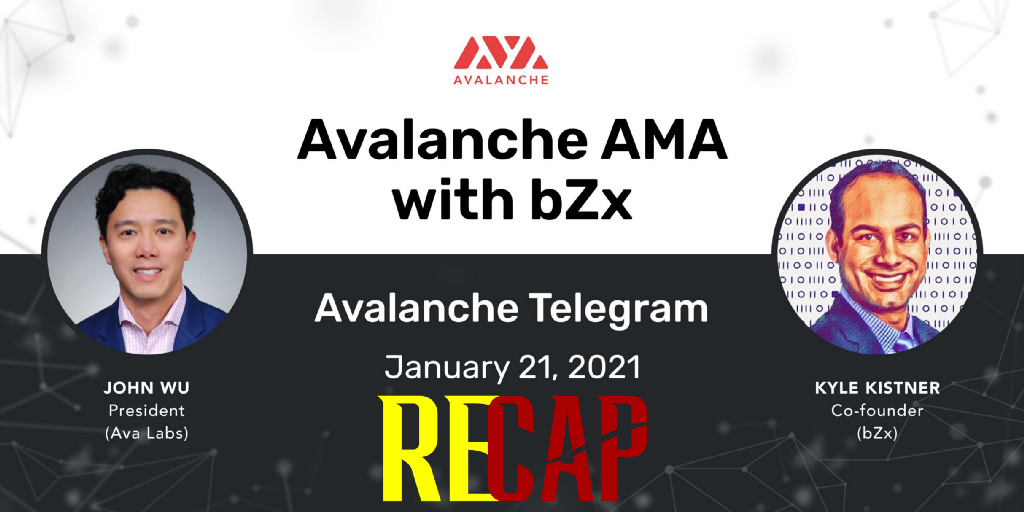 Majority of Defi platforms are based on the ethereum blockchain, the second-biggest cryptocurrency after bitcoin. Unlike bitcoin, ethereum's blockchain can be used to create digital contracts, while developers can more effortlessly build innovative software or apps on it, but that's about to change since avalanche platform came into play.
By the end of Q1 2021, bZx applications will be fully running on avalanche, empowering a new trend of growth for the bZx protocol by taking advantage of avalanche's low fees and high capacity.
On 21st January, 2021, Avalanche hosted Kyle J Kistner, Co-founder of bZx. The avalanche community were able to raise questions which received detailed responses from Kyle. Listed here are some of the questions related to the launch of bZx protocol on Avalanche.
1. Where do you see crypto lending and DeFi in the next two years? What difference will bZxHQ and @avalancheavax bring to the Lending and Defi space?
Like I said earlier, I started my career in traditional finance in the hedge fund space. I've seen the inefficiencies in the markets. Clearing a security, settlement for equities, you name it, all take days if not weeks. With DeFi, users can transaction value in a truly frictionless way. There are no financial institutions acting as middlemen to facilitate the process. Everything is done in a completely autonomous, and automated manner. DeFi creates value for the end user — institutional investors will take note, as I have, in due time.
The challenge with DeFi right now is that it's hard to use right now. There are a lot of great applications out there but the infrastructure is just not there yet. Going back to the original question, in two years, I'd expect DeFi and crypto applications to run as seamless as normal applications without a lot of the complexities. The ecosystem and infrastructure will mature over time and Avalanche, along with bZx, will be at the forefront.
Kyle Kistner,
In the next two years we see DeFi continuing its exponential march upwards in locked value. The exchange, margin/lending, and derivatives protocols are positioned right at the center of the DeFi universe and will be the prime beneficiaries of industry growth. bZx has continuously been a leader on the cutting edge of the lending space, f.e. being the first to introduce the concept of tokenized loans and the first to yield farm with free liquidity by DSR'ing free DAI, and will continue to innovate.
2. Considering the growth of "real world assets" in crypto, like stocks, commodities, etc., be it through tokenization of actual assets or through synthetic tokens. Do you intend to include real world assets for margin trading in fulcrum?
Kyle Kistner,
One of our upcoming 2021 agenda items is the release of permissionless listing. BZRX holders will be able to curate a list of assets and serve as collateral of last resort in exchange for a portion of the trading fees. We expect that permissionless lending will see a large amount of activity around synthetic and real-world assets, and will allow the protocol to finally address the long tail of DeFi assets.
3. What is bZx Lender Insurance Fund all about? And will the currently existing percentage prevail in the Avalanche protocol?
Kyle Kistner,
There are two layers of insurance fund for the protocol. First is the lender insurance fund: half of all trading fees are placed in an insurance fund that can be disbursed to cover any losses due to counterparty/liquidation risk incurred by lenders. Second, the token treasury acts as a backstop to both counterparty and smart contract risk. Due to the design of the insurance funds, nobody has ever lost money using the protocol, which is something that few DeFi protocols can boast. When permissionless listings are active, BZRX holders staking to trading pairs in exchange for a portion of the trading fees will also act as another line of defense against lender losses.
If the Avalanche fork of bZx includes using the existing token, then the token treasury and staking will protect users on Avalanche.
4. I've been following bZx for some time and about 6 months ago, in another AMA, bZx said there were no plans to migrate to another blockchain. What has changed since then? What benefits, in addition to low fees and fast transactions, can the integration with Avalanche bring?
Kyle Kistner,
Our development focus has always been on Ethereum. The Avalanche team appreciates that and, unlike other chains, has not asked us to change that. We think Avalanche is one of the very, very few non-Ethereum chains that is worth taking seriously. The Avalanche team understands what focused teams like ours need to branch out while staying focused and they're willing to provide it.
5. What is the origin story behind bZx?
Kyle Kistner,
I was very interested in decentralizing the sort of margin lending I saw happening on the centralized exchanges like Bitfinex. I met Tom Bean, my co-founder, at a fourth of July party while I was in graduate school. He was working as a Principal Developer at HERE (spun out from Nokia) and looking to build something in the space. Over time we talked more and more about crypto, and he asked me if I had an idea of something to build. The next day I brought him an 8 page paper outlining a three step vision: peer to peer lending, tokenized lending, and finally integrating those tokenized loans with the wallet/interface ecosystem. This was July 2017. Nobody else had announced that they were doing it at the time, so we started a Github and got to building.
6. What are the plans when the Avalanche / Ethereum bridge is available maybe some other finance Dapps can be created that use this bridge and also use the bZx protocol?
John Wu,
The Avalanche ethereum bridge allows users to move ERC-20 tokens and ERC-721 tokens from ethereum to Avalanche and vice versa. It also supports contract calls which means you can have different applications that live one two different chains "talk" and interact with each other. I am excited to see what innovative cross chain products can be enabled by the bridge.
7. I saw that recently both bZx and Avalanche have partnered with Reef Finance. Is it just a coincidence or can we expect everyone to work together to build a robust DeFi ecosystem on the blockchain Avalanche?
John Wu,
Great question. One of the most compelling aspects of defi is composability. For folks who are unfamiliar, composability refers to the ability for multiple different decentralized applications to interact with each other in a permissionless way. Similar to ethereum, Avalanche not only enables composability within the avalanche ecosystem, but also cross chain composability via the bridge. I'd definitely expect all defi applications to work together on the avalanche chain.
8. What benefits would the collaboration between @avalancheavax and @BzXHQ offer both the supporters of each project? It's no doubt that each project would have a mutual benefit but what about the community? What good would it bring us on both short term & long term?
John Wu,
At Ava Labs, we're focused on building out an ecosystem that is as diverse and robust as possible. Borrowing and lending has always been one of the most popular use cases for DeFi. Three of the top five DeFi apps by Total Value Locked are lending platforms. bZx was one of the first DeFi platforms to offer decentralized margin lending and trading, and only lending protocol to use decentralized price feeds for calculating interest rates.
bZx's products Fulcrum and Torque will launch on Avalanche with native support. Our partnership with bZx will provide more ways for the Avalanche community to earn rewards and allocate capital. Once fully integrated, bZx applications will work seamlessly on Avalanche.
In return, bZx's applications will benefit from Avalanche's high-functional, low fee network. Transactions cost less than 1 cent, with finality in under 1 second.
Our collaboration with bZx is planned with the long term vision in mind — using DeFi to create value for the Avalanche ecosystem.
OPEN QUESTIONS FROM TELEGRAM MEMBERS:
Are local communities important to your project? Do you want their support and ideas to develop and expand?
Kyle Kistner,
Local communities are important to our project. We're currently working on expanding our reach to the Korean and Japanese markets.
Do you think DeFi on Avalanche will be able to replace DeFi on Ethereum?
John Wu,
Avalanche offers a better experience for developers and users today (lower gas fees and higher throughput). Just like there is iOS and android systems, I believe multiple chains will coexist.
What is the difference between the iTokens — pTokens — BZRX Token? Which one can we staking with? Will any of them be useful for governance on the platform?
Kyle Kistner,
iTokens: interest bearing tokens. Earn interest just by holding it. We were the first to publish on this idea.
pTokens: margin position tokens. ERC20s that represent a position, e.g., 5x ETH Long. We were the first to build a version of these that got traction.
BZRX: governance token. You can stake this to earn fees accumulated by the protocol, which are paid out in stablecoin (3CRV) & BZRX. Later you will be able to stake it to specific trading pairs to earn even more.
What advice would you like to give new users for the first steps they should take on your platform?
Kyle Kistner,
If you want to earn interest, go to our lending page on Fulcrum. If you want to make big trades, go to the Fulcrum trading page. If you're trying to borrow crypto, go to Torque. Check our help center for step-by-step guides!
Do you think Layer 2 solutions or zkrollups will be succesfull to solve the scalability issues in Ethereum or other more "out of the box" resources like the upcoming Avalanche/Ethereum bridge will end up being widely adopted by the current major players in DeFi that operate on Ethereum?
Kyle Kistner,
Layer two solutions are interesting but they do come with tradeoffs, for example some have reduced security. I'm following the developments and wish the Layer 2 teams good luck. With full support of the EVM, Avalanche already works today and we welcome all projects to try out our platform and see for themselves.
Additional Resources on bZx
About Avalanche
Avalanche is an open-source platform for launching decentralized finance applications and enterprise blockchain deployments in one interoperable, highly scalable ecosystem. Developers who build on Avalanche can easily create powerful, reliable, and secure applications and custom blockchain networks with complex rulesets or build on existing private or public subnets.
Website | Whitepapers | Twitter | Discord | GitHub | Documentation | Forum | Avalanche-X | Telegram | Facebook | LinkedIn | Reddit | YouTube

---
Recap of Avalanche X BZX AMA — 21th January 2020 was originally published in Avalanche Hub on Medium, where people are continuing the conversation by highlighting and responding to this story.