Robo Labs 2023 Q2 Quarterly Update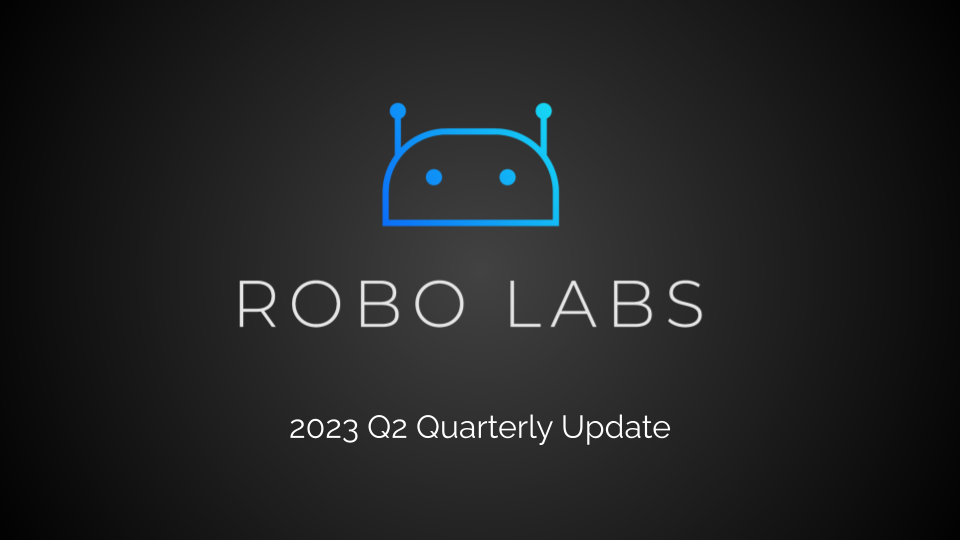 Last quarter we made significant progress in our long term plans to become a leader in the Web3 tooling & infrastructure space. Arkiver, our core product was opened up for private Beta while we onboarded a number of new customers, partners & users using Arkiver for various purposes.
Key Updates
Onboarded 8 New Partners utilising our tooling & infrastructure stack for various data & analytics use cases
Arkiver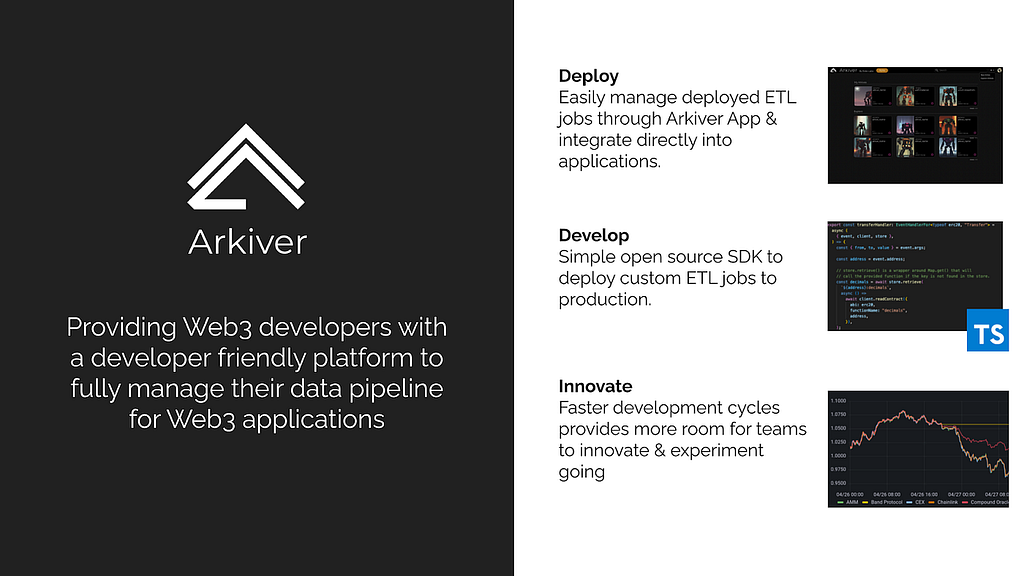 Arkiver is designed to make indexing, managing data pipelines & integrating blockchain data with Web3 applications as simple as possible. In June we opened Arkiver up for it's private beta so far we've had extremely positive feedback from early users utilising Arkiver for varied use cases including :
Setting up production ready end points for Dapp Front Ends
Backtesting & Simulations for advanced DeFi strategies
Analytics historical on chain market movements
Tracking NFT metrics & Other On Chain Metrics
Additionally we've been working with a number of teams to assist with the implementation of Arkiver into their current data pipeline. For more information on Arkiver see the links below.
If you're interested in using Arkiver feel free to get in touch with us.
Partners
Following our pivot from focusing on Delta Neutral Strategies to tooling & infrastructure we've formed partnerships with a number of Web3 Teams. These partnerships have proved invaluable in assisting with building out Arkiver, discovering potential use cases & helping optimise the UX of Arkiver. Below is a list of our current partners & how we're working with them.
Polygon — Assisting in building out DeFi dashboards for their zkEVM ecosystem utilising Arkiver to provide the data pipeline for tracking live & historical data.
Chainlink — We continue to work closely with the Chainlink team as part of the BUILD program. We've also helped onboard a number of partners to the Chainlink stack of Chainlink Automation & CCIP.
Liquity — Assisting with the building out a number of backtests & deep dives into various strategies for LUSD utilising Arkiver & our Web3 Backtesting tool.
Byte Masons — Assisting in the building of automation tools for their veVoter product which utilise Arkiver in order to optimise voting choices & deliver the best yields for users.
Sector Finance — Assisting in building out internal backtesting tools which utilise Arkiver in order to optimise strategies available for Sector Finance users.
BOF — Supporting the development of the BOF platform in addition to ongoing support in building out data infrastructure.
Neutra Finance — Ongoing assistance with data pipeline for Neutra Finance's nUSDC vault in addition to support with R&D into new strategy development.
Hubble Exchange — Assisting with the development of data infrastructure to be utilised by Hubble V2 & providing Arkiver for developers building on Hubble V2 subnet upon launch.
Molek Market — NFT market place utilising Arkiver to manage data pipelines to track live & historical on chain data for users.
Reservoir Finance — Assistance in development of data pipeline to provide end points for Reservoir Finance app powered by Arkiver.
Open Source Backtesting Library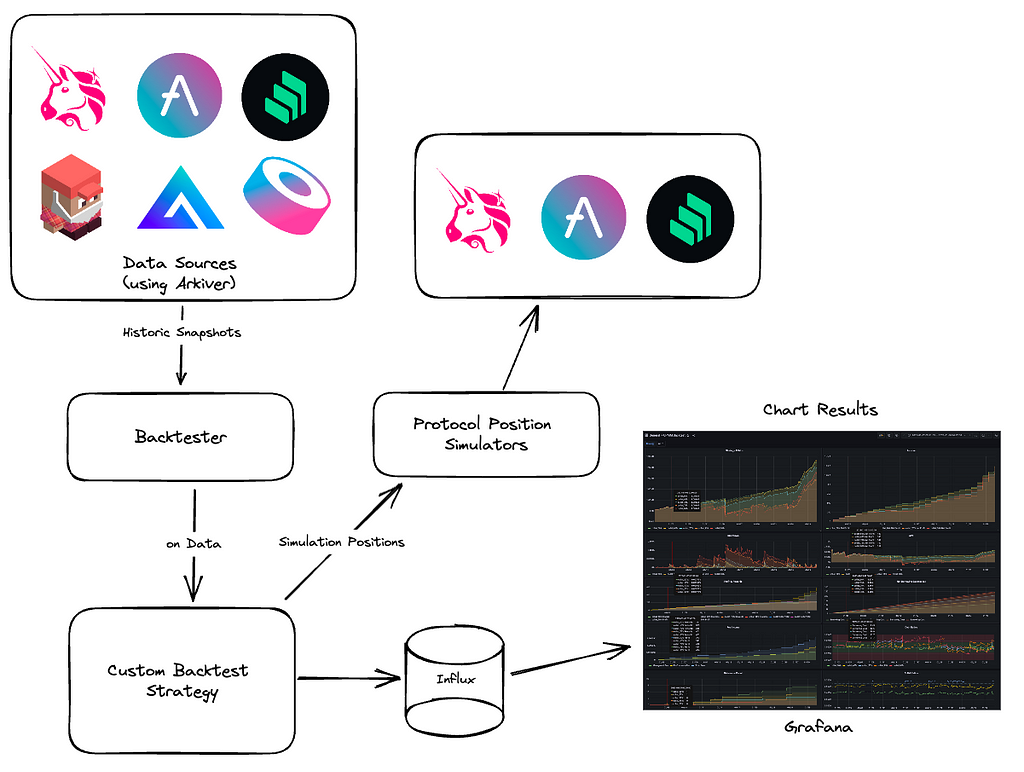 In addition to releasing Arkiver we also launched an open source Web3 backtesting library this quarter. Based on our past experience backtesting DeFi strategies is an absolute pain and a massive time sink. Given we had already built much of this infrastructure out for internal usage we decided to standardise our tools into an open source backtesting Library that can be utilised by anyone looking to deploy or manage assets on chain.
Liquity Report
One example of data produced via our backtesting library & Arkiver is our backtesting report on Liquity. This provides insights into various strategies available to holders of LUSD in addition to some commentary on the advantages and disadvantages of Liquity's LUSD borrowing mechanics.
This Coming Quarter
This quarter our primary focus will be on onboarding new users to Arkiver & experimenting with a number of varied use cases in addition to flashing out a number of key features prior to Arkiver's public launch.
In terms of new uses cases we'll be spending time on for Arkiver we'll be primarily focussed on
Exploration of more advanced data & analytics available for DeFi teams to help manage their protocol
Exploration of using Arkiver to assist teams in the NFT space for managing their data pipeline
Exploration of Arkiver to manage the data pipeline for more deep dive research projects
In terms of features we'll be fleshing out prior to our public launch of Arkiver our primary focus will be on
Maturing the Arkiver App with key features including Github integration, Monitoring & Analytics on API usage
Ensuring our backend infrastructure is ready to scale with significantly higher usage upon public launch of Arkiver
Improved developer experience with the implementation of standard libraries & utils for Arkiver developers
Fundraise
We're also currently in the process of kicking off our fundraising for our Seed Round, if you're interested in learning more feel free to get in touch with our CEO Matt at matt@robolabs.biz.
Upcoming Events
In addition to the above our team will also be attending the following events later this year
If you plan on attending we'd love to catch up, feel free to reach out and get in contact with Matt on Telegram or Twitter.
Work With Us
Interested in working with us, getting a demo of our technology or learning more about Arkiver? Feel free to reach out to us
Matt Smart – CEO Contact Details :
Email : matt@robolabs.biz
Telegram : https://t.me/degenRobot
Source