Robo Labs Q3 Quarterly Update
Over the last quarter we made significant progress with building out Arkiver in addition to continuing our work with key clients in providing additional development support. Based on the success we've had working directly with customers going forward we've decided to focus our efforts on two separate business lines Robo Labs Consulting & Robo Labs Products.
Robo Labs Consulting : Our consulting arm is focused on working directly with teams to assist in development of their products. Providing support in multiple areas including Data Infrastructure development, Smart Contract Development, Analytics / Dashboard Development & Research Reports.
Robo Labs Product : This side of the business is primarily focused on building out products with the key focus being on getting Arkiver ready for public launch. With Arkiver's goal of becoming the go to tool for Web3 developers to deploy & manage their data pipelines.
Robo Labs Consulting — Our Work
Over the past year we've successfully worked with a number of teams in providing development support across a number of areas. As we continue building out Arkiver we've decided to also ramp up our consulting work. Our primary focus is on helping teams implement Arkiver for various use cases while additionally providing support in other areas including
This quarter noteworthy work we've completed includes
UniDex Dashboard : Live dashboard with integration to Arkiver to display key metrics for UniDex trading
Sector Simulations & Backtesting : Assisted in the completion of In-depth Univ3 Strategy Simulations to understand optimal parameters for LP'ing in UNIV3 Pools.
SteadeFi Backtesting : Assisted with backtesting of Delta Neutral strategies using Arkiver & our Web3 backtesting library
Struct Backtesting : Assisted with backtesting of integration of Trader Joe's Liquidity Book using Arkiver & our Web3 backtesting library
Other noteworthy examples from previous quarters
Liquity Backtesting Report : Assisting with the building out a number of backtests & deep dives into various strategies for LUSD utilising Arkiver & our Web3 Backtesting tool.
Polygon Dashboard : Assisting in building out DeFi dashboards for their zkEVM ecosystem utilising Arkiver to provide the data pipeline for tracking live & historical data
Neutra Finance : Assistance with data pipeline for Neutra Finance's nUSDC vault in addition to support with smart contract development & backtesting for new vaults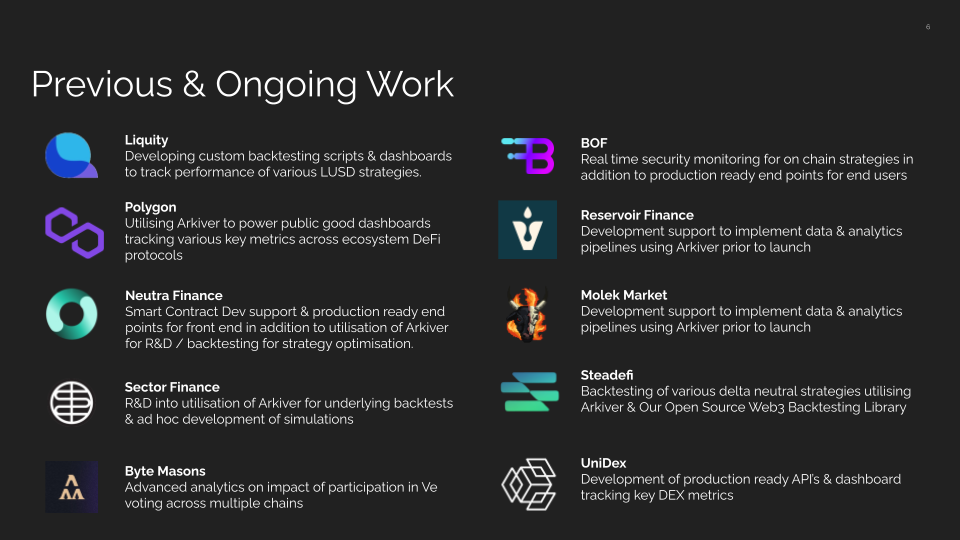 Interested in working with us feel free to reach out to us
Telegram : https://t.me/degenRobot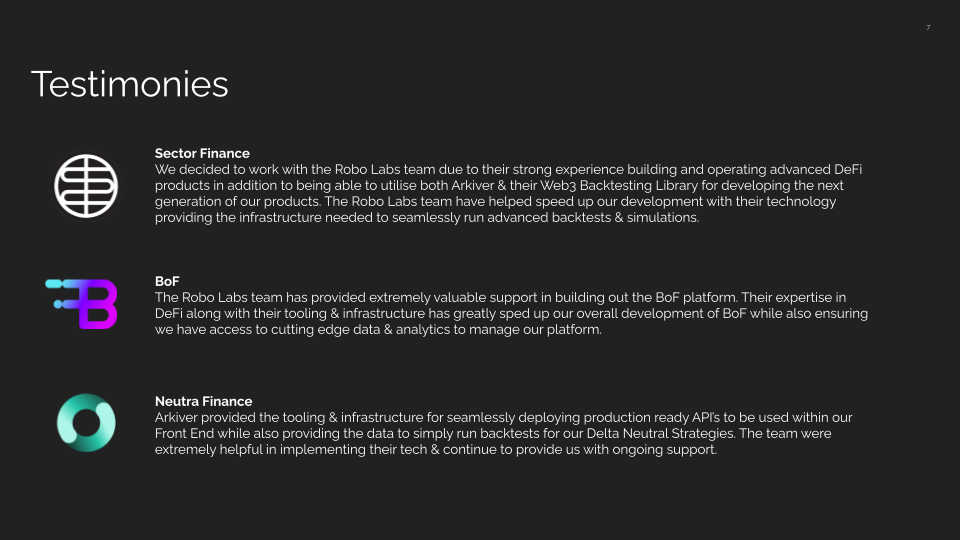 Robo Labs Product — Arkiver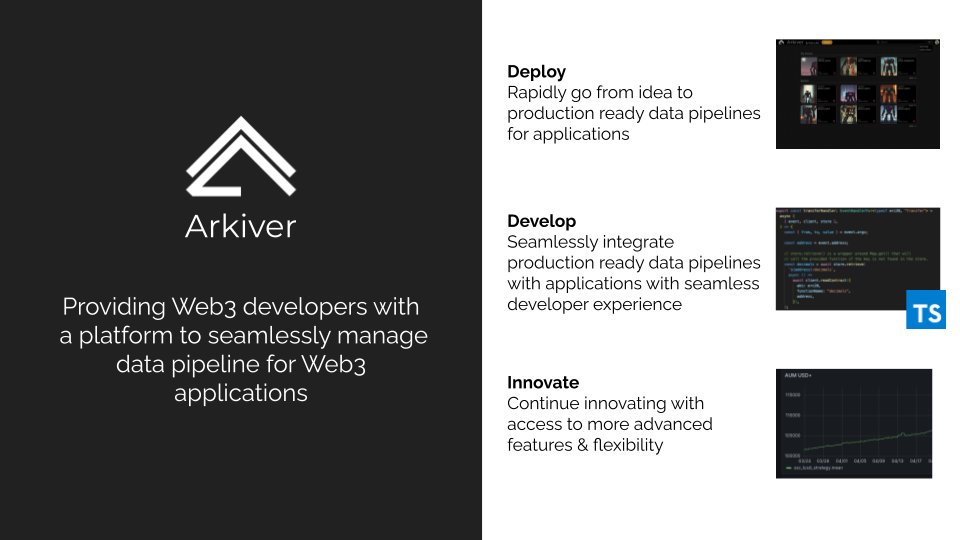 Arkiver is designed to make indexing, managing data pipelines & integrating blockchain data with Web3 applications as simple as possible. In June we opened Arkiver up for it's private beta so far we've had extremely positive feedback from early users utilising Arkiver for varied use cases including :
Setting up production ready end points for Dapp Front Ends
Backtesting & Simulations for advanced DeFi strategies
Analytics historical on chain market movements
Tracking NFT metrics & Other On Chain Metrics
Additionally we've been working with a number of teams to assist with the implementation of Arkiver into their current data pipeline. For more information on Arkiver see the links below.
New features released in Q3 include
Custom resolvers: Allows users to build custom queries into their endpoint.
Embedded Entities: Benefit from a high-speed document database, while maintaining entity relation support.
Factory Sources: Create datasources on fly, great for indexing factory contracts like the UniV3 factory contract.
Arkiver CLI Improvements
App Updates:
Code view
In-app playground
Arkiver logs
Live datasource status
We learnt a lot during the closed beta of Arkiver, and we're hard at work making improvements. One big change to come will be improving the local and self-hosting tooling, speed and scalability. We will continue to iterate on Arkiver, focusing on developer experience until it becomes the preferred indexer in crypto.
We're just getting started.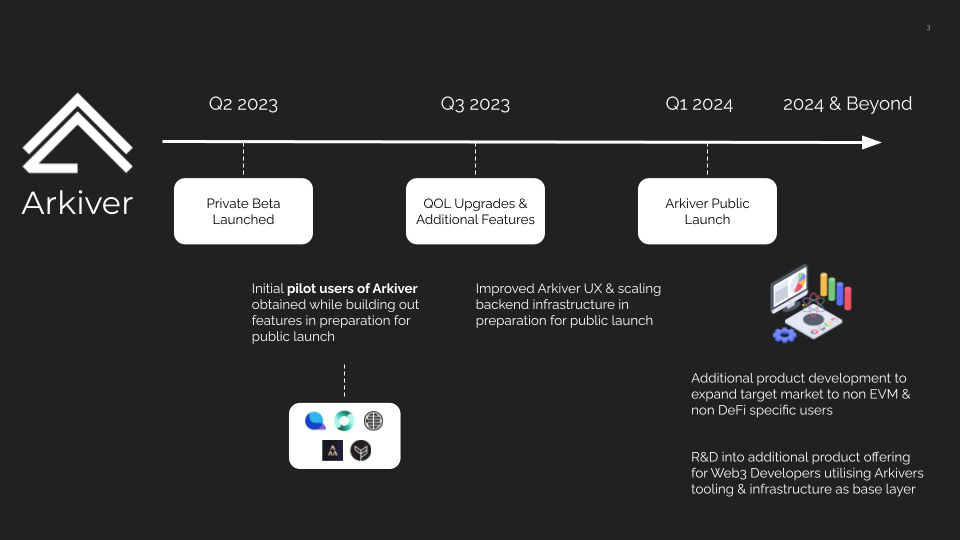 If you're interested in using Arkiver feel free to get in touch with us.
This Coming Quarter
This quarter our primary focus will be on continued support of our consulting clients in addition to adding a number of key features to Arkiver in preparation for public launch.
In addition to the above we'll also be running a number of development experiments aiming to solve a number of key pain points for Web3 teams. These include:
An open source indexer and API for enriching standardised on chain data such as swap, trades, token and NFT price data and ERC4337 User Operation.
Maturing our Web3 Backtesting Library to be more user friendly & standardised based on early user feedback
Upcoming Events
In addition to the above our team will also be attending the following events later this year
If you plan on attending we'd love to catch up, feel free to reach out and get in contact with Matt on Telegram or Twitter.
Work With Us
Interested in working with us, getting a demo of our technology or learning more about Arkiver? Feel free to reach out to us
Matt Smart : CEO
Email : matt@robolabs.biz
Telegram : https://t.me/degenRobot
Sam Battanelly | CTO
Telegram — @smoothBotz
Email — sam@robolabs.biz
Source