RoboVault Joins Chainlink BUILD To Help Drive Adoption of Advanced Automated DeFi Yield Strategies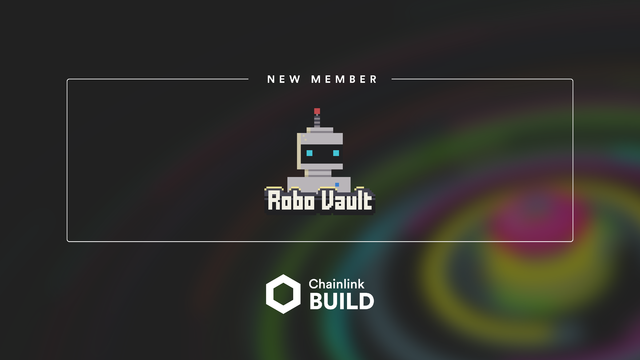 We are thrilled to announce that RoboVault is now part of the Chainlink BUILD Program. This program provides RoboVault with enhanced access to technical expertise, Chainlink services, and community support, enabling us to build more safe and reliable advanced automated yield strategies, while expanding our user base. In return, RoboVault will be providing network fees and other rewards to Chainlink service providers, including stakers, in accordance with Chainlink Economics 2.0.
RoboVault has previously integrated Chainlink Automation to help automatically rebalance liquidity positions for its pseudo delta neutral strategies, helping mitigate exposure to drawdowns and protect users from impermanent losses. You can see how Chainlink Automation outperformed alternative automation solutions in this case study, or check out this video from SmartCon 2022 to see how Chainlink Automation enhances the reliability of RoboVault.
We're now ready to develop new advanced trading strategies that offer unparalleled security through the use of additional Chainlink services. With further developments, stronger security guarantees, and the support of the Chainlink community, we're confident that we will help drive the mainstream adoption of DeFi.
Advanced Automated DeFi Strategies
RoboVault was created to bring advanced automated yield strategies to DeFi. By becoming the market leader in developing these tools, we aim to give DeFi users access to advanced quantitative strategies that are usually not easily accessible. With a security-first approach and simple UX, we make it easy to access our services.
Throughout DeFi summer, we saw that the best returns came from supplying liquidity to Automated Market Makers. However, without advanced automation and risk management tools, liquidity providers can suffer large losses through Impermanent Loss. For the last year, we have been running single-asset strategies while avoiding Impermanent Loss or liquidation.
Why We Joined Chainlink BUILD
RoboVault joined Chainlink BUILD to maximize the benefits of security and reliability that Chainlink Automation and other Chainlink services provide. As part of BUILD, we will receive key benefits, including access to new Chainlink product alpha and beta releases and dedicated technical support from the Chainlink ecosystem.
"Chainlink BUILD enables us to access the infrastructure, technical expertise, and community support needed to build an advanced DeFi yield platform and gain wide adoption. With cutting-edge tools and a powerful community behind us, we can focus on building advanced automated yield strategies and an easy-to-use platform that brings more users to the DeFi economy." — Matt Smart, CEO / Co-Founder
RoboVault has planned to commit 3% of the total token supply of the RoboVault token, or similar economic incentives generated by RoboVault if no token is launched, as an incentive to the Chainlink community, including stakers.
About Chainlink
Chainlink is the industry-standard Web3 services platform that has enabled trillions of dollars in transaction volume across DeFi, insurance, gaming, NFTs, and other major industries. As the leading decentralized oracle network, Chainlink enables developers to build feature-rich Web3 applications with seamless access to real-world data and off-chain computation across any blockchain and provides global enterprises with a universal gateway to all blockchains.
Learn more about Chainlink by visiting chain.link or reading the developer documentation at docs.chain.link. To discuss an integration, reach out to an expert.
About RoboVault
RoboVault's goal is to become a market leader in the development of advanced automated strategies allowing DeFi users to earn on their assets. Through advanced automation & risk management tools RoboVault is able to execute advanced Pseudo Delta Neutral strategies on-chain, benefiting users' Crypto Assets in a safe and competitive manner.
Start Earning with RoboVault : https://www.robo-vault.com/
Socials:
https://twitter.com/Robo_Vault
Source