RocoFinance x Rise Online AMA#1 — Project Overview with Sebahattin Akay (Recap)
RocoFinance x Rise Online AMA#1 — Project Overview with Sebahattin Akay (Recap)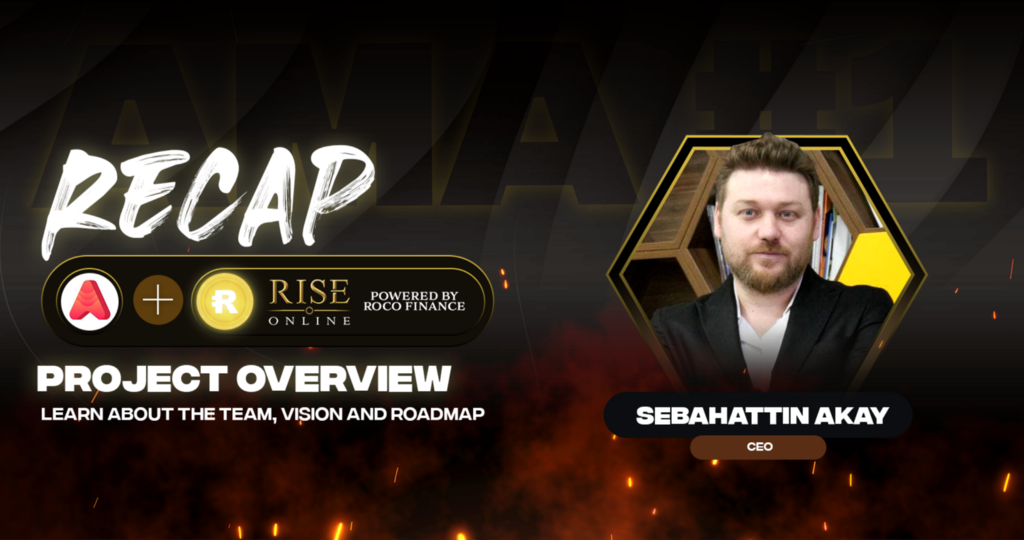 On 10/12/2021 at 11:00 a.m (PST), an AMA session was held on Avalaunch with special guest Sebahattin Akay, CEO and Co-Founder of RocoFinance. Below we present to you an excerpt from AMA with questions and answers.
Dave Donnenfeld| Avalaunch
@Sakay34 Welcome to our lively Avalaunch community and glad to have you. Roco has gotten a lot of attention and deservedly so. Stoked to have you here — how are you today?
Sebahattin Akay| RocoFinance
Hello everyone, thank you i am fine.
Dave Donnenfeld| Avalaunch
Good to hear. So let's get right into it — For starters, please give us a bit of background on yourself. What did your career look like before crypto, and how did you end up focusing on blockchain technology?
Sebahattin Akay| RocoFinance
I am Sebahattin Akay, I have worked as a company owner and operations manager in companies that provide Online Game products, digital epin code sales and brokerage services for about 16 years.
We started the project by considering the population of the game industry and choosing the MMORPG genre that we think is suitable for us.
In the last 4.5 years of the project, we have reached the number of staff between 55–65 people in total. Currently, we continue to develop our project with our core staff of approximately 20 people in our company located in Teknokent, Istanbul University.
Roco Finance has been being developed for over 1 year, and Rise Online is 4 years as I said. Firstly, it all started with the idea that Rise Online should contain NFT items to be sold, so that our supportive player community can earn some profit by playing the game, also in legal ways. And secondly, we realize that we should also be contributing to this ecosystem, as there's still much to be developed. These 2 ideas created Roco Finance, with DeFi, NFT and GameFi interactions.
Dave Donnenfeld| Avalaunch
Thanks for this. It seems a natural progression that you'd end up on blockchain. Next question — The upcoming IDO will be selling the ROCO token, which possesses a lot of utility, and spans two projects at this point in time: RocoFinance and Rise Online. Could you give us a brief overview of each, and how the token adds utility to both?
Sebahattin Akay| RocoFinance
Roco Finance has native token of the whole ecosystem. It will be used for payments, in staking and NFT marketplace. People will stake their tokens and be part of the whole ecosystem with many games. Also, if you're player, you will be able to earn Roco token in games that are in Roco Finance ecosystem.
In advance, Rise Online was just a MMORPG game like others, now it has its own NFT marketplace, play to earn mechanism, and it's all powered by Roco Finance. However, Roco Finance is a project that supports game developers in blockchain space, create and develop games (like it did Rise Online), and make them ready to launch.
Dave Donnenfeld| Avalaunch
Excellent. The NFT market is certainly a point of differentiation and good on you for "seeing around the corner."
Could you tell us a little about the core team? How did everyone come together to build out the vision?
Sebahattin Akay| RocoFinance
At the beginning we were a small team. We established Rokosoft with Mr. Mehmet. The core team had a lot of experience in the game industry, so even though we were few in number, we accomplished great things in a short time. Over the past 5 years, our team has grown as our products have evolved. If we include the blockchain team , we have a team of approximately 75 people and we will continue to grow.
Dave Donnenfeld| Avalaunch
That's a sizable team with experience. Good to see this level of maturity coming to Avalanche and the blockchain in general.
A big part of the Roco ecosystem is tools and resources for game developers. How do you expect these to drive the industry forward?
Sebahattin Akay| RocoFinance
We are already talking with few gaming companies that already developed their games, and playable. And we care if the game can be turned into a blockchain based, play to earn and especially can there be a good revenue model in the game, and then we will be collaborating with them, support them with our blockchain team, and finally will be launching / partnering with other game companies.
Besides everything, most exciting part of Roco Finance is that we can provide DeFi utilities to investors and players. People can stake their tokens, earn passive income and have priority of participating in Initial Game Offerings, more to talk about though.
Dave Donnenfeld| Avalaunch
"DeFi utilities to investors and players." That sounds great Next question — Is there an expectation that the adoption of these tools adds value to the ROCO token? If so, how?
Sebahattin Akay| RocoFinance
Yes. We encourage our investors to stake their $Roco tokens so that they can also have a right to earn fee incomes by the items sold at NFT marketplace of each game. There will be airdrops of the games that will launch at Roco Starter,
For detailed information You can view our Business Dech Here
Dave Donnenfeld| Avalaunch
Everyone is really excited about Rise Online. This is the first game of its type on the Avalanche blockchain (maybe anywhere) and we are thrilled to be able to offer it to the Avalaunch community. What can you tell us about its development and how it became part of the Roco ecosystem?
Sebahattin Akay| RocoFinance
Developing an MMORPG-style game is both very costly and time-consuming. Initially, we did not have the thought of integrating it into Blockchain technology. We set out with the idea of being a technology provider that integrates Blockchain technology into games as a Roco Finance. Rise Online is our first game to test this technology. We are not only a game developer, but also a company that provides technological support to Gamefi projects.
Dave Donnenfeld| Avalaunch
The investment of resources and capital into games is incredible. Often well into nine figures so that makes sense.
Let's explore RocoFinance a little deeper. What features of the platform are you most excited about. What can users expect when using it?
Sebahattin Akay| RocoFinance
It is the first project that aims to unite both game developers and player communities with the Play and Earn philosophy via blockchain. While making improvements for players to gain crypto assets in the game with game add-ons, it also provides a decentralized platform service where players can buy and sell their virtual items with the NFT Market, thus ensuring that NFTs have real world asset.
Roco, provides NFT services to game developers and player communities for the management, distribution and exchange of virtual items. It enables these transactions to be carried out over the blockchain network. Players can bring their in-game earnings to real-world values, or exchange real-world values into the game, and grow their digital wallet for real value while playing. Players can trade in the real world while having fun.
Roco, creates staking and farming pools for partner gaming companies to manage and earn rewards for their players. At the same time, Roco token holders can earn rewards by staking their tokens in staking pools. Roco also provides open source software development kits (SDKs), APIs, game add-ons, virtual items management applications and a payment systems platform service. Roco Starter mediates the promotion of promising game projects in the seed and incubation stages. It organizes IDOs for partner companies to meet and invest with player communities. It provides technological opportunities for partner companies to use the blockchain infrastructure.
Investors Benefits
Roco token holders can stake their own tokens and earn passive income.
Roco token stakers have priority participation in IDOs at Roco Starter.
Roco token stakers can earn airdrops from partner games tokens.
Roco Finance will organize a buyback program every year. Buyback amount is 10% of annual revenue.
Roco Finance receives 1% fee for each transaction at NFT market. Roco Finance distributes all transaction commission to stakers.20% of revenue is used to incubate projects developed via our tools.10% of revenue is used to provide liquidity — Roco and launched games.
Roco Finance distributes 10% of the NFT market item sales revenue of its own games to stakers10% of the Roco Token revenue from monthly membership fees and Rise cash sales will bedistributed to the stakers.
We will apply the same reward distribution rate for all of our games that we will develop in the future
Dave Donnenfeld| Avalaunch
Wow. Let me give everyone a minute to take this in
It is ineed a robust model and I find this, "Players can bring their in-game earnings to real-world values, or exchange real-world values into the game, and grow their digital wallet for real value while playing," to be compelling.
The team has always wanted to build this on Avalanche. Can you give us a bit of history about your interest in the Avalanche community and technology?
Sebahattin Akay| RocoFinance
Avalanche (AVAX) is a blockchain ecosystem that was designed to function as a secure, globally distributed, decentralized network.
Avalanche was built to solve multiple issues found in most blockchain networks today. The platform combats centralization by providing a viable alternative to networks like Ethereum. It also builds upon some of the shortcomings of that network with more programmability, features, and functionalities. Avalanche is designed to be scalable.The blockchain has can process 6,500 transactions per second. These transactions feature sub-second finality as well. In terms of operating costs, the Gas fees on Avalanche are much more affordable than Ethereum.
Avalanche is a project that we follow from the very beginning. We have a strong community in our country and we get along well with the Avax community. Another factor, of course, is that the Avalanche founder is Turkish.
Dave Donnenfeld| Avalaunch
It is indeed a proud product of Turkey. For a small country, it is making a lot of noise in the blockchain space, quite impressively I might add.
With that in mind — The team is primarily Turkish and has a big Turkish audience. What are the plans to expand outside of Turkey to make sure that Rise Online is played more broadly across the globe.
Sebahattin Akay| RocoFinance
Yes, we have a very strong community in our country. As Roco Finance, integration of blockchain to Rise online, is the first step done globally. Because decentralization means the removal of borders, and the removal of borders means globalization.
Meeting Avalaunch❤️ and working with their amazing team was our second door for reaching global users.
In addition, we have received investments from many globally known venture capitals such as Alameda, Huobi, Avalabs. This was our third gateway to the global market.
The play and earn model draws the masses to the games. We will implement a similar model in our first game called Rise Online. We will see together that we are the best MMORPG game with play and earn model in the world.
(I greet the people of my small country with a big heart.)
Dave Donnenfeld| Avalaunch
Love this
The story and characters in Rise Online are fundamental to its success. How do you approach tackling the creative part of game development? Is there a team dedicated to crafting the Rise world?
Sebahattin Akay| RocoFinance
We have been developing Rise Online for about five years. Our developments will continue. A staff of about fifty people works for Rise online. Actually I do not want to use the word of staff, we really are like a family and we see our game as a newborn child
Dave Donnenfeld| Avalaunch
Heart and soul in it. In our conversations, that has come across.
What does the roadmap look like post-IDO? What can token holders expect in the near term? What about 6 months from now?
Sebahattin Akay| RocoFinance
After IDO, our stake and farm pools will be active first.
The beta version of our NFT market will be launched in 1 month approximately. Alpha versions of our NFT marketplace will be released at the same time as our game .
We have also started working on mobile wallets. We will come up with a great user-friendly product that you can manage all your NFTs with our mobile wallet.
Dave Donnenfeld| Avalaunch
You've been busy and again, good to see this degree of development completed for a new project.
What has been the biggest challenge bringing two products of this scope to market?
Sebahattin Akay| RocoFinance
had a small team. We tried to employ the right people at the right time.
Over time, we have created a very talented team. We are very experienced in the gaming market, but blockchain has opened the door to a new world for us. We continued to learn and develop in this new world. I believe that we will achieve our success in the game in the blockchain as well.
We did not encounter any challanges other than access to information. I believe that together as a team, we can overcome any challange.
Dave Donnenfeld| Avalaunch
Can you share anything about the project(s) here that the community might not know yet? Any "alpha" you are willing to divulge?
Sebahattin Akay| RocoFinance
1- We are developing a new game in Trading battle card style.
2- We have engagement with three gaming companies.
3- Tier 1 CEX listing after IDO
4- Avalaunch will always with us☺️
Dave Donnenfeld| Avalaunch
That's a lot. Very much appreciate this insight and of course, your loyalty to us. It's been a pleasure working with you so far and believe this relationship will continue for a long time. Now moving on to the Twitter questions as we appreciate you engaging with our community…
Twitter Questions
@Nirund14 What is the strategy to keep Rise Online world a Play to Earn platform and not turning out to be a Pay to Win?
Sebahattin Akay| RocoFinance
Rise Online is MMORPG game, so the main mission is to develop your character. When developing your character, you need to kill some monsters, go into dungeons, and complete your tasks etc.
If you are lucky enough, when you kill a monster, there'll be a chance to drop Roco token , and its details are shared in our Business Deck. Moreover, if you can drop an NFT item, you'll be able to sell it at NFT marketplace to others, with Roco token. But none of these items boost your power, that's the way we prevent "pay to win".
@woozieriadi What security features will be implemented in Rise Online World to prevent hackers from entering due to smart contract failures. How often are Rise Online World checked for security vulnerabilities?
Sebahattin Akay| RocoFinance
We care much more than anyone I can say. We have virtual security guards among our team members, and it will expand with new blockchain integrations. We are meeting with few audit companies for crypto part, and are building servers for gaming part to protect our game to malicious attacks. We can assure that both players and crypto investors will be safe. Also we are using the Epic games anti hack system.
@AncGtx — Partnerships are always an important factor for every Project. So I'm curious, who are ROCO's partners and what are the benefits you get from these relationships? Also which countries is Rokosoft focused in, or it is a global project?
Sebahattin Akay| RocoFinance
First of all, we can say that; YES, we are global. Our partners, from whom we have invested, help us in marketing and convey their experiences to us throughout the whole process. We made strategic partnerships with three game companies whose names we have not announced yet. These partnerships will contribute greatly to the Roco ecosystem.
@Elnazvera1 Rise Online World will be released on which platforms? What conditions do I need to start playing?
Sebahattin Akay| RocoFinance
First of all you can play with our launcher. After that we will be released on Steam and Epic games.
@RatulAmin7 The gap between traditional gamers and blockchain gamers is still huge. How can #riseonline bridge this to attract more traditional players to try new blockchain-based games? What's your plan to expand the adoption of your project to traditional gamers?
Sebahattin Akay| RocoFinance
Traditional players are attached to the game with love. Crypto asset investors, on the other hand, are interested only the earnings model in the game.
My personal opinion; There are popular NFT projects like Axie in the market 🙂 I want to ask: If you didn't have to play and earn, would you spend time on this game and similar games? Answer is no. I think Crypto asset users haven't come across a good game yet. If crypto-asset investors start playing games for fun, they will be able to communicate with traditional players. This communication will turn traditional players into a potential user of crypto assets.
Telegram Questions
Do you have any Coin Burn / BuyBack systems or any $Token Burn plans to increase the value of Token & attract Investors to invest?
Sebahattin Akay| RocoFinance
Roco Finance will organize a buyback program every year. Buyback amount is 10% of annual revenue. Please check our Business Deck for more details about; Advantages of Roco Token.
Do you plan to enlarge the Rocofinance and Riseonlineworld NFT ecosystem to a metaverse usage and/or virtual reality NFT's in the near future?
Sebahattin Akay| RocoFinance
We are working on it. We are trying tı integrate GPT3 to NFTs. If we succeed, we will have combined Artificial Intellegince with NFTs. This will revolutionize the Gaming industry.
Binance Smart Chain (BSC) is trending right now. Is your project interested or is there a plan to enter the world of BSC?
Sebahattin Akay| RocoFinance
If you examine our site, you will see that we also have improvements in Ethereum and BSC network. But these improvements are preliminary. We want to do all our development on the Avax network. The BSC network may be used to increase our market share. Apart from that, Avax technology is far superior to BSC network
What is your top 3 things for priorities in 2021? Could you share some plans for the upcoming year?
Sebahattin Akay| RocoFinance
Launching Rise online
Launching NFT Market and other Tools
Launching Mobile wallet
Launching Beta of our new game
Puspa Martha
Some of the reasons game developers stay away from blockchain industry is that Integrating blockchain into games requires serious R&D work, also developing a new platform for virtual items is time consuming and costly. How will Roco finance come to game developers rescue? How will you help them address these major painpoints so that they can have a seamless experience while developing their games?
Sebahattin Akay| RocoFinance
Developers Benefits
R&D costs of partner companies decrease as they use Roco Finance products.
Genuine ownership will bring more loyalty to gamings.We manage the IDO process of game developers with Roco Starter.
We support them at every stage of their crowdfunding process.Game developers can make initial asset our NFT Market before even at pre-launch or post-launch of the games.
With the purchases made in our NFT Market, we ensure that all transactions are carried out in a transparent and secure manner. Thus, we minimize chargeback and fraud transactions.
Also
You can find detailed information about our Tokenomics at our website.
Dave Donnenfeld| Avalaunch
You've done it. Thank you for the most epic AMA. It has been great. We very much appreciate you making the time and most of all, we all look forward to your launch here on AVALAUNCH. Big thank you to the rest of the team as well.
Sebahattin Akay| RocoFinance
If you have any question feel free to dm me. Our Admins will be happy to welcome you to our telegram group : https://t.me/rocofinance.
Thank you Avalaunch team for AMA. Thanks for the questions.

About Avalaunch
Avalaunch is a launchpad powered by the Avalanche platform, allowing new and innovative projects to seamlessly prepare for launch with an emphasis on fair and broad distribution. With its values deeply rooted in the early Avalanche community, we are able to offer projects confident, informed users who are aligned with the long-term goals of the rapidly expanding application ecosystem.
Leveraging Avalanche's scalable, high-throughput, and low-latency platform, Avalaunch is built by users, for teams, to help grow strong communities.
---
RocoFinance x Rise Online AMA#1 — Project Overview with Sebahattin Akay (Recap) was originally published in Avalaunch on Medium, where people are continuing the conversation by highlighting and responding to this story.