Shrapnel INSIGNIA Beta: Redefining Gaming Customization through Creativity and Ownership
Shrapnel INSIGNIA Beta: Redefining Gaming Customization through Creativity and Ownership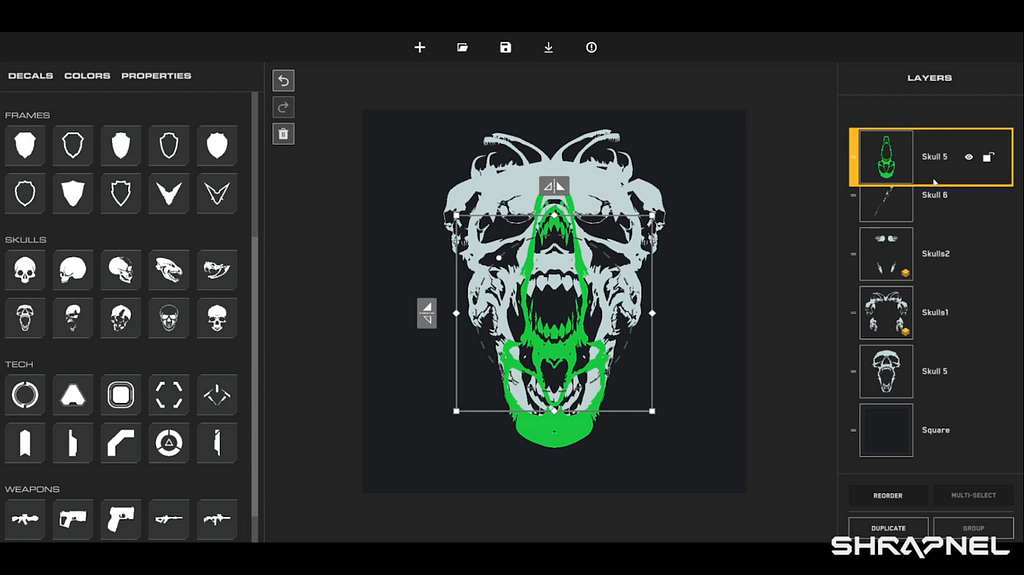 Get ready to take your gaming experience to the next level with Shrapnel INSIGNIA Beta. At Shrapnel, we believe gaming is about more than just competition — it's an opportunity to express your creativity and leave a lasting mark. Our latest innovation, Shrapnel INSIGNIA, is a powerful creator tool allowing you to design personalized creations beyond traditional gaming customization. It's time to unleash your imagination and discover limitless possibilities.
Ready to get creative? Join the ranks of talented designers and creators by creating an account today.
Craft Unique INSIGNIAs with Ease and Endless Possibilities
With Shrapnel INSIGNIA, creativity knows no bounds. Whether you're on a computer or soon on mobile devices, our user-friendly interface enables you to combine and edit shapes to craft unique INSIGNIAs with ease. From intricate emblems to eye-catching symbols, from custom icons to elaborate scenes, you can create and personalize to your heart's content. Shrapnel INSIGNIA is more than a creator tool — it's a gateway to a world of imagination and personalization.

INSIGNIA Beta: Create Now, True Ownership is Coming
But INSIGNIA is about more than just creating visuals. It's about ownership and building your brand. We offer creator attribution, transparent asset history, and true player ownership through our blockchain-powered gaming ecosystem, on Avalanche subnets. Each INSIGNIA you create becomes a digital masterpiece that tells a story beyond the virtual realm. Your creations not only reflect your creativity but, with the upcoming blockchain capabilities, will also be game assets that you will truly own.
Unleash your imagination, collaborate with others, and leave your mark on the game! Create an account today and join our growing community of designers and creators.
Personalize Your Shrapnel Experience with INSIGNIA-Crafted Custom Skins
Take your INSIGNIAs into the Shrapnel universe and elevate your gaming experience. Seamlessly integrated into the core Shrapnel game, INSIGNIA will allow you to personalize your Operator character, weapons, and gear with custom skins crafted from your unique INSIGNIAs. Stand out from the crowd and leave a lasting impression on fellow players. Let your INSIGNIAs tell your story in the Shrapnel Universe.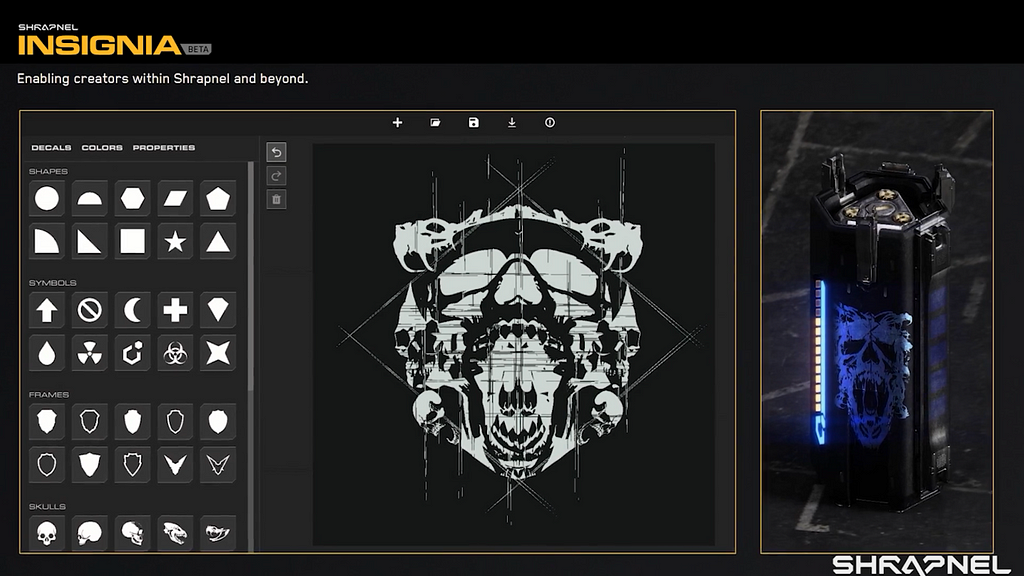 Unleash Your Artistic Brilliance with our Vibrant Community of INSIGNIA Innovators
Join our innovative community of creators and be part of a movement that celebrates creativity and self-expression. Shrapnel INSIGNIA Beta has improved in closed beta testing, where our community amazed us with their artistic prowess. Their stunning and unique INSIGNIAs showcase the incredible potential of this tool. You, too, can become a Featured Creator, receiving accolades from the Shrapnel team and showcasing your work in our Marketplace.
At Shrapnel, we're committed to pushing the boundaries of gaming, empowering players with creative expression, and enabling true player ownership. That's why we're constantly evolving INSIGNIA to offer more exciting features. Soon, you'll have a mobile version, on-chain publishing, and the ability to list your on-chain INSIGNIAs for sale in the Shrapnel Marketplace.
Monetize your talent or discover one-of-a-kind creations that resonate with you. The Shrapnel Marketplace will be the go-to destination for buying, selling, and getting inspired — where your expression and creativity are shared with the thriving Shrapnel community. The assets you buy and sell in the Shrapnel Marketplace can be used in-game, allowing you to showcase your unique identity to the world.
Are you ready to #Create2Own the future of gaming? Visit www.shrapnel.com and unleash your creativity with Shrapnel INSIGNIA Beta today.

Source