Silta: DeFi with Avalanche AMA
Silta will be hosting an AMA via Twitter spaces today, Thursday, March 3rd at 6 pm CET
The VP of marketing at Avalanche Jay Kurahashi-Sofue will be joined by the Silta team to discuss Decentralized Finance on the Avalanche network.
The List of speakers for the Silta team will include;
Stanley Boots Co-Founder
Michael Malka Co-Fonder / CTO
Donato Pellegrino Product Owner
Rob Holmes Head of Partnerships
Carlos Pancrazi Outreach Manager
The AMA is set to be moderated by Irina Karagyaur, the head of growth at Silta
Set a reminder or access the space via the link Silta DeFi with Avalanche AMA
Silta
Silta is the DeFi bridge to a sustainable future
Silta provides on-chain collateral which enables ESG-conscious infrastructure developers to access liquidity in DeFi. This is how Silta introduces a new class of products to the DeFi space. With steady interest rates, investments in real-world infrastructure can bring balance to crypto traders' portfolios and shield against crypto winters.
What Silta Does
Carries out a due diligence process on collateral loan applications
Presents information about pre-qualified applications to the DAO and the lenders
Gauges the projects' viability through the Silta scoring system
Assesses each project on environmental, social and governance (ESG) criteria
Empowers the Silta DAO to decide which projects are eligible for on-chain collateral
Facilitates a collateral loan agreement between the DAO and the borrower
Connects borrowers to third party DeFi loan pools
Provides staking pools where participants gain additional rewards on their investments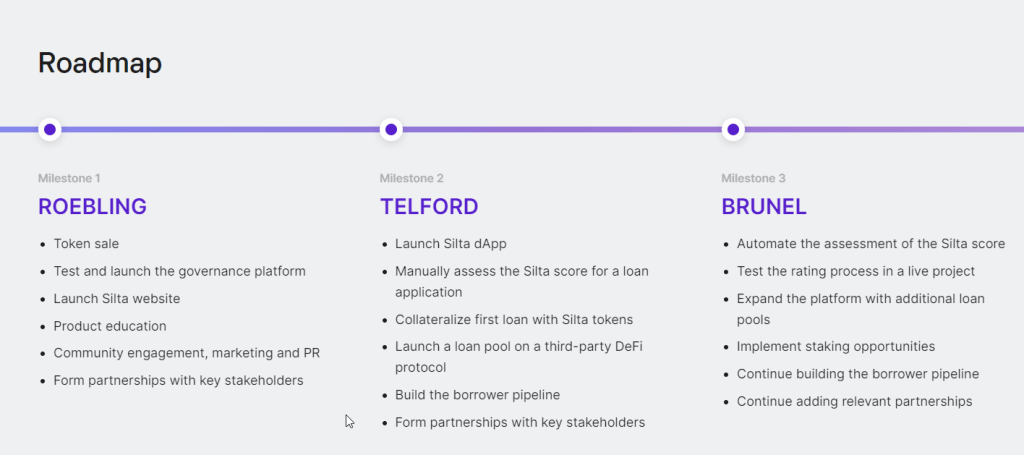 Be sure to check out the Whitepaper for Silta, available Here.
Twitter | Linkedin | Telegram | Medium | Facebook | Youtube