Snake City AMA #1 — Project Overview with Daniel Phan (Co-Founder)(Recap)
Snake City AMA #1 — Project Overview with Daniel Phan (Co-Founder)(Recap)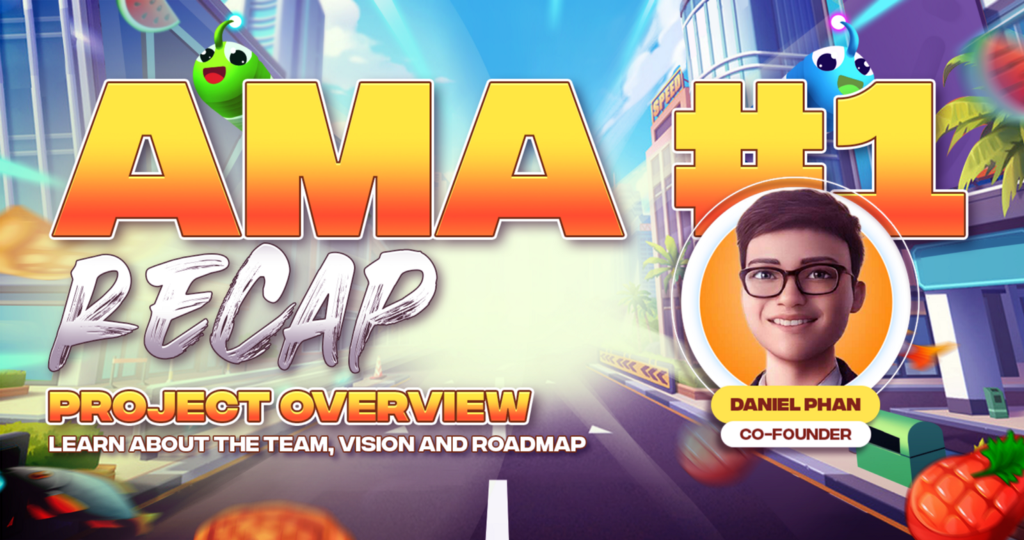 On 5/19/2022 at 7:30 p.m. (PST), an AMA session was held on Avalaunch with special guest , Daniel Phan, Co-Founder, Snake City . Below we present to you an excerpt from AMA with questions and answers.
Dave Donnenfeld | Avalaunch
Hello again everyone and welcome to the Snake City AMA. I have to say it's amazing to see the amount of interest in gaming and how aggressively private equity is still investing into the space. There's been no shortage of interest in Snake City and the growing community you've developed is testament to this. GameFi is here to stay and here to do their best to be one of the pillars on Avalanche is Snake City. Today we are fortunate to have @daniel_snakecity with us here today, How are you?
Daniel |Snake City
Thanks for the invite Dave. Hello everyone, I am glad to be here today!
Dave Donnenfeld | Avalaunch
Our pleasure. Good to have you. So let's get right into it and start with an intro — Firstly though, thank you for taking the time to help our community learn more about your project. Please tell us who you are and how your previous experiences brought you to where you are today.
Daniel |Snake City
Sure, This is Daniel, Co founder of Snake City, I have more than 8 years experience in the IT industry and have been in crypto space from 2017. My first project was wallet development with my partner in Canada which helps me to jump in crypto. Not only public blockchain, I also have experience with Private blockchain which is Hyperledger technology from IBM, we helped Kasikorn Bank in Thailand with Letter of Guarantee system and CIC (Construction Industry Council) in Hong Kong with Safety Application for frontier workers.
I've been a gamer my whole life, playing a lot games from simple such as nokia game, bomberman, pikachu to more complex one, and I love to create a fun, easy to play game, we decided to build SnakeCity which is a familiar snake game that will bring the best experience to players.
Dave Donnenfeld | Avalaunch
A good background. 8 years in tech 5+ in crypto. For everybody here today not yet fully aware, can you brief us on what Snake City is about?
Daniel |Snake City
Snake City is a NFT game built on Avalanche and is inspired by the very famous Slither.io and Snake Nokia game back to 2000s.
With concept: Simplicity, Addiction, Fun and Personalization, Snake City offer 6 game modes to user: Free zone, Discovery Mode, Training mode, Arena Battle, Tournament and Sponsored Event.
The game play is very simple, to control a snake, around a wide area and eat food, avoid the bomb, defeating and consuming other players to gain mass to grow the largest and longest in the game.
Dave Donnenfeld | Avalaunch
Simple is good, playable is great. ? What would you say are the main features that make Snake City unique, and therefore able to compete with the current gamefi landscape?
Daniel |Snake City
Yeah, I have seen many gaming projects fall into the trap of doing too much and trying to accomplish many things at once, instead of aiming for simplicity. So that, our idea is to create a casual and skill-based game that targets at a mass market audience, as opposed to a hardcore game, which is targeted at hobbyist gamers. We focus on the concept of Fun, simple gameplay that is easy to understand, Simple user interface, Short sessions, less learned skill so a game can be played during work breaks. while on public transportation, or while waiting in a queue anywhere.
Among the gameFi world, and in our roadmap, we create Snake City with vision as a Platform not just game only, but also a promotion platform to promote other Crypto projects. We will soon collaborate with other NFT projects so when players enter the game, they can earn another NFT type from partners' projects or their token by playing Snake City game. With this feature, we will let a partner hire/bid the map, and design character, food, skin, traits as logo, brand asset of the partner. User will join in that map and control the snake to earn tokens and NFTs.
Dave Donnenfeld | Avalaunch
It sure is and appreciate the thorough answer. Given the story line I have to ask — How did the game story for Snake City evolve? Where did the inspiration come from?
Daniel |Snake City
You know, We are inspired by the famous snake game slither.io so we want to build a snake-based gamefi to serve people a simple, fun, and entertaining game. In addition, we are big fans of science fiction and metaverse concepts. We develop our gamestory to look like a future world where the snake rules the world, humans become a minority and must use technology to fight against snakes. Humanity must stand and work together to build up the world. The game story revolves around snake robot heroes built by humans using technology. Moreover, this storyline helps us expand into more game modes and integrate VR/AR technologies that make our games more interesting. Join us to see interesting updates that will be gradually revealed in the future.
Dave Donnenfeld | Avalaunch
Awesome. Thanks for this — One interesting aspect of the game which for sure will help with its popularity among users is the 'Free Zone'' acting as the initial ground where anybody can start experiencing the game for free. While this for sure will help bring experienced players into the ecosystem, it will only become available at a later stage. What are your plans for marketing the product from the get-go and what about appealing to a wider audience?
Daniel |Snake City
Thanks for the question, I believe SnakeCity will easily attract players from non-crypto world since we have Freezone mode, this is a free-to-play mode that doesn't require players to invest. As the game has a close concept to the famous snake game, players won't find it hard to learn how to play, they just need to jump in the game and experience.
Moreorver, we will soon create replicas of the influencers in our own game NFTs, Create skin, character that relates to each influencer and get them to promote it and be heavily incentivized to play the game. We hope that can be done well, so the influencers repost them to their followers and even use it as their profile picture on Twitter. DO you want to have your own Snake profile picture Dave? ?
Dave Donnenfeld | Avalaunch
My body is ready although my mind is resistant…
Okay! I'm in.
Similar to the point above, how do you aim to scale the game? What strategies will there be employed to increase the number of users, perhaps not just the crypto-native ones but potential players from traditional gaming?
Daniel |Snake City
Yeah, converting non crypto user is one of the strategy we are working, We have seen a lot of gamers play and watch livestream the game Snake.io, Slither.io, Wormate.io, Littlebigsnake.io on their youtube and facebook. We have list of them and will invite them to play Snake City via our campaigns (weekly and monthly) so we can easily approach other non crypto gamer, as they can play the game without investment.
Dave Donnenfeld | Avalaunch
On the roadmap soon after the token launch there is a plan for expanding the current network. Can you give us an indication of the type of partnerships you're looking to onboard? What values are you looking for the most from these collaborations?
Daniel |Snake City
Our priority is to make members have the best experience with the game. To expand the community, we have planned to collaborate with guilds and of course KOLs including streamers and youtubers in the future, through that kind of partnership there will be more people who know about our game.
We also have a different way of onboarding partnership. Regarding Sponsored Event game mode, we can both use the reputation of SnakeCity and other projects. Very soon, we will let partners hire our map or we can design their logo, character in the game. Players can earn other projects' NFT or token or even, stable coin. That's a highlight of SnakeCity because we will have external cash flow from promoting other projects and it would help SnakeCity to grow sustainable.
Finally, as Subnet advantage is the reason for us to go ahead with Avalanche, we will put it as the highest priority for us next quarter to help users save gas fee, optimize the traffic and enhance the performance.
Dave Donnenfeld | Avalaunch
This is strategically interesting and smart. Kind of a multi-pronged approach and of course, the subnet presence is going to be something in the coming months.
With the word "Finally" I assume you're finished ? so I will proceed — Behind the economy sustaining Snake City is the native currency: the $SNCT token. In addition, there is also another token, $TOC. What is the difference between the two tokens, how does their utility compare?
Daniel |Snake City
Well, we run dual token model. $SNCT is our main token and $TOC is our in-game token. With different game modes and other activities, you can earn different rewards as well. $SNCT and $TOC also have separate utilities.
With $SNCT you can purchase Eggs and NFT Snakes, it can be given as rewards for token holders when staking and it also helps to govern the Snake City ecosystem On the other hand, $TOC will help you to buy more Turn in some game modes, and buy tickets to play in the Tournament. $TOC is used for breeding features as well. So we put a lot of utilities for both native token and in game token.
There are two points that stand out of the project: we develop an anti-hacking system and an anti-inflation mechanism which is the most concern in the gameFi world. In terms of anti-hacking systems, we have researched and learned to minimize hacking/cheating in the game. Plus Blockchain technology, the level of security is one level higher than traditional games. About anti-inflation mechanism, we have always prepared for the project's balance economy that includes NFT Economy, Token Economy including Minting control, Token Utility, Burning Mechanism and Diverse Revenue Stream.
Dave Donnenfeld | Avalaunch
The standard two-token is often not through too well in my experience. This has a sense of balance and consideration, particularly for the game currency. Well done.
Can you give us an indication of the types of centralized exchanges you are looking to launch the token on?
Daniel |Snake City
We will list our token in Trader Joe first as it is more convenient for gamer to use our both token SNCT and TOC. In addition, we got the confirmation for some centralized exchanges and soon will announce it. In gamefi, liquidity is very important to player. DEXs are great, however the liquidity is usually not as great, especially for government token. That's why, we want to offer that to the community.
Dave Donnenfeld | Avalaunch
I appreciate that. While the long term prospects for a project are what matters, conditions are such that near term catalysts and presence are going to be asked of you.
Can you give us an overview for the plan your team is undertaking to bring Snake City's experience as part of the metaverse landscape? What will this entail?
Daniel |Snake City
Definitlely, as we are engineers who in love new technologies so we have some plan for it. In our long-term development, we build a metaverse platform where the user can experience the gaming environment in the most realistic way. As mentioned in our storyline, users have to control a snake hero (known as a snake robot created by laboratory scientists) to fight with real snakes that are invading the world.
We will develop VR, AR technology to increase the user experience in the game. The word City in our name stands for that metaverse concept, we will design the City map (it could be New York, Hanoi or Jarkata) and let snake run around the map to eat NFT and join in battle.
Dave Donnenfeld | Avalaunch
Let's get a little personal here Daniel — I always want to know of a founder — What aspects of Snake City are you most excited about and why?
Daniel |Snake City
I think the game play that we are building for Snake City, it is very simple and easy to play, but it is still addictive, hard-to-master and fun enough. In addition, we have the game mode to help player to collect not only Snake City token but also many other project token which help player have more choice and earning, which makes the game more interesting.
Dave Donnenfeld | Avalaunch
Very cool. Our final question before we move on to the questions from the good folks at Twitter so buckle up. Do you have any lasting thoughts you would like to share with the community?
Daniel |Snake City
Sure, I would like to add some infor about our next milestone. we will have the NFT sales and game release right after the IDO. Only 630 NFTs are sales 27 May and players need to use our token SNCT to buy it. We hope the community after buying our token in launchpad can use it to own Genesis 0 Snake, and as our burning mechanism, every NFT sales we use 70% to burn our token and add liquid.
at the moment, we are opening game contest, please visit our telegram and enjoy the game.
Dave Donnenfeld | Avalaunch
Well done. You have a completed a great leg on this wonderful journey.
Twitter Questions
@AkihisaMori45 — How do you see the current state of the crypto scene? Is it over hyped and over valued, just about right or undervalued?
Daniel |Snake City
this's a very interesting question. From my point of view, crypto always is cycle, but if we take it a long run, the gamefi and crypto is still in very early stage. The games are clunky, and the experiences are mixed. There is a lot of friction because it is not easy to onboard gamers who have never purchased crypto before. However, it will change in the coming years as tools become more streamlined and easier to use and understand. This would drive up demand, separate winning projects from losers, and give investors a return on their investment.
@nicole_binuya — Do you have any Bug Bounty to check for vulnerabilities?'
Daniel |Snake City
Definitely, we always treat security as the highest priority so we have big rewards for everyone who helps us improve it.
@AdcDavidtai1999 — Where does the name of your project come from? Do any team members like or have a pet snake?
Daniel |Snake City
there are many partners asking the same question about where our name come from. I would say, Snake City = Snake + City. Snake is the concept of the game where the player controls a character who goes around the map and eats foods, tokens, and NFTs. and the City stands for our game play, We have many city maps designed for our local community from Paris to Jakarta or Hanoi.
@quyencao3200 — Is your gameplay easily understood by all kinds of players especially for those who are relatively new into crypto or just starting out?
Daniel |Snake City
Sure thing, One of our core values is simplicity, we design game mechanics, UI UX and game rules are very easy to understand. We run 2 rounds testnet already, the last round we have around 8500 players in 4 days. They are quickly familiar with the game and we don't see many questions about how to play it.
@AdcDavidtai1999 — How big is your team and how can we get introduced with the rest of your team members and founders? Can community interact with them like you?
Daniel |Snake City
We have a team of 17 members which are 6 founders and 5 developers, 2 artists, 2 QA and 2 marketing. You guys can check our linkedin in our white paper, section our team.
Telegram Questions
During these days, be a Multi-chain platform is an obligation to be considered a competitive project, so can you explain who how many chains are you able to support?
Daniel |Snake City
Great question, we believe in multi chain future that's why we are working hard to integrate more chains in Snake City. Next Quater will be big for Snake City as we will implement it in our system.
Token Burn or BuyBack program play an important role in increasing Token value Do you have a token burn or buyback program plan to attract investors?
Daniel |Snake City
Thanks for the questions, I would say in Snake City, we implement a sustainable game economy in which, we use 70% of our all revenue stream to burn token and add liquid, 10% for community wallet to share with snake owner. Please visit our website, session game economy for more detail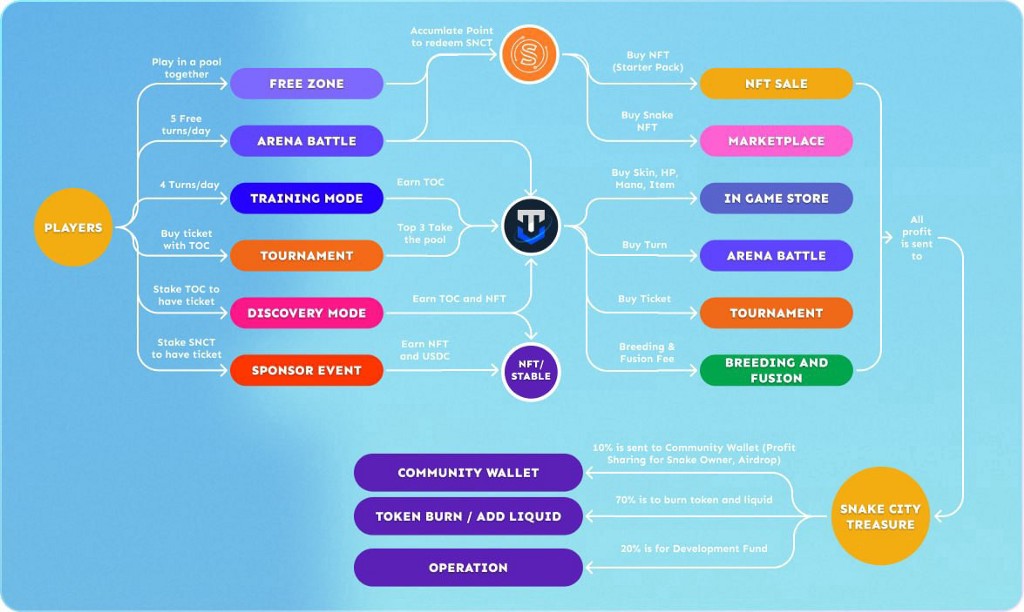 Currently where i can buy Snake City NFTs? How much will cost to buy a Snake City NFt? And when Snake City game will be available?
Daniel |Snake City
The NFT sales will be the same time as TGE, 27 May. You can buy it in our platform and you need to use SNCT token (not stable coin or Avax). The game will release at the same time too.
According to the roadmap, what is your most important next priority?
Daniel |Snake City
Subnet and multichain
Are you afraid some day there will be another project with more innovative technology can replace your project Snake City ?
Daniel |Snake City
We welcome them, as our vision, Snake city is not only gamefi platform, we would partner with other crypto and gamefi projects to let user can earn their token, nft in our platform. we don't want to limit ourselves only in our ecosystem.
Dave Donnenfeld | Avalaunch
Daniel, you have done it. I'm ashamed if I ever had a moment's doubt. You powered through it with ease.
I'd like to thank you for being here today and moving ahead with Snake City at a blistering pace. You all deserve the interest you've generated and the continued success I anticipate.
Daniel |Snake City
Thanks Dave, it is too many questions so I can't answer all here today, so please join our telegram or discord and leave your questions, we will answer it.
Thanks a lot for having me today.
Dave Donnenfeld | Avalaunch
My pleasure. Appreciate having you and look forward the launch.
@shahi297 can we post a link to their telegram and discord?
Lovish Shahi| Avalaunch
Guys, you can join snakecity telegram here:
Daniel |Snake City
Thank you everyone

About Avalaunch
Avalaunch is a launchpad powered by the Avalanche platform, allowing new and innovative projects to seamlessly prepare for launch with an emphasis on fair and broad distribution. With its values deeply rooted in the early Avalanche community, we are able to offer projects confident, informed users who are aligned with the long-term goals of the rapidly expanding application ecosystem.
Leveraging Avalanche's scalable, high-throughput, and low-latency platform, Avalaunch is built by users, for teams, to help grow strong communities.
Website | Twitter | Telegram| YouTube
---
Snake City AMA #1 — Project Overview with Daniel Phan (Co-Founder)(Recap) was originally published in Avalaunch on Medium, where people are continuing the conversation by highlighting and responding to this story.