Snake City AMA #2 — Technical Deep Dive with Frank Tran & Nick Vu (Co-Founders) (Recap)
Snake City AMA #2 — Technical Deep Dive with Frank Tran & Nick Vu (Co-Founders) (Recap)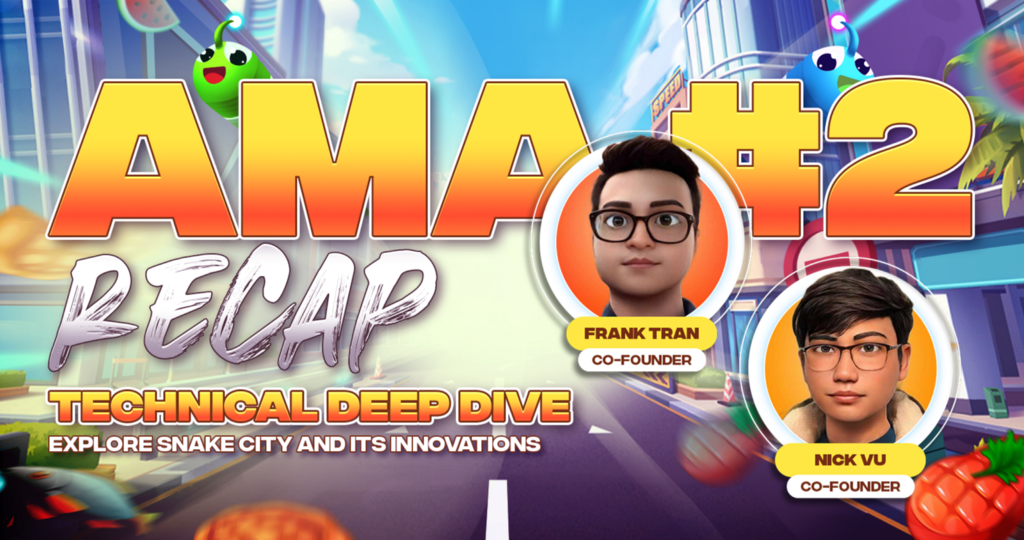 On 5/21/2022 at 7:30 p.m. (PST), an AMA session was held on Avalaunch Telegram with Snake City co-founders Frank Tran and Nick Vu. Below we present to you an excerpt from AMA with questions and answers.
Dave Donnenfeld | Avalaunch
Hello everyone and once again welcome to the sequel AMA for Snake City. Today we have not one but two esteemed members of the Snake City team — @frank_snakecity and @nickvu1208 — good to have you both here today. Also nice to be able to dig a little into the project with you all. How are you today?
Frank|Snake City
Hello everyone, thanks for having me today.
I'm Frank, one of the co-founders of Snake City.
Nick|Snake City
Hello everyone, I am Nick — game producer at Snake City, happy to join AMA today witch Avalaunch team
Dave Donnenfeld | Avalaunch
Good to have you both so let's get into it since we have an interested and invested community. Firstly, thank you for your time and for being here with us today. Let's start off with an introduction about who you are, what your background looks like and how you managed to be where you are today.
Frank|Snake City
Sure, I have almost 10 years experience working in IT & ICT industry.
As a tech savvy, i was falling in love with the concept of decentralize world. I started as a blockchain research early in 2017 and worked as a Product Owner for a Singapore based blockchain start-up backed by Animoca Brands.
Nick|Snake City
I have almost 11 years experience working as a game producer at traditional game studio. Last year, when the gamefi became trending in crypto space, I jumped into a gamefi player so that I was so excited to become a game producer of a blockchain game.
Dave Donnenfeld | Avalaunch
Appreciate that. Both of you have considerable experience in your respective fields. This is the sort of pedigree you can really build upon.
Nick|Snake City
I feel lucky to be a part of Snake City team. As a game producer, I have a chance to work with a passionate team of game developer, game artist, and game designer. My job at Snake City is to schedule and manage the plan to make sure the deadline and quality of our game.
I was in charge of building several products regarding NFT and some of them was pretty well-known in the crypto art community such as Wrappedpunks (this product is still featured on the Larvalabs website — the team behind the famous Cryptopunks collection), Blank.art (a curated platform and marketplace for crypto art),…
Dave Donnenfeld | Avalaunch
This is definitely worth a mention. Appreciate that…moving on…Let's talk a little bit about the team behind Snake City. Who are they, what their experience looks like and how did the team come together?
Frank|Snake City
Well, currently the Snake City team has more than 20 members across business, tech, marketing and design
However, the core team started with just 6 people but we managed to cover almost every part of the project from Business & Marketing to Product development.
We were friends and colleagues for a long time before so we understand each other very well, which skill one of us is strong at.
After work, some of us used to challenge each other in the Slither game. That's why when the gamefi concept was booming, we immediately thought about it and came up with Snake City because we understand why it's so popular and how to make it even more successful but familiar with the Crypto community.
Dave Donnenfeld | Avalaunch
This next one looks like it's for @nickvu1208 since it involves timelines ??Snake City already has a playable version. How long did it take to develop this? How has the feedback been so far?
Nick|Snake City
Yes, as you may know, we have already delivered a test version of our game to our community to experience the gameplay. We started to build Snake City Q4 2021, well so it takes almost 7 months to have testable version of Snake City game
We have already 2 rounds of testnet, we received a alot of valuable feedback from community to improve the quality of our game. Now, our game is ready to launch right after the IDO.
Dave Donnenfeld | Avalaunch
That's a lot of work and kudos to the team for getting that far along prior to launching the token.
Which brings me to the next question — When do you plan to deploy the game on the mainnet? What sets of challenges do you expect during the process?
Frank|Snake City
Great question, our game is ready and we plan to launch it at the same time as Token listing & INO event on May 27th (in 6 days).
Set of challenges? Hmm, interesting question, honestly we are very confident in app development, there were some bugs found by our community during the testnet events but most of them were minors and were solved by our tech team.
The only thing that we felt the most difficult was the game economy indeed.
Different from most of other gamefi projects, we're not idle games but a skill based gameplay. That's why it's really hard to manage the results when users play the game. However, we have carefully calculated all the scenarios that might happen and now we are very confident to make the game economy sustainable in the long run.
Dave Donnenfeld | Avalaunch
I think these fundamentals are going to matter more in these types of conditions. The "thoughtful" launch and approach is going to matter because we've seen what can go wrong longer term with gaming economies. Addressing those concerns prior to launch is a smart thing.
For anybody reading the whitepaper it becomes obvious that NFTs are a key component of the game mechanics, however it is not so obvious why you designed and planned to build your own marketplace. What utility do you expect to achieve with this implementation that could have otherwise been achieved via third party marketplaces?
Nick|Snake City
Interesting question,
Dave Donnenfeld | Avalaunch
We do our best Sir. ?
Nick|Snake City
Well, the reason for us to build our own marketplace looks like the same as other games, we want our user have the best experience in-game. They do not to complete so many steps to build and sell their NFTs. User can stay at our game to do everything.
And more importantly, we do not want our user to pay expensive transaction fee of third party platform. As you may know, our marketplace transaction fee will be used to burn in-game token $TOC to reduce the inflation.
Lastly, we can control every updates that we make with our marketplace so that our users do not have to wait to access these additional feature updates. They can experience these immediately.
Dave Donnenfeld | Avalaunch
I appreciate the ability to keep it all "inhouse" and capture the end to end user experience. Again, thoughtful stuff and self-reliant.
Since it's come up a lot on twitter and in here — There are several features that place Snake City up the ranks among the current Web3 gamefi system. Can you explain how the different game mechanics: training mode, battle arena, tournament, free zone, discovery mode and sponsor events work? Why was it necessary to build such an extensive network of instructiveness?
Frank|Snake City
Sure, in Snake City, we have 6 different gameplays
The 1st one is Training Mode which is ready to launch in the next few days after IDO.
In this mode, the players can select one of the challenges from Easy to Super to practice with the bots and earn rewards in $TOC token. There are a time limit, you have to accumulate enough points, stay away the bomb and being alive at the end to pass the challenge. The more difficulty the challenge, the more rewards and experience points you can achieve if you win.
Next is Arena Battle, players control their Snake Hero to fight against other players in order to win rewards in the game
There will be a daily leaderboard where players are being ranked regarding the points they accumulate in the game. The higher position the players stand, the higher reward and experience they achieve. In this gameplay mode, the reward will be paid in both token, $SNCT & $TOC.
The 3rd one is Tournament mode.
The idea behind this gameplay is pretty simple: Each player buy a ticket and get one slot in the game. Most of the fee collected from participation will be used for rewarding the top 3 players in the ranking board. Therefore, this will be very fun and challenging where users are skin in the game to play against each other.
Next is Free zone mode and this attracts a lot of attention from the community.
Our purpose of this mode is trying to remove all the financial obstacles for the users to play with our game. Users do not have to invest anything to play the game. They will be assigned a Free Snake to start and enjoy the game. Free to play does not mean that there are no rewards for players, we have an allocated pool of rewards specifically for this gameplay mode.
The 5th one is Discovery Mode, players will use their Snakes to discover the city maps with many local famous places to collect NFT shards. By matching them, they can redeem full NFT with big value.
Players have to stake $TOC to receive tickets. When the event starts, the tickets will be randomly selected. Players must stake their tokens for at least a few days before the event occurs.
When participating, players will receive additional NFTs from us, our partners , $SNCT or even USDC.
Finally, the last one, Sponsor Events. Our ambition is to make Snake City beyond the GameFi sector, we do not want to limit ourselves only in our ecosystem. Therefore, we came up with the Sponsor Events game mode. This will be opened for the purpose of collaboration between Snake City and other crypto projects, trying to bring more value & fun for all the players.
In each event, the Snake City team will provide a unique design for all the in-game elements that represent our partners' characteristics which bring a new look and different kinds of rewards for the players.
In Snake City, we spent a lot of time researching users' behavior and the gamers journey, this is a very important step for a long term goal.
We separate our users into different categories, analyze their personas and try to understand their behaviors and point of interests. From that, we come up with gameplay to match with each user type. That's the reason why we have such an extensive network of instructiveness.
Dave Donnenfeld | Avalaunch
This may qualify for the most epic AMA answer not just in our history but anywhere. I'm going to let this breathe for a moment before moving on.
Thank you for this.
Very much appreciated…Here's another challenging question but one that must be address — At the heart of the game economy lies two tokens, an in-game currency and the native token. Can you expand on the dual token system and how the play to earn mechanics works?
Nick|Snake City
In SnakeCity, we have $SNCT and $TOC, $SNCT is our native token and $TOC is our in-game token. They have separate utilities.
With $SNCT you can purchase Eggs and NFT Snakes from our marketplace, it can be given as rewards for token holders when staking and it also helps to govern the Snake City ecosystem. In several game modes, users can also earn $SNCT for their winning.
On the other hand, $TOC will help you to buy extra turns in some game modes, and buy tickets to play in the Tournament. $TOC is used for breeding and fusion feature as well. In addition, you can use $TOC for purchasing some in-game items to make your snake stronger.
We design game mechanics with many utilities for our ingame tokens. All $TOC tokens spent by user in-game will be burnt to reduce the inflation of our ecosystem. In addition, major part of our revenue is also spent to burn $TOC tokens because we want sustainability for our game so that we can see the long-term development of our game.
Dave Donnenfeld | Avalaunch
Appreciate that @nickvu1208 also a comprehensive answer.
Which of the following features: breeding, fusion and metaverse do you expect to be the most challenging to build and develop, and how do you foresee overcoming these obstacles?
Frank|Snake City
Well, definitely Metaverse is the most challenging feature to develop. Our team is currently working on Breeding & Fusion and I think these features will be ready even in this quarter.
Metaverse is another story. No doubt it will be the future where people can easily interact in the virtual world like we communicate live now. However, it's still in the early stage similar to dotcom in 2000 & blockchain in 2014.
At Snake City, in the 1st phase of Metaverse development, we will make an augmented reality version for the game. Users will be able to play in the real-world environment and discover a new look of the City where you live ?
Dave Donnenfeld | Avalaunch
Getting spoiled with these answers. So @nickvu1208 while we have you here — When do you expect to have the full playable version of the game?
because so many game initiatives are truly a long way from having the full version complete
Nick|Snake City
I can say now, you can join our game with full flow to experience the training mode. Other game modes will be released in the next few months. The full game modes expect to release in the next quarter.
In addition, fusion and breeding are also releasing in the next quarter. You can check the details in our roadmap. At the moment, we are confident that we are the gamefi that release the game right after the IDO which make our game distinguishable from the others.
Dave Donnenfeld | Avalaunch
This is good news to me. Moving on as we near the Twitterati and community weighing in — What would you say the general experience has been for you and the team to build this entire infrastructure on Avalanche?
Frank|Snake City
Honestly we are very fortunate to build Snake City on Avalanche.
At the beginning, we researched all the popular blockchains such as Solana, BSC, Ethereum, Fantom & Avalanche. We tried to make a detailed comparison of each blockchain and Avalanche came out at the top eventually.
Ultimately we decided to build on Avalanche and we saw how passionate and supportive the avalanche community is. Also it's growing rapidly recently with subnets and it would be an attractive future upgrade for us.
Dave Donnenfeld | Avalaunch
Wait — before we move on to Twitter
I need to ask — is there any development progress not yet revealed that you'd like to share with our community?
Nick|Snake City
Our development team (including me ?) is working hard to deliver Snake City game on time. Now, the only thing I can tell you is that we will bring a lot of cool features in the coming months such as new game modes, mobile apps (android/iOS), new game features.
Stay up to date with our news in our social channels.
Dave Donnenfeld | Avalaunch
Appreciate you indulging us
Now lets move on to the next leg of the journey — the twitterati, the twitterverse, the feared "CT" ?
Twitter Questions
@Chandjv1 who asks — In the future, in what other areas will there be in-depth cooperation between #SnakeCity and #AvalaunchApp?
Frank|Snake City
Thanks @Chandjv1 for the question. As you know, we have a game mode, sponsored event, in which we partner with other crypto projects to promote their project in our game platform. I think it is a great area for collaboration between Snake City and Avalaunch as many promising and innovative projects will be offered by Avalaunch.
Dave Donnenfeld | Avalaunch
Agreed. Think there will be more opportunities to collaborate together. Cheers.
@ImMelike32 — Can the community give their opinion about the development of "Snake City Game"?
Nick|Snake City
Thanks @ImMelike32 for the question. Absolutely yes, we would love to hear the opinion and welcome all feedback from community about game development to improve the game.
@Maiphuong32 — I've seen Snake City played on Steam, Browser or Google Play. So, do you have an application development plan for IOS?
Frank|Snake City
Great question @Maiphuong32. It is in our roadmap for mobile application (iOS and Android). As the game is developed as a casual game which can be played in a short time so people will likely play it in mobile. The game can be played while you're on the train to work or even while watching TV, and is designed to help the user switch off.
@quyencao3200 is up next asking a predictable and reasonable question — do you plan to deploy any mechanism or schemes for SNCT in order to keep the token stable in volatile markets?
Nick|Snake City
Nice question @quyencao3200.
I would say:
– Burning mechanism, 70% of our revenue stream is used for burning tokens and adding liquid
– It is not only a governance token, it is also given some utilities: gaming reward, stacking, nft sales purchase
– In the long run, we would design Snake City as a community project with voting power from SNCT holder
@realfanxx is dying to know — Can you please list some of the partnerships of #SnakeCity and your plans to be active in Avalanche, and perhaps seek more partners in the future?
Frank|Snake City
Thanks @realfanxx for the question. Sure, we have a huge plan to expand Snake City beyond our ecosystem. We do not want to limit ourselves.
We are in discussion with a lot of partners in these sectors:
Avalanche Subnet
– Marketplace
– CEX and DEX
– Game Analytics platform
– Other game/crypto projects
Telegram Questions
Hello @nickvu1208 @frank_snakecity According to the roadmap, what are your most important next priorities? Does your team have enough funds and strong community to achieve those milestones?
Frank|Snake City
I would say:
– Avalanche subnet to save gas fee for user, optimize game traffic and enhance user experience
– Multi chain integration
– Event mode to user have chance to earn many other token in our game
Hello @nickvu1208 @frank_snakecity What is the most ambitious goal of your project? What is the ultimate vision that Your project is trying to achieve within the cryptocurrencies market? I would appreciate it if you could share with us
Frank|Snake City
The ultimate goal of Snake City project is we would love to create a Snake Universe with a lot of Casual Games. And to turn Snake City into a community platform, a truly decentralized project that no one really owns.
Hello @nickvu1208 @frank_snakecity What's your main focus right now, are you focused on the community or market/Exchange or the products?
Frank|Snake City
At the moment, we're 100% focus on the product development and listing as the launch will be in the next few days.
All important events like token listing, NFT sales and game launch will be happened at the same time on May 27th.
Are you a global project or local project? At present, which market are you focus on, or is it focused on building and growing to gain customers, users and partners? @nickvu1208
Frank|Snake City
We are global project and provide the experience as a local one. Besides global marketing activities, we are planning to run many exclusive marketing event for our local community, And in the future, multi language is developed and integrated to the game in order to bring better experience for gamer who are from: Indonesia, Brazil, Vietnam, China, Tukey and many others.
Hello @nickvu1208 @frank_snakecity ???To what extent does "Snake City" focus on the game experience aspect? What actions were taken to make the game suitable for everyone, including non-cryptocurrency users?
Frank|Snake City
In Snake City, when developing the game, we analyzed and created a gamer journey that helps us to understand what gamer think, how do they feel and what do they want. From that we can create great UX for the platform and help gamers have great experience when playing. In addition, we created player funnel and player type from new comers to seniors, from that we can develop many campaigns for each type of member.
Dave Donnenfeld | Avalaunch
Well done. @nickvu1208 and @frank_snakecity it has been a pleasure hosting you here today and one of the more informative AMAs I've been a part of. We very much look forward to your IDO and maiden voyage on the 27th. This is the beginning of what I believe will be a very special journey. A sincere thanks from me and our attending community members.

About Avalaunch
Avalaunch is a launchpad powered by the Avalanche platform, allowing new and innovative projects to seamlessly prepare for launch with an emphasis on fair and broad distribution. With its values deeply rooted in the early Avalanche community, we are able to offer projects confident, informed users who are aligned with the long-term goals of the rapidly expanding application ecosystem.
Leveraging Avalanche's scalable, high-throughput, and low-latency platform, Avalaunch is built by users, for teams, to help grow strong communities.
Website | Twitter | Telegram| YouTube
---
Snake City AMA #2 — Technical Deep Dive with Frank Tran & Nick Vu (Co-Founders) (Recap) was originally published in Avalaunch on Medium, where people are continuing the conversation by highlighting and responding to this story.