SUBNET FARMER – $1000 AVAX & NFT Allowlists (Weekly Rewards)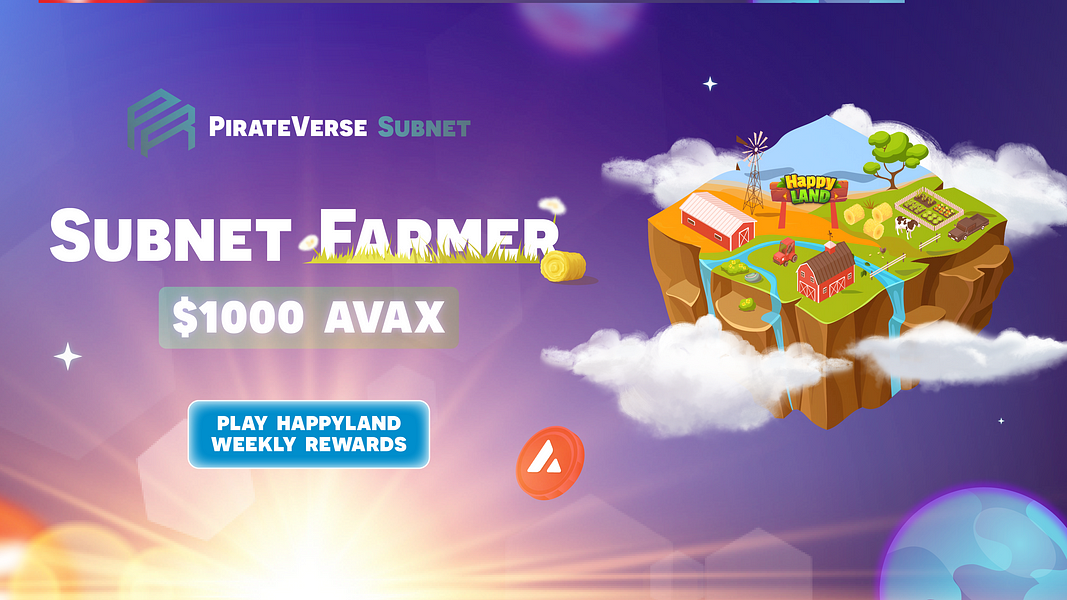 PirateVerse Subnet is originated with the ambition to integrate GameFi, AMM DEX, Bridge and Blockchain Explorer products which are all developed by us into an all-in-one ecosystem. PirateVerse Subnet is also dedicated to creating the best destination for other projects to launch GameFi as well as other blockchain gaming experiences on Avalanche Network.
Celebrating the official launch of HappyLand, a play-to-earn agriculture-simulation game on Binance Smart Chain launched on last December, PirateVerse Subnet is excited to announce Subnet Farmer Campaign, with $1000 $AVAX and PirateVerse's NFT Allowlists as rewards.
This article will cover all information on Subnet Farmer, including official Start Date, Rewards and HappyLand tutorial.
Subnet Farmer
Duration: 23.59 (UTC) 18/07 – 23.59 (UTC) 18/08
In Subnet Farmer, players need to follow the most important goal: Accumulate as much $HPL & $HPW as possible in your reward bag.
In HappyLand, there is a reward bag where you can track all your revenues and rewards ($HPL & $HPW tokens) from the game. Subnet Farmer will rank players' earnings on a weekly basis.
Earnings = (Reward Bag Balance at the end of the week) – (Reward Bag Balance at the beginning of the week)
The more earnings you have at the end of the week, the higher ranking you will receive. For example, Week 1 starts on 23.59 (UTC) 18/07 and ends on 23.59 (UTC) 25/07, reward bag snapshots for Week 1 will happen at 12.00 AM (UTC) 26/07.
Players can claim $HPL & $HPW from Reward Bag to your Wallet to reinvest in the game and earn more revenues. However, plan your game tactics and remember to keep $HPL & $HPW in your Reward Bag before a week ends.
Total Reward Pool (4 weeks): $1000 in $AVAX
Weekly Distribution:
Top #1 – #3: $30 worth of $AVAX/each player
Top #4 – #50: ~$3.4 worth of $AVAX/each player
How will $HPL & $HPW tokens in your reward bag be snapshotted?
We will create a report regarding your total earnings of $HPL & $HPW in HappyLand for the duration of one week. More specifically, for the first week of Subnet Farmer, we will start counting from 23.59 (UTC) 18/07 to 23.59 (UTC) 25/07.
Reach Level 5 in HappyLand – Earn PirateVerse's NFT Allowlists
PirateVerse's NFT Allowlists will be used for our upcoming NFT Sales for PirateVerse game which is supposed to launch around September and October this year. HappyLanders are guaranteed to receive these NFT Allowlists with a new role – First Mate by following these steps:
Reach level 5 in HappyLand on PirateVerse Testnet Subnet

Join our Discord and invite 5 friends
You can immediately claim this role and NFT Allowlist in our Discord once you complete those requirements. There is no need to wait for Subnet Farmer campaign to end.
To sum it up, with Subnet Farmer, there are 2 ways you can find rewards ($AVAX and PirateVerse NFT Allowlists). For earning $AVAX, you need to earn as much $HPL and $HPW tokens as possible to climb weekly leaderboard. For NFT Allowlists, you need to reach level 5 in HappyLand, join our Discord and invite 5 friends.
---
How to play HappyLand on PirateVerse Testnet Subnet?
We believe this below tutorial will help you get started playing HappyLand on our testnet.
$HPL & $HPW token faucet are available for claiming once a day, so you might want to set a reminder.
$HPL – Smart contract address: 0xA88FE972Ff3D0d58864922288a5057de9e812B3A
$HPW – Smart contract address: 0x618b08dF5473A26D0192847bFdD1483F2A7d4912
Please keep in mind that these tokens are on testnet version of PirateVerse Subnet and have no real value.
How to earn $HPL & $HPW tokens in HappyLand?
In order to acquire the best tactics in HappyLand, you might need to have a look at HappyLand's Whitepaper to thoroughly understand the game.
For further support with game tactics, game bugs…, please join our Discord below!
JOIN OUR SOCIALS
Twitter | Website | Discord | Youtube | Telegram (Announcements) | Telegram (Discussion)