Summary of the Avalanche AMA with YIELD.APP
Summary of the Avalanche AMA withYIELD.APP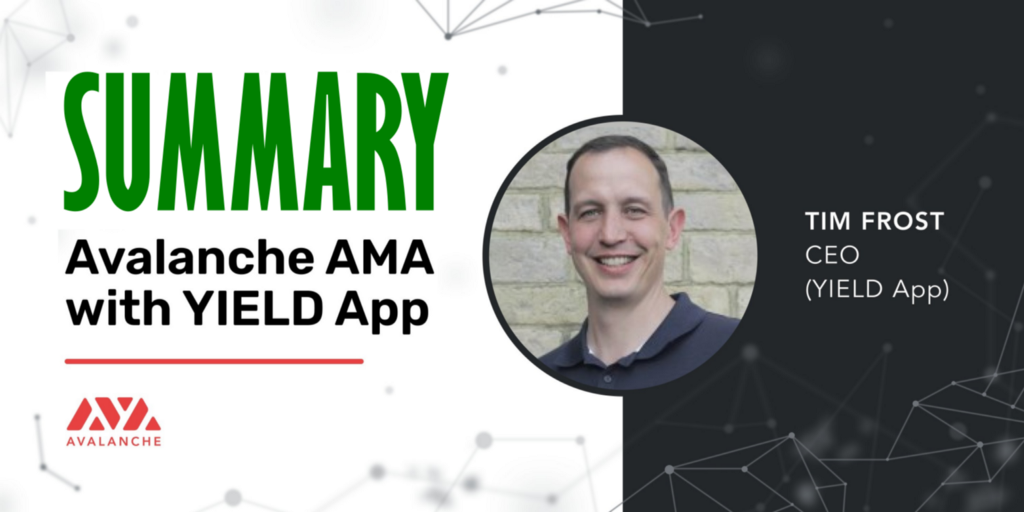 Before we dive into the questions, can you briefly introduce yourself to the Avalanche community, and share some background on your journey to found YIELD App?
My name is Tim Frost and I am CEO of YIELD
I have a rich Fintech, marketing, business development, and operations background. YIELD app is my 3rd digital bank and I have been a key figure with many successful fintech and blockchain companies. Specializing in early-stage growth, operations, and development. I was part of the founding Wirex team and supported operations, business development, and marketing for the first 18 months. I also joined and helped take EQIBank to market a global digital challenger bank with an average client AUM of $250,000. I have helped accelerate early-stage blockchain startups QTUM, NEO, Paxful, Polymath, Selfkey, Everex, and many others. This lead me to YIELD App where we are building a fintech to offer high yielding accounts to the mass market which is powered by DeFi.
Being a growth hacker, digital nomad, and creative thinker, I handle digital marketing for YIELD. I'm data-driven, and have extensive experience in branding, PR & SEO. I've helped successfully scale-up companies in the sphere and I was the head of marketing at Paxful which is helped scale from 50k users to more than 4.5 million users and from the revenue aspect from less than 100k weekly volume to more than 45 million.
Happy to be one of the founders now at YIELD.App
Question #1 from Twitter: What is the ultimate vision that Your project is trying to achieve within the cryptocurrencies market? Obviously the whole space will experience huge growth in the upcoming years, but what role would you like your project to play in this?
Jan
Our biggest mission and vision is to build a digital bank that uses DeFi to give high yielding accounts to our clients. YIELD was designed to enable anyone to invest in DeFi using crypto or traditional currencies, regardless of their financial or technical level of expertise.
It is about building a bridge between crypto, wall street, and main street, we want to open up an asset class to ordinary investors that are already being institutionalized to keep it available for everyone with the same level of oversight, risk management, and protection that would be expected from any financial service provider regardless of the instruments being DeFi or the sophistication fo the end-user.
We are building a gateway between traditional finance and the crypto world where we do the heavy lifting for you.
Tim Frost
The big vision is to create a fintech with a UX like what you experience with your Revolut or other digital bank of choice that is able to offer clients high yielding accounts that is powered by DeFi. In a world of negative interest rates and roller coaster markets, we want to build a sustainable company that bridges DeFi and main stream users.
Question #2 from Twitter: You say on your website that YIELD users can get up to 20% return through the YLD Loyalty & Rewards program. How exactly does this program work, and what are the steps and requirements to get these returns?
Jan
YIELD.App has its own utility token named YLD. Thanks to YLD, users can boost their APY, earn interest on their tokens, and support our ecosystem.
Users receive interest on their investment and bonuses on their tokens in three ways:
1.) All stablecoins earn 10% APY, paid in USDT/USDC.
2.) Users receive up to a 10% APY boost on their investment by holding YLD tokens in the app, earned in YLD.
3.) YLD tokens also generate up to a 10% annualized holding reward, paid daily in YLD.
Please note that total APY will depend on the level of your investment, the token price of YLD and the amount of YLD you hold.
Tim Frost
By holding up to 20,000 YLD you can boost your APY from 12–20%. YLD is a membership token that boosts your APY by just holding YLD. You can see more here https://www.yield.app/yld and full details of YLD here https://medium.com/@yieldapp/yield-launching-native-yld-token-5a48f2bb48ac
Question #3 from Twitter: How YIELD App will capitalize the opportunities in the implementation of Avalanche's DeFi ecosystem? Can you give us some use cases?
Jan
At the moment we are actively looking at pangolin.exchange some other ones. We think that decentralized exchanges could greatly benefit from reduced transaction fees and increased throughput on avalanches Network.
Question #4 from Twitter: What would you consider as the main challenges currently for financial institutions that are attempting to enter the decentralized finance (DeFi) space? What would you consider to be the main advantages of DeFi over traditional finance?
Jan
Complexity, gas fees and latency are major issues in DeFi. 🙅‍♂️ Also, security is a major bottleneck. We solve these by aggregating funds from many individual investors and using batched transactions, which considerably lowers fees that we then absorb on our end.
This also allows us to achieve superior returns, and offer a more intuitive, secure, and efficient user experience.
We also work with different audits companies and have an inhouse review process how we handle new protocols.
Question #5 from Twitter: Is YIELD going to offer a single portfolio to invest in or different ones aimed at different risk profiles or types underlying of assets?
Tim Frost
Its just new, many long standing funds and traditional capital are learning DeFi, while the trail blazers are building and doing big things. Institutions will be coming, but it will be slow. Once we pass $100B TVL they will begin to come in.
Question #6 from Twitter: What sparked the creation of YIELD and was it hard to actually start it? Which companies do you view them as potential partners and that they are somewhat also beneficial for both userbase and YIELD itself?
Tim Frost,
We have a stable coin fund now and soon and BTC and Ether fund. We make it very simple for clients. Invest and let us do all the hard work. Clients just earn daily returns.
We really like the partnership with Avalanche for all the reasons that Ethereum is simple to congested, and hasn't called. We see major promise in Avalanche, and other protocols. Some partnerships we are working on now are insurance protocols, oracle projects, and many yield farming protocols where we can deploy capital and pass yields on to our clients.
Jan,
There's a market for everyone and solutions need to be deployed for the emerging markets, more specifically. About competition, we are targeting different customers, we are building a bank with fund products at the backend, we will operate a transparent model, we're building a proprietary portfolio management system. For the 1st fund, we are offering guaranteed returns. What people see now is our launch, we will grow beyond this and admire the work others have done, do they make it clear if they are neutral or have any risk exposures on directional trades, etc.? Are they building innovation around an insurance product?
Any good business will always have competition, think Starling Bank, Revolut, Monzo. Same models with different approaches and customer bases. If investors want exposure to DeFi and are worried about risk, there is a valid argument they should split their allocations across YIELD, and others, rather than concentrate it all on one platform.
Question #7 from Twitter: YIELD App runs on the Ethereum blockchain. Are you considering enabling cross-chain functionality on layer 2 for multiple blockchains?
Tim Frost,
Yes, we are strongly considering it, which is why we are here and have made a partnership with Avalance, as we consider it to be one of the most promising Layer 2 style solutions.
Jan,
Also while there are a plethora of L2s on ethereum none have the benefit of avalanche's unique and innovative consensus mechanism. We see a lot of potential for DeFi stemming from that.
Question #8 from Twitter:you promised to get a tier 1 or 2 license as you move forward to be able to provide service to customers of certain areas, can we know the effect of this tier 1 license regulations and how it may affect the service provided ,is there any restrictions? And it disadvantages
Tim Frost,
We have a team that have built strong regulated fintech companies before. I can say we are actively moving towards Tier 1 licensing now, and will be able to come out with full details once they have been issued. Our goal is to bring DeFi mainstream, and the proper licensing structure is key to make this happen.
Question #9 from Twitter:YIELD has proven to be committed with the security of it's platform, and recently you have announced a partnership with Merkle Science. Will you add any type of artificial intelligence in YIELD to keep blockchain transactions monitored and out of risks?
Tim Frost,
We are excited to work with Merkle Science, which is a leader in the blockchain analytics space. Overall our team is filled with blockchain experts and understand transactions very well. We have some of our own IP and blockchain analytic tools and machine learning with the build out of our portfolio management system.
Question #10 from Twitter:The earnings offer by yield are quite impressive. How will users be secure that their funds are safe and not susceptible to undue risk while still being able to achieve the high yield?
Jan,
By putting some smarts around Defi, we bring the best of traditional standard operating procedures and regulatory compliance to a burgeoning new industry. Risks can be mitigated, but not eliminated. We go through throughout audits and work hard to keep your funds safe.
What future goal is YIELD trying to achieve considering the global crypto space is experiencing huge development now and in years to come, what role will YIELD be playing in that?
We will be one of the easiest places to come and earn high YIELDS. We also have a very strong community and We take a lot of time educating our users about different topics around DeFi.
You can check our blog from https://www.yield.app/blogposts
YIELD is currently going well and is receiving positive attention. What will you do to get more exposure and adoption? What is the YIELD message for the Community today?
We constantly launching different communities around different countries, we are doing AMA's almost every week to get as much exposure and also working with different influencers to spread the brand out.
We are always open to new collaboration and thanks to our very strong community, we have grown very rapidly and get a lot of different inquiries per day.
Please join us and lets grow this fantastic space together!
What future goal is YIELD trying to achieve considering the global crypto space is experiencing huge development now and in years to come, what role will YIELD be playing in that?
We are building a bridge from CeFi to DeFi.
About Avalanche
Avalanche is an open-source platform for launching decentralized finance applications and enterprise blockchain deployments in one interoperable, highly scalable ecosystem. Developers who build on Avalanche can easily create powerful, reliable, and secure applications and custom blockchain networks with complex rulesets or build on existing private or public subnets.
Website | Whitepapers | Twitter | Discord | GitHub | Documentation | Forum | Avalanche-X | Telegram | Facebook | LinkedIn | Reddit | YouTube
---
Summary of the Avalanche AMA with YIELD.APP was originally published in Avalanche Hub on Medium, where people are continuing the conversation by highlighting and responding to this story.