TaleCraft AMA#1 — Project Overview with Eren Gunaydin (Recap)
TaleCraft AMA#1 — Project Overview with Eren Gunaydin (Recap)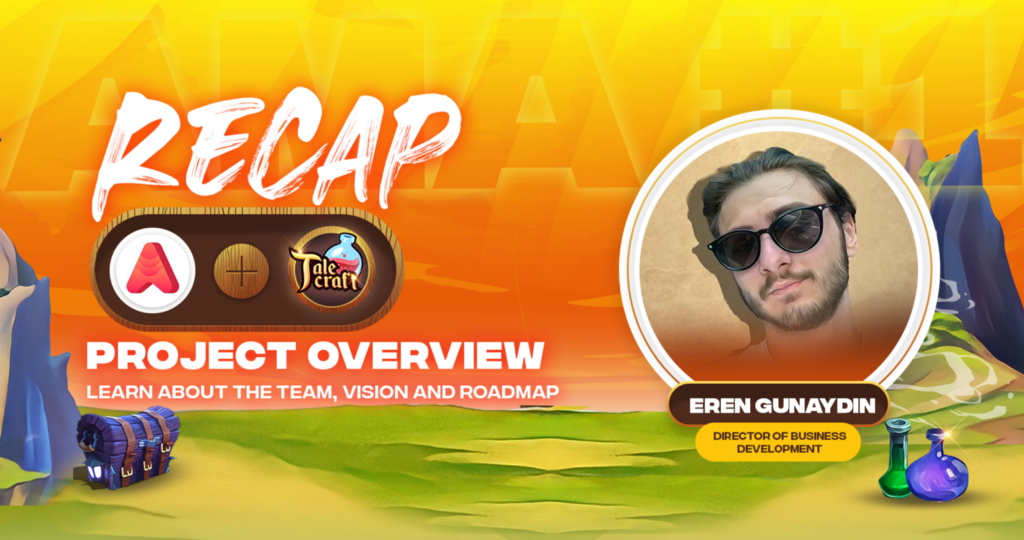 On 11/17/2021 at 12:00 p.m. (PST), an AMA session was held on Avalaunch with special guest Eren Gunaydin, Director of Business Development, at TaleCraft . Below we present to you an excerpt from AMA with questions and answers.
Dave Donnenfeld | Avalaunch
Hello and welcome everyone to our first AMA with TaleCraft. Excited to have Eren Gunaydin here today. He is a co-founder and part of a great team that's helping to bring new use cases to NFTs and of course, our beloved Avalanche ecosystem. How are you today?
Eren Gunaydin | TaleCraft
Hello guys! I'm feeling great, thanks 🙂
Dave Donnenfeld | Avalaunch
Good to hear. Let's get right into it then — To start off with, please introduce yourself. What did your career and education look like before joining the gaming NFTs landscape?
Eren Gunaydin | TaleCraft
Hi there
I'm Eren Gunaydin. I am TaleCraft co-founder and Director of Business Development.
I am, actually was a lawyer in Turkey. I have 4 year experience in the blockchain market and 1 year of experience in team management and planning on blockchain. At the same time, I work with many international developers. Also, I have been consulting various blockchain projects for the past 1 year. Since I believe that the NFT market is promising and has a clear path, I chose to turn to this sector. I am very happy and super excited to work with Avalaunch. And i believe there are so much ways that we can contribute to the NFT world.
Dave Donnenfeld | Avalaunch
Well the Turkish community in crypto is one of the most passionate there is — I'm sure you didn't suffer for a lack of work. ? That said, good to have you here on the blockchain.
Combining gaming with NFTs is something relatively novel. How did the idea come about and why was it important to conjunct the two?
Eren Gunaydin | TaleCraft
The crafting method is already used in most RPG and sandbox games, this method as one of the best methods of attracting players in open world RPG games. I think the NFT world is an emerging and still innovative sector. The NFT sector can be integrated into the gaming sector. As you can see, these two ideas are very collaborative and marketable.
Dave Donnenfeld | Avalaunch
Understood. Breathing some new life and use cases into NFT is just smart.
TaleCraft has a very unique design. What is the story behind TaleCraft? Why build it and what role will it play in the gaming metaverse?
Eren Gunaydin | TaleCraft
Thanks, we are really proud of our artwork, to be honest. TaleCraft sets itself apart from other NFT projects. As the economic model, it uses the most accepted free market model in the world. Classic NFT projects work with the mint system and supply is determined by their owners. In TaleCraft, users determine the supply and demand of each object. This story reminds us of medieval traders. The story that TaleCraft is based on this and comes from here. We will bring a true economic model to the game metaverse. We think that this system we bring will inspire all future NFT projects. This shows how unique TaleCraft is. TaleCraft will try to scale this crafting technology in the future. We dream of being a platform that artists and gaming developers can use.
Dave Donnenfeld | Avalaunch
What's the difference between crafting and minting NFTs, and why choose to adopt the former to unlock the in-game NFTs?
Eren Gunaydin | TaleCraft
The Mint system is actually a classic system. But it is not economically sustainable. Because as the demand in the project decreases, the floor price decreases, which hinders the progress of the project. As a solution to this problem, TaleCraft allows demand and supply to be determined by the users. This allows the prices of NFT's to be regulated by the invisible hand of the market. For this model I want to commemorate Adam Smith.
Dave Donnenfeld | Avalaunch
To hell with Maynard Keynes. Long live Adam Smith!
So good I almost asked it twice — In addition to the Alchemist Chest, what is the role of the Alchemist Cards, and how does the synergy between the two complement the player experience?
Eren Gunaydin | TaleCraft
No problem, i can answer twice 🙂
Alchemist Chest is actually a chest system that players are used to from other games. Chests give you one of the 4 main elements. The reason we do this randomness here is to allow users to visit the marketplace to craft the cards they want to obtain. The main idea behind this to give opportunity to cards from the lowest level to the highest level to be traded by players
Dave Donnenfeld | Avalaunch
The 4 sacred elements. A great beginning to be sure
TaleCraft is described as the first crafting game on Avalanche. Where does TaleCraft sit relative to the existing gaming NFTs?
Eren Gunaydin | TaleCraft
We consider TaleCraft to be different from other NFT projects. In other gaming projects, NFT's are usually connected to games with reward and loyalty or achievement systems. TaleCraft uses the game to create NFTs. The crafting system makes players feel like they are medieval alchemist. We will also be releasing game mods integrated into alchemy cards. Here we will enable users to use cards. We aim to develop a sandbox game in the future.
Dave Donnenfeld | Avalaunch
That is an innovation but what grabbed the team as well was the gamefi mechanism — Can you talk about the deflationary structure of the ecosystem, how will this lead to a better token economy?
Eren Gunaydin | TaleCraft
Of course, the total number of Craft is 30 million. And every chest expansion causes deflation. Half of the 10 Craft tokens that paid for each chest are being burnt. This is because we want to make Craft more valuable and increase the floor price of NFT's produced. In addition to the burn mechanism, the fact that the crafting fee paid for each craft is given to Craft stakers makes Craft staking attractive to users. This causes Craft's circulating supply to decrease in long term.
Dave Donnenfeld | Avalaunch
That's very cool i must say.
Having looked at the Roadmap, there are a handful of features that will become available in the same quarter as the launch. Can you give us any time-frames for this, specifically, how long after TGE should token holders anticipate access to some of the in-game features, such as crafting and staking?
Eren Gunaydin | TaleCraft
thanks, glad to hear you liked
Crafting, staking and board game features will be accessible within the TGE week. In the next quarter, we will develop board games and then release our hyper casual games. We will also release a platform site version in 2022. Artists and verified users will be able to create their own chests on this platform.
Dave Donnenfeld | Avalaunch
Hyper casual is exactly how I want to live my life.
TaleCraft is backed by serious investors. Firstly, was it difficult approaching them, and secondly how of a challenge was it to secure these partnerships?
Eren Gunaydin | TaleCraft
At first we were sure of ourselves because our project was unique, but we had difficulty in describing our project because it was unlike any NFT project that came out before, then when we were able to explain our project, we agreed with many ventures and even had to eliminate most of the ventures, the reason for this was to choose the ventures that would be most beneficial to the project. And we believe we have chosen right partners :).
Dave Donnenfeld | Avalaunch
With TaleCraft being the first crafting game built on Avalanche, what were the benefits of building in this community as opposed to alternative ones?
Eren Gunaydin | TaleCraft
The Avalanche ecosystem provides us with a wide range of possibilities. In addition, the avalanche community is open to innovations and loves development. In this respect, it was quite enough to create a community. It also has a very convenient basis for our development.
Dave Donnenfeld | Avalaunch
Excellent Sir. Do you anticipate forging future partnerships with other industry experts to further elevate the gaming NFTs ecosystem that you are building?
Eren Gunaydin | TaleCraft
We've already signed up with the biggest DEX's in Avalanche like Traderjoe and Pangolin. We have also made partnerships with the projects supported by Avalaunch such as Colony Labs, Roco finance and Yay games. We will definitely increase our partnership numbers in the future even more.
Dave Donnenfeld | Avalaunch
That's impressive. We love our Avalanche DEX's. This is an Avalanche, home grown project.
Before we move on to questions from the good people over on Twitter, let's give you something easy and hopefully interesting for our community — What excites you most about TaleCraft, and what are you most looking forward to?
Eren Gunaydin | TaleCraft
TaleCraft is actually a prediction of the future for us. TaleCraft will have a strong place in the NFT market and will lead innovations in the NFT market. This is our goal. My dream is for TaleCraft to provide a platform for future games. We are working on it and will announce it soon.
Twitter questions
@KingOkela12 Did TaleCraft consider community feedback/requests during the creation of your product in order to expand on fresh ideas for your project? Many projects fail because the target audience and clients are not understood So I'd like to know who your ideal consumer is for your product?
Eren Gunaydin | TaleCraft
Actually, we want to create a feedback network among our users. In this, we can use TaleCraft as DAO in the future. Also, our target audience is NFT enthusiasts and gaming people. We can expand our chests as desired by this target audience. We want to be a gaming platform so our users are important to us.
@DngGiaPhong2 "From what I see users will be able to earn AVAX as a gift, What are the main income components available in TaleCraft, and can I make a living playing this game, as real world income??"
Eren Gunaydin | TaleCraft
You can get a share of the weekly Avax rewards by crafting. But it is not easy to earn a net income just by playing games. By constantly following the items in the game, you can catch opportunities and be included in the metaverse economy of TaleCraft, I believe.
@Thinhdop asks — Is the entire platform designed for the medieval-loving culture? What if many users are not fans of this style of games and medieval culture? Will they design games and possibly Nfts for other styles and cultures?
Eren Gunaydin | TaleCraft
The entire platform was not designed for only medievalism. We chose the medieval concept because so many people love this style. We also chose this concept because we were inspired by medieval merchandise. However, we plan to use different concepts for future chests and extensions. Also with the Artist & Special Package system, there will much more options for different styles and cultures.
@woozieriadin wants to know "In Q4 2021 in roadmap, i found "crafting game testnet campaign". I interested to join this but could you tell me more about how to join this campaign & what is your aim from this campaign?"
Eren Gunaydin | TaleCraft
Actually, we shared a video on our twitter account on how you can participate in the testnet campaign. You can get the details from there. The reason why we are carrying out the Testnet campaign is to demonstrate some performance tests on the site. On the other hand, we want users to get used to and play our game and crafting system without paying any fee before the launch. Thus, we plan to increase users' interest in the game.
@IvaniWu01 has our final question before we open it up to the community. The tokens in the NFTs games initially don't usually have a great utility & also lack burning. In this way it is devalued since it's produced & attempts are made to sell to other users quickly. Could you tell us about the usefulness of the token & what are its main forms of burn?
Eren Gunaydin | TaleCraft
CRAFT is actually the main currency of the TaleCraft universe and is limited. The reason for this is to preserve and increase the value of the NFT's produced. In addition, the decrease in the number of CRAFT as NFT is produced is very important for the TaleCraft universe. This point of view will be supported by NFT users. So everyone who plays the game will be contributing the economy of TaleCraft.
Dave Donnenfeld | Avalaunch
Well done @talecrafter you have successful run our medieval gauntlet of questions. Your final challenge awaits you from our community.
Eren Gunaydin | TaleCraft
Lets go!
Telegram Questions
I saw a very interesting logo of your project in the telegram community. What is the meaning behind your project logo and your project name?
Eren Gunaydin | TaleCraft
We wanted to create a fairy tale universe and we wanted to convey the feeling of alchemist to our users. The story of the logo and name came from here.
why did the platform choose Avalanche Ecosystem instead of the other popular Ecosystems like ETH, Ripple or even Quorum? TELECRAFT
Eren Gunaydin | TaleCraft
I think the Avalanche ecosystem is one of the most decentralized and sustainable economic networks. Network fees are cheaper than ETH and much more decentralized than BSC. It was important for us and our users to develop our project on a platform that will be valued in the future. In addition, the community is great and the feedback we receive always moves us forward.
Most DeFi projects especially those ones offering yield farming are driven up by hype and scarcity, so when the hype dies the project dies. What's the key to sustaining Your Project yield farming ?
Eren Gunaydin | TaleCraft
To avoid this hype trap, we actually rebuilt the game's economy and used the free-market model. Also, we won't have an extension like yield farming because we have a limited token structure.
Do you have tutorial videos so we can get to know your project more clearly or do you have a YouTube channel or something? can you share it with us?
Eren Gunaydin | TaleCraft
actually we have shared a video about game at YouTube, this video about testnet gaming. We want to people get used to how to play game. Here is the link https://www.youtube.com/watch?v=15fSeSpA-Io&ab_channel=TaleCraft
Which one of these aspects important for you?
A-Increasing Token Price & Value
B-Empowering Platform Development
C-Building Community Trust
D-Expanding Partnership Globally
Eren Gunaydin | TaleCraft
It is a difficult question, but I can say that all the answers are interconnected. I think our goal is to add value to TaleCraft and the Avax ecosystem by producing an alternative system for NFT projects.
Dave Donnenfeld | Avalaunch
You've done it @talecrafter and lived to talk about it.
From the team at Avalaunch, our 24,000 strong TG community and the 70k followers over on Twitter, we'd like to thank you for coming out today. It is very much appreciated and we all enjoyed learning more about TaleCraft and the medieval adventure that awaits us all. May the elements be with you.
Eren Gunaydin | TaleCraft
It was a pleasure. Always great to be with Avalaunch Community. See you guys soon!

About Avalaunch
Avalaunch is a launchpad powered by the Avalanche platform, allowing new and innovative projects to seamlessly prepare for launch with an emphasis on fair and broad distribution. With its values deeply rooted in the early Avalanche community, we are able to offer projects confident, informed users who are aligned with the long-term goals of the rapidly expanding application ecosystem.
Leveraging Avalanche's scalable, high-throughput, and low-latency platform, Avalaunch is built by users, for teams, to help grow strong communities.
About TaleCraft
TaleCraft is a game that allows users to play games with NFTs obtained with tokens and advance to higher levels with CRAFT, distributes rewards to NFTs holders so that people are always actively involved in the project. It was created to resolve the lack of token use cases that circulate in the cryptosphere.
Website | Telegram | Twitter | Medium | Discord
---
TaleCraft AMA#1 — Project Overview with Eren Gunaydin (Recap) was originally published in Avalaunch on Medium, where people are continuing the conversation by highlighting and responding to this story.