TaleCraft AMA#2 — Technical Deep Dive with Eren Gunaydin & Selman Gunes (Recap)
TaleCraft AMA#2 — Technical Deep Dive with Eren Gunaydin & Selman Gunes (Recap)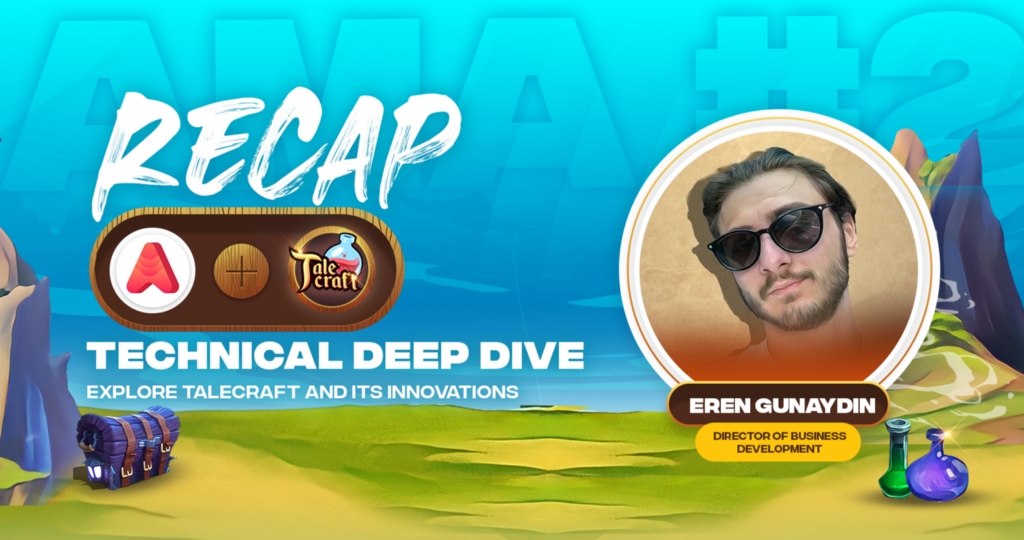 On 11/19/2021 at 12:00 p.m. (PST), an AMA session was held on Avalaunch with special guest Eren Gunaydin, Director of Business Development and Selman Gunes, development chief at TaleCraft . Below we present to you an excerpt from AMA with questions and answers.
Dave Donnenfeld | Avalaunch
Good afternoon and thank you to everyone who is here to attend Part II of the AMA with TaleCraft. We are once again graced with the presence of @talecrafter and today, we will have an additional guess in @TaleCraftLabs — Selman Gunes Development Chief. Both are ready, willing and able to tackle the tough questions so, without further ado, I bring you TaleCraft. How are you today?
Eren Gunaydin | TaleCraft
Hey guys, pleasure to be here with you again!
Selman Gunes | TaleCraft
Hi guys , Nice to meet you !
Dave Donnenfeld | Avalaunch
Let's get right into it — Let's start off with a brief introduction about yourself. Can you tell us about your background, career path, and how did you end up as lead developer for TaleCraft?
Selman Gunes | TaleCraft
Hi, I'm Selman Gunes. I am a senior management engineering student at Istanbul Technical University. My first encounter with blockchain started in 2016 with Ethereum Mining. Over time, I started to research blockchain technology and crypto markets. With the development of software technology in the field of Blockchain and Defi, I became interested in applications running on blockchain and I decided to develop software in this regard. Currently, JS, Python and Solidity are the software languages I use the most. I am currently working as development chief at Talecraft. As a development chief, my main task is to develop algorithms and to perform task planning for developers.
Dave Donnenfeld | Avalaunch
How did the team come together, and how was the product idea born? Why marry gaming and NFTs under one umbrella term — TaleCraft?
Selman Gunes | TaleCraft
As the Talecraft founder team, we have been investing and researching on the crypto market and decentralized finance for years. We thought that we could develop a crypto project due to the experience we have gained over the years and the different areas that each person is interested in. But even though we had such an intention, we waited for the right project and the right moment rather than taking direct action. And as a result, we liked the theme and main idea of the Talecraft project and we started working on it.
As a team, we were already playing computer games and thought we could design a game on the blockchain. Although it is actually quite ordinary to use NFTs and games together, we realized that there is little use in games at the moment due to the useless nature of NFTs. For this reason, we decided to design a technology based on the erc-1155 protocol that will provide in-game item improvements. In this way, I can say that the items to be used in the games we will develop allow the use of carefully designed different items than randomly generated nfts.
Dave Donnenfeld | Avalaunch
Can you talk about the experience of your team? How many developers are working on building the project?
Selman Gunes | TaleCraft
The developer team has developed many defi projects so far. Our developer, who develops software on Solidity, is quite competent on the subject. In fact, I can say that he demonstrated this skill while developing the project over the erc-1155 protocol, which is used very little in the market. In addition, we have ui-ux designers and frontend and backend software. In total, we have a 6-person developer team with me. Since our developers are very good at their job, we actually do not have any restrictions on software development in our project and we can say that we have a very flexible structure in development. In addition, we have included a team of 4 people experienced in 3D and VFX among the game modes we are developing, and I can say that we are trying to make our project cooler.
Dave Donnenfeld | Avalaunch
Yes, ERC-1155 is a specialty for sure.
Having looked at the game ecosystem, there seems to be that clear distinction about Craft Technology. How is this different from minting, and how will it work to unlock the in-game NFTs?
Selman Gunes | TaleCraft
Although the minting system constitutes the core structure of NFT, it does not actually offer a sustainable economy. To briefly explain the minting system, it enables the production of unique NFTs by randomly combining different image files on certain layers. Every picture has a rarirty, and the more pictures combined, the rarer an NFT you will have. In fact, this is somewhat of a gamble, because someone else who pays the same amount to minting may have a more valuable NFT than yours. In addition, after the hype in the project is over, the interest in NFTs ends and it becomes difficult to sell the NFT you have. Crafting system, on the other hand, allows to design more unique works of art and offers more flexible sales systems.
We designed a crafting system by addressing the problems in this minting system. In this way, each user can craft any NFT they want, starting from an equal level and going the way they want to go. And this craft technology offers users different sales strategies. Some users can sell their products to users who want to save time by constantly crafting NFTs at key points that will go to certain NFTs. But another user can also earn income by selling items to people who want to craft after the sale of chests by simply holding the elements.
In other words, we can say that the crafting system focuses on solving the chronic problems that NFTs have.
Dave Donnenfeld | Avalaunch
How does TaleCraft manage to package these mechanics in? It seems rather specialized. NFTs bridged to real world assets has been a challenge. You seem to be faced with a similar challenge. Can you address this?
Selman Gunes | TaleCraft
Its been a pretty hard process for us to be honest. Special package mechanics are made possible by the crafting technology of talecraft. Today, although many DeFi projects want to release NFT collections, the chronic problems of NFTs prevent defi projects from taking action on this issue. Together with Talecraft, they will be able to offer NFT packages to their users with NFTs that have an economy and already have use cases.
Dave Donnenfeld | Avalaunch
You all don't look like you're afraid of difficult things which leads me to your aggressive roadmap — The Roadmap is sure busy, especially after the project launch! Can you talk about the specific timing of the app deployment, and briefly what's in store for the players soon after launch?
Selman Gunes | TaleCraft
With the Token Launch, it will available in a 5 day many features that we offer you. Crafting system, our first card game, marketplace etc. Many features will be out. However, with the flexibility that our project provides, we have many new projects in mind and we are in the development phase of them. We will share these with the community over time. In addition, on the 22nd, we will try some of our features on the testnet and will be able to perform more extensive testing. And we have some gifts for those who join the testnet, we are waiting for everyone.
Dave Donnenfeld | Avalaunch
Testnets are a great to realize you have a billion more things to do ? Hugely important
Among the range of cool features that come with the game is an NFT marketplace. Can you talk about its use and how its integration relates to the vision of the project?
Selman Gunes | TaleCraft
Our NFT marketplace has different features than normal marketplaces. For example, we plan to provide data on floor price that will facilitate our users. In addition, with the erc-1155 protocol we use, it is easier to follow the sales of NFTs and we will be able to show the historical prices of NFTs to users. In addition, we will show the constantly changing supply amount to the users and ensure that they catch some opportunities.
Finally, with the special package sales in the future, those NFTs will also be displayed on our marketplace and we will try to keep the marketplace alive in this way.
Dave Donnenfeld | Avalaunch
Nice. I'd love to comment more on this but we have lots of questions still. Interesting stuff. What does the long-term ambition for TaleCraft look like? Will there be any additional features added on top of the current ones?
Selman Gunes | TaleCraft
Actually, as I said before, there is a great flexibility that the crafting system provides us. And that's why I can say that there is actually a treasure. Because with this system, we have the chance to generate income for game developers and artists who want to produce. That's why I think in the future Talecraft could be a game hub or an art sales platform. And we started to work towards these goals. I would like to give you the details of these features as soon as possible, but it is difficult for me to talk in detail today.
Dave Donnenfeld | Avalaunch
This will be asked a million times so let's get out in front of it here — Security is of utmost importance in the world of cryptography, and I can see that the project contracts have already been audited by HashEx. Are there any other plans for continued security from this point onwards?
Selman Gunes | TaleCraft
First of all, I would like to thank hashex here. I would like to state that they are an audit company that does its job well in the market and they warned us about everything. Apart from our own developers, we have conducted many tests with hashex so far and we do not have any vulnerabilities. In addition, we will have the contracts that we will use in the future audited with the same meticulousness. But not everything works as well as theoretical tests and sometimes you need stress tests as well. At this point, with the testnet campaign, which will start on the 22nd, we will also perform a stress test on our site and we will put everything in the state we want before the launch
Dave Donnenfeld | Avalaunch
We are really excited that you decided to build the first Craft NFT gaming on Avalanche. Can you talk about your experience being involved with this community? What was it like for you and your team producing the art of TaleCraft?
Selman Gunes | TaleCraft
I am very happy that we developed the project in the Avalanche ecosystem. The community and all shareholders give us very positive feedback. I can say that producing Talecraft was a unique experience for us.
Dave Donnenfeld | Avalaunch
Finally, are there any concluding points that you'd like to make, either about Avalanche as a building ecosystem or about the TaleCraft product itself?
Selman Gunes | TaleCraft
I strongly believe in the Avalanche ecosystem. I think it is the decentralized network with the strongest PoS and I see a very clear path. We still have a long way to go and we need to work hard to bring the avax ecosystem back to where it belongs.
Twitter questions
@OpuGhosh2 who asks the following — TaleCraft brand new type of NFT minting process burns base cards to craft higher-tier cards, are all the cards in the metaverse unique? Every base card creates a unique higher card on their own? How is decided when is time for the base cards to be burned?
Selman Gunes | TaleCraft
We currently have 160 different cards. There can be 10, 100 or even 1000s of each card. That's why we can't call every card unique. But with the ever-changing supply and demand, the number of these cards also changes. Therefore, I can say that you will have an nft that is dynamic rather than unique. Tiers change at certain stages. You need to burn at least 2 cards for each craft. The answer to the last question is here, actually, the cards are burned during crafting, so there is no burn at any time, there is always a burn?
@Maiphuong32 and her 17 followers are dying to know — In TaleCraft elemental base cards are sold weekly, Does players with low investment still can progress inside the metaverse? How are players with low count of NFT hold also rewarded by the game?
Selman Gunes | TaleCraft
This is the reason why we sell a certain amount of these cards every week. You can progress in the game by crafting just by buying chests or buying element cards from the marketplace. But those who make high investments will also get a great return on their investments.
@Margaret9732 I am just curious, will there be a competition for the completion of the 160 kind of cards? If yes, will there be a massive rewards for the first user/players who will complete collecting all the 160 cards? Will you introduce more kinds of cards in the future?
Selman Gunes | TaleCraft
Yes, we are considering adding a quest system that will direct users to craft and reward their achievements as soon as possible. When certain goals are set for each week and each month, we will ask users to fulfill these quests. The objectives will also be varied and we will enable users to take different paths. In this way, everyone will fulfill their own quest. According to the level of the quests, certain prize amounts will be collected into the pool and users who complete it within that period will receive a share from the pool.
@Sige_burece17 — As it is known that TaleCraft is a PVP, play-to-earn card board game, my question is Will Game TaleCraft be available in the Google Play Store and Apple App Store to make it easier for them to use it?
Selman Gunes | TaleCraft
No, because our game is on chain, embedding it in an app and asking you to connect to the metamask is not a safe and easy way. That's why our game will be played on the web. But by making the game more mobile responsive, you will be able to play from your phone as if you were using an app.
@komando911 is dying to know — Is the entire platform designed for the medieval-loving culture? What if many users are not fans of this style of games and medieval culture? Will they design games and possibly NFts for other styles and cultures?
Selman Gunes | TaleCraft
I can say that the Medieval theme is our main theme. And we want to add play items that will evoke rpg elements through this theme. But we will not only go through the medieval, there will be chest and item sales for all kinds of themes on a different platform.
Telegram Questions
Can you explain how is your Tokenomics Distribution? How many tokens Will be minted ? And How many tokens Will be locked by the team?
Eren Gunaydin | TaleCraft
It will be limited with 30,000,000 CRAFT. Also in here you can find more information about our Tokenomics https://docs.talecraft.io/tokenomics
According to the roadmap, what are your most important next priorities? Does your team have enough funds and strong community to achieve those milestones?
Selman Gunes | TaleCraft
So far we have collected enough funds from private and seed rounds and our 4-year income statement is ready. Everything is going fine now. Our priorities for Roadmap are to bring the games and our unique platform to life.
Can you please share about your burn system and buyback system? How does burn work for your token?
Eren Gunaydin | TaleCraft
Our token CRAFT is going to be burnt and added to liquidity when some player buy a chest to receive an elemental card. One chests price is 10 CRAFT token and 0.1 AVAX. So in each chest 5 CRAFT will be burnt and 5 CRAFT will be added to liquidity
Currently, NFT is very hot, do you think you will apply NFT technology to your products in the future?
Selman Gunes | TaleCraft
Our game is very simple to play and I think people will understand easily. In addition, we are planning a chess based game that only plays to earn. It will be a game with a very fun and deep strategy, and non-crypto users will definitely be eager to play this game.
Quyen Cao??
Many projects have problems with UI / UX and this one turns off new users. How do you plan to improve the interaction with new users and with users outside the crypto space?
Eren Gunaydin | TaleCraft
Of course. That's why we are on Testnet right now. We want to hear players feedbacks and find solution with their comments. Lots of bugs fixed already in day 1. I'm not saying we are perfect right now, but i can clearly say that we will try our best everyday and work to be perfect.
Lovish Shahi | Avalaunch
We got to know a lot today about Talecraft.
Thanks @TaleCraftLabs & @talecrafter for your time 🙂
Eren Gunaydin | TaleCraft
Great. It is always great to be here with you guys!
Selman Gunes | TaleCraft
Thanks everyone

About Avalaunch
Avalaunch is a launchpad powered by the Avalanche platform, allowing new and innovative projects to seamlessly prepare for launch with an emphasis on fair and broad distribution. With its values deeply rooted in the early Avalanche community, we are able to offer projects confident, informed users who are aligned with the long-term goals of the rapidly expanding application ecosystem.
Leveraging Avalanche's scalable, high-throughput, and low-latency platform, Avalaunch is built by users, for teams, to help grow strong communities.
About TaleCraft
TaleCraft is a game that allows users to play games with NFTs obtained with tokens and advance to higher levels with CRAFT, distributes rewards to NFTs holders so that people are always actively involved in the project. It was created to resolve the lack of token use cases that circulate in the cryptosphere.
Website | Telegram | Twitter | Medium | Discord
---
TaleCraft AMA#2 — Technical Deep Dive with Eren Gunaydin & Selman Gunes (Recap) was originally published in Avalaunch on Medium, where people are continuing the conversation by highlighting and responding to this story.