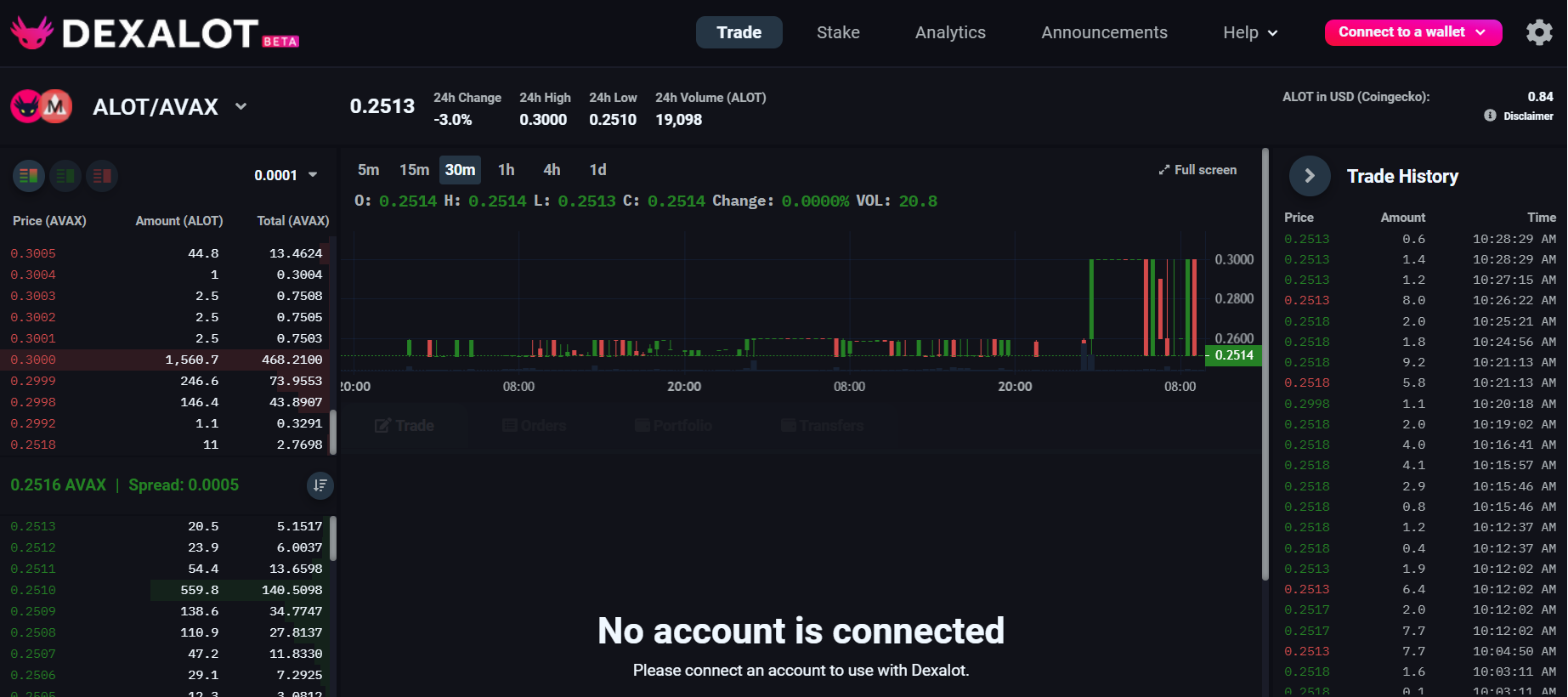 Dexalot is looking to bring transparent, user friendly and modern trading to the Avalanche community. We are looking to bring the traditional centralized exchange look and feel through a decentralized application on Avalanche. All crypto enthusiasts as well as traders are invited to explore its capabilities and become part of the Dexalot community.
Dexalot is now not only well-poised to be in the current growing Avalanche subnet implementation wave, it may be one of the earliest if not the first DeFi project that will go into its own subnet. Development is moving at full speed with a goal to make the Dexalot subnet operational in the next two to three months. The Dexalot Subnet is already on Fuji and the testing has begun.
The goal of this effort would be to increase the transaction speed by at least 10 fold, decrease transaction fees to negligible levels in addition to improving the user experience, community engagement, and capital efficiency.
The Dexalot Subnet through the Stake2theSubnet program will start with a composition of up to 20 nodes run by the Dexalot Foundation and select individuals who pass through a prioritization and vetting process. Strong Avalanche validators are invited to participate in this exciting growth and innovative development of the Dexalot Subnet through Stake2theSubnet.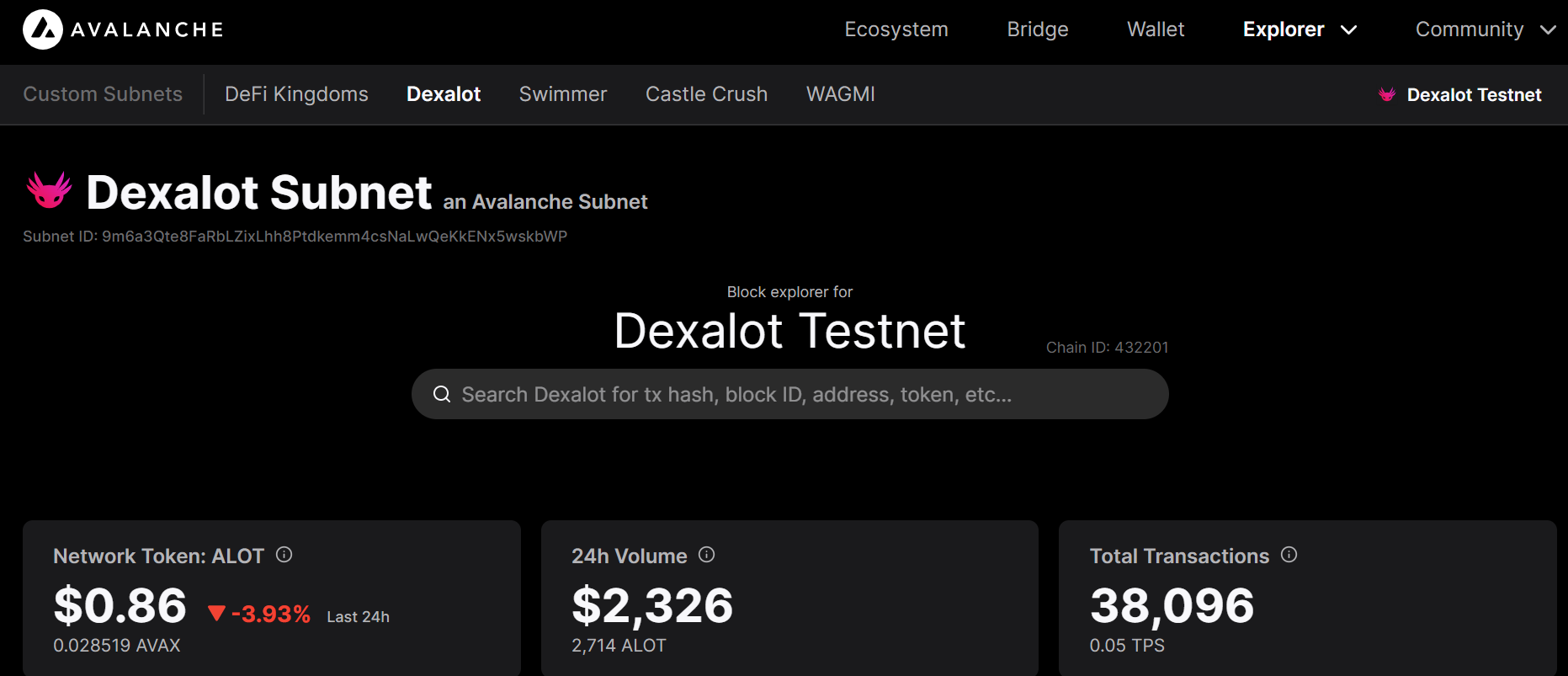 Subnet Name Dexalot Subnet | Subnet ID 9m6a3Qte8FaRbLZixLhh8Ptdkemm4csNaLwQeKkENx5wskbWP
Blockchain Name Dexalot | Blockchain ID XuEPnCE59rtutASDPCDeYw8geQaGWwteWjkDXYLWvssfuirde
Created On Apr 25, 2022, 4:02:22 PM EDT
EVM Chain ID 432201 |VM Name EVM |VM ID mDVSxzeWHpEU3eSqMwwGQsD787xGp7hv9Qgoe3R9SdjPapte8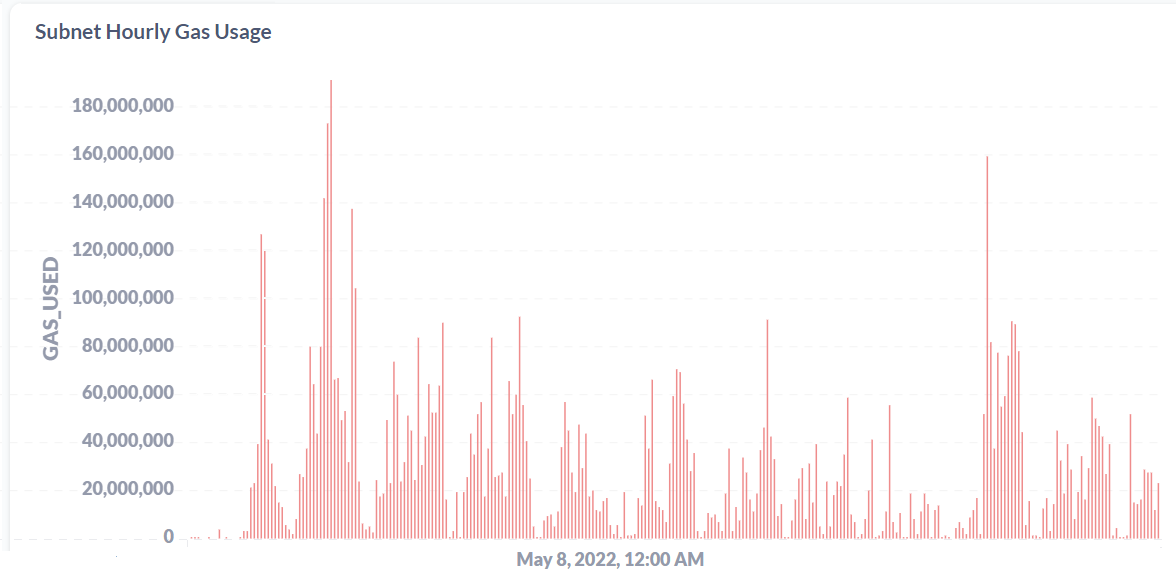 The Dexalot Testnet Subnet is fully functional — once you connect a wallet and add the network — you can access the faucet where you can obtain mock-ALOT to use and see how smoothly and easily it works. Trade your mock-ALOT for mock-AVAX and see how low the fees are !!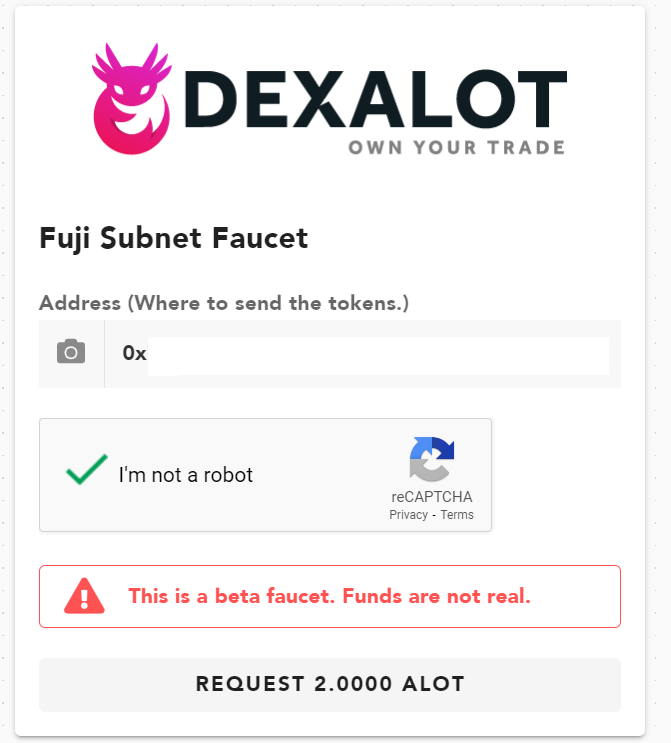 You can also explore the activity of the subnet — here (Dexalot_Testnet Chain_ID is 432201 ) or check out Avascan's index.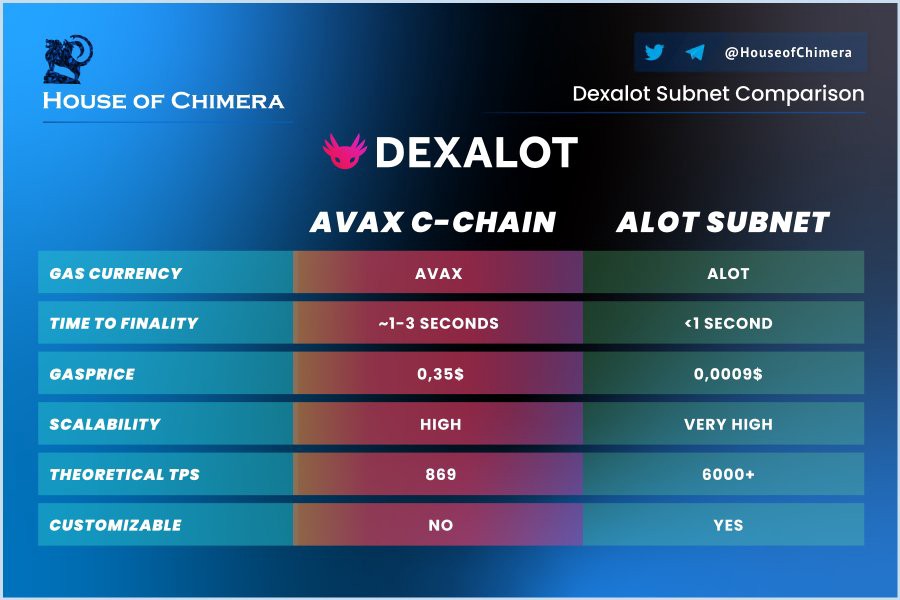 The House of Chimeria has made its own comparison of The Dexalot Subnet as they envisioned it — to the current AVAX C-Chain Dexalot Exchange. These suggested features bode well for the community.
If you are interested in becoming a part of this community you can choose to stake ALOT with one of two options as you Stake2theSubnet. The current underlying smart contracts are designed to emit those rewards at their respective constant APRs until Aug 16, 2022 8pm EST. After that, the contracts will stop giving rewards. By that time Dexalot aims to bring its more sophisticated staking program online on the Dexalot Subnet. The intention is not to be restrictive but to incentivize the right people to help secure the Dexalot Subnet in the future and allow potential validators and others to earn decent rewards until then. If you choose and successfully fulfill the Staking 1 option and are not chosen as a validator you will have the right to stake on the Subnet staking contract as a delegator.
Follow our socials for more information and announcements about the Dexalot Subnet. Feel free to join in and discuss any questions you may have on Dexalot Discord.
Writer: Brad McFall
Editor: M. Nihat Gurmen
About Dexalot:
Dexalot is a revolutionary decentralized exchange aiming at bringing the traditional centralized exchange look and feel to a decentralized on-chain application. Its mission is to bring a truly inclusive and transparent environment where Dexalot users can trade crypto securely and efficiently, with no slippage or custody risk. It is built on Avalanche, the fastest smart contracts platform in the blockchain industry.
Website | Twitter | Telegram | Medium |Discord
---
THE DEXALOT SUBNET was originally published in Dexalot on Medium, where people are continuing the conversation by highlighting and responding to this story.