#Trade2TheSubnet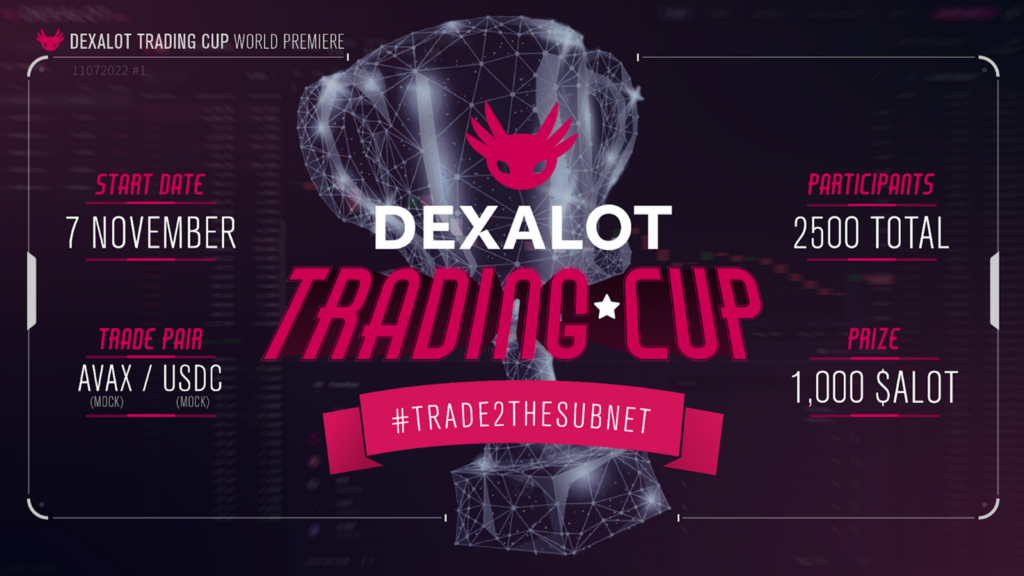 The Subnet is almost here! Whether you've been participating in #Stake2TheSubnet or are brand new to Dexalot, it's time to start reaping some rewards. We're giving users a fun new series of trading competitions, with new prizes, mock tokens and rules every two weeks. Are you ready to #Trade2theSubnet? Prepare yourself, because our first entry into the Dexalot Trading Cup starts Tuesday November 7th and the top traders will be splitting 1,000 $ALOT! The formula is simple; enter, collect your mock tokens, trade and WIN.
This Week's Highlights
Prize: 1,000 $ALOT divided amongst the winners.
Date: November 7th
Trade-pair: kAVAX / kUSDC
Participants: 2,500 total
Rankings: via DIP (Dexalot Incentive Program) scores
Winners: Top 5
The Rules
The contest will be held on The Dexalot Subnet Release Candidate.
You will be trading mock kAVAX/kUSDC, pegged to real AVAX and USDC, respectively.
You will receive equal valued amounts of both tokens in your Dexalot Portfolio.
You can not withdraw your tokens from the Portfolio.
You may trade manually by entering your orders directly.
You may trade by writing a program to trade for you.
There are no restrictions on how or when you trade.
You may obtain mock ALOT to use as transactional gas from the Avalanche faucet.
The prize will be divided proportionally based on your DIP user score among the top five scorers.
On Your Mark
All #Stake2theSubnet stakers will automatically receive kAVAX and kUSDC mock tokens to their portfolios and are good to go.
Everyone else may apply by filling out this form(TRADE2THESUBNET). Please have your email and Avalanche C-chain wallet addresses available.
Get Set
Connect your wallet to The Dexalot Subnet Release Candidate.
Introduce yourself to The Dexalot Subnet.
Watch an Introduction to the Subnet with Ethan Tutorial.
Obtain 2 mock ALOT for gas from the Avalanche Faucet
-Select Network — Fuji(C-Chain)
-Select Token — Dexalot Token(ALOT)
-Add your address and request 2 mock ALOT
Learn how to deposit mock ALOT to the Subnet.
Learn how to switch from the Mainnet to the Subnet.
Learn how to add mock ALOT to your gas tank.
Learn how to trade in the Subnet.
Ask questions and get answers on Discord #dexalot-trading-cup.
Go
Start: 10a EST Nov 7th
Adjust your trading strategy
Continue trading
End: 10a EST Nov 17th
Own your trade
Understanding DIP and how it awards participants is key to winning the contest!
Author: Brad McFall
Editor: Dan Marcoulis
Graphics: Can Toygar
About Dexalot:
Dexalot is a revolutionary decentralized exchange bringing the traditional centralized exchange look and feel to a decentralized on-chain application. Its mission is to bring a truly inclusive and transparent environment where Dexalot users can trade crypto securely and efficiently, with no slippage or custody risk. It is built on Avalanche, the fastest smart contracts platform in the blockchain industry.
Website | Twitter | Telegram | Medium |Discord
---
The Dexalot Trading Cup was originally published in Dexalot on Medium, where people are continuing the conversation by highlighting and responding to this story.