This is Apollo: The Imperium Empires Web Game
Inspired by the first program to ever land on the moon, we're taking you further into the depths of space to discover new galaxies, conquer new planets, and of course — mine all precious resources our metaverse offers. Welcome to Apollo, the Imperium Empires Web Game.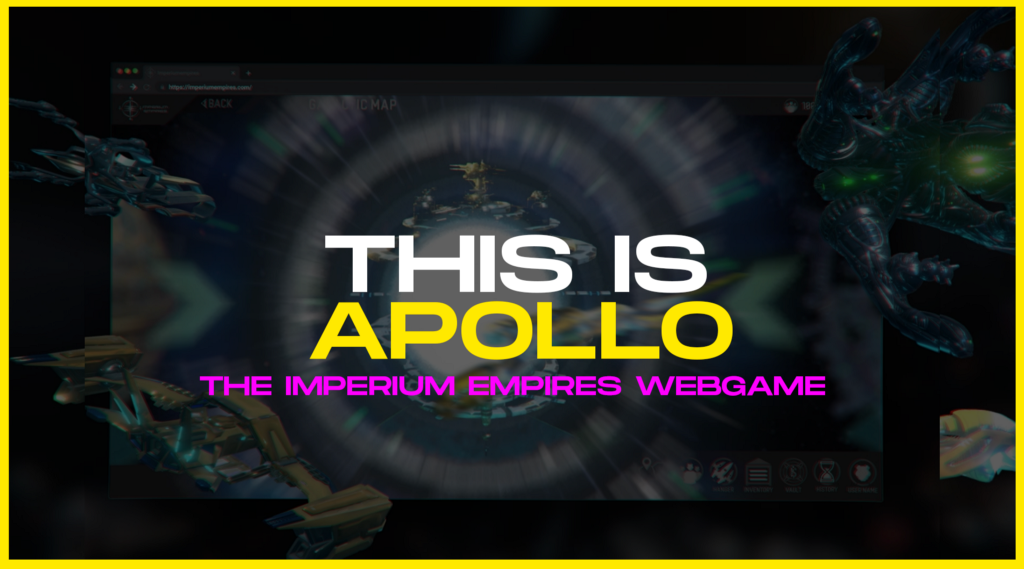 *Please note that images in the article are WIP and are for illustrative purposes only. They do not represent the final product that will be launched, This includes numerical values such as durations and coordinates.*
Hello Apollo
Before our official game launch in Q4, we have decided to create and release Apollo as an economic test to ensure our play-and-earn game economy is long term sustainable. The Apollo Web Game is currently separate from our Alpha Game (playable on PC — which is also launching soon!).
Players can start earning in-game rewards with spaceship NFTs in Apollo. Apollo simulates part of the game where there are supplies and demands of the in-game resources. Players can use their NFTs to play and mine resources in the Imperium Metaverse. They can earn L-IMC (in-game locked version of IMC) which can be used in Apollo, but CANNOT be unlocked and minted into IMC until the release of future versions of Imperium Empires.
Overview
In Apollo, players' purpose is to manage and send their spaceship fleets to mine, lurk, refine and trade resources in the Imperium metaverse. It's a grand strategy game with limitless options so you have to figure out the best route in order to maximize your profits!
Travel
Zones (Tier 3: Safe Zone, Tier 2: Combat Zone and Tier 1: War Zone)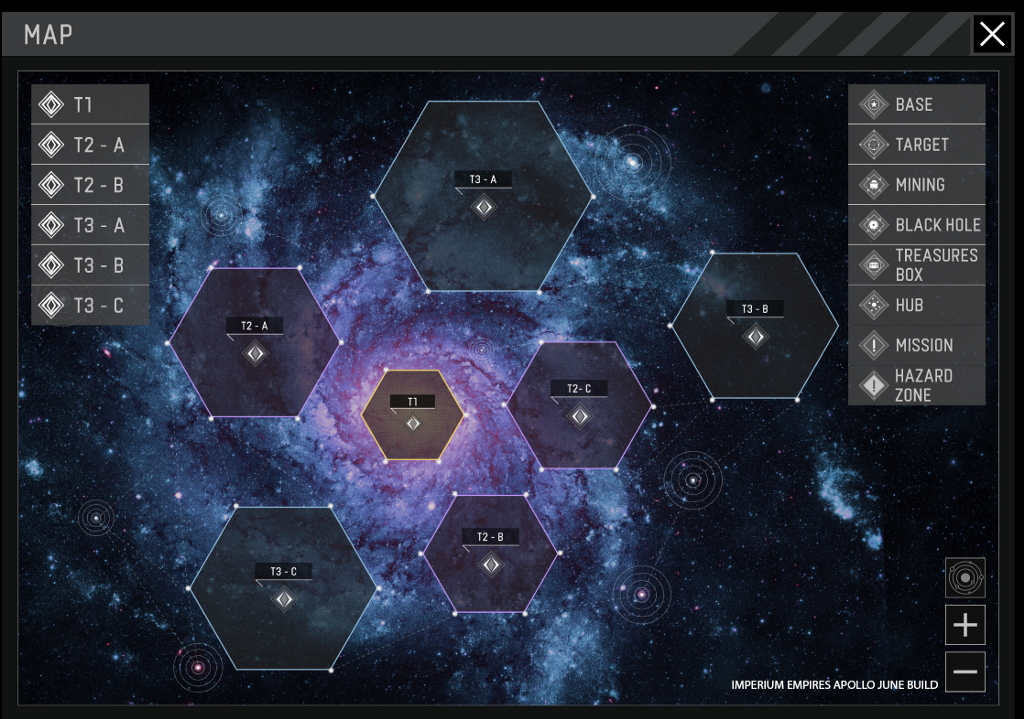 There are multiple zones in the game (Tier 3: Safe Zone, Tier 2: Combat Zone and Tier 1: War Zone), with each being subdivided into Land Zectors, each with varying levels of risks and rewards (e.g. the War Zone is the riskiest zone with the most resources, while the Safe Zone is the least risky zone with least resources).
Zectors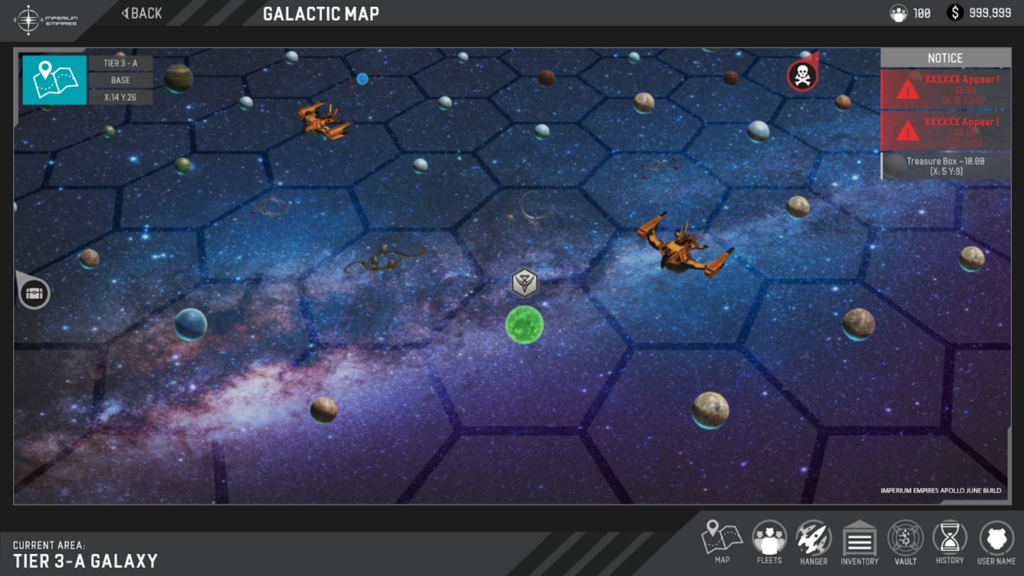 Once you've decided to send your fleet inside one Zone, you will see a galactic map showing a lot of different Zectors in the Zone you've chosen. You have to choose a Zector with a dock for your spaceship fleet to start with. It takes players' time and fuel to send their spaceship fleets to travel from one Zector to another (i.e. when fleets travel from one Zector to another, players need to wait for the travel to complete, and the fuel of the fleet will be reduced). In case your fleet runs out of fuel, you can still travel between Zectors, but the traveling time required will be much longer. Upon arriving at each Zector and depending on the Zector locations, players can take different actions including Mine, Refine, Trade, Lurk and Dock.
Mine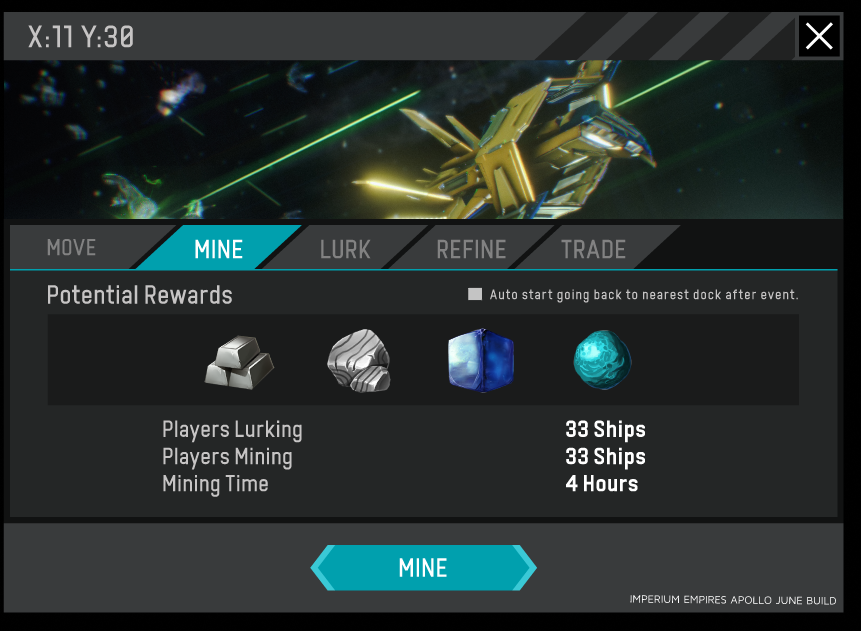 When your spaceship fleet arrives at a Zector with a mining site, you can choose Mine to get a variety of Raw Ores (e.g. Iron Ore). Mining rewards depend on your ship type and number of players mining. Once mining is completed, the mined ores will be stored at the cargo areas of the spaceships. However, there is a chance your fleet may fail to mine, lose your cargo and be damaged because there are other fleets lurking in the same Zector. The chance of getting attacked depends on multiple factors such as ship type and the number of spaceships lurking. More details about the chances of successful mining will come in the next few articles.
Refine
Upon successful mining the raw ores, players need to travel to Zectors with refineries to refine their raw ores into Refined Materials (e.g. refining Iron Ore to Iron). Please note that each refinery can only refine one type of unrefined ores, so players need to travel to different refineries to refine different materials. Similar to mining, players can also choose to lurk in the refining sites so the refining fleets are also at risk of losing everything stored in their fleets' cargo.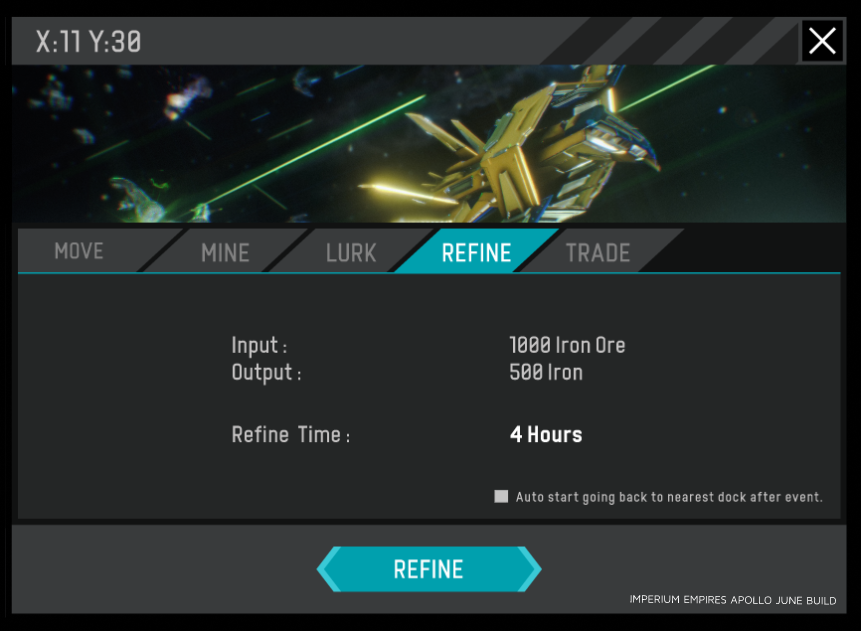 Trade
After players obtain the refined materials, they will need to travel to the Trade House, where refined materials can be exchanged into Silver Credits. Silver Credits are important to each players' L-IMC earnings — the more Silver Credits a player has, the more he/she can share from the L-IMC rewards pool per season! Similar to refining, fleets trading at the trade houses are also at risk of being lurked by other players.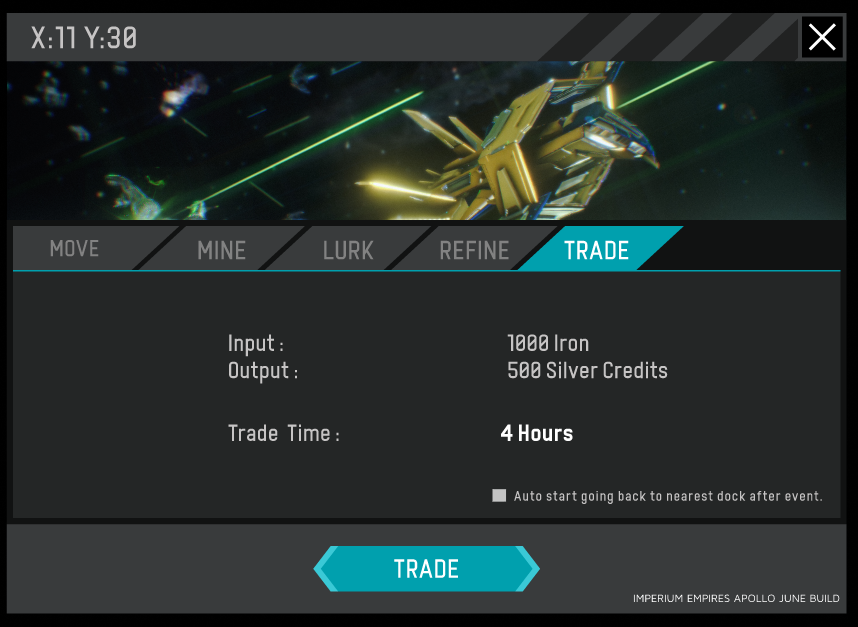 Lurk
Instead of mining, refining and trading for your rewards, players can also decide to Lurk the fleets of other players in the mining sites, refineries and trade houses. The chances of successful lurking are proportional to the number of players lurking and power of the lurking fleets. Upon successful lurking, the lurking players damage a percentage of fleets which are mining, refining or trading, and take all damaged fleets' items in their cargo (e.g. unrefined ores, refined materials and silver credits). The lurked cargo is distributed among all lurking fleets in the same Zector.
As for the damaged fleets, players will need to repair them.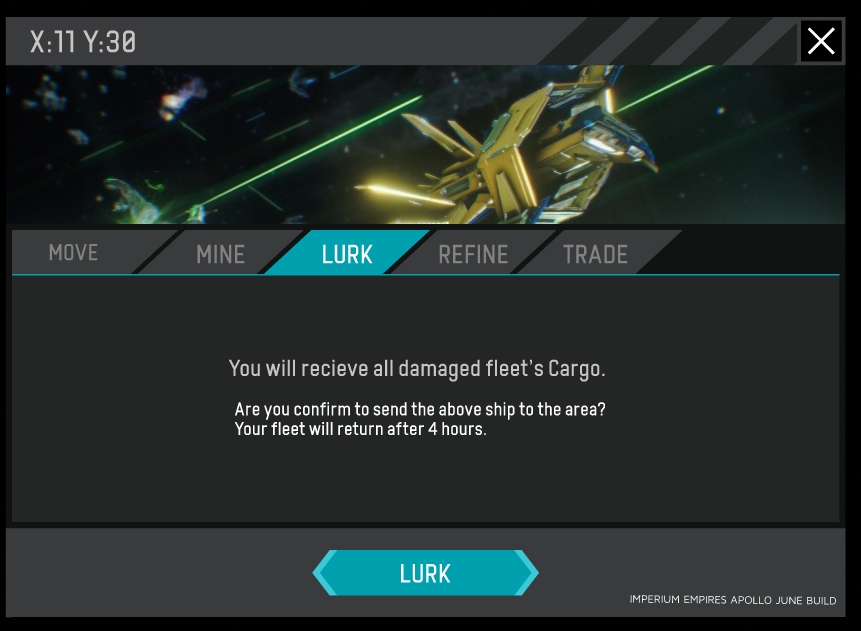 Dock
Spaceship fleets can dock in a Zector with a dock. Docking allows players to rearrange their fleets and refill their fleets' fuel. Players can also load or unload their fleets' cargo such as raw ores, refined materials or Silver Credits. Therefore, it is important for players to make strategic decisions as to optimize for efficiencies (i.e. dock less frequently and conduct more mining, refining or trading) or cargo safety (i.e. dock more frequently to avoid being lurked).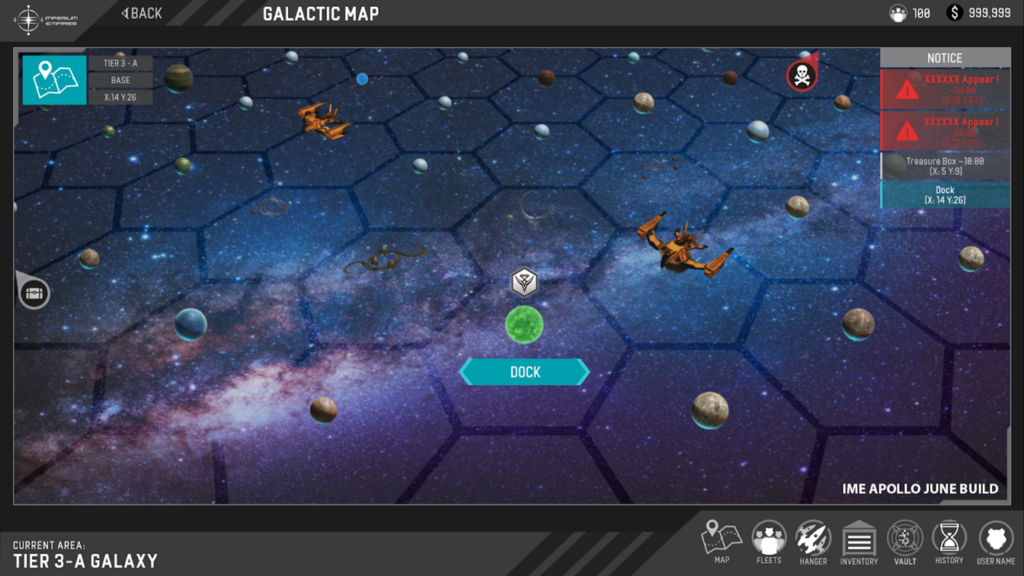 Storage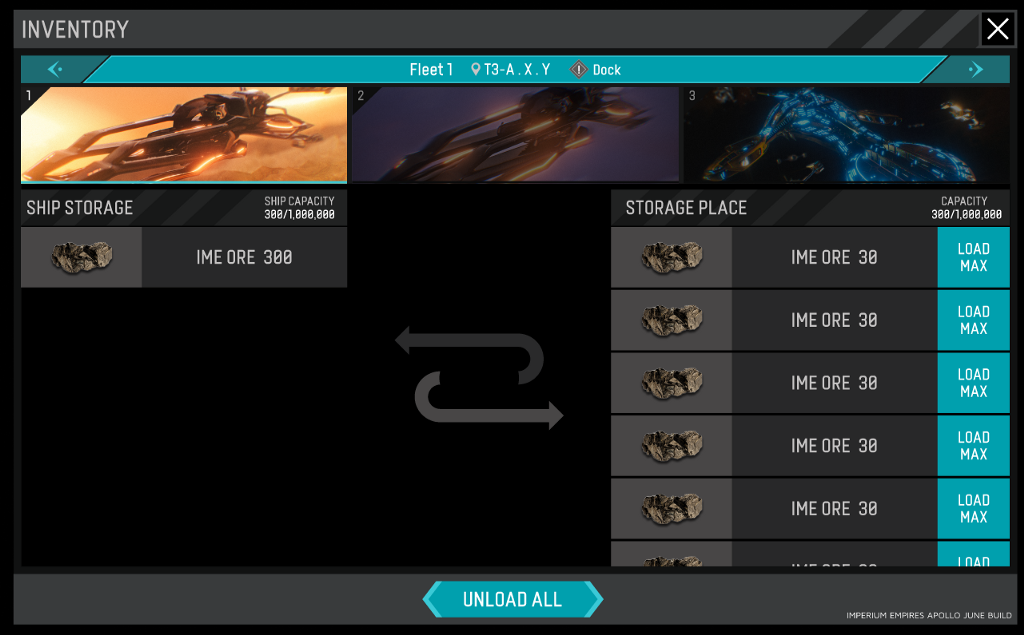 Seasonal Gameplay
Apollo will be held in seasons and L-IMC rewards will be calculated on a seasonal basis. The total reward pool of L-IMC is a fixed amount for each season. Each player's L-IMC earning is determined by their Silver Credit holdings weighted by the total number of Silver Credit of all players.
Future updates
Apollo starts play-and-earn in Imperium Empires and provides more utilities to our NFTs. Apollo currently focuses more on the PvE elements in Imperium Empires, but more updates are coming. For players who want to enjoy PvP fighting with other players, please wait for our alpha game launch on Windows and Mac, which will also be launching soon.
We will be releasing a series of articles explaining the detailed game mechanics of Apollo, so please stay tuned for that!