Tip.Blue: enable Avalanche tips in your Discord
The Tip.Blue Discord Server Bot facilitates the seamless transfer of $AVAX, and a variety of other Avalanche Tokens. Simply inviting the bot into your Discord server enables users to tip and transfer tokens with ease while avoiding any extra sign-ins and also eliminating the need to keep track of long unidentifiable addresses.
Your own Tip.Blue Bot is standing by, primed to ignite excitement in your chat and have tips flying in no time. Best of all, there is zero cost to request and add Tip.Blue into your own discord server. All it takes is the correct permissions to invite the bot and you can start tipping Avalanche tokens in your Discord today!
Invite Tip.Blue To Your Server
You can invite Tip.Blue to any Discord server you've created as well as any other Discord where you have been given sufficient privileges. If you don't have the ability to invite the bot, you may reach out to the server owner or mod team responsible for the server in which you wish to use Tip.Blue.
To invite the bot to your server, simply visit Tip.blue/server and select the big blue button ( Invite to Discord )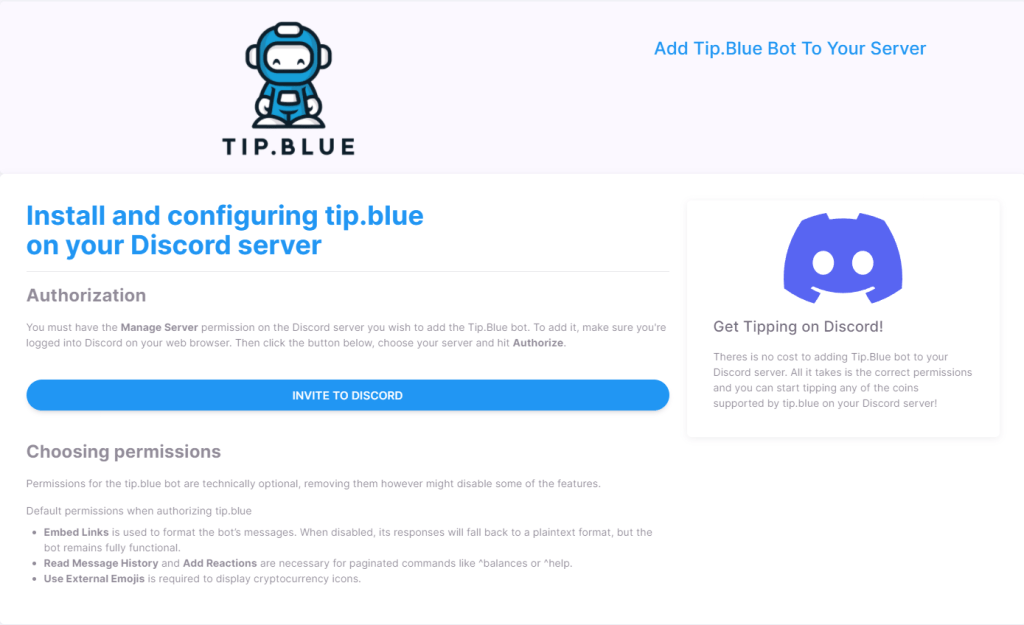 Supported Tokens
Tip.Blue supports an impressive number of Avalanche tokens by default and has gone beyond this by allowing users to commit their own additions.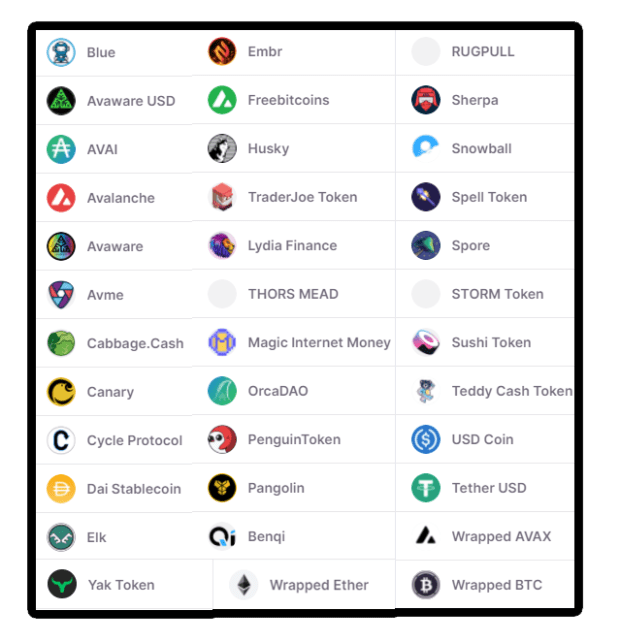 Token Additions
Don't see your favorite token on the list? Don't fret, Tip.Blue has the capability to function seamlessly with ANY token on the Avalanche Network.
You are able to submit any token you like via the Tip.Blue Github.
You will need a GitHub account to be able to commit changes to the repo but this is as simple as registering a free account.
Make your way to the link below to access the default token list.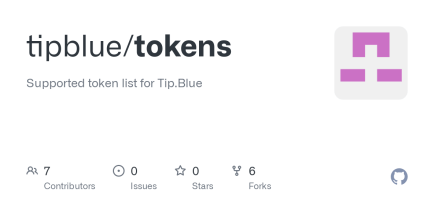 Once you have the default token list from the link above follow the given format to add the required details for your token addition to the file.
For example. The image below shows the details that are required for your token to be added successfully. To ensure a smooth process, be sure these sections are covered before submitting a pull request.

That's it, the new token will be added and tippable after completion of the nearest maintenance or you can stop by the Tip.Blue Discord for prioritized help,
Tipping Tips
There's much more to Tip.Blue so make sure to take a look, but we cover a few features below. You may send tips directly to a user, multiple users, or even tip by selected roles.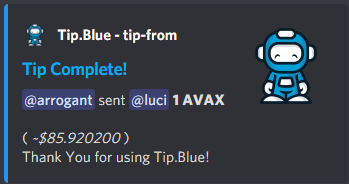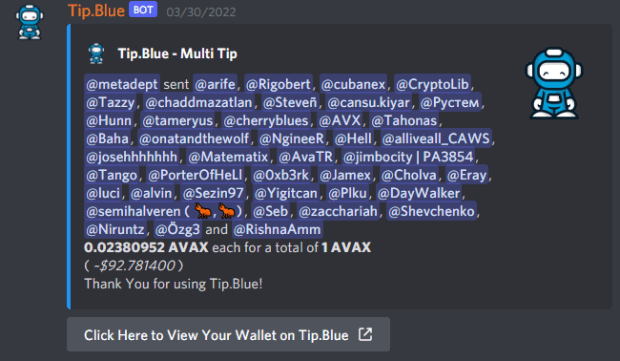 Tip.Blue can even be utilized to motivate team members or even compensate employees easily and efficiently in a discord team setting.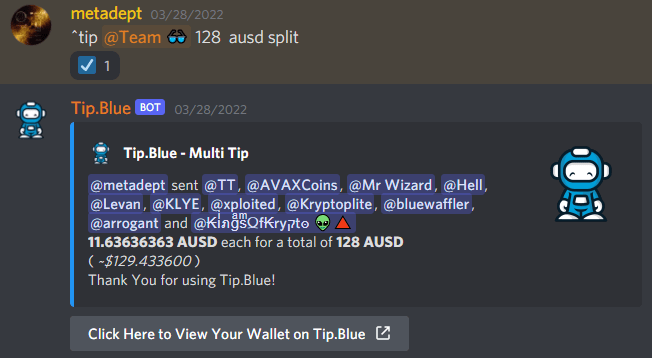 You can also try out some of the other cool features like the rain feature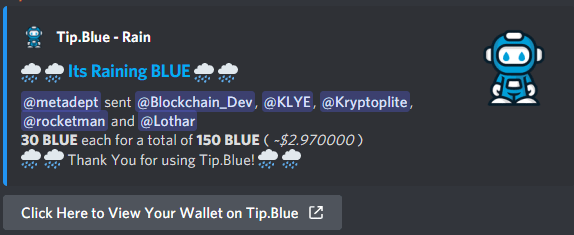 Rain spreads out the desired amount of your chosen token to various chatters in a #channel.
To check out all the features offered by Tip.Blue visit the FAQ or get hands-on and invite the Discord bot to a server near you! Start tipping and earning today to see just how easy it is.
Website | Twitter | Discord | Invite The Bot