ZABU is a next-gen DeFi project. Offering Yield farming, Auto-Farming and an IDO launchpad!
Tokenomics
0xDd453dBD253fA4E5e745047d93667Ce9DA93bbCF (Zabu Token Address)
ZABU Finance's native token is the $ZABU. It's used for colateral. With $xZABU used as the LP reward token.
Token supply
ZABU is capped at 5,000,000,000 tokens with a market cap of roughly $1,390,000(per 09/02/2021).
Emission schedule
In the first three months, Zabu is offering an initial farming period bonus.
There are two farming periods:
The initial farming period, lasting for 3,000,000,000 ZABU.
The endless farming period lasting for 2,000,000,000 ZABU.
ZABU offers 75% to ZABU farmers, 10% to DAO Treasury, and 15% to the team. The $ZABU token can be traded on Trader Joe($JOE) or Pangolin($PNG)
ZABU offers multiple farms for both single-sided staking as well as LP-staking.
Recently, ZABU introduced xJOE (TraderJoe), YTS (YetiSwap), and DYP (DefiYieldProtocol) single-sided staking farms.
Users can earn ZABU by staking PGL and JLP. Liquidity provider tokens from Pangolin and Trader Joe.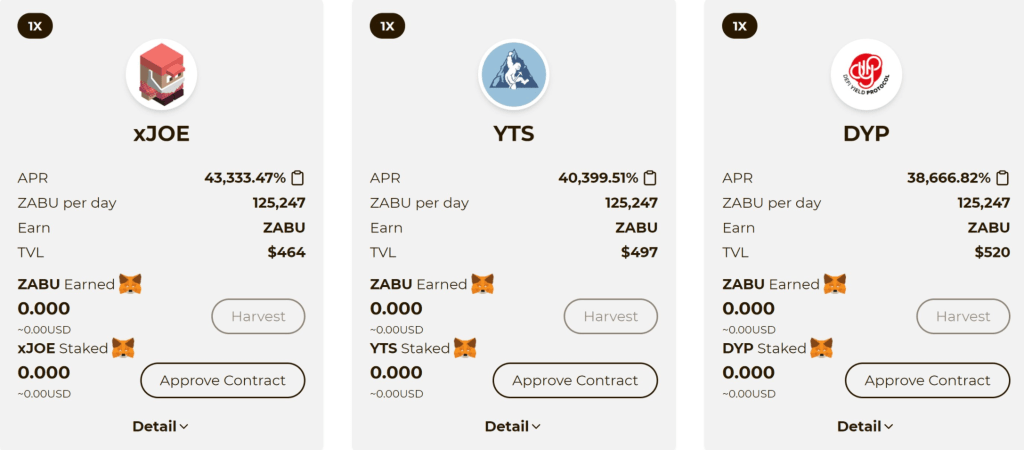 When staking LP tokens, you're aiding Trader Joe and Pangolin exchange by providing liquidity. More liquidity means better prices for traders; you're helping them too.
There are several popular token pairs available such as the WAVAX-ZABU PGL, and WAVAX-ZABU Joe.
ZABU has zero fees on deposits and withdrawals from farms.
As of August 27th, 2021, ZABU has a total of 24 pools, at 500 ZABU rewards/block.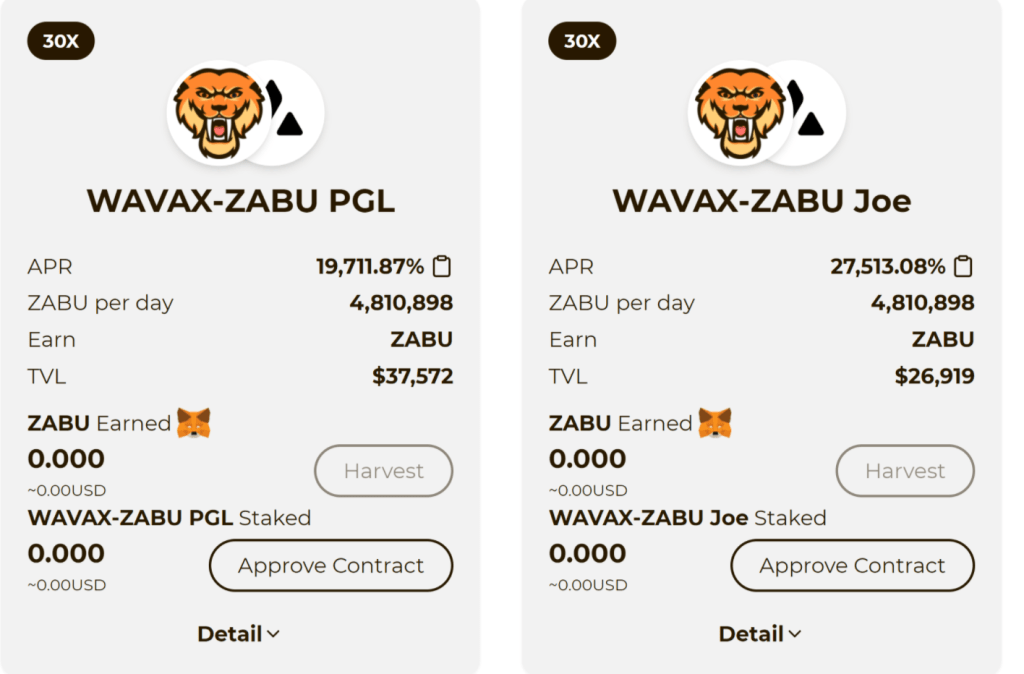 ZABU Market Buy & Burns
Once ZABU AutoFarms is ready, vaults will impose fees to buyback ZABU on the market and burn to a dead address.
As a result, this creates deflationary pressure on ZABU to maintain sustainability of the token.
$xZABU Token
Contract address: 0x3eab2111dFc8DbEe0e1e1F0b4F3eAA99523f9E2e
xZABU is staked ZABU. And maintains efficiency for the Single Staking Pool.
The ZABU team renovated the MasterChef contract into a new contract, ZABU Farm(public on GitHub).
ZABU IDO Launchpad(IDO)
The ZABU IDO Launchpad is one of the earliest, decentralized IDO platforms on the Avalanche Network.
This launchpad will allow users to distribute tokens and raise liquidity in a decentralized manner.