Wonko Ice Cream Factory – Now Minting
I scream, you scream, we all scream for…. a Tesla Model 3? That's right! As crazy as it sounds, that's exactly what the Wonko.Art NFT project is offering the lucky participant that pulls Wonko's first Golden Ticket.
Shockingly, that's not all that's up for grabs, The Wonko.Art Team led by Mr. Willy Wonko himself, have allotted 3 wonderful prizes set to be won by participants in the project.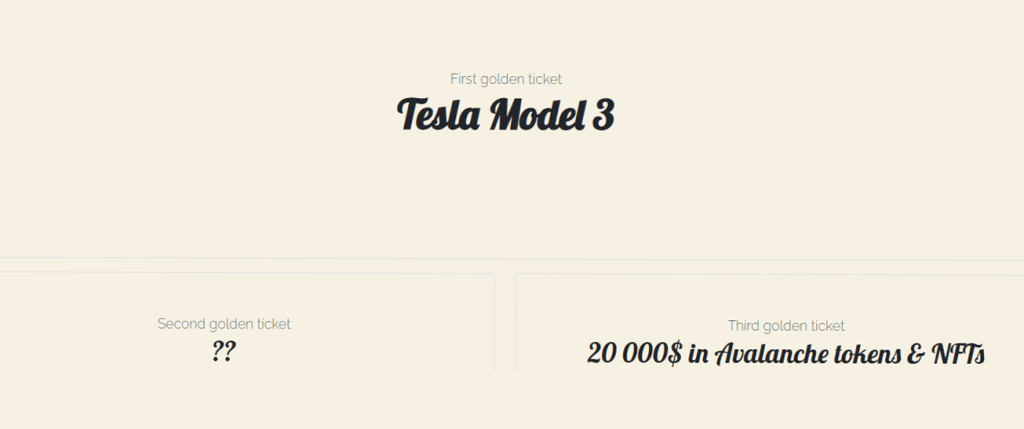 The roadmap has been broken down into four chapters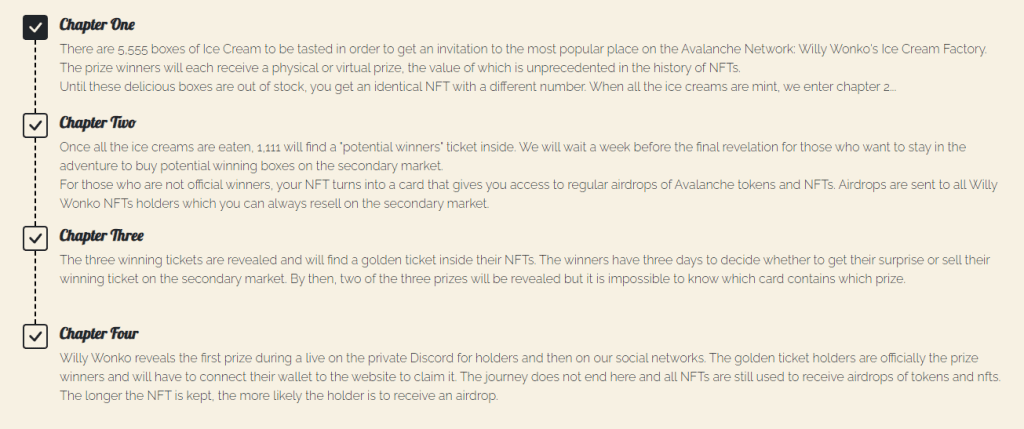 We are in Chapter One at the time of this post and Minting is open! The price is 1.5 AVAX per a single mint and that will provide a chance at one of 3 possible Ice Cream NFTs, a White variant, a Red Variant, as well as a Flake Variant. Though the containers (NFTs) look the same visually (aside from one of 3 unique background designs) each has a specific number. Each minted Ice Cream is a ticket to the monumental raffle and beyond that it is an entry pass for future air drops and incentives from the Wonko Team.
If you manage to receive a "Flake" type NFT you've done well! Flakes account for only 10% of the total supply of 5,555. Keeping ownership of a "Flake" provides you higher rewards such as more frequent and larger airdrops, and of course these will carry a premium value on the secondary market.
It is also worth mentioning, the Wonko Team is taking some measures to provide benefit to the Avalanche ecosystem, by airdropping 15 Wonko NFTs to individuals that may have taken part in some unrelated or unsuccessful projects. These projects include Tubby Reindeer, Avapepe, and Avax Apes. The first two projects were chosen to provide a "redemption" of sorts for the communities associated with these projects; Avax Apes was selected to show The Wonko Team's support for their community. So be on the lookout for a special surprise if you took part!
Telegram: t.me/wonkofacto
Twitter: @WillyWonkoAvax