Project Highlight: Magnet DAO's Investathon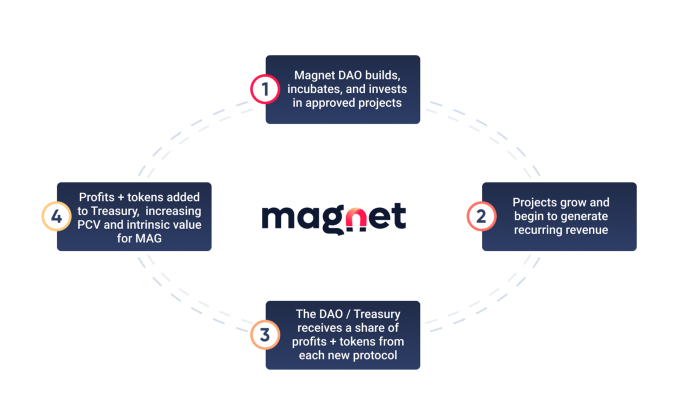 If you haven't heard, Magnet DAO is a crypto incubator that uses its treasury to cultivate, incubate, and invest in early-stage crypto projects. They've recently announced a new initiative, an Investathon, that aims to model their investment research using the highly successful hackathon model.
We'll give you a rundown on Magnet DAO and an introduction to their new Investathon initiative.
They raised an impressive amount with their community offering of $1.6m sold out in 32 minutes and public sale of $10m sold out in 39 minutes!
What is Magnet DAO
Investing with Magnet DAO is essentially a way to gain access to early investments in high potential projects that will be guided by the DAO itself.
They are building network effects, as they develop and incubate new protocols, the token holder community will play a significant role in helping these projects gain recognition, traction and usage. On top of this, the DAO will aim to work on projects that are highly synergistic. They work to ensure their MAG token plays a significant role in allowing holders to participate in the growth of upcoming projects as well, further increasing value.
Their Upcoming Investathon Creates Growth Opportunities
Hackathons are incredibly successful at showcasing developer talents and projects across crypto. This model has proven successful.
Magnet DAO is introducing a new spin on the hackathon with Investing. Teams will compete to find and pitch investment into new projects across crypto.
📝Investathon Evaluation Criteria with Judges from Trader Joe, Blue and DefiDave!
Competency and thorough execution of pitch-deck

Business value, market mapping and growth potential

Level of innovation and originality

Roadmap feasibility / probability of execution
This Investathon Comes with Significant Rewards on Top of the Networking Opportunities, sponsored by Trader Joe!
🥇 First Place: $4,000 MAG
🥈 Second Place: $2,000 MAG
🥉 Third Place: $1,000 MAG
Read the full Investathon article here:
About the newsletter
This Week in Avalanche is an independent newsletter tracking what's happening in the Avalanche ecosystem. The inclusion of a project or token is not intended as an endorsement (DYOR). If you have suggestions or feedback you can reach out on Twitter: @WeekInAvalanche