Alibaba Cloud Expands to Support Validators and Infrastructure on Avalanche Public Blockchain
APAC's largest cloud provider and Alibaba subsidiary joins Avalanche network at a time of rapid growth.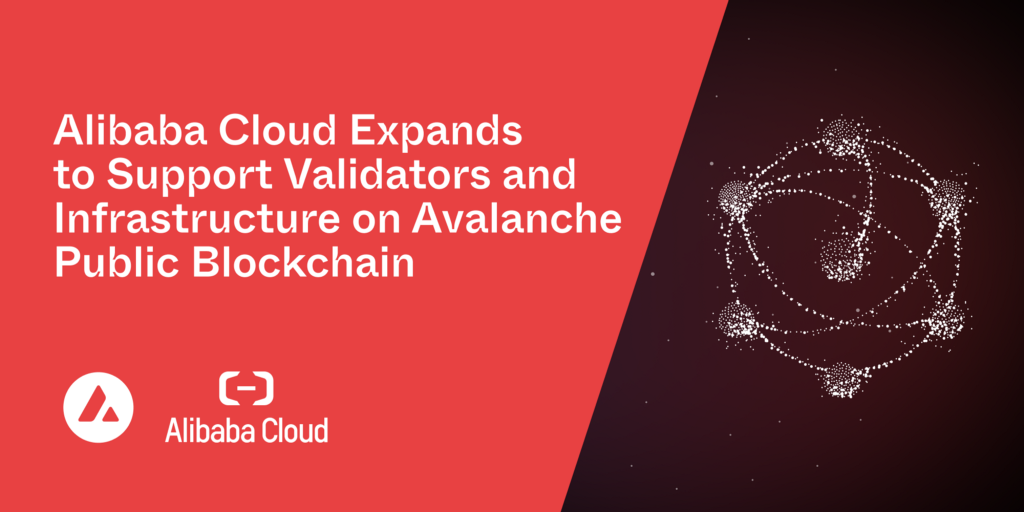 Alibaba Cloud, the largest cloud service provider in Asia Pacific, has expanded their line of infrastructure technology and intelligence tools to the Avalanche public blockchain, enabling users to launch validator nodes through the service and access computing, storage, and distribution resources through Alibaba Cloud's suite of products in Asia.
Avalanche is an eco-friendly smart contract platform built for the scale of global finance. It features near-instant transaction finality, and a novel scaling technology that enables both institutions and individuals to build custom blockchains-as-a-service.
Avalanche developers looking to launch new Avalanche validators can do so easily with Alibaba Cloud's plug-and-play infrastructure as a service (IaaS). Application developers can also add additional cloud infrastructure to support their app in times of peak demand to keep pace with user activity.
Established in 2009, Alibaba Cloud, the digital technology and intelligence backbone of Alibaba Group, is Asia Pacific's leading IaaS provider, according to Gartner. It provides a comprehensive suite of cloud computing services to customers worldwide, including elastic computing, database, storage, network virtualization, large-scale computing, security, management and application services.
Since launching in September 2020, Avalanche is one of the fastest organically growing ecosystems in digital assets. It now has over 1,000 projects building on the platform, including top-tier DeFi projects like Aave, Curve, BENQi, Sushi, and Chainlink, and enterprise applications for leaders like Deloitte and Lemonade.
The network is currently secured by more than 1,200 validators and processes on average two million transactions on a daily basis. Avalanche is breaking new all-time highs in user activity, including 133M aggregate transactions in Q3 2022, a +1,678% increase over Q3 2021.
To celebrate this integration, Alibaba Cloud is offering Avalanche developers credit towards any of their services. Alibaba Cloud's special promotion page for Avalanche developers is live: https://www.alibabacloud.com/campaign/avalanche-partnership.
For more information on how to set an Avalanche node with Alibaba Cloud please read this blog: https://www.alibabacloud.com/blog/avax-naas-node-as-a-service-on-alibaba-cloud_599481?spm=a2c65.11461471.0.0.61786551L0HJ8E
About Avalanche
Avalanche is the fastest smart contracts platform in the blockchain industry, as measured by time-to-finality, and has the most validators securing its activity of any proof-of-stake protocol. Avalanche is blazingly fast, low cost, and green. Any smart contract-enabled application can outperform its competition by deploying on Avalanche. Don't believe it? Try Avalanche today.
Website | Whitepapers | Twitter | Discord | GitHub | Documentation | Telegram | Facebook | LinkedIn | Reddit | YouTube
---
Alibaba Cloud Expands to Support Validators and Infrastructure on Avalanche Public Blockchain was originally published in Avalanche on Medium, where people are continuing the conversation by highlighting and responding to this story.