Snickerdoodle Labs to Launch Consent Layer on Avalanche, Creating More Equitable Relationships…
Snickerdoodle Labs to Launch Consent Layer on Avalanche, Creating More Equitable Relationships Between People, Brands & Data
The Snickerdoodle Marketing Platform and Data Wallet represent a necessary upgrade from the Web2 model, benefiting brands and empowering everyday people to get rewarded for their data.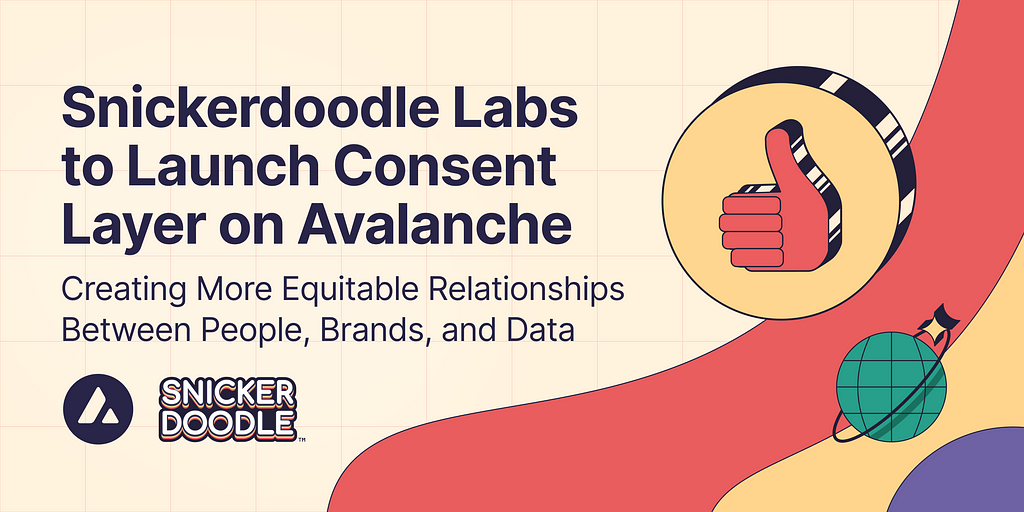 Snickerdoodle Labs, a transformational data company with a decentralized Marketing Platform and associated Data Wallet, is building its consent layer on Avalanche. This consent layer records on-chain customer consent for brands to use insights generated from customers' anonymized data. The result: brands can access richer data troves, while everyday people can get rewarded for sharing their anonymized data with brands.
The consent layer is a big step toward the full launch of Snickerdoodle's Marketing Platform and Data Wallet, which together give brands powerful tools for monetizing data and rewarding customers for sharing their anonymized data. The new customer-brand data economy that Snickerdoodle creates embodies the open, equitable, user-first spirit of Web3 and marks a necessary upgrade from centralized and less private Web2 data sharing models.
The Snickerdoodle Data Wallet, which is in private beta, empowers everyday people by giving them back their privacy and data sovereignty, while unlocking new opportunities to allow them to generate value from their data.
The Snickerdoodle Marketing Platform also empowers brands, providing them with a privacy-first tool to better understand and engage their customers and communities. Within the Snickerdoodle Marketing Platform, brands can learn more about their customers by deploying consent contracts that are received by customers in their Data Wallets. Customers have control over what they want to share and can provide auditable consent to share anonymized data. The Snickerdoodle Marketing Platform makes it simple for brands to learn more about their customers through integrated data dashboards by running campaigns and distributing rewards while respecting data privacy standards.
Brands are already using the platform in private beta testing. "The ability to get consent from individuals to share anonymized Web3 and Web2 data insights with us is a game changer — total marketing unlock," said private beta tester Sebastian Quinn, Founder of Yesports and Co-Founder of Yieldly.
"We believe that people need the ability to own their data and the value it generates," said Jonathan Padilla, CEO of Snickerdoodle Labs. "Additionally, brands need tools to engage and learn from their customers in a decentralized fashion. Avalanche's speed, reliability, and cost efficiency make them the perfect solution to allow our business to scale. We are thrilled to be part of their amazing ecosystem and believe this partnership will bring long-term success for the collective."
Consumers deserve more for sharing their data. Snickerdoodle rewards them with NFTs, tokens, and more for doing so. On top of benefiting customers, Snickerdoodle's rewards enhance a brand's omnichannel marketing strategy, providing new opportunities to create relationships based on clear exchanges of value.
"Snickerdoodle has the potential to disrupt the entrenched Web2 data model in a way that gives agency and tangible benefits to brands and users alike," said John Nahas, Vice President of Business Development at Ava Labs. "We're very excited to see how the Snickerdoodle platform develops and how it benefits the Avalanche community, and we look forward to showcasing it at Avalanche Summit in May."
To join the private beta and learn more, please visit: www.snickerdoodle.com
For further information, contact:
Snickerdoodle Labs
Shira Stember, CMO & Co-founder
Email: hi@snickerdoodlelabs.io
About Avalanche
Avalanche is a smart contracts platform that scales infinitely and regularly finalizes transactions in less than one second. Its novel consensus protocol, Subnet infrastructure, and HyperSDK toolkit enable Web3 developers to easily launch powerful, custom blockchain solutions. Build anything you want, any way you want, on the eco-friendly blockchain designed for Web3 devs.
Website | Whitepapers | Twitter | Discord | GitHub | Documentation | Telegram | Facebook | LinkedIn | Reddit | YouTube
About Snickerdoodle Labs
Snickerdoodle Labs is a transformational data company that is creating a more equitable and rewarding relationship between people and brands by unlocking the value of data. The Snickerdoodle Marketing Platform and associated Data Wallet empowers people to monetize their data and gives brands a way to get consumer insights directly from their customers. We solve critical issues in Web 3 that range from customer attribution to how non-custodial wallets generate revenue and we do it all with a privacy-first approach.
---
Snickerdoodle Labs to Launch Consent Layer on Avalanche, Creating More Equitable Relationships… was originally published in Avalanche on Medium, where people are continuing the conversation by highlighting and responding to this story.