Merit Circle DAO to Launch Gaming Subnet with Tooling, Three Games, and Many More to Come
The Subnet, Beam, will streamline game deployment for developers — and aim to shape the future of Web3 gaming.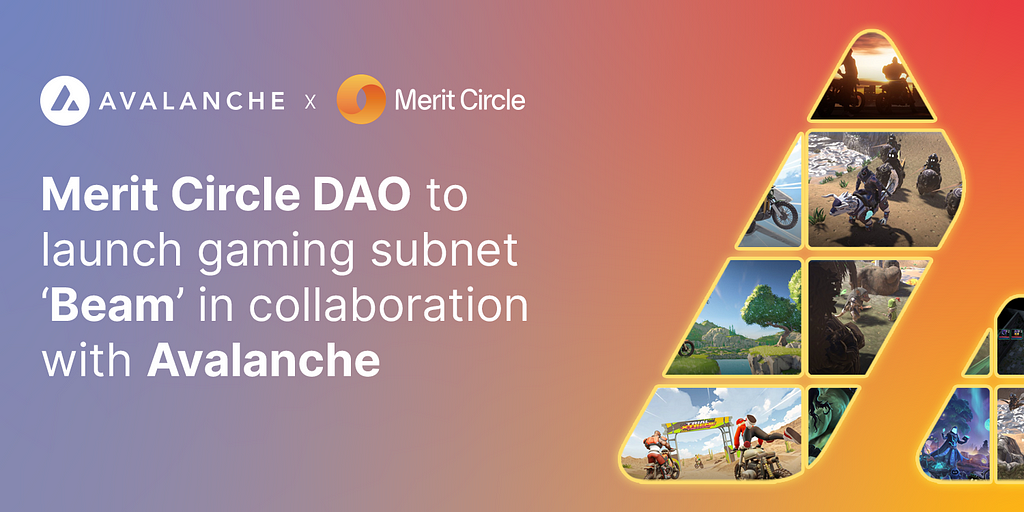 Merit Circle DAO, a gaming DAOs with 60+ partner games, will launch Beam, an Avalanche Subnet tailored specifically to Web3 gaming development and gameplay. At or shortly after launch, Beam will offer existing Merit Circle products plus extensive new gaming-focused tooling, an NFT marketplace (Sphere), and three new games. Merit Circle plans for Beam to support dozens of Avalanche games.
Beam will be an independent, sovereign network catering to the range of gamers and game developers. Three of the first games slated for release on Beam are Trial Xtreme, Walker World, and Hash Rush.
Trial Xtreme is a thrilling racing game with 250M+ worldwide downloads. The flagship offering from the acclaimed Gameplay Galaxy, a studio aiming to develop a decentralized competitive gaming ecosystem, will launch down the road on Beam.
Powered by Unreal Engine 5, Walker World is a massive interoperable open-world experience where players and creators come together to own and build on their land, cooperate in heated game modes, and explore a vast universe filled with shared rewards.
Hash Rush, a pioneering Web3 MMORTS game, where players can explore the vastness of the Hermeian Galaxy. Gamers can build a base, marshall resources, enhance their strategies by recruiting heroes, and attempt to defeat enemies in epic battles.
In addition to games, Beam will have offerings allowing players to do more with their gaming assets and developers to launch games more seamlessly. For instance, an AMM will allow players to swap tokens linked to Beam dApps. Sphere, an NFT marketplace that devs can lego into their games, will enable players to buy in-game assets. Beam will also support native Avalanche SDKs, APIs, wallets, bridges, and analytics tools.
Merit Circle says that it chose Avalanche for its speed, quick settlement, security, and the open-ended possibilities that Subnets unlock for games and game developers.
"Beam is meant for gamers and game developers alike: to take away the complexity and still offer true ownership and easy control of that ownership," said Brandon Aaskov, CTO Merit Circle DAO. "To get there, we're incredibly excited to work with Ava Labs who have proven that scaling via subnets works effectively and efficiently. To keep transactions flowing and fees low, we're optimizing Beam specifically for game-heavy workloads so that the 'hard stuff' with on-chain operations becomes an afterthought for everyone but Merit Circle."
More exciting info on Beam will be spawning soon.
This post is based on materials provided by Merit Circle DAO. For more information, visit Merit Circle's website. Also, please read this important notice.
About Avalanche
Avalanche is a smart contracts platform that scales infinitely and regularly finalizes transactions in less than one second. Its novel consensus protocol, Subnet infrastructure, and HyperSDK toolkit enable Web3 developers to easily launch powerful, custom blockchain solutions. Build anything you want, any way you want, on the eco-friendly blockchain designed for Web3 devs.
Website | Whitepapers | Twitter | Discord | GitHub | Documentation | Telegram | Facebook | LinkedIn | Reddit | YouTube
About Merit Circle
The Merit Circle DAO is an ever-evolving digital ecosystem built by a global community to build the future of gaming. With a strong foundation in the web3 space, the DAO is committed to integrating the endless possibilities of blockchain technology with the latest in gaming to create the next generation of immersive gaming experiences.
---
Merit Circle DAO to Launch Gaming Subnet with Tooling, Three Games, and Many More to Come was originally published in Avalanche on Medium, where people are continuing the conversation by highlighting and responding to this story.