Apricot Phase One: 50% Reduction in Transaction Fees
Phase One upgrade will activate on the Avalanche Mainnet at 10AM ET on Wednesday, March 31.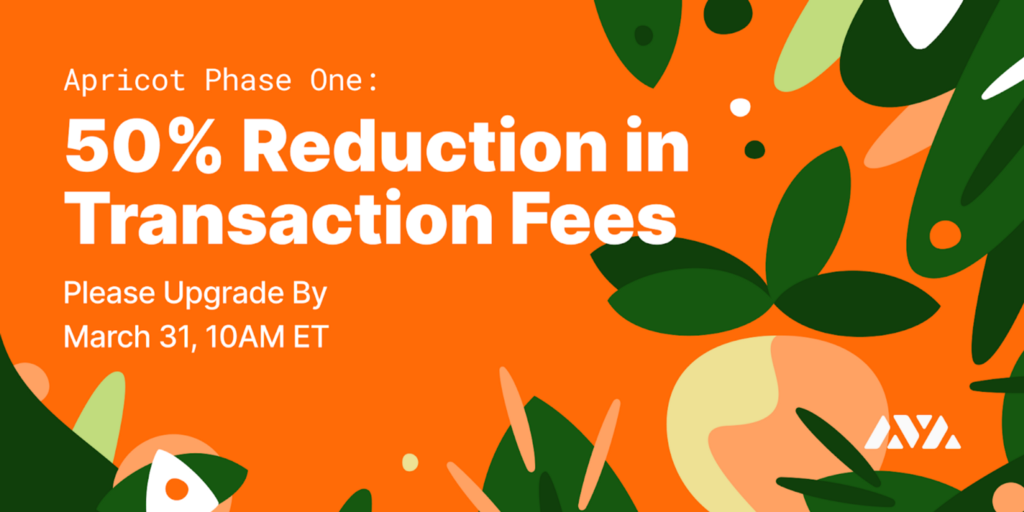 Today, we're releasing the code for Phase One of the Apricot upgrade, which will activate at 10 a.m. EST on Friday, March 26 on the Fuji Testnet and at 10 a.m. EST on Wednesday, March 31 on the Avalanche Mainnet. This upgrade includes breaking changes, and should be adopted by all validators to ensure the continued health of the network.
When Phase One becomes active, users will start saving 50% on transaction fees when engaging with smart contracts on the C-Chain, a significant and impactful measure to support the rapid growth of DeFi activity on Avalanche. To prepare for the upcoming dynamic fees release, Phase One also includes an implementation of EIP-3298 (the removal of gas refunds for SSTORE and SELFDESTRUCT). This change preemptively inhibits the abuse of the forthcoming fee mechanism through the release of state slots.
Phase One also lays the foundation for optimizations coming in future Apricot Phases, expected to be released throughout Q2. These forthcoming upgrades will include:
Dynamic Fees on X/C/P chains
Enhanced Avalanche Native Token (ANT) Support on the C-Chain
Epochs, Fast Syncing, and Pruning
Single-Step Transfers ("Seamless Transfers") between Chains
Governable Staking Parameters
Ava Labs developers will also be hosting a Clubhouse next Monday, March 29 from 1–2 p.m. ET. The session will be recorded and posted to YouTube to accommodate Android users and those without access to Clubhouse.
Node Operators can review the below resources to prepare for the upgrade:
Phase One Upgrade code and full details can be found here.
A tutorial for upgrading your node is available here.
If you have any questions, please connect with our developer team here.

---
Apricot Phase One: 50% Reduction in Transaction Fees was originally published in Avalanche on Medium, where people are continuing the conversation by highlighting and responding to this story.