Artist Spotlight: Ed Balloon Blending Web2 and Web3 at Avalanche Park
The February 23 concert in DTLA will be the first of a series integrating NFTs.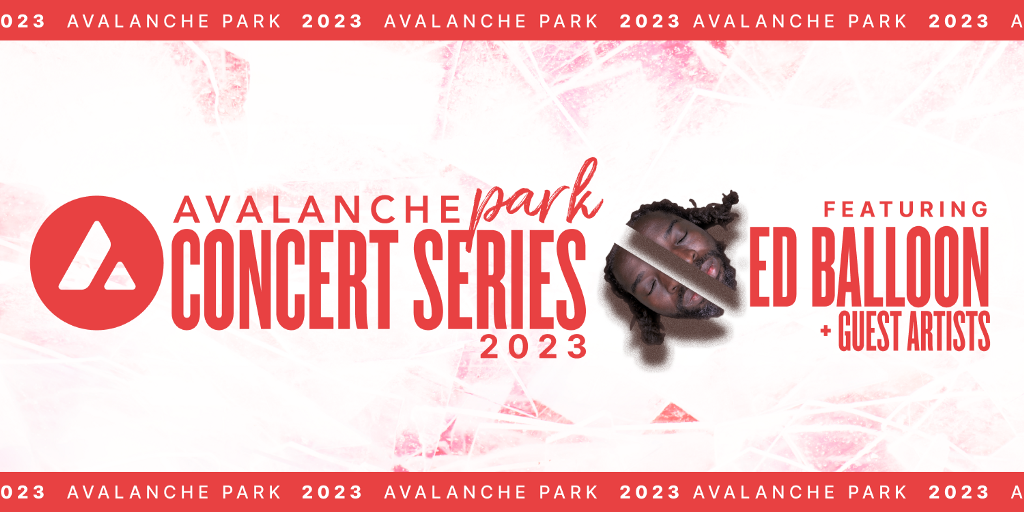 Ed Balloon, a multi-disciplinary artist whose NFTs blend art genres, will be launching the Avalanche Park x Ed Balloon concert series in Los Angeles on February 23. Ed, emerging NFT artists, and Web2 musicians will take the stage for a night of tunes and entertainment. (RSVP here!)
The event is the first of a concert series featuring hip hop, R&B, and experimental music. It promises a new way of experiencing music through Web3. Tickets come with NFTs unlocking access benefits.
We talked with Ed about his experience with NFTs, what Web3 has done for his art career, and why the Avalanche Park event is going to be next level.
Ava Labs: How did your NFT journey get started?
Ed Balloon: In the beginning of 2021, I remember hearing everyone talking about NFTs. I was curious and didn't know much, so I tweeted a question about NFTs. It didn't get a ton of engagement, but I started paying attention. Fast-forward to August. I joined a Twitter space about NFTs. It was really cool and it took me right down the rabbit hole.
Once I embraced the NFT scene, I witnessed the beauty of artists coming together. This was something that I had never seen before. And I realized, wow, this is a movement.
Ava Labs: Do you think Web3 and NFTs create a better art scene?
Ed: Absolutely. It's a new frontier of ownership. Web3 creates this other way to be an artist.
Ava Labs: How have NFTs expanded your own career as an artist?
Ed: I'm so grateful for where I am thanks to Web3. For the longest time, the world has tried to box artists into doing only one thing. Web3 allows me as a multi-disciplinary artist to do the things I want. I've been really able to do things that are true to myself with no expectations.
Web3 opened a door for me. I want to make sure that I support and open doors for others. That's why I'm creating this event with Avalanche.
Ava Labs: We're pumped! What was the creative spark behind the event?
Ed: It's a way of me showcasing what's important to me and what the blockchain space needs currently. For me, culture. Web3 needs more culture.
Ava Labs: What do you mean by that?
Ed: As a musician in this space, I've noticed it's missing a lot. Web3 music is missing rawness, this underground, this I'm-not-compromising my art feeling. We're missing the people who just want to be present for the music versus the volume of an NFT project going up.
Ava Labs: So this will be the vibe at Avalanche Park?
Ed: Yes, we want to bring people into the NFT scene who aren't in it for the value, but who love music and just want to be able to hear music.
Ava Labs: What can attendees expect?
Ed: Web2 and Web3 artists performing together. All of the artists pushing culture. The reason why all of them perform will be because they care about the music, and because they want to put on a great show. We're trying to marry Web2 and Web3 art.
Ava Labs: How will NFTs be incorporated at the concert?
Ed: Through tickets. Attendees will get NFTs. These will help make the Web3 newcomers more curious about what else the scene has to offer. These NFTs will also come with special access perks, which will help demonstrate to Web2 people the value of NFTs. More to come on that later.
Ava Labs: What role do you think in-person, physical-world events like Avalanche park can have in the NFT universe?
Ed: I think we can't focus too much on the metaverse. I think we also need to create experiences IRL for people who want to participate in this ecosystem. And this event is doing that.
Ava Labs: Why did you decide to partner with Avalanche for this event?
Ed: In Avalanche, I saw a desire to get the culture part right, to make the ecosystem understand. The Avalanche NFT scene prioritizes culture. That's important.
Ava Labs: Do you have any last words on what attendees can expect?
Ed: Prepare to have fun. I look forward to seeing the community there.
To learn more about the event or grab your ticket, check out the ticketing page. For more on Ed's work, check out his Twitter or website.
Are you also creating on Avalanche? We'd love to learn more about your story and perhaps tell it here next. Please fill out our typeform so we can get to know you.
About Avalanche
Avalanche is the fastest, most reliable smart contracts platform in the world. Its revolutionary consensus protocol and novel Subnets enable Web3 developers to easily launch highly-scalable solutions. Deploy on the EVM, or use your own custom VM. Build anything you want, any way you want, on the eco-friendly blockchain designed for Web3 devs.
Website | Whitepapers | Twitter | Discord | GitHub | Documentation | Telegram | Facebook | LinkedIn | Reddit | YouTube
---
Artist Spotlight: Ed Balloon Blending Web2 and Web3 at Avalanche Park was originally published in Avalanche on Medium, where people are continuing the conversation by highlighting and responding to this story.