Artist Spotlight: Gunnar Tarsa's Chaotic Scribbing
Avalanche NFT artist Scribble Warlock draws linked worlds of primary colors and superhero-inspired characters.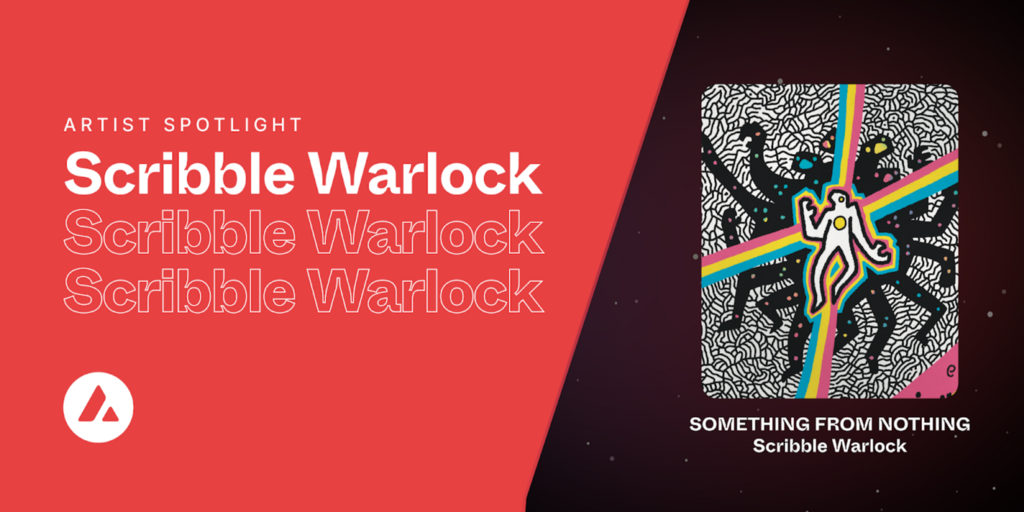 In just over six months as an NFT artist, Scribble Warlock has already released more than 10 collections on Avalanche. These include more than 650 1-of-1 abstract illustrations, many with repeat themes and characters, and set in an interlinked universe known as the Chromasphere. Despite sharing a common, instantly recognizable style, Scribble Warlock's work has range — from his epic explorations of self in a color-deprived world to chaotic paintings of happy fruit.
In his work, solid black lines web, broken by creatures, figures, and bursts of color. Scribble Warlock, whose name is Gunnar Tarsa, focuses on CMYK colors — the cyan, magenta, and yellow that many computer printers have combined to form the whole visible spectrum.
Gunnar uses paint pens or Procreate. He begins pieces by free-sketching, allowing his characters to emerge from the lines almost like sculptures emerge from stone. He probes directions and ideas as the nature of a piece reveals itself to him.
Gunnar investigates his Chromasphere from his bedroom in Georgia, sitting at a simple desk. He works beside his partner, also an artist. He often streams his "chaotic scribblings" on Twitch.
Gunnar, now 27, has been an artist since childhood. "I was a super creative kid, constantly copying comic books, drawing Dragon Ball Z characters, and making fake Pokemon cards," he said. After abandoning art for many years following a family move from New Jersey to Georgia, He chose to study art at University of Georgia. Nearly a decade later, he faced another choice: How should he enter the NFT scene?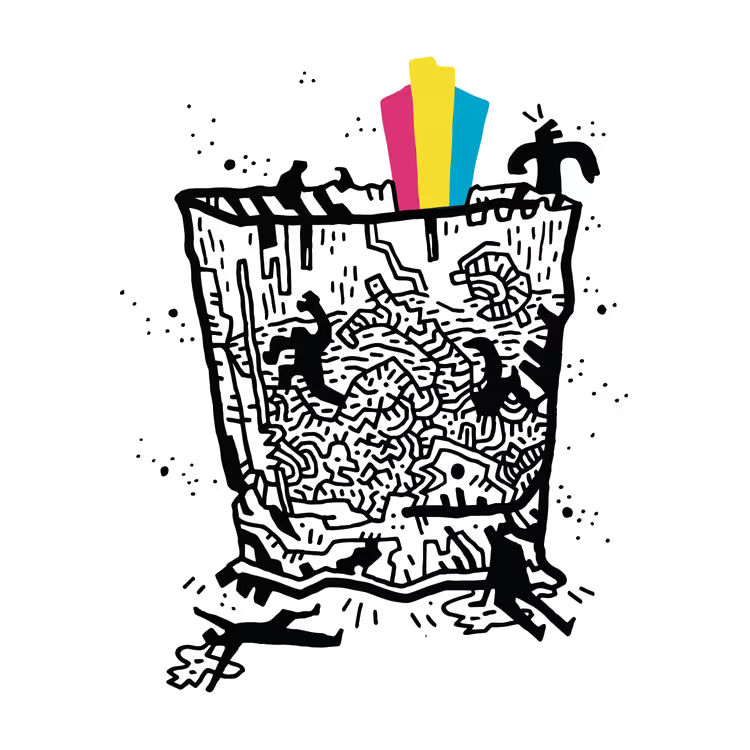 Until mid-2022, three obstacles kept him sidelined. "One, I didn't know where to start," He recalled. "Two, the cost of gas on Ethereum was ridiculously high. Three, there was the environmental impact everyone was talking about."
Then Gunnar discovered Avalanche and its low barrier to entry, cheap gas, and eco-friendly design. His fears vanished, especially once he jumped into Twitter Spaces with the NFT community. Gunnar Tarsa soon started dropping NFT collections and truly became Scribble Warlock.

Gunnar draws inspiration from comic book artists Mike Mignola (Hellboy) and Andrew MacClean (Head Lopper). He reveres the New York pop and street artist Keith Haring, who drew on the New York Subway and freely around the city. "I realized I could just draw all day," Tarsa said. "I realized I could lean into this creative scribbling and make something of it."
Tarsa's NFT collections feature his own worlds and heroes. "I always wanted to be a superhero as a kid," Gunnar said. "I could tell stories with art, and that kind of felt like a superpower."
His Mind Matter collection represents all of his influences congealing into a signature style. These pieces depict the recurring forms, characters, and themes Gunnar tends to discover when he tugs at the loose threads of his imagination.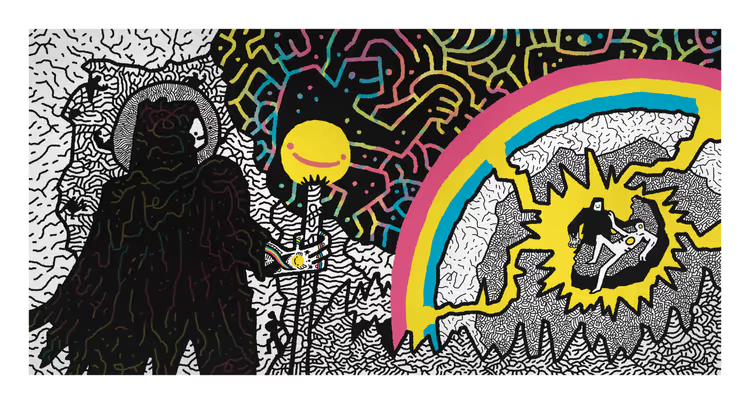 His magnum opus is The Boy Who Sees Yellow, an ongoing collection recently launched with 10 images featuring a hero's journey through a detailed, abstract landscape with its own rules and feelings. "This is one of the first characters I discovered in college as a glimpse of self," he said. "It became a self-portrait, and then it became something else."
In The Boy Who Sees Yellow, the boy can channel the energy of the sun — which gives him the ability to create, a power represented by splashes and rays of CMY color.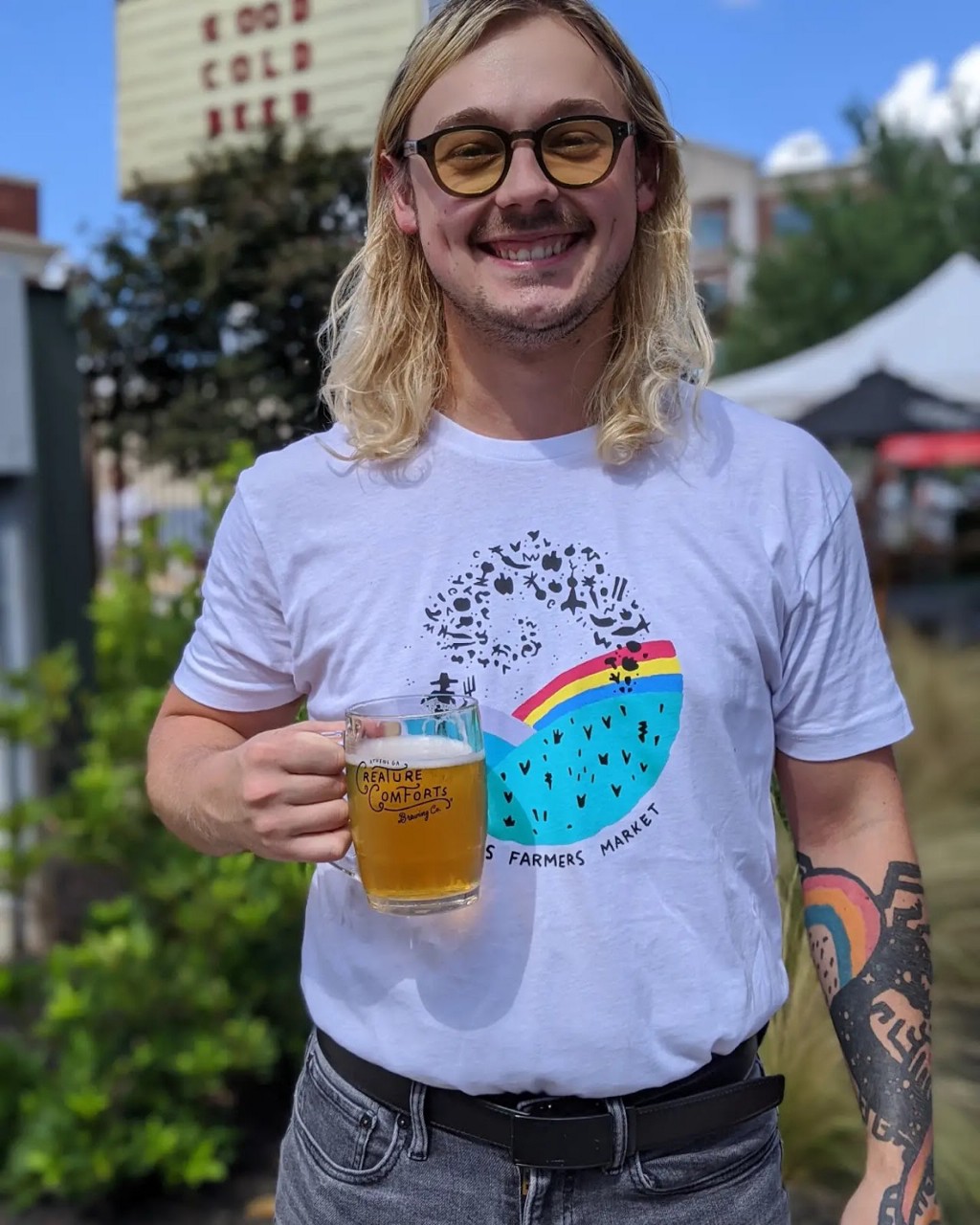 Like these two collections, Gunnar's most pioneering project, Scribble Cards, is also ongoing. Anybody who owns a certain Scribble Warlock 1-of-1 can go to a landing page to request a custom 1-of-1 Scribble Card, specifying a name and color. Gunnar will then create a new NFT based on these specifications (up to 250 custom NFTs in total).
"So instead of going to an AI and saying give me a green warlord, people can come to me and say 'Scribble, give me a green warlord,' and I'll make one," he said. "Then they'll have a custom NFT and a permanent memory of us interacting."
In the future, Gunnar said he might use the resulting Scribble Cards in a blockchain game. Being on Avalanche gives him endless possibilities.
For more on Gunnar's work, check out his website, Twitter, Linktree, and Twitch.
Are you also creating on Avalanche? We'd love to learn more about your story and perhaps tell it here next. Please fill out our typeform so we can get to know you.
About Avalanche
Avalanche is the fastest, most reliable smart contracts platform in the world. Its revolutionary consensus protocol and novel Subnets enable Web3 developers to easily launch highly-scalable solutions. Deploy on the EVM, or use your own custom VM. Build anything you want, any way you want, on the eco-friendly blockchain designed for Web3 devs.
Website | Whitepapers | Twitter | Discord | GitHub | Documentation | Telegram | Facebook | LinkedIn | Reddit | YouTube
---
Artist Spotlight: Gunnar Tarsa's Chaotic Scribbing was originally published in Avalanche on Medium, where people are continuing the conversation by highlighting and responding to this story.