Arweave Broadens Decentralized Data Storage Capabilities on Avalanche
The integration gives Avalanche users an affordable means of long-term data storage paid for using Avalanche wallets and AVAX.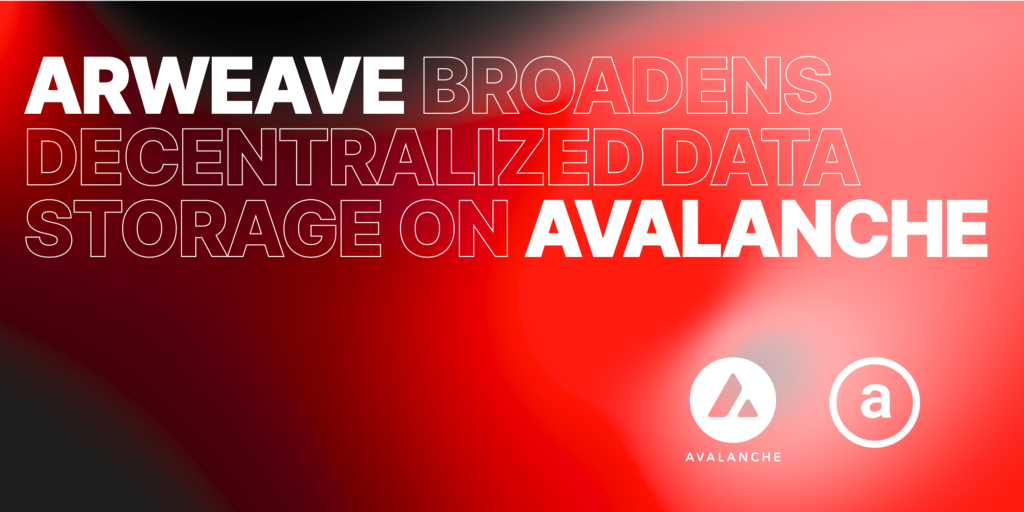 Arweave, a decentralized solution for archiving data using a blockchain-like "blockweave" and a proof-of-access consensus mechanism, has expanded to Avalanche. Now, Avalanche users can utilize Arweave to store records, files, metadata, and other data. Arweave strives to store data cheaply and immutably for at least 200 years. Any change to this data results in a separate transaction, preserving the data in its originally stored form.
The integration is already fully live on Avalanche.
"Highly scalable smart contracting systems are pivotal to the next stage of web3 adoption," said Sam Williams, Founder and CEO of Arweave. "This is why we are excited about how deeply Arweave and Avalanche are integrated. Developers can now use Arweave's permanent storage solution as if it were natively available on Avalanche, enabling an entirely new class of web3 applications."
This interoperability between Arweave and Avalanche is forged by the Bundlr Network. Bundlr serves as an Arweave adapter, collecting many pieces of data and submitting them to the Arweave network in single base-layer transactions. Bundlr offers custom payment options by paying to the Arweave network in AR (Arweave's native token) and settling with its users in a currency of their choice.
As a result of the three-platform integration, Bundlr allows Avalanche users to pay for Arweave storage ($5-$8 per 1 GB) using Avalanche wallets and AVAX.
Arweave uses a "pay once, store forever" model to preserve data in various places, including its Permaweb, a version of the internet where nothing can be deleted. Users make one payment to cover the costs of 200-plus years of storage. Arweave collects these payments and distributes them to miners over a long period of time, so long as miners can prove availability and access to data stored on the network. Essentially, these miners are incentivized with AR tokens to help store user data.
Decentralized data storage makes sense for decentralized ecosystems. For instance, NFTs can carry a lot of metadata, and NFT marketplaces stand to benefit from storing this data securely in Arweave's decentralized file storage system.
Whether you're building an NFT application, a decentralized social media platform, or have any other permanent storage needs, you can now use this integration.
Start building today. If you want to learn more, visit Arweave's website.
About Arweave
Arweave is a novel data storage blockchain protocol enabling a permanent serverless web and creating truly permanent data storage. Arweave's blockweave data structure is based on a novel proof of access consensus mechanism that makes truly permanent, low-cost data storage available for the very first time.
Website | Yellow Paper | Documentation | Mining | Github | Discord | Youtube | Build
About Avalanche
Avalanche is the fastest smart contracts platform in the blockchain industry, as measured by time-to-finality, and has the most validators securing its activity of any proof-of-stake protocol. Avalanche is blazingly fast, low cost, and green. Any smart contract-enabled application can outperform its competition by deploying on Avalanche. Don't believe it? Try Avalanche today.
Website | Whitepapers | Twitter | Discord | GitHub | Documentation | Forum | Avalanche-X | Telegram | Facebook | LinkedIn | Reddit | YouTube
---
Arweave Broadens Decentralized Data Storage Capabilities on Avalanche was originally published in Avalanche on Medium, where people are continuing the conversation by highlighting and responding to this story.