Ava Labs Launches Core Mobile Wallet, The Last Crypto Wallet You'll Ever Need
Core gives users simple and secure mobile access to their assets across Avalanche, Bitcoin, Ethereum, and EVM-compatible chains.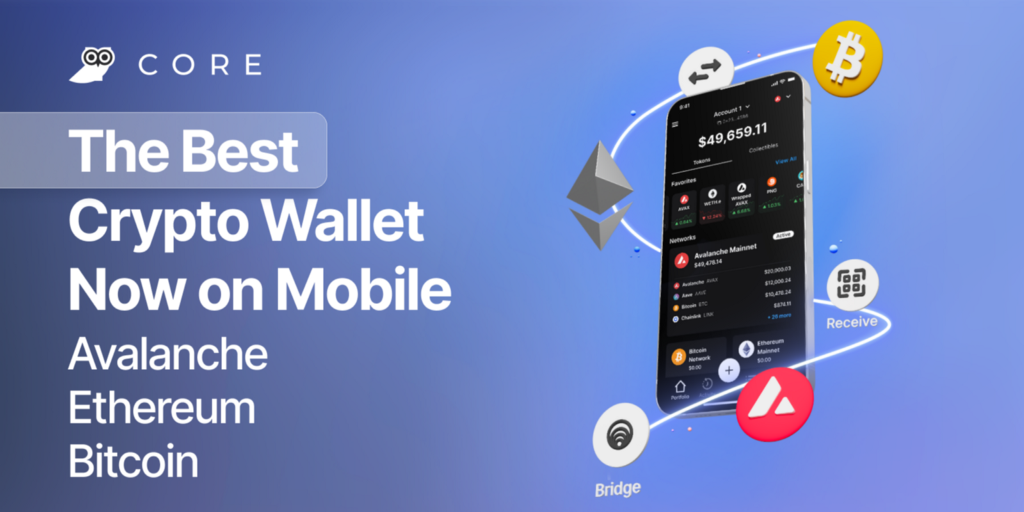 Ava Labs has released Core mobile, a free, multichain mobile wallet jam-packed with features for both experts and those new to crypto, while keeping crypto assets and digital collectibles safe under self-custody. Launching first on Android with support for iOS planned for 2023, Core mobile aims to be the fastest and most intuitive wallet for connecting to the rapidly-growing DeFi, NFT, and gaming ecosystems across Avalanche. Core mobile also includes support for Bitcoin, Ethereum, and EVM-compatible blockchains.
Crypto is notoriously difficult to navigate. Most wallets lack compatibility for multiple blockchains, require custom configurations, and don't have many features that crypto traders and dApp users need.
Core mobile fixes common problems with wallet apps and provides the fastest, most intuitive user experience to connect to Avalanche, with compatibility with other EVM-compatible chains.
Core extension revolutionized wallets with game-changing innovations like native Bitcoin transfers to Avalanche, quick cash on-ramps, and nearly-instant swaps — features that set Core apart from the pack.
These powerful features, and more, are now on Android devices with Core mobile, giving digital asset traders and collectors the ability to:
Self-custody assets for greater security- the way it should be
Transfer native Bitcoin and Ethereum assets to use on Avalanche DeFi dApps
Effortlessly manage Avalanche and Ethereum assets, Bitcoin, NFTs, and more
Easily swap hundreds of Avalanche assets
Buy AVAX with a debit or credit card in just a few clicks
Track real-time asset price movements in one convenient Watchlist
Pay anyone by scanning a QR code
Connect to high-performance DeFi dApps, NFT marketplaces, and games on Avalanche
Explore preloaded Subnets in the Avalanche ecosystem
Quickly add any EVM-compatible Layer 1 and Layer 2
Excited about all these amazing features packed into Core mobile? Get a first look here!

"Core mobile is designed to give people maximum control over their crypto, while ensuring the product is intuitive enough for anyone to use," said Nick Mussallem, SVP, Head of Product at Ava Labs. "Mass adoption is coming, and Core will be the gateway for people who want a single platform that can do it all without the hassle of multiple wallets."
Download Core mobile for free on Google Play, and never download another wallet again.
Stay tuned for Core mobile on iOS coming soon on the Apple App Store, pending review by Apple.
For further questions, please visit the Avalanche knowledge base or contact a support team member via the chat button at support.avax.network.
We'd also love to hear your feedback on Core. Please share it here!
About Ava Labs
Ava Labs makes it simple to launch decentralized applications on Avalanche, the fastest smart contracts platform in the blockchain industry. We are empowering people to easily and freely digitize all the world's assets on one open, programmable blockchain platform.
Ava Labs was founded by Cornell computer scientists who brought on talent from Wall Street to execute their vision. The company has received funding from Andreessen Horowitz, Initialized Capital, and Polychain Capital, with angel investments from Balaji Srinivasan and Naval Ravikant.
---
Ava Labs Launches Core Mobile Wallet, The Last Crypto Wallet You'll Ever Need was originally published in Avalanche on Medium, where people are continuing the conversation by highlighting and responding to this story.