Ava Labs Launches Core Web, Further Upgrading the Web3 User Experience
Transact on Avalanche and Ethereum through a new robust web interface, further enhancing Web3's potential and usability.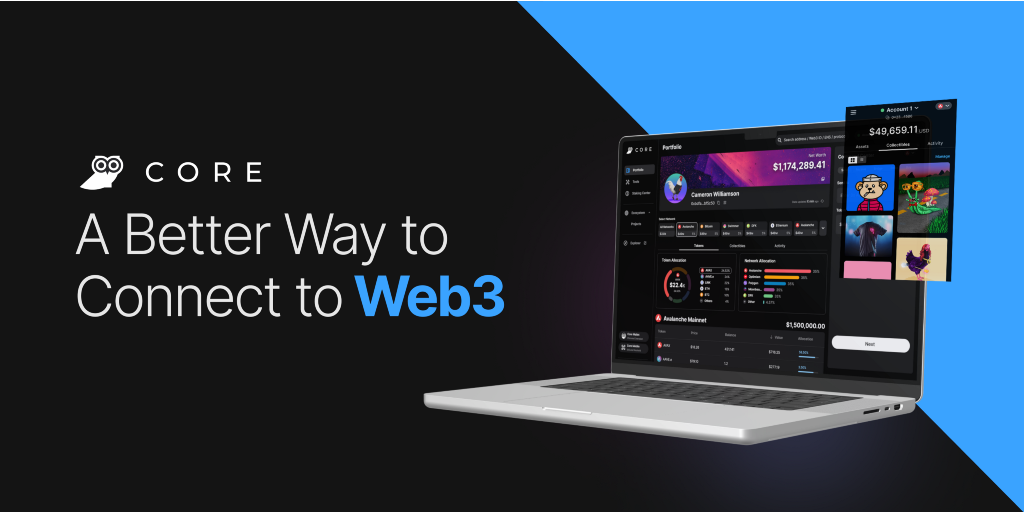 Ava Labs has released Core web, a free, all-in-one command center giving users a more intuitive and comprehensive way to view and use Web3 across the Avalanche network, Avalanche Subnets, and Ethereum. Core web is optimized for use with Core browser extension, a free, personal wallet (self-custodial). Together they are key components of the Core product suite that brings dApps, NFTs, Avalanche Bridge, Subnets, L2s, and more, directly to Web3 users.
Veterans and those new to Web3 know one of the biggest obstacles to using Web3 is complexity. Core aims to abstract away the usual difficulties and pitfalls of user experience, enabling users to focus on what to do on-chain rather than how to do it. In fact, Core web and Core extension's interconnected experience gives users flexibility and freedom during their Web3 journey.
A useful example of Core's interconnected experience is providing the ability to see all your token assets in Core web while also displaying your NFT collectibles in Core extension. You can now get a holistic view without having to switch across devices or web pages.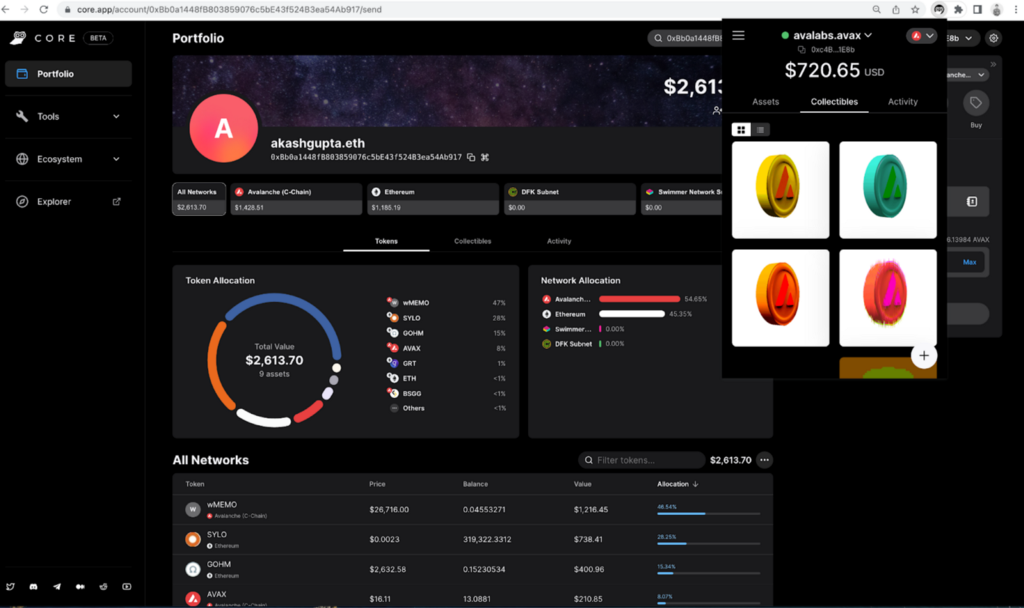 The Core product suite centers around an easily navigable command center. Each feature is cleanly and intuitively designed, empowering users to seamlessly add tokens, swap, send, receive, plug into hundreds of dApps, and access explorers to troves of data. Users can also discover new projects across the Avalanche community and beyond. The command center reveals the world of Web3 in a way no other major release has to date.
Unlike other portfolio dApps, Core is fully optimized for the Avalanche, Bitcoin, and Ethereum networks. Regardless of your experience level in Web3, Core is the best choice for taking full advantage of DeFi, NFT, gaming applications, and Subnets.
With the Core product suite, users now have full control over their assets, including the ability to:
Bridge: transfer and use native Bitcoin and Ethereum tokens (ERC-20) on all Avalanche dApps
Swap: trade tokens on Avalanche and Ethereum without ever leaving Core
Buy: go from cash to crypto in minutes
Unify: view and manage NFTs and digital assets across multiple networks
Control: own your identity and automatically switch across Avalanche, Bitcoin, Ethereum, and any EVM-compatible network
Search: explore and seamlessly transact with Web3 addresses on chain
"Core is a turnkey solution for Web3 adoption, and a cornerstone of the Avalanche experience. As the largest liquid staking provider on Avalanche and its Subnets, I believe BENQI's integration of Core across our product suite has played a critical role in enabling a secure and superior experience for our users," said JD Gagnon, CEO, BENQI. "I know the team is working hard on more features for Core, and I can't wait to see the ecosystem further benefit from it."
"Core web is the perfect example of a product focused on human-centered design and principles of providing users freedom, flexibility, and efficiency of use," said Nick Mussallem, SVP, Head of Product, Ava Labs. "The Core product suite is truly a better way to connect to Web3."
To get started with Core, get Core extension then go to core.app to experience Avalanche and Web3 like never before.
For further questions, please visit the Avalanche knowledge base or contact a support team member via the chat button at support.avax.network. Please read the Core terms and conditions prior to use as they contain important information and your use of Core will signify your agreement to them. Like a web browser, Core web and Core extension allow you to access and interface with various blockchains, smart contracts and other Web3 services, none of which are under the control of Ava Labs, which makes no representations, warranties or guarantees in connection with anything you access or do with or through Core.
We'd also love to hear your feedback on Core. Please share it here!
About Ava Labs
Ava Labs makes it simple to launch decentralized applications on Avalanche, the fastest smart contracts platform in the blockchain industry. We are empowering people to easily and freely digitize all the world's assets on one open, programmable blockchain platform. Ava Labs was founded by Cornell computer scientists who brought on talent from Wall Street to execute their vision. The company has received funding from Andreessen Horowitz, Initialized Capital, and Polychain Capital, with angel investments from Balaji Srinivasan and Naval Ravikant.
---
Ava Labs Launches Core Web, Further Upgrading the Web3 User Experience was originally published in Avalanche on Medium, where people are continuing the conversation by highlighting and responding to this story.