Avalanche (AVAX) Listed on Coinbase Japan
AVAX lands on another leading exchange serving the Japanese market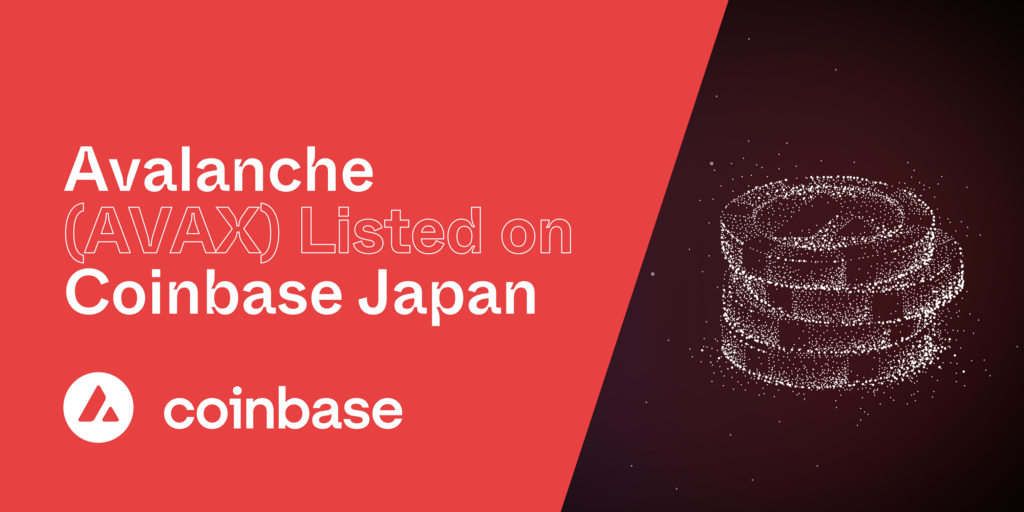 Coinbase Japan is now offering trading for AVAX, the native token of the Avalanche blockchain, increasing the presence of Avalanche in a key Asian market. The markets for AVAX on Coinbase Japan went live this week. The launch will allow anyone to be able to easily trade AVAX using their desktop or mobile devices.
Founded in 2012 and now active in more than 100 countries, Coinbase ranks among the most user-friendly, most established centralized exchanges in crypto. Coinbase has been serving the Japanese market since the launch of Coinbase Japan in August 2021.
The Japanese crypto market has seen growth in recent years. An October 2022 Chainalysis report found that Japanese crypto trading volumes more than doubled from the year of July 2020 to June 2021 to July 2021 to June 2022.
AVAX is the native token of Avalanche. AVAX provides a basic unit of account for the network and between Subnets. It's a hard-capped, scarce asset used to stake for rewards and keep the network secure, play Web3 games, mint NFTs, fund DeFi dApps, and much more.
This post is based on materials provided by Coinbase Japan. For more information, visit Coinbase's website. Also, please read this important notice.
About Avalanche
Avalanche is the fastest smart contracts platform in the blockchain industry, as measured by time-to-finality, and has the most validators securing its activity of any proof-of-stake protocol. Avalanche is blazingly fast, low cost, and green. Any smart contract-enabled application can outperform its competition by deploying on Avalanche. Don't believe it? Try Avalanche today.
Website | Whitepapers | Twitter | Discord | GitHub | Documentation | Telegram | Facebook | LinkedIn | Reddit | YouTube
---
Avalanche (AVAX) Listed on Coinbase Japan was originally published in Avalanche on Medium, where people are continuing the conversation by highlighting and responding to this story.