Avalanche Bridge Adds Native Bitcoin Support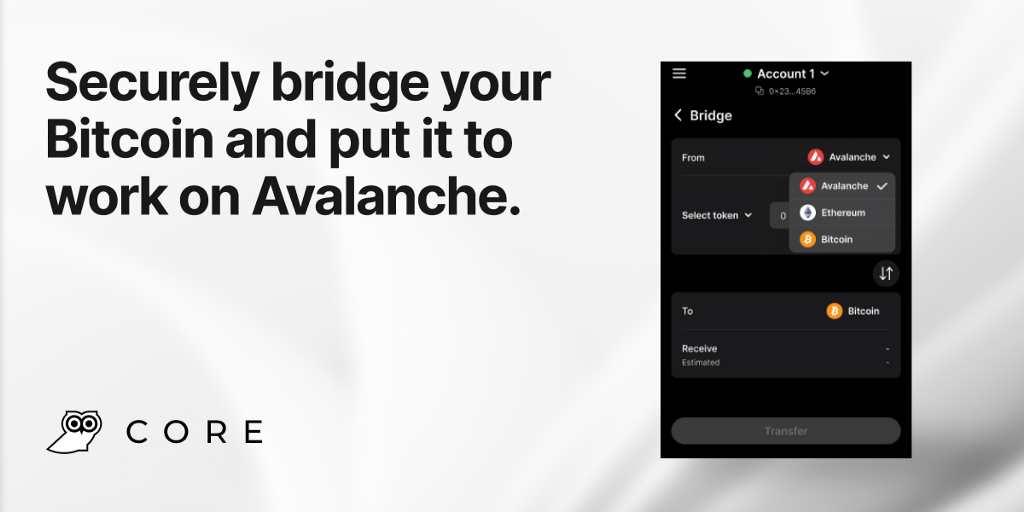 The Avalanche Bridge launched last August and enabled fast and secure transfers of ERC20 assets between the Ethereum and Avalanche networks. The bridge has helped facilitate rapid growth of the vibrant Avalanche DeFi ecosystem and has performed more than $50 billion in transfers in under a year since launch.
Today, we are announcing new support for bridging native Bitcoin to Avalanche using the Avalanche Bridge. This new Bitcoin bridging functionality aims to unlock over half a trillion dollars of value on the Bitcoin network for use within the Avalanche DeFi ecosystem, and further expand the set of offerings available on Avalanche. This enables Bitcoin holders to directly access extensive earning and yield opportunities on top DeFi protocols, while still maintaining BTC on their portfolio.
With this new BTC Bridge, there is also a new Intel SGX (Software Guard Extension) application designed to support cross-chain Bitcoin transfers, increasing our Warden set from 4 to 8 and the approval structure to 6 of 8 (from 3 of 4). Details of the Wardens' responsibilities can be found here.
We'd like to introduce you to our 4 new Wardens, who will be joining our existing Warden partners:
Ankr — new
Blockdaemon — new
Chainstack — new
Protofire — new
Avascan
Ava Labs
BWare
Halborn
Users can download the Core Browser Extension to access BTC bridging. Note that BTC bridging is ONLY currently available through the Core Browser Extension. BTC bridging with Avalanche Bridge is not supported with Metamask or any other wallet. This is because the Core Wallet Extension was custom built to support Bitcoin and the Avalanche Bridge and to handle the technical problems of linking Bitcoin and EVM chains within a wallet. Do not attempt to use any wallet other than the Core Wallet Extension for BTC bridging — you may lose all your funds. See here for more details on how to bridge BTC.
If you have any questions, please reach out to us on Discord. To learn more about the Bridge, you can visit bridge.avax.network and review tutorials.
About Ava Labs
Ava Labs makes it simple to launch decentralized applications on Avalanche, the fastest smart contracts platform in the blockchain industry. We are empowering people to easily and freely digitize all the world's assets on one open, programmable blockchain platform.
Ava Labs was founded by Cornell computer scientists who brought on talent from Wall Street to execute their vision. The company has received funding from Andreessen Horowitz, Initialized Capital, and Polychain Capital, with angel investments from Balaji Srinivasan and Naval Ravikant.
Website | Twitter | LinkedIn | Facebook
---
Avalanche Bridge Adds Native Bitcoin Support was originally published in Avalanche on Medium, where people are continuing the conversation by highlighting and responding to this story.