Avalanche Bridge to Add Native Support for Bitcoin, Expanding Opportunities for BTC in Avalanche…
Avalanche Bridge to Add Native Support for Bitcoin, Expanding Opportunities for BTC in Avalanche DeFi
Most popular Ethereum-connected bridge to on-board Bitcoin into DeFi ecosystem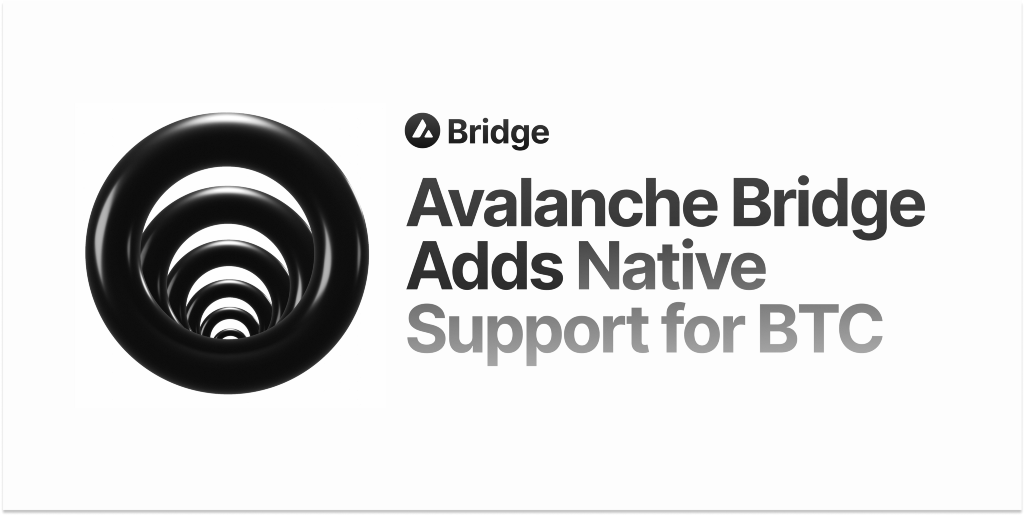 The Avalanche Bridge will expand support for the Bitcoin network, enabling Bitcoin holders to securely transfer their BTC onto the Avalanche public blockchain and use it within Avalanche's DeFi ecosystem, which currently has nearly $16B in total value locked ("TVL"). Upon launch, which is expected in Q2, Bitcoin will join Ethereum as supported networks on the Avalanche Bridge.
By expanding support to Bitcoin, the Avalanche Bridge will unlock a trillion dollar asset that has yet to fully join DeFi and Web3 culture applications at the scale of user demand.
Launched in July 2021, the Avalanche Bridge is the most popular Ethereum-connected bridge by TVL, exceeding $6B as of March 22. Since launch, it has been used for over 243,000 transactions to allow more than $43B in ERC-20 assets on Ethereum to be used on Avalanche.
"The Avalanche Bridge has established a seamless, secure, and low-fee rail for users of all sizes to explore Avalanche and the rapidly growing ecosystem of applications on the platform. Avalanche's unique architecture makes it an ideal on-chain home for institutions who demand high-performance, and I believe opening the rails for Bitcoin will open their eyes to even greater possibilities," said Nick Mussallem, Head of Product at Ava Labs.
The Avalanche Bridge has become a cornerstone piece of infrastructure for the Avalanche community, introducing an innovative security model that uses Intel SGX technology to usher in a new era of bridge technology. It was designed to satisfy the following requirements.
Secure: the bridge must be audited and built with security-first technologies.
Cost Effective: the cost for bridging assets should be low.
Fast: the transaction should take the least amount of time possible.
Transparent: users should be informed of the transfer status at every step of the process.
Intuitive: users new to crypto asset transfers can easily understand the steps to use the bridge.
Ecosystem-supportive: upon crossing the bridge, users should see a full suite of applications and capabilities across the Avalanche ecosystem and experience minimal friction in seizing opportunities.
Multi-chain: the bridge will support a growing number of blockchains in the future to center Avalanche at the core of DeFi.
Further enhancements are being made to make the Bridge more secure, including expanding the number of Wardens who decentralize security and verification of Bridge operations.
For a deeper dive into how the Avalanche Bridge functions, see this technical review.
https://medium.com/media/b8a596544f943e3618682869c7e2f97a/href
About Avalanche
Avalanche is the fastest smart contracts platform in the blockchain industry, as measured by time-to-finality, and has the most validators securing its activity of any proof-of-stake protocol. Avalanche is blazingly fast, low cost, and green. Any smart contract-enabled application can outperform its competition by deploying on Avalanche. Don't believe it? Try Avalanche today.
Website | Whitepapers | Twitter | Discord | GitHub | Documentation | Forum | Avalanche-X | Telegram | Facebook | LinkedIn | Reddit | YouTube
About Ava Labs
Ava Labs makes it simple to launch decentralized applications on Avalanche, the fastest smart contracts platform in the blockchain industry. We are empowering people to easily and freely digitize all the world's assets on one open, programmable blockchain platform.
Ava Labs was founded by Cornell computer scientists who brought on talent from Wall Street to execute their vision. The company has received funding from Andreessen Horowitz, Initialized Capital, and Polychain Capital, with angel investments from Balaji Srinivasan and Naval Ravikant.
Website | Twitter | LinkedIn | Facebook
Please review this Important Notice about Avalanche.
---
Avalanche Bridge to Add Native Support for Bitcoin, Expanding Opportunities for BTC in Avalanche… was originally published in Avalanche on Medium, where people are continuing the conversation by highlighting and responding to this story.