Avalanche DApps can now access decentralized infrastructure through Pocket Network
Avalanche users and developers are now able to take advantage of Pocket's decentralized, reliable, and cost-effective node infrastructure.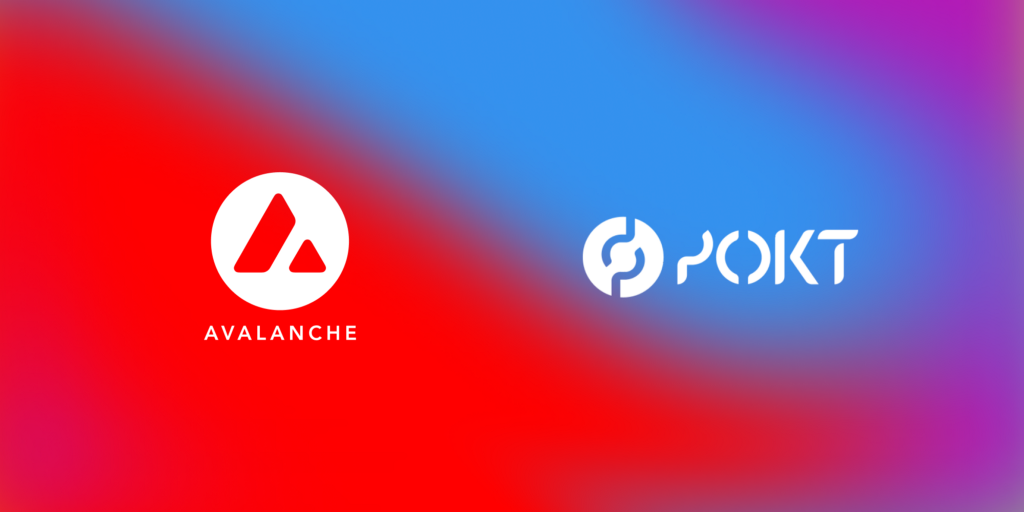 Pocket Network, a blockchain data protocol that enables decentralized interactions between blockchains and applications, is now live on Avalanche. This integration gives the Avalanche ecosystem an infrastructure option that is decentralized, private, and more affordable. Today, over 300+ Pocket Validators are serving Avalanche RPC requests, giving the Avalanche ecosystem one of the most robust infrastructures in the crypto space.
Why decentralized infrastructure matters
Avalanche is a fast, powerful blockchain platform that's designed for enterprise and mainstream applications alike. When these applications need to connect to the Avalanche network, the most common options for developers have been to run dedicated AVAX nodes or use centralized 3rd party services. Pocket adds a new way for applications to connect to blockchains networks without a mediating centralized entity, but through a decentralized infrastructure protocol supported by over 4,000 nodes around the world.
Pocket endpoints are available today for Avalanche developers that require consistent uptime, privacy, or scalability and have a mission focused on decentralization. Pocket provides every developer with 1 million free requests a day with simply an email address through the Pocket Portal. Pocket does not require developers to disclose any personal information and offers full amenity to its users.
"Collaboration with a project like Avalanche looking to build dapps and new interoperable blockchains perfectly aligns with the thesis of Pocket Network. We look forward to providing our unstoppable infrastructure for a new wave of developers on the Avalanche network," says Michael O'Rourke, CEO of Pocket.
Decentralization is the best measure to prevent a system from going down; information is distributed to every single "node" on the network. In decentralized node networks such as Pocket, a node that goes offline will pass their information to other nodes, meaning your application can remain up and running.
Growing a AVAX node ecosystem
Pocket began testing the Pocket Protocol with Avalanche nodes in February of 2021 and recently officially added Avalanche as a monetized chain on the Pocket Protocol in July. This means that when a healthy AVAX node is paired with a Pocket Validator, the node runner can begin serving Avalanche RPC requests and generate POKT rewards. This positive feedback loop benefits AVAX node runners and Avalanche dApp developers in lockstep.
Pocket gives an opportunity for the Avalanche community to monetize Avalanche nodes, even without being an Avalanche Validator, by serving Avalanche applications through Pocket. Furthermore, Pocket Network is actively looking into Avalanche bridge options to make POKT tokens accessible in the Avalanche ecosystem, streamlining the Pocket Validation process. Ultimately Pocket would like to be accessible via Avalanche's AB bridge as well, making POKT easily transferable between any EVM chains. More bridge information to come in the future.
Looking ahead
Avalanche has the scaling potential to be utilized in every facet of modern technology, and Pocket is excited to play a supporting role. Over 300 Pocket Validators are running AVAX nodes and eager to serve the Avalanche ecosystem in this next chapter.
Sign up to the Pocket Portal to get 1M free relays on Avalanche. Larger applications can also contact the Pocket team (Email or Discord) for easy upgrade options.
About Pocket
Pocket Network is a two way marketplace that matches users seeking unstoppable infrastructure with infrastructure providers who are incentivized to run full nodes through our decentralized protocol. Since mainnet launch a year ago, Pocket Network has grown to supporting countless partners, servicing over 1B+ relays, with more than 4000 nodes ready to service user needs — a number that continues to grow everyday.
Website | Twitter | Discord | GitHub | Documentation | Forum | Telegram | LinkedIn | YouTube
About Avalanche
Avalanche is the fastest smart contracts platform in the blockchain industry, as measured by time-to-finality, and has the most validators securing its activity of any proof-of-stake protocol. Avalanche is blazingly fast, low cost, and green. Any smart contract-enabled application can outperform its competition on Avalanche.
Website | Whitepapers | Twitter | Discord | GitHub | Documentation | Forum | Avalanche-X | Telegram | Facebook | LinkedIn | Reddit | YouTube

---
Avalanche DApps can now access decentralized infrastructure through Pocket Network was originally published in Avalanche on Medium, where people are continuing the conversation by highlighting and responding to this story.