Avalanche Data is now Available on Nansen
Nansen users can now access a rich suite of data across the Avalanche blockchain.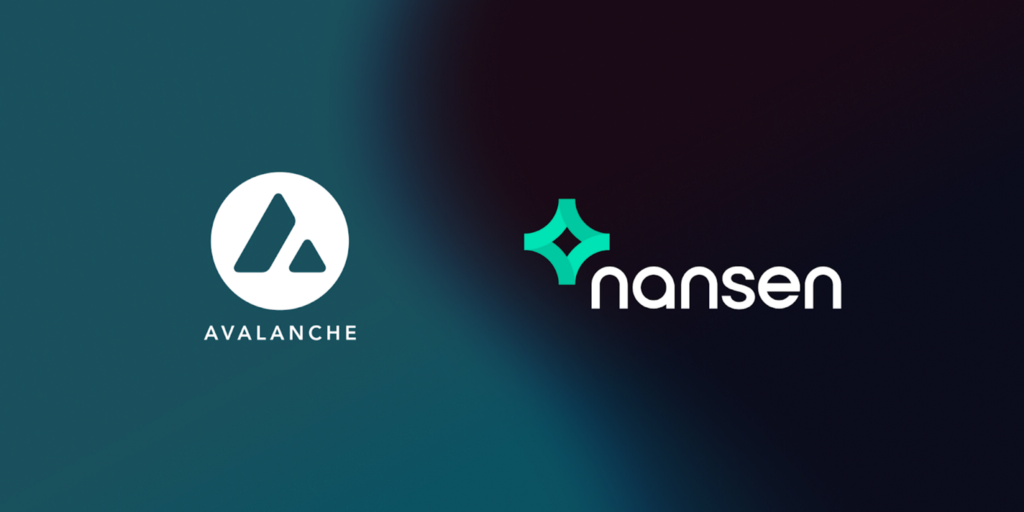 Nansen, one of the most widely-used platforms for on-chain DeFi and NFT analytics, has launched its support for Avalanche. Nansen users can now access blockchain data on the Avalanche network, including dashboards for high-level overviews and deep databases of historical information.
It also includes a variety of new features to the Nansen platform, including Hot Contracts, Token God Mode, Wallet Profiler, and Smart Alerts described in more detail below.
Getting Started With Nansen on the Avalanche Network
Within the navigation toolbar, you can now switch networks from Ethereum to Avalanche. Using our Network Switcher, toggle and click on the dropdown to show the "Avalanche" Network.
When the Avalanche network is activated, you will see the available dashboards highlighted and unsupported ones greyed out.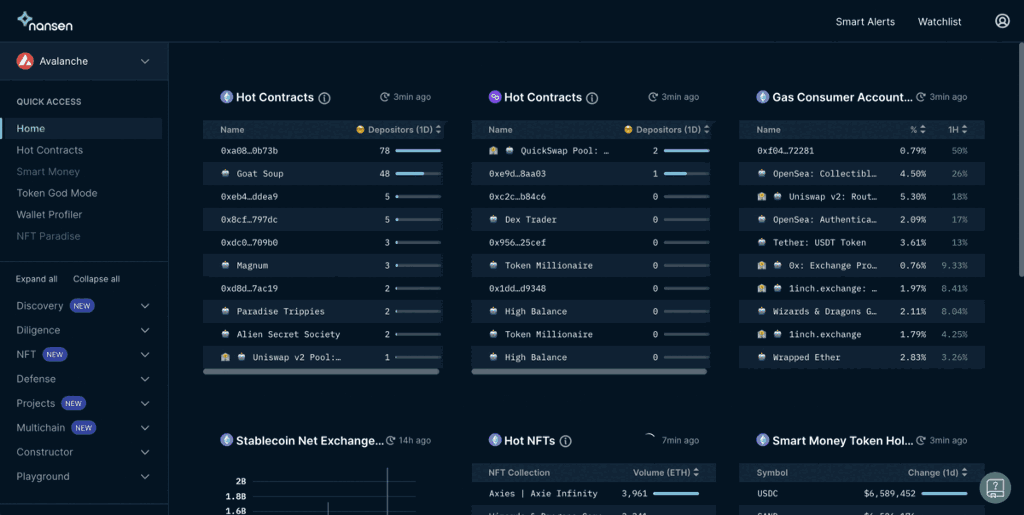 Key Features
Hot Contracts
Track the latest and hottest smart contracts created on the platform. Identify new trending token sales, staking and liquidity pools, NFT collections and more!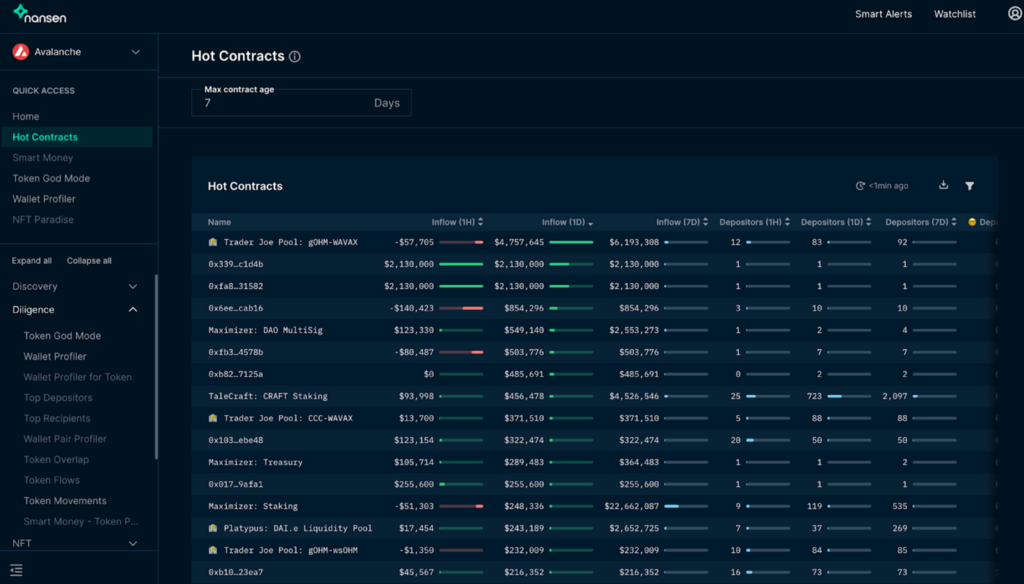 Note: This feature is available for VIP and Alpha tier plans.
Token God Mode
A macro perspective on your token of choice. This dashboard includes plenty of high quality data from exchange balances, top balance changes and transactions, token distribution and recent trades.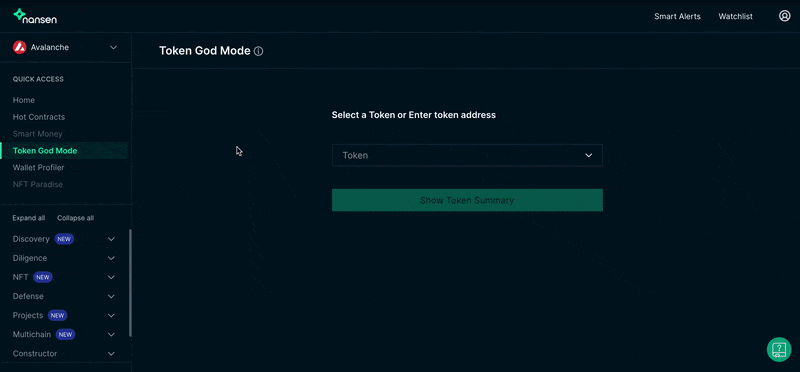 Wallet Profiler
Demystify the wallet address of your choosing and see information on token balances, top counterparty interactions, and more!
Within the Wallet Profiler, you can navigate to the selected token in Token God Mode from a wallet's token balances while staying in the Avalanche data set.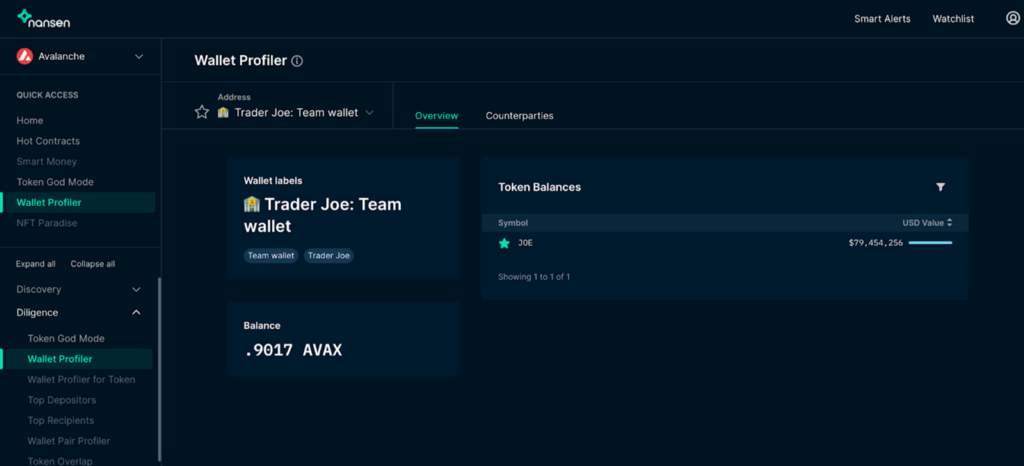 Smart Alerts
Set custom real-time alerts on various activities including transactions, DEX trades, and smart contract interactions. Easily set up a Smart Alert, by toggling the network from the switcher and you should notice Avalanche selected in the dropdown for 'Network'.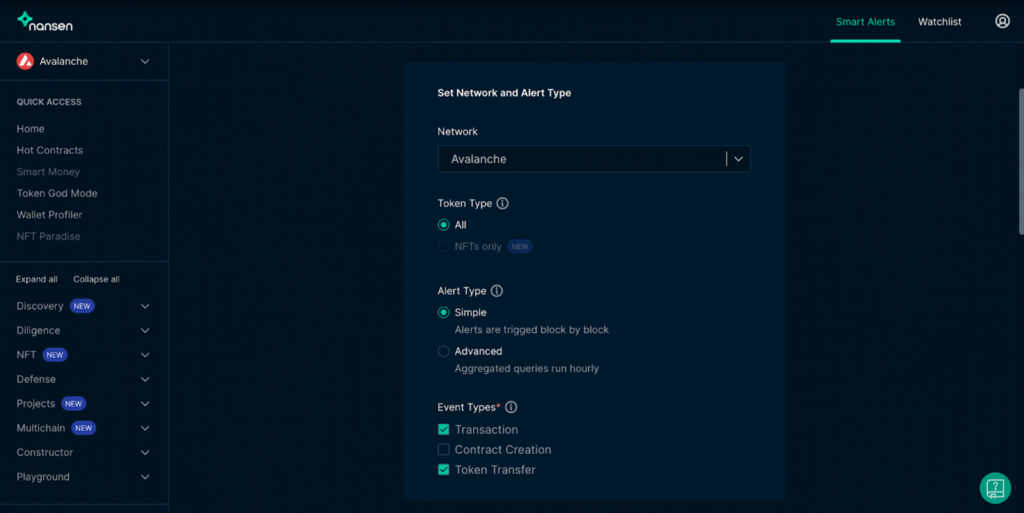 Watchlist
Save specific wallets or tokens into your watchlist. This convenient option lets you see wallet balance, total token balance, and any labels that are associated with the wallet.
You can save specific Avalanche wallets or tokens into your watchlist. This convenient option lets you see wallet AVAX balance, total token balance, and any labels that are associated with the wallet.

For tokens you can see the price, top concentration, and any change within the past 7 or 30 days:

Unsupported Dashboards / Features
If you happen to be on a dashboard that is available on Ethereum and toggle to Avalanche, you may see the following screen: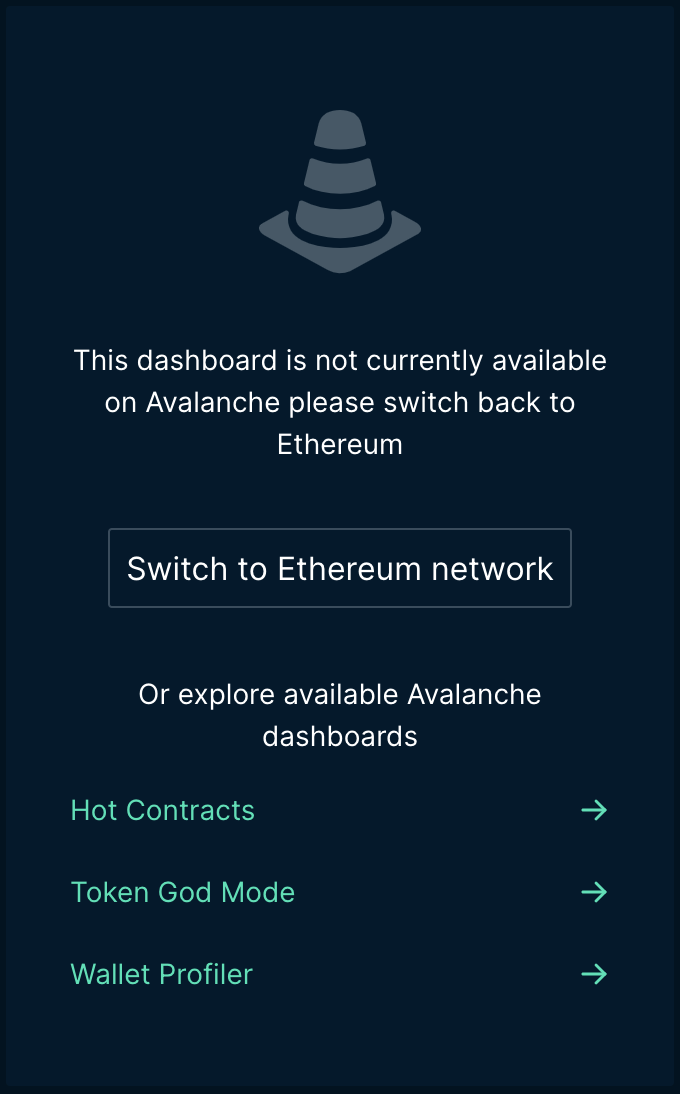 Some features don't work just yet, but please stay tuned for more updates. Nansen is hard at work to improve its implementation on Avalanche.
Look for more dashboards to be added soon.
New to Nansen? Sign up for a 7-day trial today!
For more information on Nansen, visit their website and Twitter.
https://medium.com/media/b8a596544f943e3618682869c7e2f97a/href
About Avalanche
Avalanche is the fastest smart contracts platform in the blockchain industry, as measured by time-to-finality, and has the most validators securing its activity of any proof-of-stake protocol. Avalanche is blazingly fast, low cost, and green. Any smart contract-enabled application can outperform its competition by deploying on Avalanche. Don't believe it? Try Avalanche today.
Website | Whitepapers | Twitter | Discord | GitHub | Documentation | Forum | Avalanche-X | Telegram | Facebook | LinkedIn | Reddit | YouTube
---
Avalanche Data is now Available on Nansen was originally published in Avalanche on Medium, where people are continuing the conversation by highlighting and responding to this story.