Avalanche Foundation Announces $180M DeFi Incentive Program
Titled "Avalanche Rush," the program will bring blue-chip DeFi applications to Avalanche, starting with two popular protocols, Aave and Curve.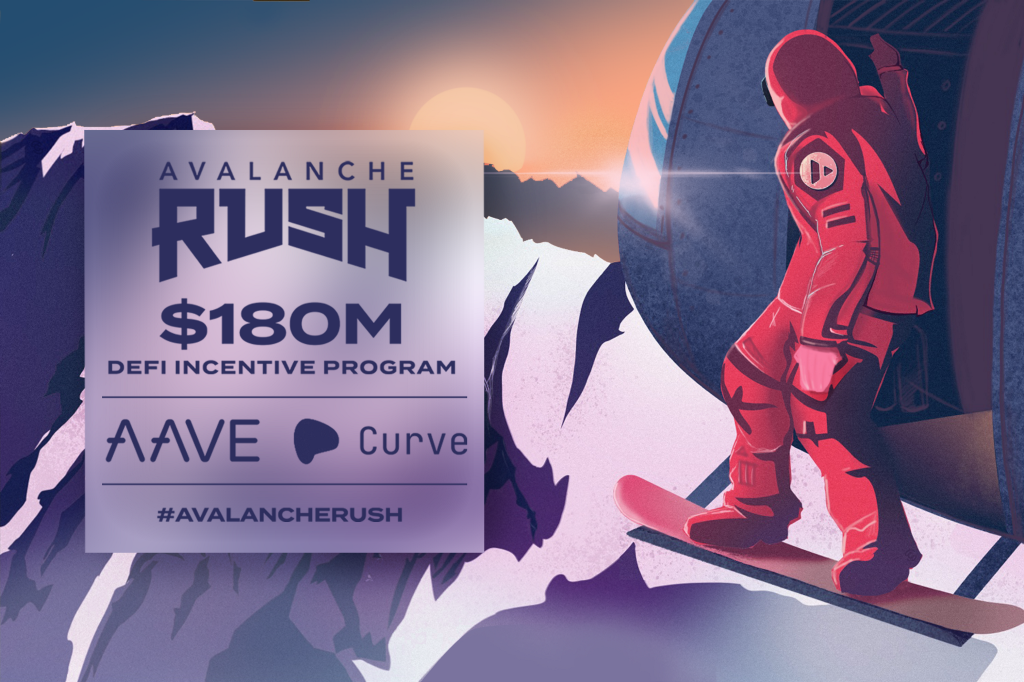 The Avalanche Foundation has announced Avalanche Rush, a $180M liquidity mining incentive program to introduce more applications and assets to its growing DeFi ecosystem. Avalanche Rush will bring Aave and Curve, two of the largest DeFi protocols by total value locked (TVL), to launch on Avalanche. Phase 1 of the Rush program will launch soon and provide the Avalanche native token, AVAX, as liquidity mining incentives for Aave and Curve users over a 3 month period. The Avalanche Foundation has allocated up to $20M AVAX for Aave users and $7M AVAX for Curve users, with additional allocations planned for Phase 2 in the coming months.
The Avalanche Rush incentive program cements the Avalanche Foundation's commitment to scale DeFi and create a more accessible, decentralized, and cost-effective ecosystem. The Avalanche Foundation recently launched a $3M liquidity mining initiative with BENQi, a liquidity protocol native to Avalanche. Stake DAO recently partnered with Avalanche for a staking collaboration and plans to build innovative yield generating strategies leveraging the upcoming deployments of Aave and Curve on the platform. Avalanche Rush follows the launch of the Avalanche Bridge (AB), a next-generation cross-chain bridging technology that transfers assets between blockchains. The combination of Avalanche Rush and the new bridge provides strong liquidity incentives and a seamless user experience for established and emerging DeFi applications to join the Avalanche ecosystem.
"Avalanche consensus is well suited for building DeFi applications due to its scalability features, particularly its high throughput and near-instant finality. The deployment of the Aave Protocol on Avalanche will allow users to leverage low transaction costs without compromising the security of the network," said Stani Kulechov, founder of the Aave Companies, which developed the Aave Protocol.
"As DeFi becomes more and more popular, it becomes clear that Ethereum blockchain is currently struggling to fit all the activity. Thus, it is important to expand to other chains and L2s. We find Avalanche offering an excellent opportunity with its unique decentralized consensus mechanism, high throughput and low transaction fees," said Michael Egorov, Chief Executive Officer at Curve Finance.
"Avalanche Rush will be a showcase for users to see the power of Avalanche, and dive into a vibrant community at the cutting edge of decentralized finance," said Emin Gün Sirer, Director at the Avalanche Foundation. "The combination of Aave, Curve, and Avalanche will create really interesting synergies that DeFi users will be excited about."
Deploying Aave and Curve encourages high-speed, low-cost, and more diverse DeFi offerings on the Avalanche public blockchain. Aave allows users to supply and borrow cryptoassets and earn interest on cryptoassets supplied to the protocol. Curve will enable Avalanche users to exchange stablecoins with low fees and low slippage, covering a wide range of stablecoins and using pools to provide rewards.
Following the upcoming launch with Aave and Curve, Avalanche will continue integrating additional blue-chip DeFi protocols on the platform as part of the Avalanche Rush program. The Avalanche Foundation has also allocated a portion of incentive rewards specifically for current and future native Avalanche applications. Additional information regarding the native ecosystem incentive process will be forthcoming.
https://medium.com/media/b8a596544f943e3618682869c7e2f97a/href
About Avalanche
Avalanche is the fastest smart contracts platform in the blockchain industry, as measured by time-to-finality, and has the most validators securing its activity of any proof-of-stake protocol. Avalanche is blazingly fast, low cost, and green. Any smart contract-enabled application can outperform its competition by deploying on Avalanche. Don't believe it? Try an app on Avalanche today.
Website | Whitepapers | Twitter | Discord | GitHub | Documentation | Forum | Avalanche-X | Telegram | Facebook | LinkedIn | Reddit | YouTube

---
Avalanche Foundation Announces $180M DeFi Incentive Program was originally published in Avalanche on Medium, where people are continuing the conversation by highlighting and responding to this story.