Avalanche Foundation Makes Strategic Investment in EonXI Labs to Back Web 3.0 Startups and Founders
The US-based venture capital fund will use the new injection of funds to bring diversity and financial inclusion to Web 3.0 and metaverse startups.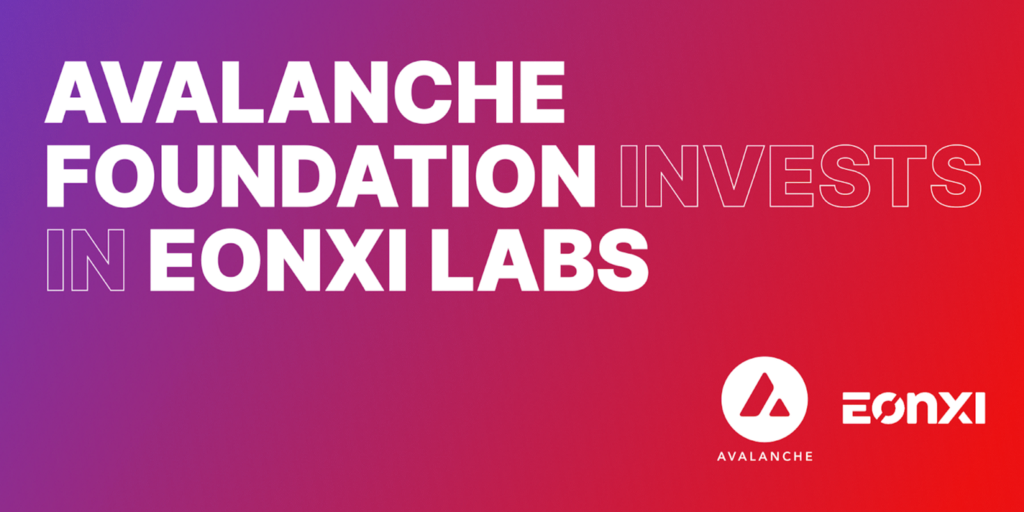 The Avalanche Foundation is excited to announce that it has made a strategic investment in EonXI Labs, a US-based incubation lab. Since launching in 2019, EonXI has been designing and building out Web 3.0 companies in tandem with leading enterprise organizations, startups, and founders, in addition to working alongside a diverse team of back-end engineers, smart-contract developers, 3D designers, and entrepreneurs. Individual members of its team were early investors in blockchain-disruptor, Dapper Labs.
With EonXI Labs' continued steer in ushering in Web 3.0 diversity, equity & inclusion (DEI), the Avalanche Foundation's significant investment will help bridge socioeconomic resource gaps via the metaverse and play-to-earn gaming.
Sherrard Harrington and Aaron Wilson, two Black American thought leaders, have steered the incubation lab to remarkable heights, staking fledgling startups in red-hot sectors such as blockchain, gaming, and the metaverse. After teaming with pro athletes, entertainment influencers, and various other stakeholders, EonXI has been on a mission to perpetually improve 'diversity in tech'.
"We are lowering the barriers to entry in competitive spaces like emerging technology," said Aaron Wilson, CEO of EonXI. "People can look forward to a suite of metaverse-oriented products coming out of EonXI Labs in 2022. We want to work with passionate and purposeful strategic partners and investors, like the Avalanche Foundation, who like us, are well poised to make an impact."
"Web 3.0 will, simply put, offer a new dimension in web interaction and create a fundamental shift in how we engage in the digital arena, unlike anything that we have ever experienced," said Sherrard Harrington, Founder and Chairman of EonXI. "In this environment, EonXI has a vision that will leverage blockchain and other emerging technologies brokered out of the Web 3.0 era to create a myriad of opportunities for those who have otherwise previously been shut out in the web's previous renditions — This goal is at the core of the EonXI mission. The investment that we announce alongside the Avalanche Foundation today is a milestone for our organization and the industry at large. We are excited to have the support of the Avalanche Foundation and alongside them, over the next five years, we are going to build an ecosystem of over 1,000 developers from all walks of life."
The Avalanche Foundation investment gives it early access to the disruptive concepts being spun out at the incubation lab of EonXI. The incubation lab seeks to drive the en masse adoption of the fast and scalable infrastructures which Avalanche is bringing to the blockchain industry.
For more information, please visit http://EonXi.com
About EonXi
Since 2019, EonXi has been building, investing, and empowering founders in the Web 3.0 arena. Led by a diverse team of blockchain engineers, influencers, investors, and entrepreneurs from across the United States, EonXi and its ecosystem are together stewards in developing the next internet revolution. For more information, please visit http://EonXi.com
About Avalanche
Avalanche is the fastest smart contracts platform in the blockchain industry, as measured by time-to-finality, and has the most validators securing its activity of any proof-of-stake protocol. Avalanche is blazingly fast, low cost, and green. Any smart contract-enabled application can outperform its competition by deploying on Avalanche. Don't believe it? Try Avalanche today.
Website | Whitepapers | Twitter | Discord | GitHub | Documentation | Forum | Avalanche-X | Telegram | Facebook | LinkedIn | Reddit | YouTube
---
Avalanche Foundation Makes Strategic Investment in EonXI Labs to Back Web 3.0 Startups and Founders was originally published in Avalanche on Medium, where people are continuing the conversation by highlighting and responding to this story.