Avalanche Park X Ed Balloon Concert Series to Launch in DTLA in February with Emerging NFT Artists
The inaugural event offers a new way to experience music through Web3, giving fans NFT-gated access benefits and digitally stamping music on Avalanche.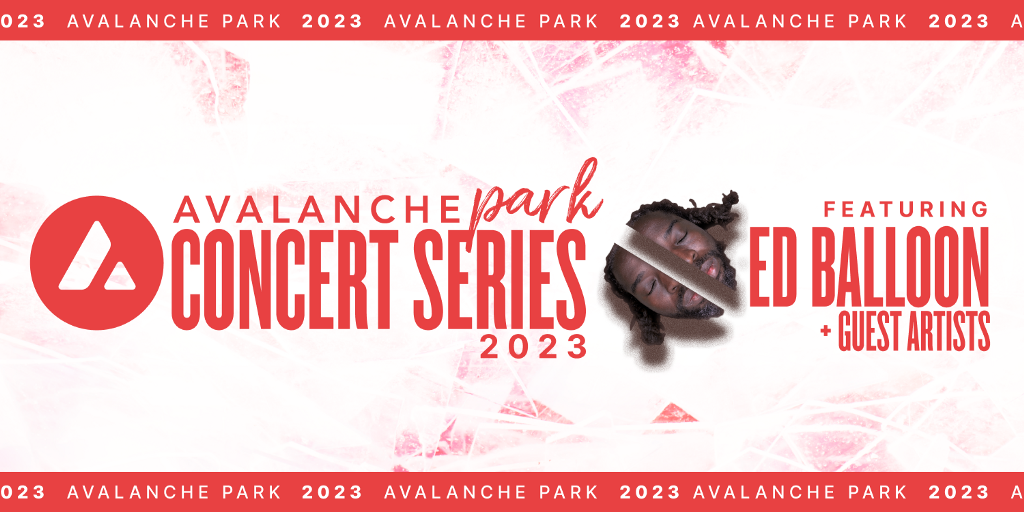 On February 23 in Downtown Los Angeles, the Avalanche Park x Ed Balloon concert series will open with a show at WisdomeLA, an immersive art and entertainment park that has geodesic domes with 360-degree projection capabilities. Raw, underground music culture will be on full display as artists like Ed Balloon, JPEGMAFIA, Clipping., and Witch Prophet take the stage. Tickets are free. Fans can RSVP now.
Attendees of the February 23 kickoff event will receive a free Avalanche Park NFT upon arrival. This will unlock unique experiences at the kickoff concert, including a raffle via MynaSwap for rare shoes from Cool Kicks. At later events in the series, fans with the Avalanche Park NFT will get priority access to the RSVP website, VIP access and experiences, merch discounts, and raffle opportunities to meet the featured artists.
Conceptualized by musician, NFT artist, and community builder, Ed Balloon, who saw a lack of diverse culture and representation in Web3, the first-of-its-kind event series will demonstrate how Web3 creates an environment where artists are free to express unbridled creativity, and where fans can consume music through raw IRL experiences.
The lineup has been curated by Ed Balloon, who is also one of the featured performers. Ed Balloon is known for his innovative approach to music making, dynamic production style, and unique blend of electronic, hip-hop, and R&B.
Other boundary-pushing acts in the lineup include JPEGMAFIA; Clipping., an experimental hip-hop group; and Witch Prophet, whose dynamic soundscapes blend vocal layers, loops, raps, and harmonies around hip-hop, jazz, and soul-inspired beats.
To learn more about the event or RSVP, visit Moongate's Avalanche Park Ticketing Site.
This post is based on materials provided by Ed Balloon. For more information, visit the Avalanche Park website. Also, please read this important notice.
About Avalanche
Avalanche is the fastest, most reliable smart contracts platform in the world. Its revolutionary consensus protocol and novel Subnets enable Web3 developers to easily launch highly-scalable solutions. Deploy on the EVM, or use your own custom VM. Build anything you want, any way you want, on the eco-friendly blockchain designed for Web3 devs.
Website | Whitepapers | Twitter | Discord | GitHub | Documentation | Forum | Telegram | Facebook | LinkedIn | Reddit | YouTube
About Ed Balloon
Spearheading cultural representation and identity through his music and digital art, Ed Balloon has solidified himself not only as a Web3 artist and musician but also as a community leader. Known for his innovative approach to music making, dynamic production style, and unique blend of electronic, hip-hop, and R&B, his 2022 Run Ed collection was presented as a one-of-a-kind generative sound and motion endeavor that blended stop-motion, 2D and 3D animation, and music. To help uplift other artists, 50 percent of the collection's secondary sales continued to go toward The Ed Balloon Generational Wealth Fund, which collects work from Black and other under-represented artists in Web3. The pioneering musician also recently self-funded through the sale of NFTs the stop motion animated satire "A SONG ABOUT BLACK LOVE." Executive produced by Daveed Diggs and starring Ed alongside actor Seth Green, the film showcases the difficulties of finding love as a black puppet. Ed was also recently nominated to nftnow's NFT100, a celebration of the top 100 influential creators and community leaders in the NFT space.
About Moongate
Moongate is building the underlying technology to drive the mass adoption of smart tickets and memberships. Through our platform, brands and businesses can easily create customized NFT digital assets that seamlessly integrates into real world operation. To date, we have worked with a broad range of conferences, F&B chains, retail brands, and hospitality groups with our technology implementation; our product has been used by tens of thousands of end users, and has proven to drive customer engagement and revenue.
About Myna Swap
Spearheading a new way to collect and trade luxury goods, Myna Swap allows collectors to convert their physical assets into digital twins, in the form of NFTs. With industry leading counterfeit detection, Myna Swap is able to immediately authenticate and insure physical assets using state-of-the-art AI technology. Assets are then vaulted in a high-security, temperature-controlled storage facility managed by in-person, human auditors and minted as a digital counterpart.
Collectors are able to trade their tokenized, digital, assets in real-time with minimal latency on the independent Myna Platform and can opt to receive custody of the physical product at any moment. Built by collectors, for collectors, Myna Swap unlocks unrealized potential in the web3 marketplace.
---
Avalanche Park X Ed Balloon Concert Series to Launch in DTLA in February with Emerging NFT Artists was originally published in Avalanche on Medium, where people are continuing the conversation by highlighting and responding to this story.