Avalanche Watch: February Edition
Avalanche Watch is a data-driven monthly report covering major news and trends in the Avalanche ecosystem, powered by data and analytics from The Tie.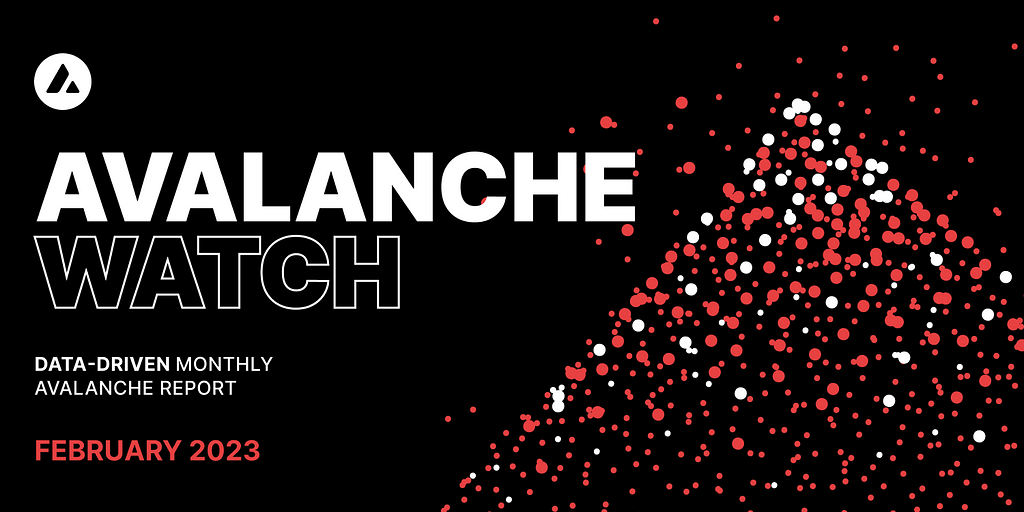 Avalanche is an open, programmable smart contracts platform for decentralized applications Avalanche has one of the fastest time-to-finality (1 second) of any blockchain platform and is decentralized, enables interoperable app-chains within its ecosystem, is inexpensive to use, and customizable.
In this report, we will cover major news announcements, platform upgrades, projects, network performance, and more!
What's New on Avalanche
HyperSDK release — Ava Labs released a software development kit called HyperSDK that helps developers write their own custom virtual machines, which can run thousands of transactions per second out-of-the-box. The option for projects to run their own virtual machines is one of the primary benefits of deploying on Avalanche because of the potential for customizability and domain-tailored regulatory compliance. Listen to Emin Gün Sirer (Ava Labs CEO) and Patrick O'Grady (Engineering lead) talk about HyperSDK here. Learn more here.
Tencent Cloud Partnership — Avalanche has partnered with Tencent, a major cloud service provider with a market cap of $433B, to support rapid Avalanche node deployment, educational programs, conferences, tools, and more.
Intain Subnet — Intain Inc., a leading structured finance platform, launched a new marketplace called IntainMARKETS for regulatory and application-specific compliant tokenized asset-backed securities. IntainMARKETS launched its own subnet. Learn more here.
Loco — a leading independent esports and live-streaming platform in India is joining the Avalanche Multiverse incentive program to build a suite of Web3 products. Learn more here.
The Past Month in Decentralized Finance (DeFi)
BTC.b Adoption — BTC.b is an ERC20 token on the Avalanche C-Chain with the symbol BTC.b, indicating that the token was bridged from the Bitcoin network. By bridging BTC to BTC.b, DeFi users can use their BTC.b to participate in DeFi protocols. BTC.b has the benefits of being an Avalanche token, including decentralization, low transaction fees, and fast finalization times. Months after launching, BTC.b surpassed the capacity of the Lightning network and WBTC on Avalanche in terms of total value locked and has emerged as the leading BTC scaling solution.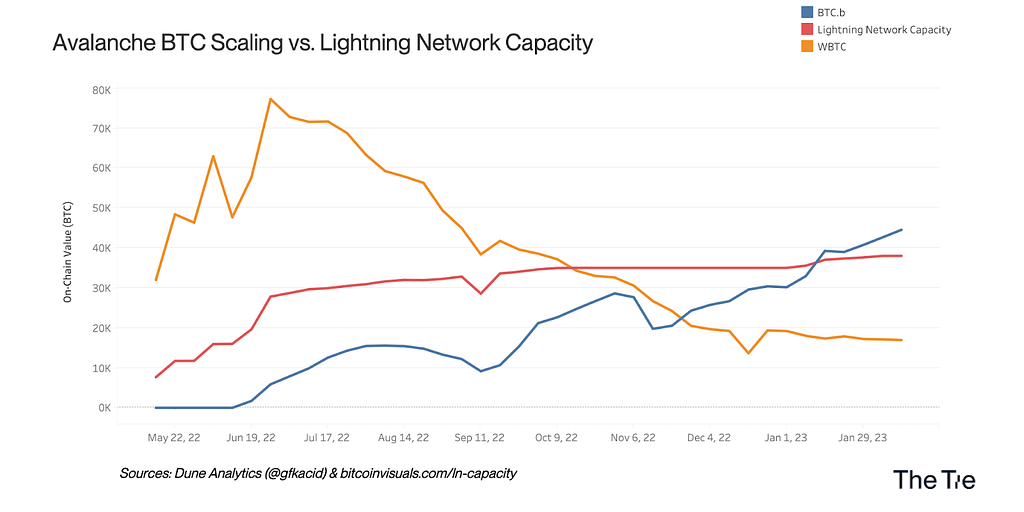 Delta Prime Strategies — Last month, Delta Prime launched on the Avalanche C-Chain. Delta Prime is a protocol that allows users to gain access to undercollateralized lending.
Top Projects by Total Value Locked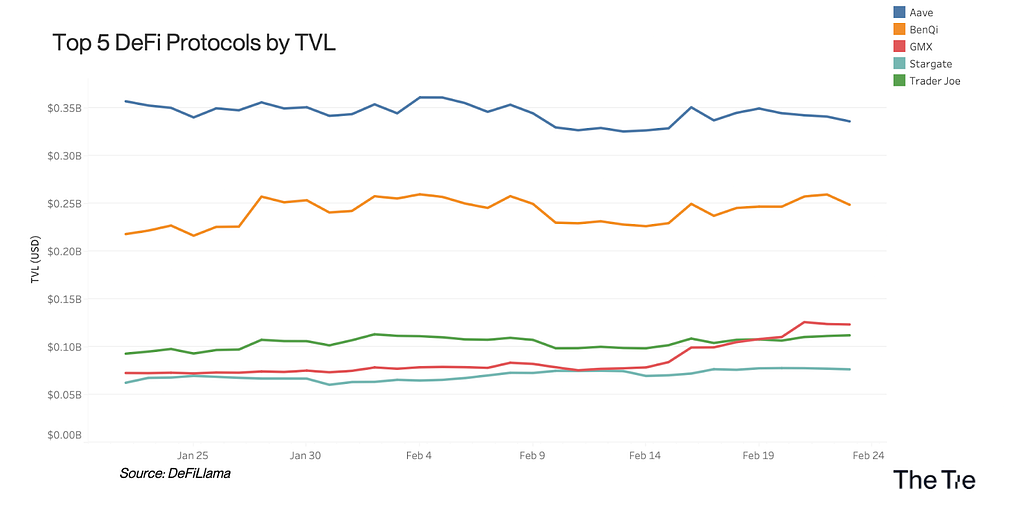 Aave (borrowing, lending, and flashloan protocol) and BenQi (yield-farm and liquid staking protocol) continue their dominance as the two largest projects in terms of total value locked (TVL). GMX, a decentralized exchange focused on perpetuals trading, grew substantially in the last month (+69.2% m/m), surpassing Trader Joe in terms of TVL. This surge could be attributed to Delta Prime and Yield Yak strategies driving demand for GLP, GMX's liquidity provider token.
Top DEXs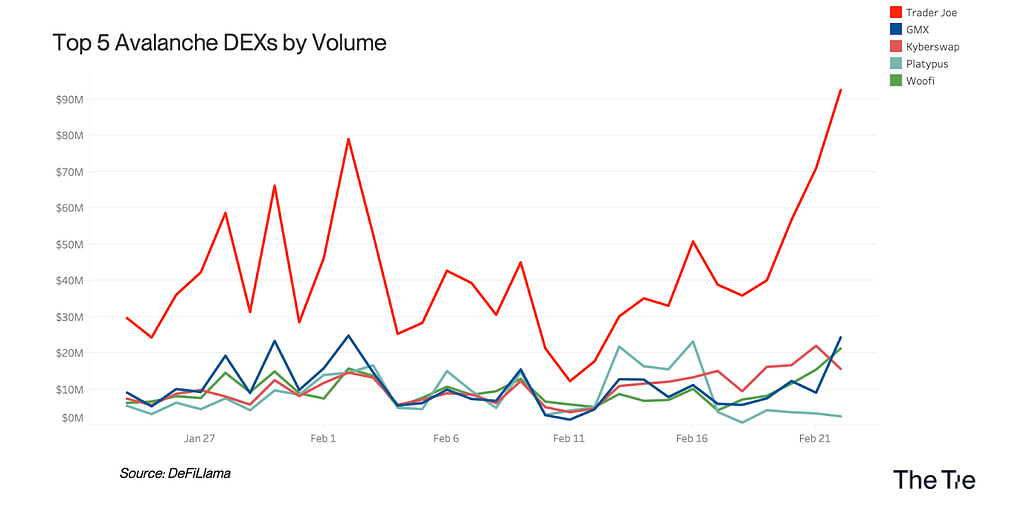 In terms of daily volume, Trader Joe continues to separate itself from the pack as the largest DEX on Avalanche. This rise in popularity could be in part attributed to Joe launching on other blockchains such as Arbitrum and BNB, as well as launching as an omnichain fungible token through LayerZero. This means Joe tokens are minted and burned natively on each blockchain, meaning no wrapped token is needed for cross-chain transfers. Daily volume more than tripled since the beginning of the month.
To dig further into statistics and trends for the Avalanche DeFi ecosystem, check out the Tie's DeFi Dashboard
The Past Month in Gaming (GameFi)
In February, there were a number of major Avalanche GameFi announcements.
DOS Labs, a gaming studio with over 400k daily active players, is launching a high-speed gaming Subnet with no gas fees. Dos Labs will also provide game developers an SDK for quick and affordable integration with Web3 features, lowering the barrier for blockchain game creation. Learn more here and check out their gameplay trailer here.
Rune Seeker is building a next generation strategy card game. Learn more here.
Top Projects w/ Active Wallets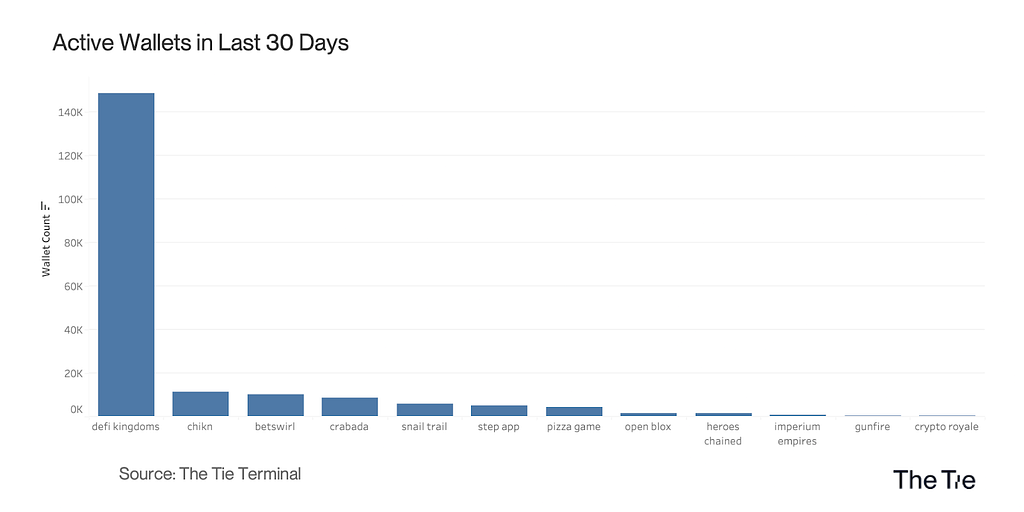 In terms of active wallets, DeFi Kingdoms continues to outpace the rest of the GameFi space.
Top Games by Token Volume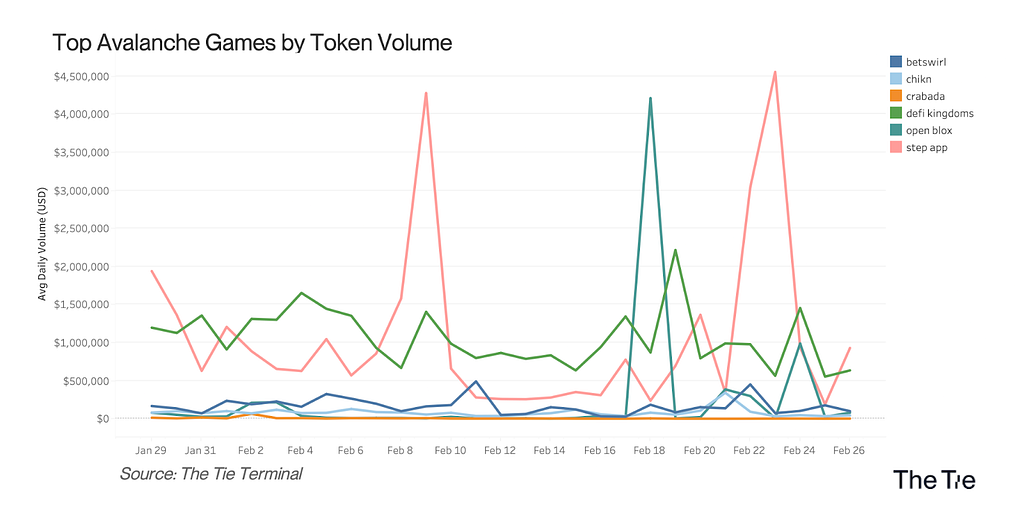 Token volume is calculated by token transfers denominated a gaming token. Step app and Open Blox saw large spikes over the last 30 days, while DeFi Kingdom's token volume remained relatively consistent.
To dig further into statistics and trends for the Avalanche GameFi ecosystem, check out The Tie's GameFi Dashboard.
The Past Month in Non-Fungible Tokens (NFTs)
Top 5 collections — Avalanche NFT marketplace volume totaled $652k in the last 30 days.
Rich Peon Poor Peon — (1863 AVAX 30d volume) This collection is an Avalanche PFP staple by Joe Studios.
Avalanche Party Animals (APA) — (1521 AVAX in 30d volume) This collection is an upgradable collection. By burning an APA and a Golden Token, NFT holders will receive one OOPA. Mint is March 10th.
Avvy Domains — (1400 AVAX in 30d volume) an Avalanche domain naming service
Golden Token — (1331 AVAX in 30d volume) Used in conjunction with APA NFTs to mint OOPA.
Smol Joes — (1073 AVAX in 30d volume) Originally a free mint, Smol Joes are one of the first big NFT collections on Avalanche. Created by Joe Studios.
To dig further into statistics and trends for the Avalanche NFT ecosystem, check out the Tie's NFT Dashboard
Project Spotlight
Dexalot Subnet Launch — Dexalot is a central order book (CLOB) decentralized exchange that just launched its own Subnet. Dexalot employs a novel architecture that allows users to keep their liquidity on the C-Chain while trading and withdrawal occurs on the Subnet. This dual-blockchain architecture gives users the security of the C-Chain (where validator security is highest) with the gas efficiencies of trading on a Subnet. Dexalot's transaction count is continuing to climb this month.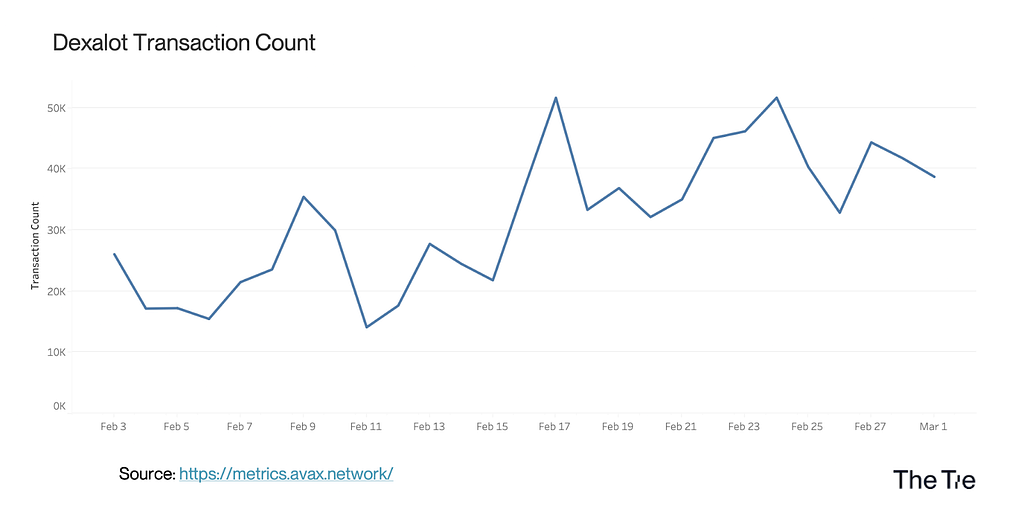 About Avalanche
Avalanche is a lightning fast, reliable smart contracts platform. Its revolutionary consensus protocol and novel Subnets enable Web3 developers to easily launch highly-scalable solutions. Deploy on the EVM, or use your own custom VM. Build anything you want, any way you want, on the eco-friendly blockchain designed for Web3 devs.
Website | Whitepapers | Twitter | Discord | GitHub | Documentation | Forum | Telegram | Facebook | LinkedIn | Reddit | YouTube
---
Avalanche Watch: February Edition was originally published in Avalanche on Medium, where people are continuing the conversation by highlighting and responding to this story.