Avalanche Watch: March Edition
Avalanche Watch is a data-driven monthly report covering major news and trends in the Avalanche ecosystem, powered by data and analytics from The Tie.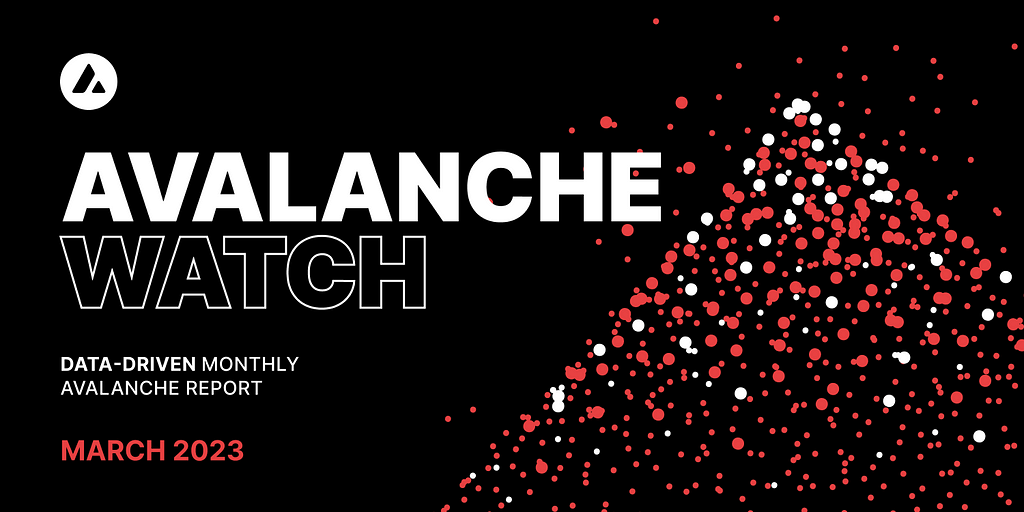 Avalanche is an open, programmable smart contracts platform for decentralized applications. Avalanche has one of the fastest time-to-finality (1 second) of any blockchain platform and is decentralized, enables interoperable app-chains within its ecosystem, is inexpensive to use, and customizable.
In this report, we will cover major news announcements, platform upgrades, projects, network performance, and more!
What's New on Avalanche
Avaissance — The Avalanche Foundation launched a new, two-part program to support the NFT ecosystem on Avalanche. Digital artists of any skill level can apply for Artist-in-Residence and receive funding, one-on-one mentorship, virtual workshops, and more. Additionally, through the new Mona Lisa Initiative, the Avalanche Foundation will gift Avalanche NFTs to art-focused DAOs to highlight work from up-and-coming artists. Learn more here.
Cortina — The pre-release code for the Avalanche Cortina upgrade is available for deployment on Avalanche's Fuji testnet. Cortina will standardize all Avalanche blockchains to Snowman++ consensus, enable X-Chain integrations with Avalanche Warp Messaging and into existing exchanges, novel transaction types, and more. Learn more here.
Ava Labs' CEO appointed to CFTC's Technical Advisory Board — Emin Gün Sirer, Ava Labs' CEO, has been appointed to the CFTC's technical advisory board, which aims to inform regulators about the latest developments in cryptocurrency. See Gün's announcement here.
TSM — TSM, previously known as Team SoloMid, is a major esports gaming company that is releasing its gaming platform, Blitz, on an Avalanche Subnet. Through Blitz, TSM aims to onboard its existing 30m user base into the Avalanche ecosystem. Learn more here.
Core Wallet Upgrades — The Core wallet team released the iOS app, making Core mobile accessible to 1 billion mobile users. Core Mobile is the fastest growing version of Core Wallet. Additionally, the Core web browser extension now offers a "Discover" tab, which is a consolidated place for vetted information on projects, learning materials, and the latest news on Avalanche. Learn more here.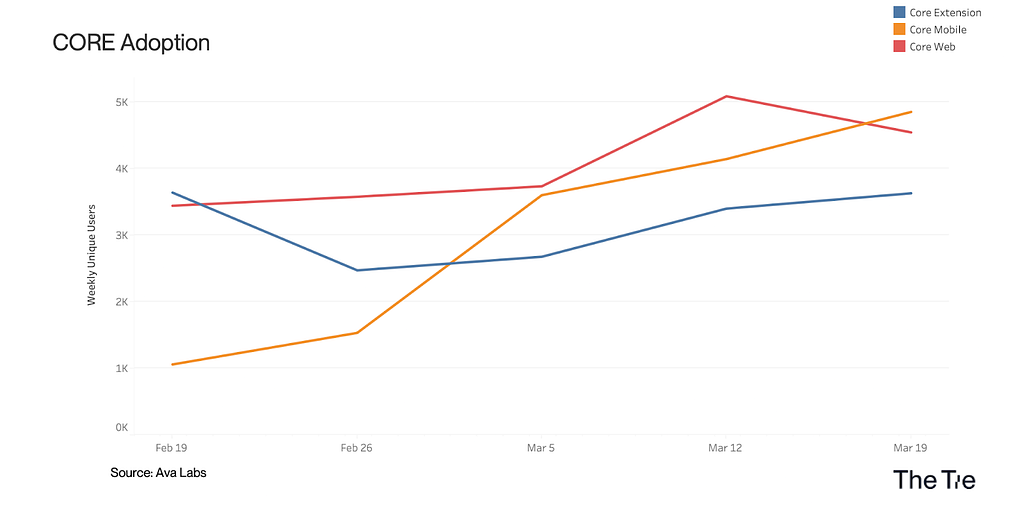 Glacier API Beta — The team at Ava Labs released the beta launch of Glacier API, an API repository for enriched blockchain data from Avalanche and Ethereum and the official API service for indexing Avalanche Subnets. Learn more here.
TYB and Shopify Loyalty Platform — TYB (Try Your Best) is Shopify's community management platform aimed to engage and reward fans for taking action. TYB is deployed on Avalanche and is now available on the Shopify App Store. Learn more here.
The Past Month in Decentralized Finance (DeFi)
BTC.b Supply Reaches All Time Highs at ~10k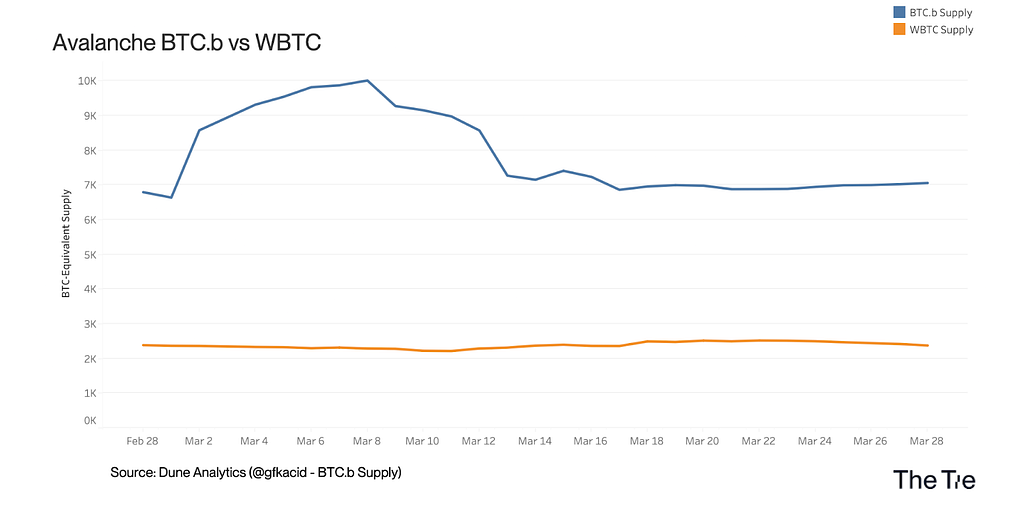 BTC.b is a bridged BTC (Bitcoin) token on Avalanche. Initially released in June 2022, BTC.b reached all time highs in early March at ~10,000 BTC.b. For comparison, the Lightning Network, one of BTC's most popular scaling solutions, has a maximum BTC capacity of 5,400 BTC. Since its peak in early March, BTC.b supply has been hovering around 7,000. BTC derivatives like BTC.b and WBTC on Avalanche enable Avalanche users to deploy their BTC more actively in DeFi as inputs to borrowing and lending services like Aave.
Top TVL Protocols Hold Steady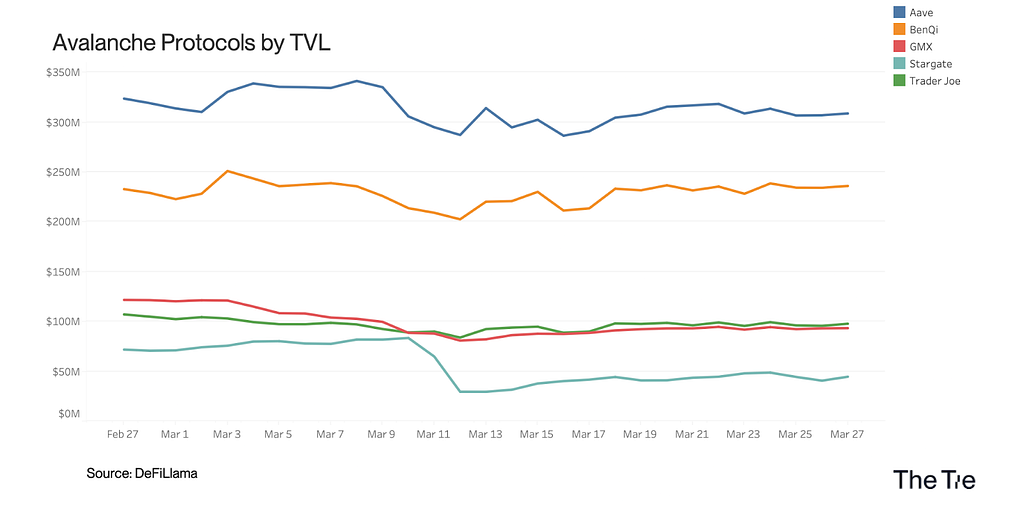 The largest protocols by TVL remain unchanged since last month despite the US banking crisis. Aave, crypto's largest borrowing and lending protocol, kept the top spot on Avalanche, while BenQi, an Avalanche-native liquid staking and lending protocol, retained the second spot (more on BenQi in our project spotlight below). Stargate Finance, an omnichain bridge, saw a considerable dip in TVL around the time of the Silicon Valley Bank (SVB) collapse, suggesting an outflow of funds.
Major Spike in DEX Volume during SVB Crisis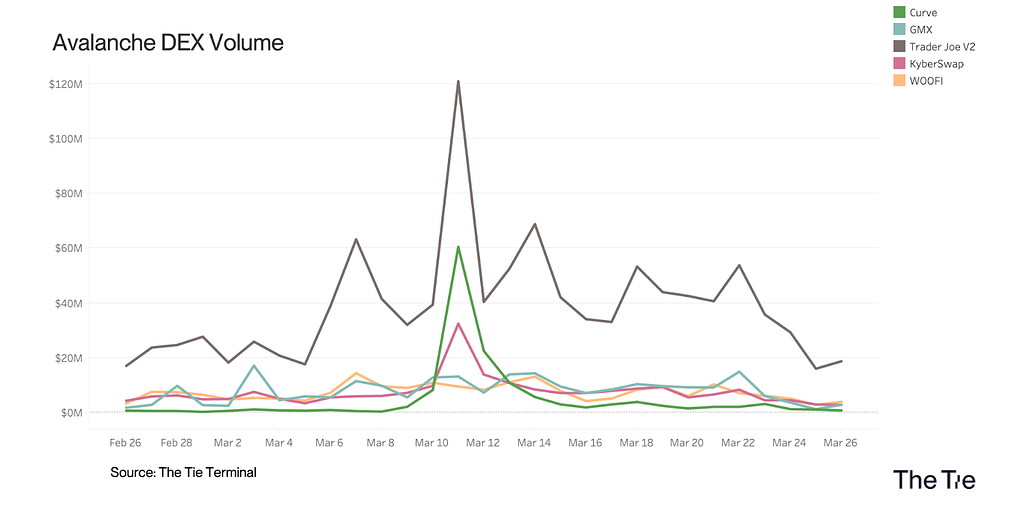 Trader Joe, Curve (stableswap protocol), and KyberSwap saw a spike in volume during the SVB and USDC depegging event in mid-March. Volumes across DEXs have since returned to more typical levels.
To dig further into statistics and trends for the Avalanche DeFi ecosystem, check out the Tie's DeFi Dashboard
The Past Month in Gaming (GameFi)
Teams at Ava Labs attended the Game Developer Conference (GDC) in San Francisco. The GDC hosted over 28,000 attendees with over 1,000 speakers and 700 sessions, workshops, roundtable discussions, and networking events. Avalanche game development teams released news and updates about game launches, twitter spaces, free mints, partnerships, and more. Look at a summary tweet here.
DeFi Kingdoms Continues GameFi Dominance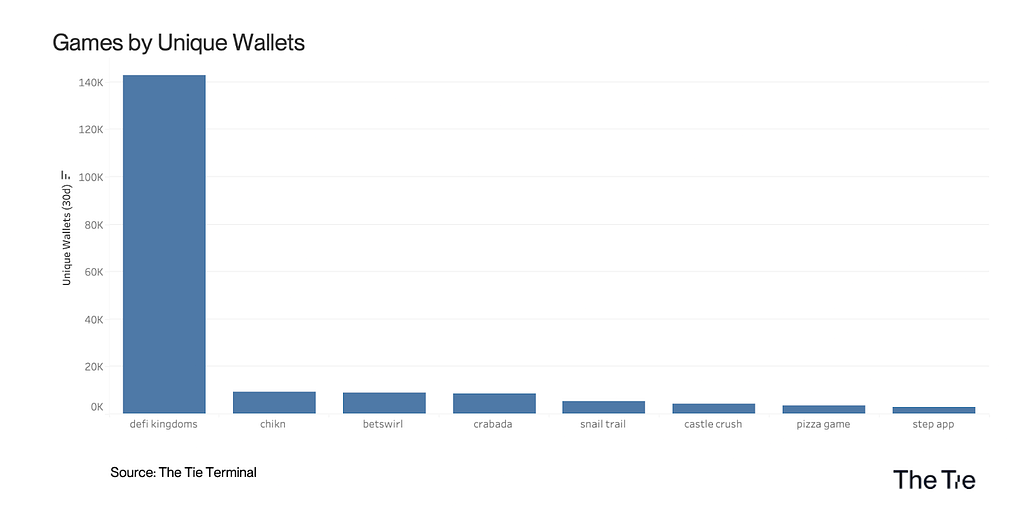 DeFi Kingdoms, an Avalanche staple RPG game with DeFi mechanics, remains the game used by the most unique wallets. All games saw a minor withdrawal in unique users since February with the exception of Crabada (+2.2%).
Betswirl and DeFi Kingdoms Highest Volume Games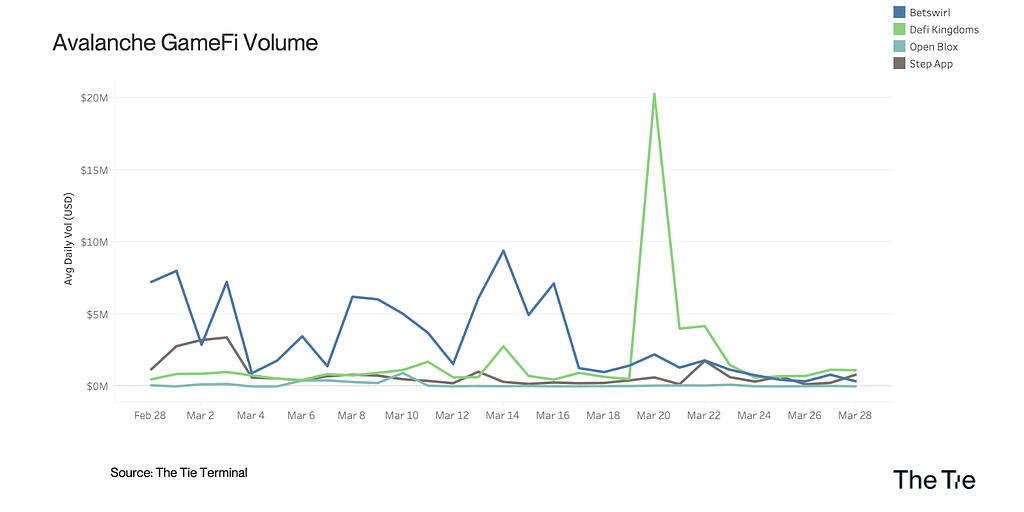 The largest GameFi games of the past month were Betswirl (a gaming platform offering games like Dice, Coin Toss, Million Jackpot), DeFi Kingdoms, Open Blox (NFT Gaming Platform), and Step App, a move-to-earn app. The spike in DeFi Kingdom's volume is attributed to an unlock of CRYSTAL from the Crystalvale Jeweler on March 20th.
To dig further into statistics and trends for the Avalanche GameFi ecosystem, check out the Tie's GameFi Dashboard
The Past Month in Non-Fungible Tokens (NFTs)
This was an especially strong month for Avalanche NFTs; the total volume of Avalanche NFTs in March was $1.09m, which is +62.2% from February's mark at $668.9k. Joepegs, the largest NFT Marketplace on Avalanche, accounted for ~$859k in volume. According to avalytics.xyz, the largest collections in March are as follows:
OOPA (16371 AVAX) — OOPA is an NFT collection derived from other NFT collections called APA (Avalanche Party Animals) and Golden Token. OOPAs were by far the most popular NFT collection of March.
Chikn (7740 AVAX) — Chikn NFTs are perhaps the most famous upgradable NFT collection on Avalanche and are used in the Chikn NFT gaming ecosystem.
Golden Token (6197 AVAX) — Used to transform APAs into OOPAs
Ferdy Fish (5560 AVAX) — A collection of 300 NFTs, Ferdy Fish's floor price has risen dramatically in March from around 17 AVAX to 90 AVAX.
Smol Joes (4034 AVAX) — Originally a free mint, Smol Joes are one of the first big NFT collections on Avalanche. Created by Joe Studios.
To dig further into statistics and trends for the Avalanche GameFi ecosystem, check out the Tie's NFT Dashboard
Spotlight
BenQi, mentioned above, released a new base layer protocol called Ignite. Ignite allows decentralized staking that reduces the cost to run an Avalanche node by up to 10x. Instead of native validator staking, which requires 2000 AVAX, Ignite users can spin up a node for 200 AVAX worth of the QI token. This liquid staking solution expands the number of potential stakeholders in the Avalanche ecosystem, so more developers, projects, and stakers can reap the full benefit of Avalanche validators.
Liquid staking solutions are popular among other proof-of-stake blockchains like Ethereum. Ignite is different from Ethereum liquid staking solutions because BenQi Subnet validators get exposure to both AVAX rewards and Subnet rewards. Rewards from Ignite validators will also be higher than delegation alone, since running a validator bypasses the need to pay delegation fees.
Cross-Chain Comparison
It can be difficult to find ways to fairly compare blockchain networks since there are not standard metric definitions. For instance, a single transaction on one blockchain network could equate to several on a different network, so metrics like transactions per second may be misleading.
One way to comparatively measure blockchain networks is by True Network Value, which factors in block size, time-to-finality, and the number of validators of a network. Block size was calculated using the average block size of the last 30 days. You can read more about True Network Value here.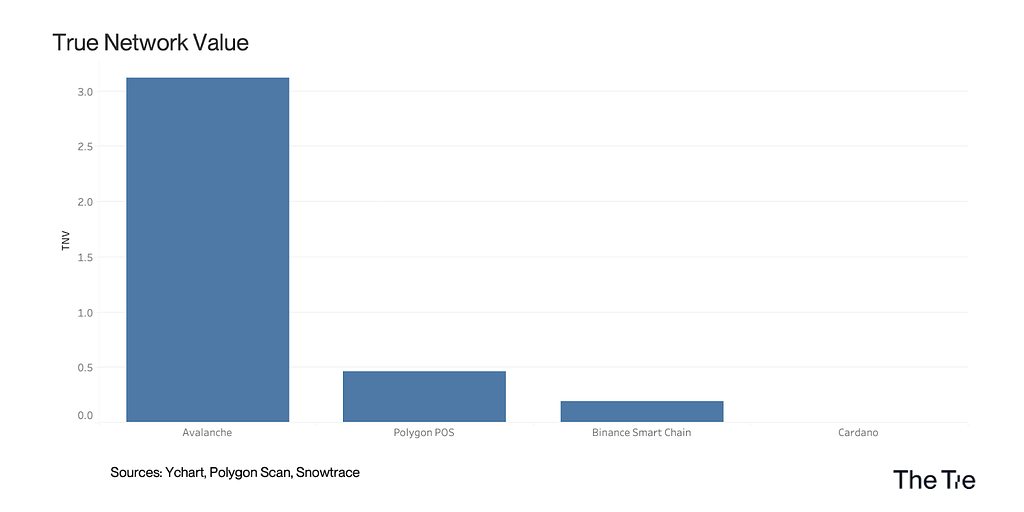 The chart above shows Avalanche as a clear leader in TNV among other L1 alternatives. Factors include validator count, block size, and time-to-finality.
About Avalanche
Avalanche is a smart contracts platform that scales infinitely and regularly finalizes transactions in less than one second. Its novel consensus protocol, Subnet infrastructure, and HyperSDK toolkit enable Web3 developers to easily launch powerful, custom blockchain solutions. Build anything you want, any way you want, on the eco-friendly blockchain designed for Web3 devs.
Website | Whitepapers | Twitter | Discord | GitHub | Documentation | Forum | Telegram | Facebook | LinkedIn | Reddit | YouTube
---
Avalanche Watch: March Edition was originally published in Avalanche on Medium, where people are continuing the conversation by highlighting and responding to this story.