BitGo Launches Support for Avalanche, Expanding Global Access to Rapidly Growing DeFi Ecosystem
Launch unlocks Avalanche's native token and DeFi ecosystem for BitGo's growing client base around the world with more than $64B assets under custody and over 150 exchange clients.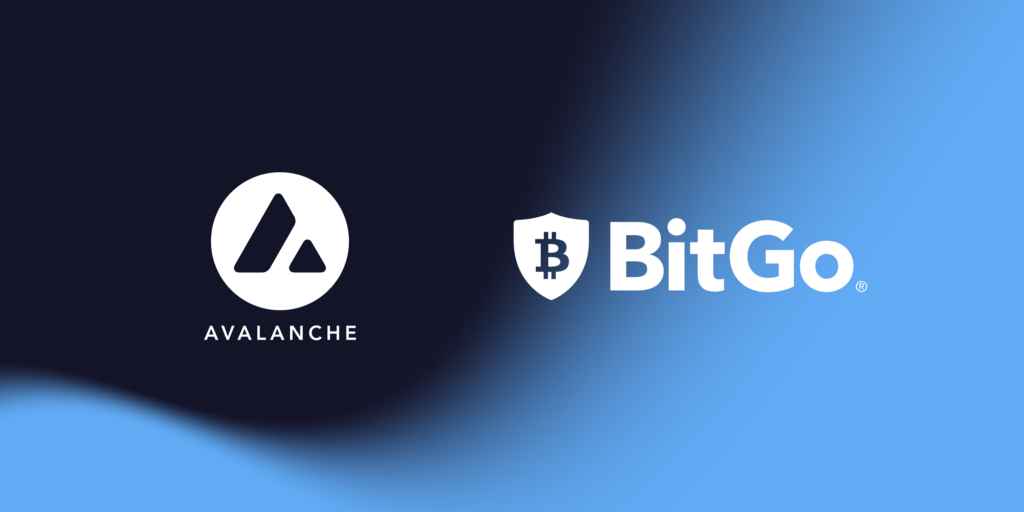 BitGo, the leader in digital asset financial services, now supports the Avalanche native token (AVAX) and assets launched natively on Avalanche's C-Chain across its custody and hot wallet products. This gives BitGo's clients the most secure and reliable way to access the rapidly growing Avalanche ecosystem.
BitGo has been committed to serving institutions and crypto native businesses' digital asset requirements since 2013. BitGo processes approximately 20% of all on-chain Bitcoin transactions by value, and is trusted by more than 600 clients across 50 countries, including some of the world's largest institutions and more than 150 exchanges. Collectively, BitGo secures over $64B in assets for these clients, and remains the only service provider in the industry providing both qualified custody and self custody technology solutions to institutional investors, fintech firms and crypto native platforms.
"BitGo is excited to provide our institutional clients access and safe custody to Avalanche as we see the strong demand for a more efficient DeFi ecosystem," said Mike Belshe, CEO of BitGo. "Institutional custody is not the same as retail custody and BitGo wallets and custody were designed from the ground up to meet the needs of institutional investors, and BitGo is the only independent qualified custodian focused on building the right market structure and facilities to enable institutions to enter the digital asset space with confidence."
"BitGo has a demonstrated track record of being a vital partner for institutions and their clients to not only securely hold digital assets, but have the confidence to become significant participants in the blockchain ecosystem," says John Wu, President of Ava Labs. "As institutional and enterprise interest in Avalanche continues to accelerate, BitGo will play a vital role in expanding access to this segment and supporting the community of builders on the platform."
About BitGo
BitGo is the leader in digital asset financial services, providing institutional investors with liquidity, custody, and security solutions with over $64B in assets under custody. Founded in 2013, BitGo pioneered the multi-signature wallet and is the first digital asset company to focus exclusively on serving institutional clients. Active in both centralized and decentralized finance, BitGo offers market leading trading, lending, and borrowing services through its prime brokerage services and acts as the custodian for WBTC, with more than $19 billion in custody and circulation. In 2020, BitGo launched BitGo Portfolio and Tax, providing clients with a full-stack solution for digital assets. In 2018, it launched BitGo Trust Company, the first qualified custodian purpose-built for storing digital assets. BitGo processes approximately 20% of all global Bitcoin transactions, and supports over 400 coins and tokens. BitGo provides the security and operational backbone for more than 700 institutional clients in 50 countries, including many regulated entities and the world's top cryptocurrency exchanges and platforms. BitGo is backed by Goldman Sachs, Craft Ventures, Digital Currency Group, DRW, Redpoint Ventures, and Valor Equity Partners. For more information, please visit https://bitgo.com
About Avalanche
Avalanche is the fastest smart contracts platform in the blockchain industry, as measured by time-to-finality. Avalanche is blazingly fast, low cost, and eco-friendly. Any smart contract-enabled application can outperform its competition by deploying on Avalanche. Don't believe it? Try an app on Avalanche today. www.avax.network
---
BitGo Launches Support for Avalanche, Expanding Global Access to Rapidly Growing DeFi Ecosystem was originally published in Avalanche on Medium, where people are continuing the conversation by highlighting and responding to this story.