Boba Launches the First L2 on Avalanche
The integration gives Avalanche dApps another means to low fees, speed, and scaling.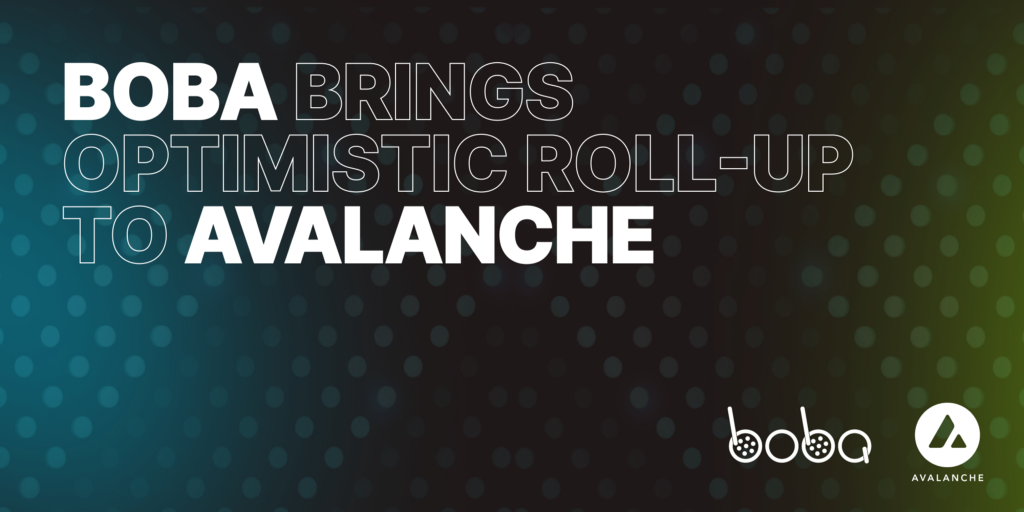 Boba, the layer-2 scaling solution with Hybrid Compute capabilities allowing smart contracts to call Web2 APIs, has expanded support to Avalanche. Boba is Avalanche's first L2. The integration gives Avalanche developers yet another powerful option in their scaling toolkit.
Boba launched in September 2021. Its L2 scaling and augmenting platform uses optimistic rollups to unlock greater throughput, lower fees, and scaling. On Avalanche, Boba will be available for dApps built on C-Chain.
"We're excited to become the first L2 to launch on Avalanche, bringing the power of Hybrid Compute to Avalanche developers" said Alan Chiu, Founder of Enya, the core contributor to Boba Network. "Avalanche now has another resource to drive greater user experiences and dApp performance, while Boba is now synonymous with Layer-1 scaling that's available when and where it's needed."
The blockchain game EvoVerses will serve as Boba's launch partner on Avalanche, harnessing the L2 to power a play-to-earn, turn-based strategy game built with Unreal Engine 5. The game features mythical creatures called Evos that evolve through the gameplay. EvoVerses lets players build houses and lands in-game. It will also have DeFi elements.
Like EvoVerse's developers, Avalanche's developers can use Boba's Hybrid Compute to make Web2 API calls, providing a new means of bringing Web2 data on-chain. Avalanche dApps can also use Boba's native NFT bridge, enabling transfer of NFTs between L1 and L2.
"By deploying to additional chains, Boba breaks fresh ground and brings Avalanche its very first L2," said Luigi D'Onorio DeMeo, Head of DeFi at Ava Labs. "Equipping our talented developers with yet another way to make dApps cheap, fast, and scalable will only benefit users. We're excited to see how this integration evolves and where the story of Avalanche L2s leads."
This post is based on materials provided by Boba. For more information, visit Boba's website. Also, please read this important notice.
About Boba Network
Boba Network is a blockchain Layer-2 scaling solution and Hybrid Compute platform offering lightning fast transactions and fees up to 60x less than Ethereum. Boba's Hybrid Compute brings the power of Web2 on-chain, with smarter smart contracts that allow developers and creators to leverage off-chain compute and real-world data to offer an enriched experience unlike anything else on the market today. Boba is delivering a faster, cheaper, smarter experience for blockchain's next billion users.
Website | Telegram | Twitter | Discord | Medium
About Avalanche
Avalanche is the fastest smart contracts platform in the blockchain industry, as measured by time-to-finality, and has the most validators securing its activity of any proof-of-stake protocol. Avalanche is blazingly fast, low cost, and green. Any smart contract-enabled application can outperform its competition by deploying on Avalanche. Don't believe it? Try Avalanche today.
Website | Whitepapers | Twitter | Discord | GitHub | Documentation | Telegram | Facebook | LinkedIn | Reddit | YouTube
---
Boba Launches the First L2 on Avalanche was originally published in Avalanche on Medium, where people are continuing the conversation by highlighting and responding to this story.