Builder Spotlight: Japanese Gaming Pioneer GREE Embraces Avalanche
The gaming house with 30 million monthly users surveys the gaming landscape and explains why Avalanche is the best chain for its Web3 push.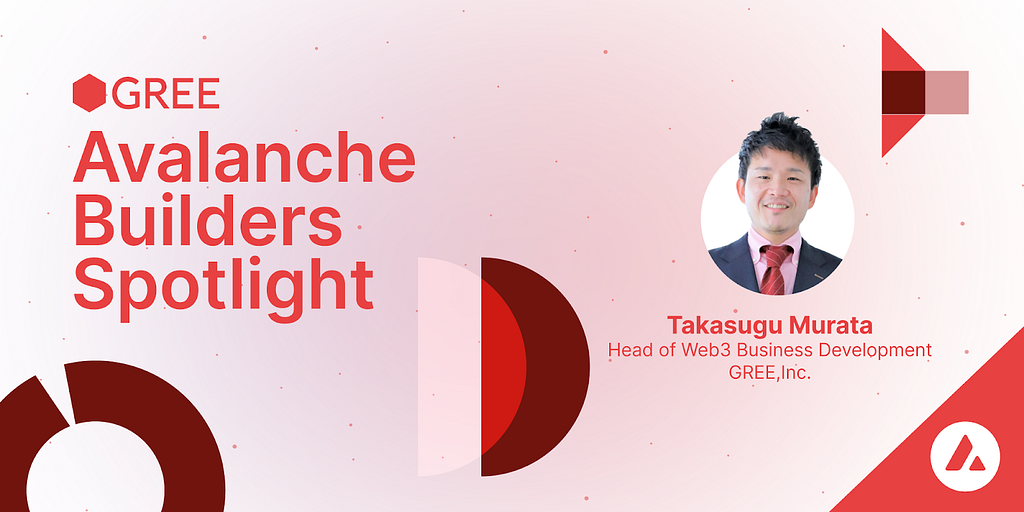 The Japanese gaming house GREE has 30 million active monthly users and a track record of working with the biggest names in Web2 gaming, including Square Enix, Sega, Konami, and Bandai Namco. Recently, GREE embraced the biggest name in Web3: Avalanche.
GREE's push into Web3 gaming spans development, distribution, NFTs, and running 12+ Avalanche validators. Ava Labs spoke with GREE's Takasugu Murata about the changing gaming landscape and why GREE chose Avalanche.
Ava Labs: For people less familiar with the gaming community in Japan, can you share a few highlights from GREE's multi-decade run as a Japanese gaming leader?
Takasugu: GREE was founded in 2004 and quickly emerged as one of Japan's mobile internet pioneers. We developed the world's first mobile social game, Fishing Star, in 2007, and are now a diverse tech company innovating in the areas of mobile games, the metaverse, anime, commerce, data analytics, and manga.
It has been almost 15 years and it's still going very well. Google Play named our game Heaven Burns Red game of the year for 2022. Our metaverse platform REALITY surpassed 10 million worldwide downloads this past October.
Ava Labs: Can you tell us about your new gaming studio, BLRD?
Takasugu: GREE has about 20 subsidiaries, including BLRD. Last July, we decided to launch BLRD for our Web3 push. We have three focuses at BLRD: running validators, making Web3 games, and investing in Web3 startups. In each of these focus areas, BLRD is very pleased to have partnered with Ava Labs.
Ava Labs: How is gaming adapting to Web3 opportunities?
Takasugu: Web3 has the potential to solve Web2 gaming problems to deliver better experiences for users. For instance, Web2 has no way to return user investment of time and money, except through fun. As a result, the cost of users switching games in Web2 is high. If Web3 can solve that problem, it will become the standard, especially for mobile games.
Ava Labs: What about integrating blockchain with gaming most excites you?
Takasugu: We've found amazing success in Web2 games, but they also have many challenges that can be solved with blockchain technology. For example, if a Web2 gaming company stops operating a game that players love, users lose out. We strongly believe Web3 technicals bring more user-friendly games for reasons like these, which is why we're developing our first Web3 game on Avalanche. This gets us excited every day.
Ava Labs: How is BLRD approaching Web3 gaming?
Takasugu: We develop Japanese games that appeal to people all over the world. Of course, we'll use our experience with Web2, but we won't simply convert Web2 games to Web3. We must create completely new games.
Ava Labs: What kinds of Web3 games will you launch in 2023 and beyond?
Takasugu: We can't say much at this time, unfortunately. One thing I can reveal is that our first game will attract NFT holders. Going forward, we'll strive to expand our player community beyond crypto enthusiasts. While we can't say anything else about our first Web3 games just yet, we're excited to share more details soon.
Ava Labs: BLRD will be making games on Avalanche. What properties of Avalanche make it the ideal chain for gaming?
Takasugu: Subnets. It is absolutely critical for gamers to have smooth gameplay. We don't want our games to be impacted by other games' traffic, so we're planning to set up our own Subnet, which will allow us to deliver games with a reliable and fast experience for our players.
Ava Labs: BLRD currently runs several Avalanche validators. Why have you chosen to run Avalanche nodes?
Takasugu: I thought I could learn more about Avalanche by helping to secure the network. In our efforts to contribute to the Avalanche network's infrastructure, we've received support on many fronts from Ava Labs. This has also helped us approach game development.
Ava Labs: How else will BLRD and Ava Labs be collaborating? What can gamers expect from BLRD on Avalanche in the future?
Takasugu: A lot! We'll be working together to make Web3 games that become worldwide hits. As we do, I'm happy to contribute to the expansion of Avalanche.
This post is based on materials provided by GREE. For more information, visit GREE's website. Also, please read this important notice.
About BLRD
BLRD was established on July 1, 2022 to promote the Web3 business. It will promote validator operations and blockchain game development by leveraging the experience cultivated in the GREE Group.
About Avalanche
Avalanche is the fastest, most reliable smart contracts platform in the world. Its revolutionary consensus protocol and novel Subnets enable Web3 developers to easily launch highly-scalable solutions. Deploy on the EVM, or use your own custom VM. Build anything you want, any way you want, on the eco-friendly blockchain designed for Web3 devs.
Website | Whitepapers | Twitter | Discord | GitHub | Documentation | Telegram | Facebook | LinkedIn | Reddit | YouTube
---
Builder Spotlight: Japanese Gaming Pioneer GREE Embraces Avalanche was originally published in Avalanche on Medium, where people are continuing the conversation by highlighting and responding to this story.