Bye Bye Plastic and Avalanche Make Crypto Events Green, Rethink Plastics
Eliminating single-use plastics from events aligns with Avalanche's minimal energy use and status as a climate-positive blockchain.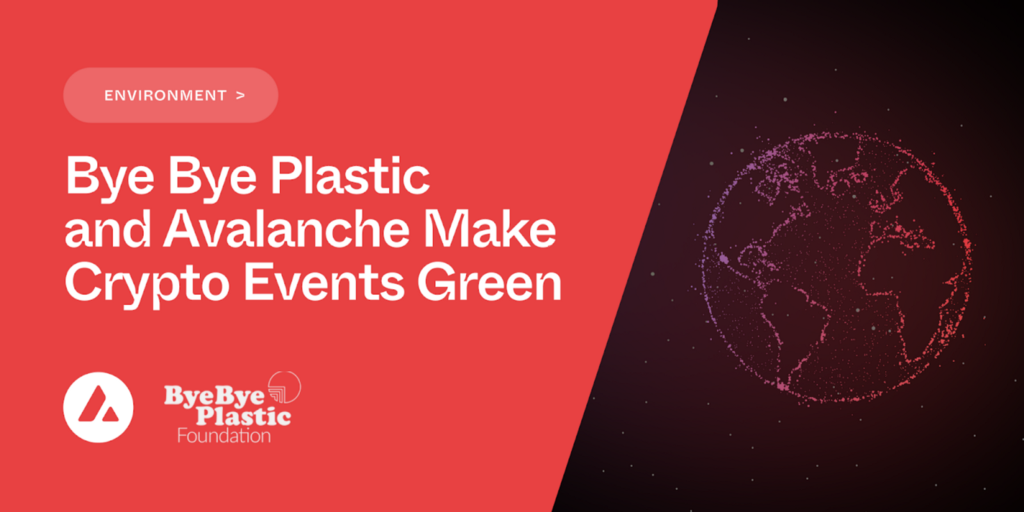 At Avalanche House | FE Brooklyn in July, attendees drank 5,250 beverages. None were served in plastic. In fact, the event featured a grand total of zero single-use plastics.
Avalanche has partnered with Bye Bye Plastic, a foundation working to eliminate single-use plastics from events across the U.S. and Europe. The Avalanche House Brooklyn event was the second collaboration between the two parties. The first: Avalanche Summit in Barcelona, where sustainable options replaced even more single-use plastics.
Why does this matter? To succeed, crypto projects must consider the climate. Avalanche buys carbon credits and works to minimize its carbon footprint at events. This dovetails with the minimal energy usage of Avalanche, a green blockchain network.
Eliminating single-use plastics from events is one key step. Some 98% of plastics are made from fossil fuels. Single-use plastics have grown to account for 40% of plastic consumption. Big events contribute to climate issues, largely due to consumption. With Bye Bye Plastic, event planners in crypto and beyond can pivot to a better model.
"The change we want and need has to happen immediately," said Priya Chandel, Executive Director of Bye Bye Plastic USA. "In order to do that, we need to partner with like-minded people. We've found that in the Web3 space."
Co-founded by the Canadian DJ BLOND:ISH, Bye Bye Plastic (BBP) is focused mostly on music industry events. More than 1,500 DJs have joined the foundation's Eco-Rider, which reflects their commitment to requesting that their venues reduce single-use plastics. BBP has been leading education and greening events since 2018. The two events with Ava Labs mark the foundation's entry into crypto.
"Each Avalanche event had a robust sustainability program focused on eliminating single-use plastics, replacing plastic water bottles with aluminum, implementing water stations, using a reusable cup system, eliminating straws, and having all the food and cutlery be turned into compost," said Chandel.
Chandel believes that Avalanche has made for a fitting first crypto partner given the centrality of environment to mission. "Between Bye Bye Plastic and Avalanche, values align across the board," she said. "The interest in sustainability, the interest in music."
The synergy between crypto and BBP is there, Chandel says. So is the ability to make change happen now rather than targeting change by a distant decade, like 2040 or 2050, as some parties do. "Crypto people believe in a futuristic reality and have the means to expedite it and make it happen now," she said.
Looking ahead, Avalanche will continue to collaborate with BBP to make events as climate-friendly as possible, including eliminating single-use plastics, composting, and distributing extra food to charity. Avalanche will keep pushing climate boundaries and aggressively pursuing climate-friendly and off-setting strategies.
At upcoming events, Avalanche and BBP will be introducing even more cool innovations to minimize carbon footprint and maximize offsets. Some of these elements will be tailored to specific events. Track progress by following Avalanche and BBP socials.
For more on the partnership and these sustainable events, tune into a joint Twitter Spaces on November 8 at 4pm EST.
This post is based on materials provided by Bye Bye Plastic. For more information, visit Bye Bye Plastic's website. Also, please read this important notice.
About Bye Bye Plastic
Bye Bye Plastic is a disruptive non-profit working to eliminate single-use plastics from the music industry. Co-Founded by DJ & Producer BLOND:ISH in 2018, Bye Bye Plastic is now a global foundation working with all stakeholders in the music industry from DJs, artists and agencies to event producers, clubs & festivals around the world.
Bye Bye Plastic works to educate and inform producers and attendees alike on the harmful impact of single-use plastics on our environment and health, while also providing a positive & fun way to replace old systems fueled by Big Oil with new innovative & sustainable solutions that enable us to party guilt free.
Website | Twitter | Facebook | Instagram | LinkedIn | YouTube | Discord
About Avalanche
Avalanche is the fastest smart contracts platform in the blockchain industry, as measured by time-to-finality, and has the most validators securing its activity of any proof-of-stake protocol. Avalanche is blazingly fast, low cost, and green. Any smart contract-enabled application can outperform its competition by deploying on Avalanche. Don't believe it? Try Avalanche today.
Website | Whitepapers | Twitter | Discord | GitHub | Documentation | Telegram | Facebook | LinkedIn | Reddit | YouTube
---
Bye Bye Plastic and Avalanche Make Crypto Events Green, Rethink Plastics was originally published in Avalanche on Medium, where people are continuing the conversation by highlighting and responding to this story.