Celsius Now Supports Avalanche
Users can now earn and borrow against their AVAX on Celsius.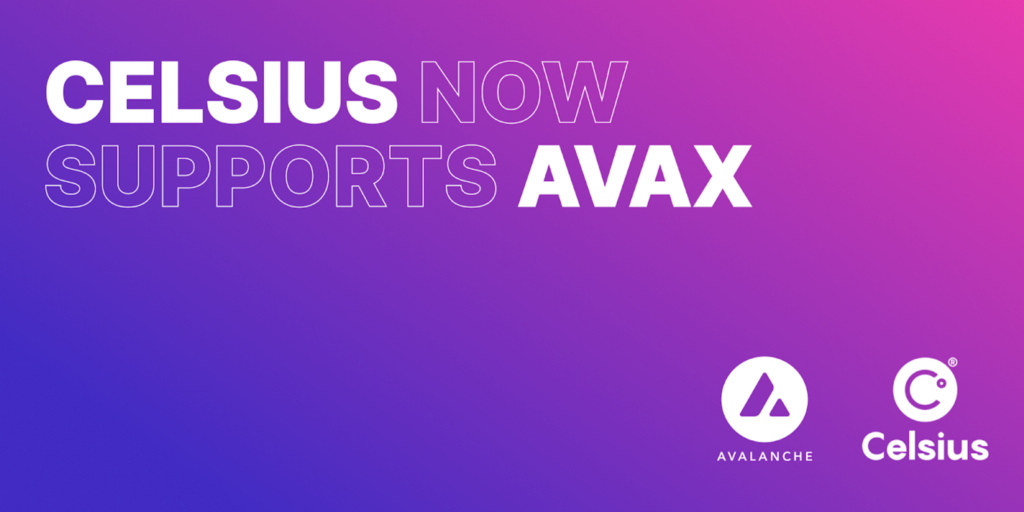 Avalanche's native token $AVAX is now live on Celsius Network, a fintech platform that offers interest-bearing savings accounts, borrowing, and payments with digital and fiat assets.
Users can now buy $AVAX within the Celsius app. Celsius does not charge any fees for the services, however, some services offered via the app are provided by their partners, who do charge fees.
If you are looking to purchase $AVAX through Celsius, please refer to the steps below:
Login/Signup for Celsius
Once you have finished KYC, you can tap "Buy Coins"
Choose "Credit Card"
Search for AVAX (under the "receive" drop-down) and enter the amount you choose
Tap "Calculate" and then "Buy Coins"
You will see an overview of the details and if everything is correct tap "Confirm and Buy"
If you already have AVAX, you can transfer it over to Celsius. Please visit this video to learn how.
Earn with AVAX*
Put your AVAX to work, and receive weekly rewards. Choose how you get rewarded — Earn up to 7.05% APY when earning in-kind, and up to 8.89% APY when earning in CEL token.** As always, Celsius won't charge fees or require lockups.
Borrow Against Your AVAX***
Get the money you need without selling your AVAX. Borrow against your coins starting at 1% APR. Loan minimums start at $100 for stablecoins and $1,000 for fiat loans, with no origination fees, and no credit checks. Apply today through the Celsius app. Visit this video to learn more.
Get started today! Download the Celsius app
About Avalanche
Avalanche is the fastest smart contracts platform in the blockchain industry, as measured by time-to-finality, and has the most validators securing its activity of any proof-of-stake protocol. Avalanche is blazingly fast, low cost, and green. Any smart contract-enabled application can outperform its competition by deploying on Avalanche. Don't believe it? Try Avalanche today.
Website | Whitepapers | Twitter | Discord | GitHub | Documentation | Forum | Avalanche-X | Telegram | Facebook | LinkedIn | Reddit | YouTube
About Celsius
Celsius is a democratized reward-earning and crypto lending platform accessible via web and mobile app. Built on the belief that financial services should only do what is in the best interests of the community, Celsius is a modern platform where membership provides access to curated financial services that are not available through traditional financial institutions. Crypto holders can earn rewards by transferring their coins to their Celsius account and can borrow USD or stablecoins against their crypto collateral at rates starting at 1% APR.
Follow Celsius on Facebook, Twitter, LinkedIn, Reddit, Instagram, and YouTube.
*Subject to Celsius' Terms of Use; Not all coins/services are available in all jurisdictions; https://celsius.network/earn-rewards-on-your-crypto
**Earning 8.89% APY in CEL token is only available for Non-US users and eligible, US-based Accredited Investors with Platinum Status. Learn more about Accredited Investor status with Celsius here:https://support.celsius.network/hc/en-us/articles/4406861138961-Accredited-Investor-FAQ
*** Not available in all locations. Additional limits may apply based on jurisdiction. The terms of each loan are as set out in the applicable loan agreement. Read the loan agreement carefully before requesting a loan.
---
Celsius Now Supports Avalanche was originally published in Avalanche on Medium, where people are continuing the conversation by highlighting and responding to this story.