Coinbase Users Now Have the Fastest Path from Cash to DeFi with Native USDC on Avalanche
With more than $850 million in circulating supply, Avalanche's native USDC on Coinbase gives crypto traders and major institutions the best fiat-to-crypto experience in Web3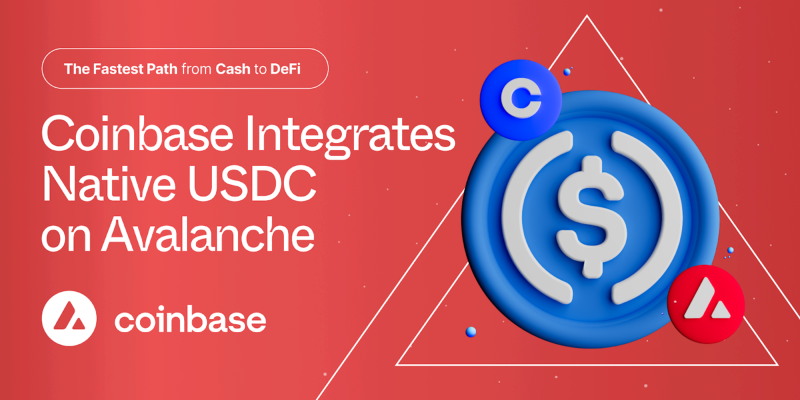 Coinbase now fully supports native USD Coin (USDC) on Avalanche, creating the fastest and least expensive way for more than 100M Coinbase users (Source) to go from cash to flagship DeFi apps like Aave, Curve, Trader Joe, BENQI, and more.
Coinbase currently processes more than $1.2 billion in daily trading volume (Source), making it one of the most important mechanisms for on-boarding users across the U.S. and more than 100 countries. Users can now directly on-ramp cash to USDC and vice versa, without needing intermediaries like bridges, mitigating the complexity of both the user and developer experience.
USDC is the second largest stablecoin in Web3 with a circulating supply of $43 billion USDC across chains. US and global crypto traders can easily buy and sell Avalanche-native USDC on all Coinbase products, across all devices.
Go from cash to any crypto in seconds
Stablecoins are a crucial component of a healthy ecosystem as crypto traders and major institutions use stablecoins like USDC to hedge their portfolios to mitigate volatility.
On Avalanche, traders sending and receiving USDC experience near-instant finality for all transactions with low transaction costs. There is no need to worry about whether USDC will reliably be sent or about high transaction fees causing a drain on assets and returns.
Global decentralized finance systems need fast transaction finality to ensure that value is not at risk. Avalanche is the ideal blockchain solution for DeFi.
"Physical fiat currency is increasingly becoming a relic of the past — a trend which the COVID-19 pandemic has accelerated. A fundamental restructuring of legacy payments and financial infrastructure is not only warranted, but overdue. Together, Avalanche and Circle will pioneer solutions to these systemic challenges," said Ava Labs President John Wu when USDC first launched on Avalanche.
In the same statement, Jeremy Allaire, CEO and Co-founder of Circle, said: "Support for USDC on Avalanche comes at an exciting and pivotal moment for the growing, multi-billion dollar DeFi market. With USDC as the leading dollar digital currency for the decentralized economy, this integration will be instrumental for developers and communities looking to participate in one of the fastest, organically growing ecosystems in crypto."
Note: On Avalanche, there are two main assets for USD Coin exposure: USDC and USDC.e. USDC.e is a bridged asset that is minted and redeemed using the Avalanche Bridge (AB). USDC is issued directly by Circle. Only send USDC to Coinbase, not USDC.e.
About Avalanche
Avalanche is the fastest, most reliable smart contracts platform in the world. Its revolutionary consensus protocol and novel Subnets enable Web3 developers to easily launch highly-scalable solutions. Deploy on the EVM, or use your own custom VM. Build anything you want, any way you want, on the eco-friendly blockchain designed for Web3 devs.
Website | Whitepapers | Twitter | Discord | GitHub | Documentation | Telegram | Facebook | LinkedIn | Reddit | YouTube
---
Coinbase Users Now Have the Fastest Path from Cash to DeFi with Native USDC on Avalanche was originally published in Avalanche on Medium, where people are continuing the conversation by highlighting and responding to this story.