Core Adds Multi-Language Support, Bringing a Better Web3 Experience to More Users
Core browser extension and Core web are now available in ten languages.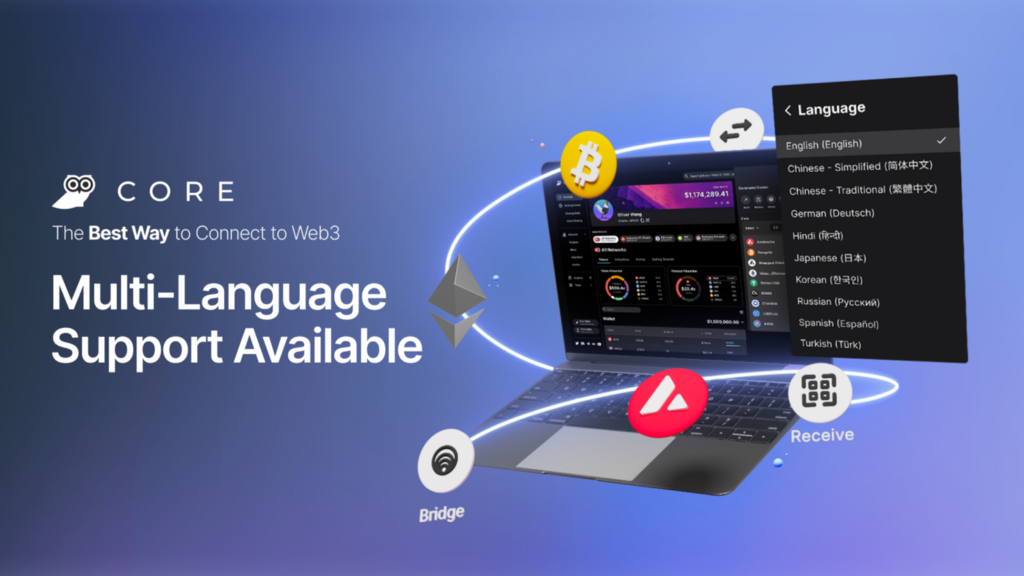 Core, the all-in-one command center that aims to let Web3 users effortlessly use Avalanche, Bitcoin and all EVM-compatible blockchains, has expanded support to eight additional languages. Users can now simply toggle to another language in just a few clicks. As of today, Core browser extension and Core web support:
English
Chinese — Simplified (简体中文)
Chinese — Traditional (繁體中文)
German (Deutsch)
Hindi (हिन्दी)
Japanese (日本)
Korean (한국인)
Russian (Русский)
Spanish (Español)
Turkish (Türk)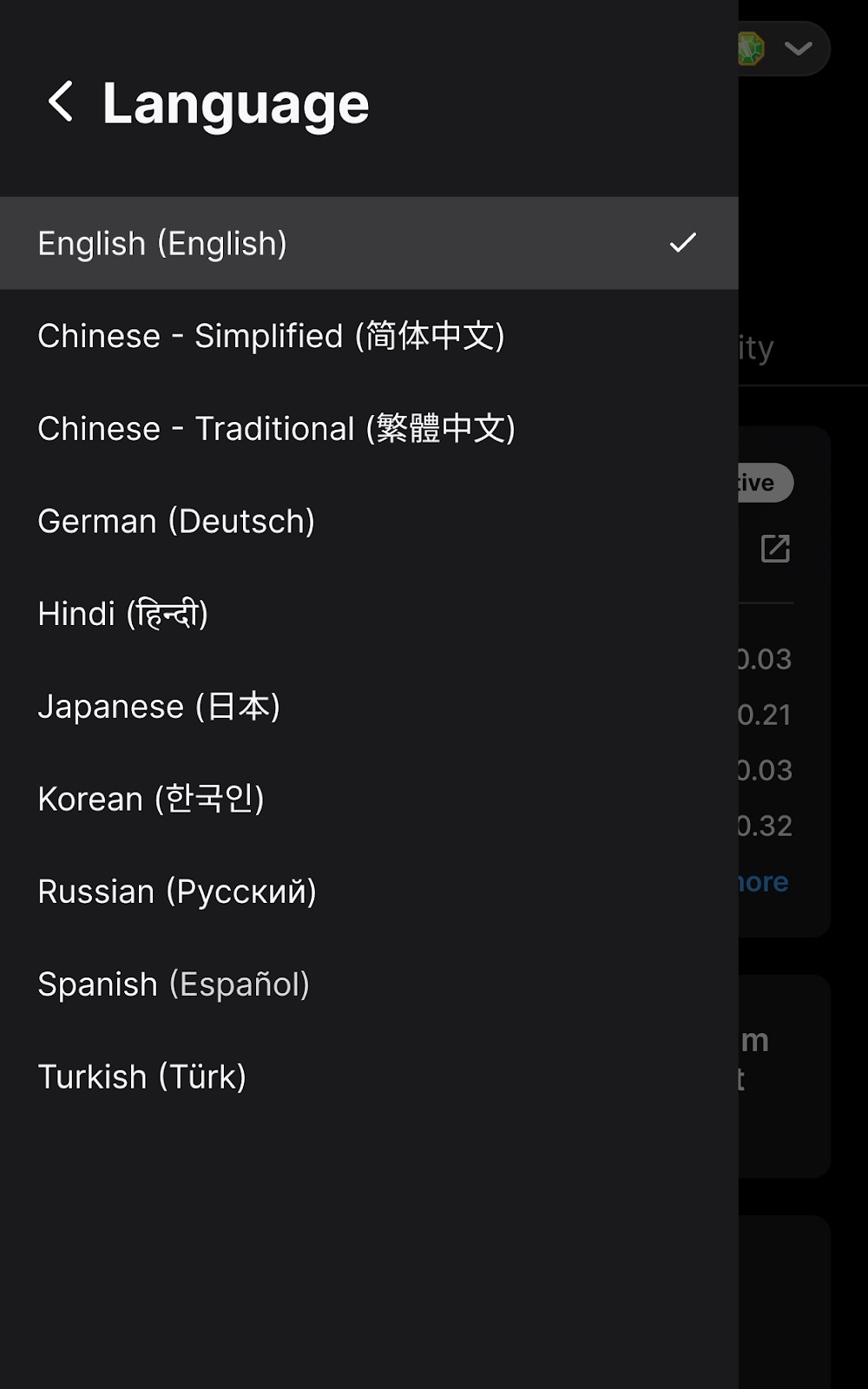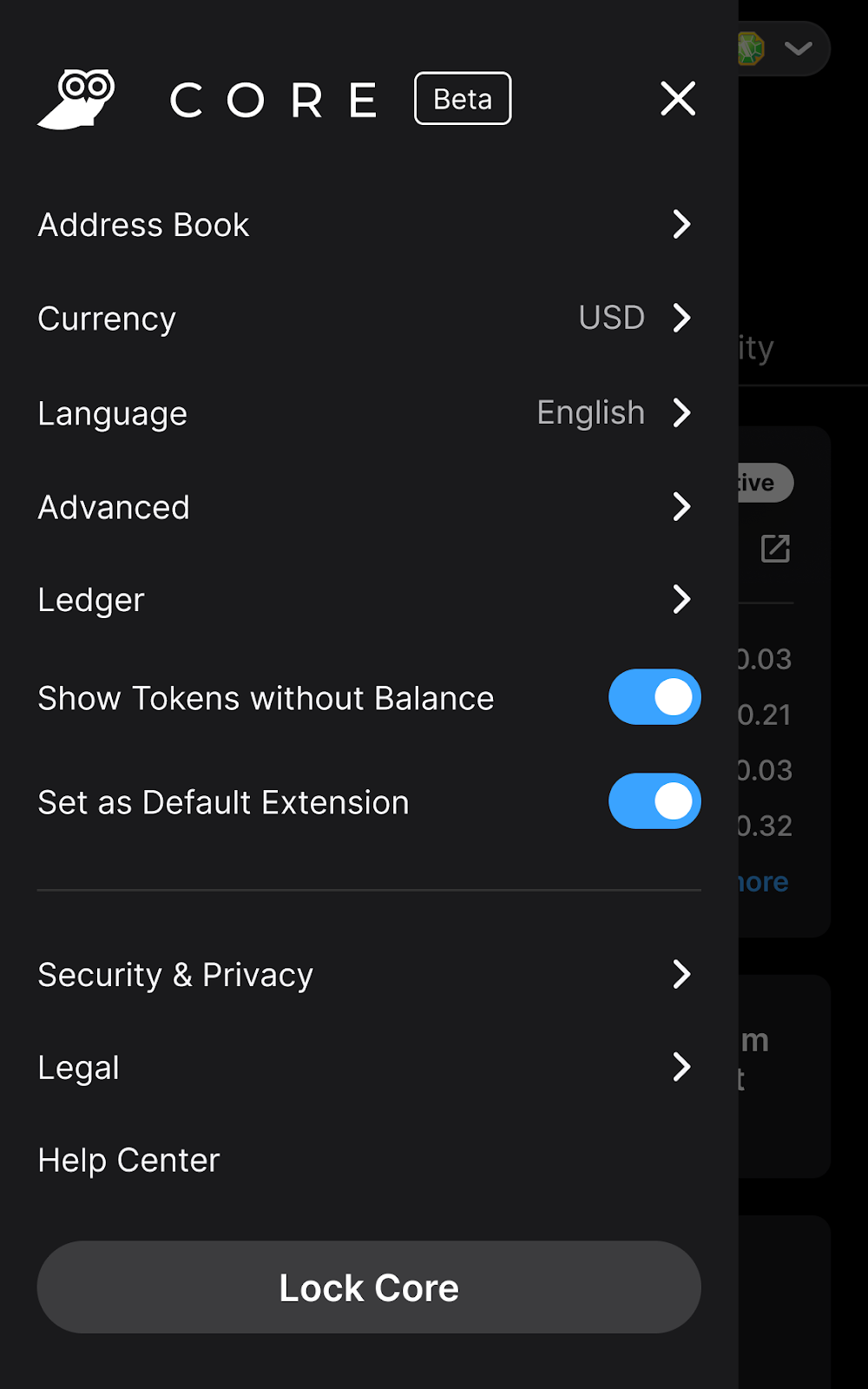 Core users can switch the display language by opening the main menu and clicking the arrow beside the "Language" option. From there, select the desired display language from the options, thereby translating Core.
Note: This is the first batch of new languages Core will support. The team aims to continue to add more languages in the future.
"The Core team continues to listen to its community and has taken another stride towards building a globally accessible Web3 future by providing multi-language support, making every effort to make the user's journey personalized and delightful," said Akash Gupta, Director of Product at Ava Labs.
To get started with Core, get Core extension then go to core.app to experience Avalanche and Web3 like never before.
For further questions, please visit the Avalanche knowledge base or contact a support team member via the chat button at support.avax.network. Please read the Core terms of use prior to use as they contain important information and your use of Core will signify your agreement to them. Like a web browser, Core web and Core extension allow you to access and interface with various blockchains, smart contracts and other Web3 services, none of which are under the control of Ava Labs, which makes no representations, warranties or guarantees in connection with anything you access or do with or through Core, or Core itself.
We'd also love to hear your feedback on Core. Please share it here!
About Ava Labs
Ava Labs makes it simple to launch decentralized applications on Avalanche, the fastest smart contracts platform in the blockchain industry. We are empowering people to easily and freely digitize all the world's assets on one open, programmable blockchain platform.
Ava Labs was founded by Cornell computer scientists who brought on talent from Wall Street to execute their vision. The company has received funding from Andreessen Horowitz, Initialized Capital, and Polychain Capital, with angel investments from Balaji Srinivasan and Naval Ravikant.
---
Core Adds Multi-Language Support, Bringing a Better Web3 Experience to More Users was originally published in Avalanche on Medium, where people are continuing the conversation by highlighting and responding to this story.