Core Launches Discover for Tracking the Latest Avalanche Ecosystem News, Events, and Projects
Keep up-to-the-minute with the Avalanche ecosystem in the same convenient place where you manage your Avalanche, Bitcoin, Ethereum, and other EVM tokens.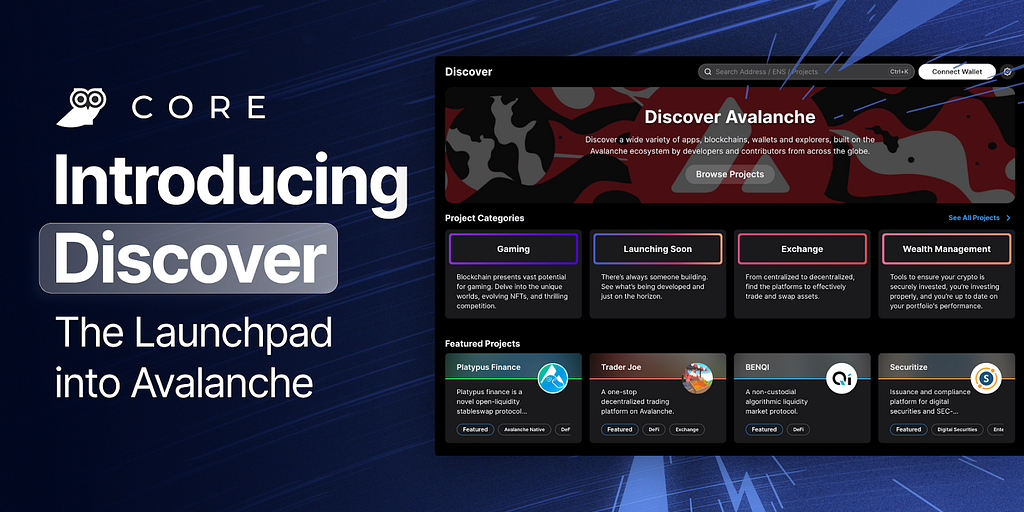 Core has launched Discover, a trove of evolving resources within Core web to keep users current on the latest Avalanche ecosystem news, events, and projects. Discover offers entry-level and advanced intel on hundreds of Avalanche dApps. Organized by vertical, Discover's curated content is just a few convenient clicks away from where anyone can send, swap, bridge, stake, and otherwise seize total command of their digital tokens for free using Core web.
Now, instead of carving out time to scrape scattered corners of the internet for vetted projects, learning materials, and all the latest on Avalanche — anybody can quickly get up to speed in one place.
In its first iteration, Discover brings illuminating content to the fingertips of Core users, aggregating Avalanche news and the latest updates across DeFi, gaming, NFTs, enterprise, and other verticals. Users interested in Subnets can visit Discover for timely developments. A master calendar conveniently displays all of the major upcoming in-person and digital events, gathering them in a single authoritative place. Discover empowers people to get a granular sense of what's happening on Avalanche — all while erasing any need to spend countless hours searching the web for quality info.
Discover has five powerful sections:
1. Discover Home
Begin on this landing page displaying featured projects, news highlights, and jump-off points to Core and the deeper sections of Discover.
2. Core Education
Access this library of focused tutorials, how-tos, and other learning materials to master blockchain, Avalanche, and ecosystem nuances. Here, users can easily find content tailored to every knowledge level. A sub-section for devs has guides, tips, and tricks for building on Avalanche.
3. Projects
Learn about some 500 Avalanche dApps in the rigorously organized project section. Here, builders can claim and edit a page dedicated to their dApp, developing their project page as details change. Project pages can be filtered by category (NFTs, DeFi, gaming etc). Uncover details about some projects as early as pre-launch, and easily track how projects change over time.
4. Events
Using one master resource for Avalanche events, stay in tune with the biggest gatherings, launches, updates, product deployments, and more.
5. News
Keep up with every major beat of the Avalanche news pulse. With this expertly curated news feed, anyone can stay fully in the know — and just a few clicks away from the rest of Core's features.
Discover adds a new dimension to Core web, helping everyone, from Avalanche power users to Web3 newcomers, understand the nuanced Avalanche dApp ecosystem that they can navigate with Core. Core now consists of Core web, Core mobile, and Core extension, supplemented by features like a Coinbase Pay onramp for adding cash and hardware wallet support for added security. With the exciting release and the ongoing expansion of Discover, Core makes Web3 even easier.
"Discover is a treasure trove for all things Avalanche," said Akash Gupta, Director of Product Management at Ava Labs. "It's a personalized, one-stop shop that gives users a warm and frictionless welcome to learning, exploring and navigating the dynamic-and-growing Avalanche ecosystem."
Download Core browser extension from Google's Chrome Web Store and head over to Core web to get started, experience the speed and power of Avalanche, and manage your crypto like never before.
For further questions, please visit the Avalanche knowledge base or contact a support team member via the chat button at support.avax.network. The Core Discover feature is provided for informational purposes only, without representation, warranty, or guarantee of any kind. Nothing contained in this feature or any of the pages is an offer to sell or solicitation of an offer to buy any security or other regulated financial instrument. None of the information is intended to be an endorsement by Ava Labs, Inc., the Avalanche Foundation Limited or any of their respective subsidiaries or affiliates, nor is any of this investment, financial, accounting, tax, legal, or other advice; please consult your own professionals. Please review this Notice and conduct your own research before connecting to or interacting with any project, dApp, third party or conducting any transactions. The projects on the Projects page and the dApps you access are offered by third parties and your use of those projects and dApps are subject to terms between you and those third parties. Notwithstanding the foregoing, your use of the Discover feature is subject to these Terms of Use, so please be sure to read them.
About Ava Labs
Ava Labs makes it simple to deploy high-performance solutions for Web3, led by innovations on Avalanche. The company was founded by Cornell computer scientists, who partnered with Wall Street veterans and early Web3 leaders to execute a promising vision for redefining the way people build and use open, permissionless networks. Ava Labs is redefining the way people create value with Web3.
---
Core Launches Discover for Tracking the Latest Avalanche Ecosystem News, Events, and Projects was originally published in Avalanche on Medium, where people are continuing the conversation by highlighting and responding to this story.