Core Mobile Now Supports iOS Devices
The utility of the popular crypto wallet — including multichain asset tracking, Bitcoin bridging, and much more — now becomes accessible to 1B+ more mobile users.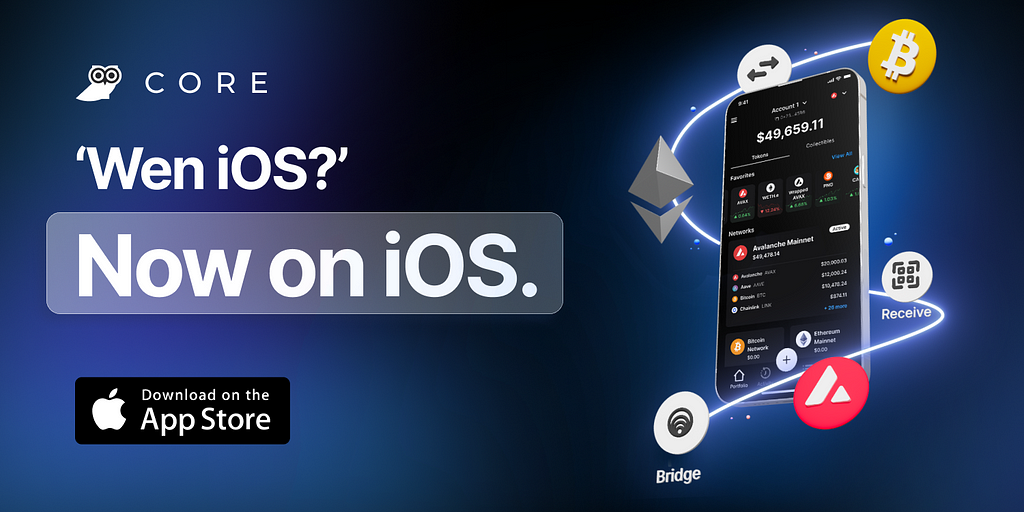 Core mobile now supports iOS devices, making the all-in-one mobile wallet with the speed and power of Avalanche accessible globally to 1 billion mobile users.
Starting today, iOS users can download Core mobile for free. Core gives users a lightning fast, intuitive way to connect to not only Avalanche, but also Avalanche Subnets, Bitcoin, Ethereum, and other EVM-compatible chains. Core brings exciting possibilities of blockchain to your fingertips.
Core has changed the digital wallet game with features that provide a better experience. For instance, users can seamlessly bridge native Bitcoin within the app, empowering them to put idle assets to use in Avalanche's DeFi ecosystem.
That's just the beginning. Core mobile allows iOS users to easily:
Self custody your assets so that you are the sole owner and not dependent on anyone else
Keep track of your asset price movements in real-time with the Watchlist feature
Easily swap Avalanche, Bitcoin, and Ethereum assets
Manage your Avalanche and Ethereum assets, Bitcoin, NFTs, and more
Transfer Bitcoin and Ethereum to participate in the DeFi ecosystem
Seamlessly add or switch to your favorite networks
Jump into the Avalanche ecosystem fast with preloaded Subnets, like DeFi Kingdoms. Exclusively with Core.
Further, Core mobile's silky smooth UI makes navigating all features easy.

The iOS release comes at a key moment. So far in 2023, Core extension has seen 34% growth in number of unique weekly users. BTC.b, Bitcoin bridged to Avalanche using Core, has grown by 17% in 2023, surpassing the number of Bitcoin on the Lightning Network, with $215M+ in volume bridged to date. The release of Core mobile for iOS brings Core to the fingertips of 1B+ potential new users, giving them easy access to Core's features and enriching the Avalanche ecosystem.
To experience Core for yourself, download Core mobile for iOS from the Apple App Store and enjoy the best way to connect to crypto today.
For further questions, please visit the Avalanche knowledge base or contact a support team member via the chat button at support.avax.network.
About Ava Labs
Ava Labs makes it simple to deploy high-performance solutions for Web3, led by innovations on Avalanche. The company was founded by Cornell computer scientists, who partnered with Wall Street veterans and early Web3 leaders to execute a promising vision for redefining the way people build and use open, permissionless networks. Ava Labs is redefining the way people create value with Web3.
---
Core Mobile Now Supports iOS Devices was originally published in Avalanche on Medium, where people are continuing the conversation by highlighting and responding to this story.